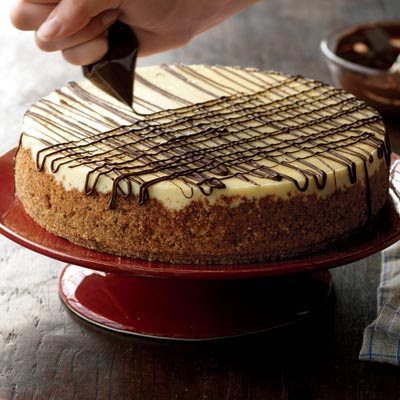 The Mister and I road-trip (the whole 1.5 hours – whoa, I know…) to Cincinnati every few months to stock up on such yuppie essentials as Ikea and Trader Joe's. Incidentally, TJ's happens to be thisclose to The Cheesecake Factory, so we've developed this little tradition: We walk through the doors of TJ's, black out for about 40 minutes, and wake up in the car, less some unfathomable amount of money. We then eat away our sorrows with two slices of Cheesecake Factory bliss to-go. They're always kind enough to glop on a debilitating little tower of whipped cream, which in my mind is a pretty solid way to justify a confection that cost more than my dinner (a handful of sweet potato chips from the TJ's spree, maybe? So… 65 cents or so? Yeah…). Anywho, I'm getting off on a tangent again. Point being, their tiramisu cheesecake is my favorite, and I found a good approximation of the recipe!!!
The Cheesecake Factory Tiramisu Cheesecake
Prep time: 30 min. Cook time: 30 min. Serves: 10-12

Espresso Syrup:
4 t. dried instant coffee or espresso

1/3 c. water

1/4 c. sugar

2 T coffee liqueur
Cheesecake:
12-16 ladyfingers

1 lb. cream cheese

1/2 lb.

mascarpone

2/3 c. sugar

1 t. vanilla extract

1 T Kahlua liqueur

4 eggs

2 egg yolks

1/3 c. heavy cream
Topping:
16-20 ladyfingers, quartered

1/2 c. unsalted butter

1/2 c. sugar

2 t. espresso or instant coffee dissolved in 1-2 T hot water

chocolate bar for shavings

cocoa powder or

cinnamon

for dusting
Lightly spray a 9-inch spring-form pan or tart pan with non-stick cooking spray. Preheat oven to 350 F.

Prepare syrup: In a small saucepan, stir water with coffee and sugar and heat just to dissolve sugar. Remove from heat and cool to room temperature. Stir in coffee liqueur.

For cake: Arrange ladyfingers in pan, cutting or trimming to fill out pan bottom with cookies. Brush syrup over cookies and allow to soak in. Re-apply until all the syrup is gone.

In a large bowl, using an electric mixer on slow speed, cream the cream cheese and sugar. Add vanilla, Kahlua, eggs, egg yolks and heavy cream. Pour over prepared cake crust.

In a small saucepan, over low heat, melt the butter with the sugar. Using a whisk, briskly blend in the dissolved coffee. Pour into a medium sized bowl. Toss quartered lady fingers into this mixture. Arrange on top of cake.

Bake until just set – about 30 minutes. Chill for 4 hours or overnight. After removing from pan, grasp a handful of chocolate shavings and put them all around the sides of the cake. Right before serving, dust each slice lightly with cocoa powder or cinnamon.

Thanks to Recipe Secrets for this fabulous concoction!
SUBSCRIBE NOW TO ACCESS MY FULL LIBRARY OF FREE DOWNLOADS!