Make a set of DIY multicultural dolls to use as felt figures for a homemade felt board play set or fashion toy!

I've partnered with Crafter's Edge on another fun felt toy project to make for your kids! Last time, we made this adorable felt DIY play food.
Today we're making something so much simpler. It's perfect for everyone out there who's terrified of a needle and thread because it's no-sew! We're making a set of DIY multicultural dolls to use with a felt board play set.
Recently I've seen so many parents say that their kids are too young to talk about race and racism. Or that they don't know how to bring it up. But as early as three years old, children of all races have been shown to consistently prefer white dolls and assign more positive characteristics to them than to Black dolls. By age seven, kids' views of race are largely fixed.
Seven years old. Think about that…
That's why it's our responsibility as parents to raise our children to be empathetic and actively anti-racist.
One of the earliest and easiest ways we can start that ball rolling is by disrupting the white-centered narrative that the vast majority of children's toys and books bring to the table. I'm so excited about this project because it's vitally important to me that my white daughter plays with toys that don't all look just like her. And reads books with main characters that don't all look just like her. She has baby dolls and books that show lots of different people, but I just love this flannel play mat set so much more because it gives her the creative license to make up little friends with an almost endless combination of appearances.

What's a Felt Board Play Set — and Why Make One?
Typically puzzles, board games or play sets are closed-ended, meaning they have a specific path to a specific end result. There's a "right" and a "wrong" answer along the way.
These types of toys have a place in every toy box and can definitely teach important skills. But they can't be the only kind of toys in the toy box.
Young children need open-ended play without rules, instructions, or hand-holding. When they realize there's no wrong answer, kids become more confident in their ability to explore and make decisions. They're not worried about showing their caregivers or peers that they understand the "right" way to do everything.

Fear of mistakes boxes our kids into a really specific way of doing things. Removing that fear frees them to play in new and different ways, unlocking creating and learning as they do so.
A flannel or felt play board is a great open-activity because it doesn't have rules. It can be as simple as a plain flannel or felt background with different flannel or felt elements that kids can arrange and rearrange to their hearts' content. The pieces stick to each other because of the fuzzy fabric, so there's no glue or cutting required. That also means it'll last forever. You can add pieces to your collection whenever you like, but the old ones won't wear out!
We're also always on the lookout for screen-free activities, and this fits the bill. Felt play sets can help teach young children about colors, shapes, animals, counting, and so much more — all while they're simply playing and having a great time!
Save This for Later – Pin It!

DIY Multicultural Dolls: How to Make Felt Figures for a Flannel Board Play Set

Crafter's Edge makes an adorable personalizable doll fabric-cutting die set to use with their Crossover II cutting machine.
Supplies
Instructions
1. Body parts: Select a skin tone from your felt and gather your body part dies: the head, legs, and arms.
Stack, from the bottom up, your white base plate, metal adapter plate, fabric (I like to fold my felt in half to cut two layers at once), fab die with the cutting blade pointed down to the fabric, and clear top plate. Let a bit of the leg and arm hang off the felt so that the body parts are shorter since you won't be stitching up a seam allowance.
Tip: Crafter's Edge has great instructions for getting started, including how to convert their dies for other machines you may already have and how to use other dies you may already own with your Crossover II machine.

2. Unfold the Crossover II machine, and adjust the roller pressure. Use a higher pressure number for thicker fabric or multiple layers.
Tip: This is a great chance to do a test cut on a scrap of your exact material to see if you have the right pressure.
3. Feed the platform you stacked together into the machine. Use the crank to roll it all the way through. When you get to the cutting die, you'll feel more resistance. This is totally normal.
Lift up the clear cover, and test a corner under one of the dies to make sure it cut fully through any layers.

4. Repeat this process for several different skin tones.

5. Paint eyes on one side of each face. I used a circle stencil and matte fabric paint. You could also just freehand with acrylic paint if that's easier for you.
6. Clothing and accessories: Use the body shape, bow, flower, pocket, collar, tie, and glasses to cut accessories from different colors of felt.
Cut some of the body pieces in half to create tops and bottoms and allow for more creative freedom.

7. Hair: The die set comes with a braid and bangs. You can start by cutting those out, but I wanted more options!
Variations:
Head: Cut a head shape from your hair color, and then trim away the bottom. It's a similar shape as the bangs but stays together in one piece. You can see that in the picture above.
Flower: The set comes with a small flower, and I also have the Posey Flowers Set, so I used different flower sizes to cut out buns top knots, and puff balls.
Circle: If you have a circle cutter or one of the circle die sets, you can use that for buns, top knots, and puff balls.
Tip: Don't forget to do grey and white hair in addition to black, brown, blonde, etc.!

8. Background: Cut two identical large felt rectangles to use as your background. Sew or glue them together, sandwiching and optional handle between each end if desired. Finish with a piece of Velcro at each corner of the outside and a piece in the middle on the inside.
The background is a great opportunity to give little imaginations more to play with, so consider using a different color on each side like I did.
This background option folds in half to hold all the felt pieces and accessories and doubles as a carrying case.
Instead of the folding background, you could staple felt over a stretched canvas. Then, just staple or glue a pocket onto the back to hold the pieces and accessories.



Diverse Toys From Black-Owned Toy Companies
Are you not the DIY type? Or you just want to make sure your money is supporting people of color who have already been making these toys for ages? Here are Black-owned toy companies that everything from dolls to puzzles, books, accessories and more.
DIY Multicultural Dolls - Felt Figures for Felt Board Play Set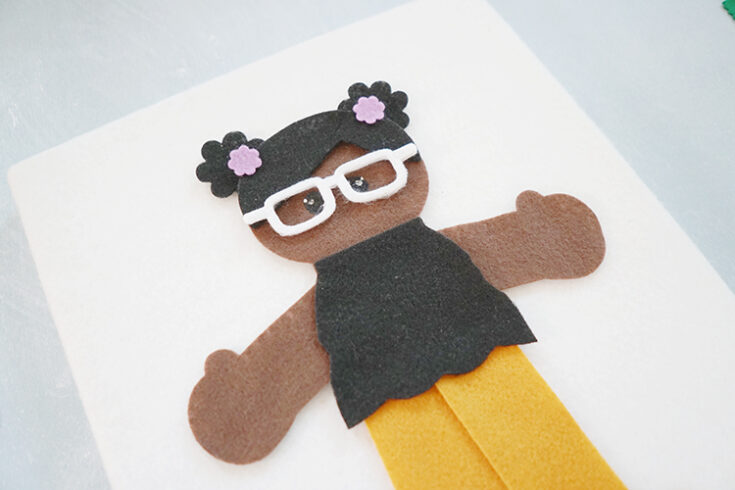 Materials
Various colors of felt
2 large pieces of felt for background
Rope or cord for handle
Velcro
Hot glue or felt glue
Velcro square
Black and white fabric or acrylic paint
Optional frame:
Plain stretched canvas and staple gun
Tools
Crossover II Fabric and Paper Cutting System OR conversion adapter set and another fabric cutting system
Personalizable Doll fabric dies
Instructions
Use your dies and die-cutting machine to cut arms, legs, and heads out of felt in various skin tones.
Paint eyes on each face.
Cut out hair, clothing, and accessories using different colors of felt and dies.
Glue or sew together two large rectangles from felt, attaching a handle at one end.
Place Velcro at the corners on the outside and in the middle ends on the inside.
To play, stick felt pieces to the mat. They'll stay without any Velcro or adhesive!
When you're done, put all the pieces inside the mat. Fold the sides in, and then fold the ends together and stick with the Velcro.