This easy crustless pumpkin pie recipe uses all-natural ingredients for a healthy holiday alternative to the store-bought stuff!

Is it really fall, or is it pumpkin season?
Pumpkin spice lattes. Jack-o-lanterns. Pumpkin pie.
Ah, yes. Pumpkin pie. That's what you're here for, right?
This pumpkin pie recipe is unique because it doesn't have a crust. That makes it a bit lower in carbs, but it also makes it such an easy recipe!

More Yummy Pumpkin Recipes

What does pumpkin pie taste like?
Believe it or not, this is a super common question. My husband is from Romania, and he thought the concept of pumpkin pie was super strange at first!
The texture of pumpkin pie is similar to a custard or very thick pudding. The flavor depends largely on the spices you used. You've heard of "pumpkin spice," right? The most common spices you'll encounter in a pumpkin pie recipe are cinnamon, nutmeg, ginger, and cloves.
Oh, and they're sweet, of course! Some are sweeter than others, so you can decide what level of sweetness you want.

How do you keep a pumpkin pie from cracking?
A lot of factors go into keeping a pumpkin pie from cracking, but there are a few things you can do to help ensure a smooth pie every time.
Grease the pie plate very well. If you're doing a crustless pumpkin pie like this recipe, you need to make sure the baked pie won't stick to the sides and then pull away as it cools. I like to use a "cake release" method to grease the plate by sprinkling flour over the greased surface.
Use an oven thermometer to make sure your oven is heating to the correct temperature. For under five bucks, an oven thermometer is one of the best investments you can make in your baking. Before I got one, I had no idea my oven was running 40 degrees cooler than the setting.
Use a water bath to maintain an even temperature around the pie while it's baking. The water bath will also keep the pie from drying out as it bakes.
Bake just below the center rack of the oven. This will keep the top from getting done too much faster than the bottom, which causes cracking.
Timing is everything. Wait until the oven is fully preheated. Check that oven thermometer again! Set a timer, and you won't forget to take the pie out of the oven.
How do you know when pumpkin pie is ready?
You test a pumpkin pie to see if it's finished in much the same way that you test a cake. Instead of a toothpick, slide a butter knife into the center of the pie. The pie is done when the knife comes out completely clean.

Save This for Later – Pin It!

Ingredients
1 1/4 cups sugar
3 eggs
1 can pumpkin (15 ounces)
3/4 cup evaporated milk
3 tablespoons all-purpose flour
1 1/2 teaspoons vanilla extract
1 teaspoon ground cinnamon
1/2 teaspoon ground nutmeg
1/2 teaspoon ground ginger
Directions

Preheat your oven to 350 degrees Fahrenheit. Grease a 9″ pie plate very thoroughly. Rub butter all over the surface of the pie plate. Sprinkle flour in, and shake it around until it coats the butter. Tap out any excess flour.
Add eggs to sugar in a large mixing bowl. Mix at high speed until smooth.

Add pumpkin, evaporated milk, and vanilla, and mix until well-blended.


Sift in the flour, cinnamon, nutmeg, and ginger. Beat for about a minute until completely blended and smooth.

This part is crucial to a nice, smooth pie! Add a half-inch of hot water to a baking/casserole dish, and put the pie plate in the water bath. Pour the mixture into the pie plate.
Bake for 50-55 minutes, until a knife inserted near the center comes out clean.
Let the pie cool at room temperature. Top with fresh whipped cream when serving.
Store any leftovers covered in the refrigerator.

Yield: 6-8 slices
Crustless Pumpkin Pie Recipe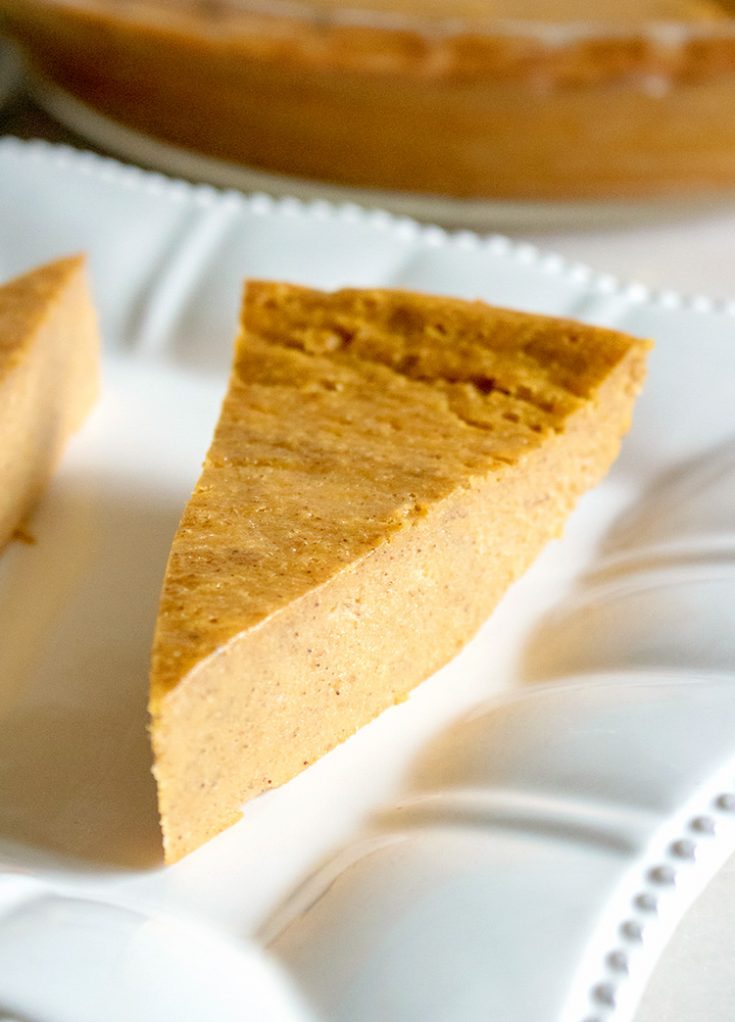 Make this easy crustless pumpkin pie from scratch for fall or Thanksgiving dinner or homemade dessert. The all-natural ingredients are a more healthy alternative to store-bought pies!
Ingredients
1 1/4 cups sugar
3 tablespoons all-purpose flour
3 eggs
2 cups canned pumpkin
3/4 cup evaporated milk
1 1/2 teaspoons vanilla extract
1/4 teaspoon ground cinnamon
Instructions
Preheat oven to 350 degrees Fahrenheit.
Beat together sugar and eggs until smooth.
Stir in pumpkin, milk, and vanilla.
Sift in flour and spices.
Prepare a water bath, and put a greased 9" pie plate inside.
Pour pie mixture into the pie plate.
Bake for 50-55 minutes, until a knife inserted near the center comes out clean.
Nutrition Information:
Yield:
8
Serving Size:
1
Amount Per Serving:
Calories:

213
Total Fat:

4g
Saturated Fat:

2g
Trans Fat:

0g
Unsaturated Fat:

2g
Cholesterol:

77mg
Sodium:

55mg
Carbohydrates:

41g
Fiber:

2g
Sugar:

36g
Protein:

5g