Get my recipe for these conversation heart Valentine's Day bath bombs, and learn how to add letters to them without using markers.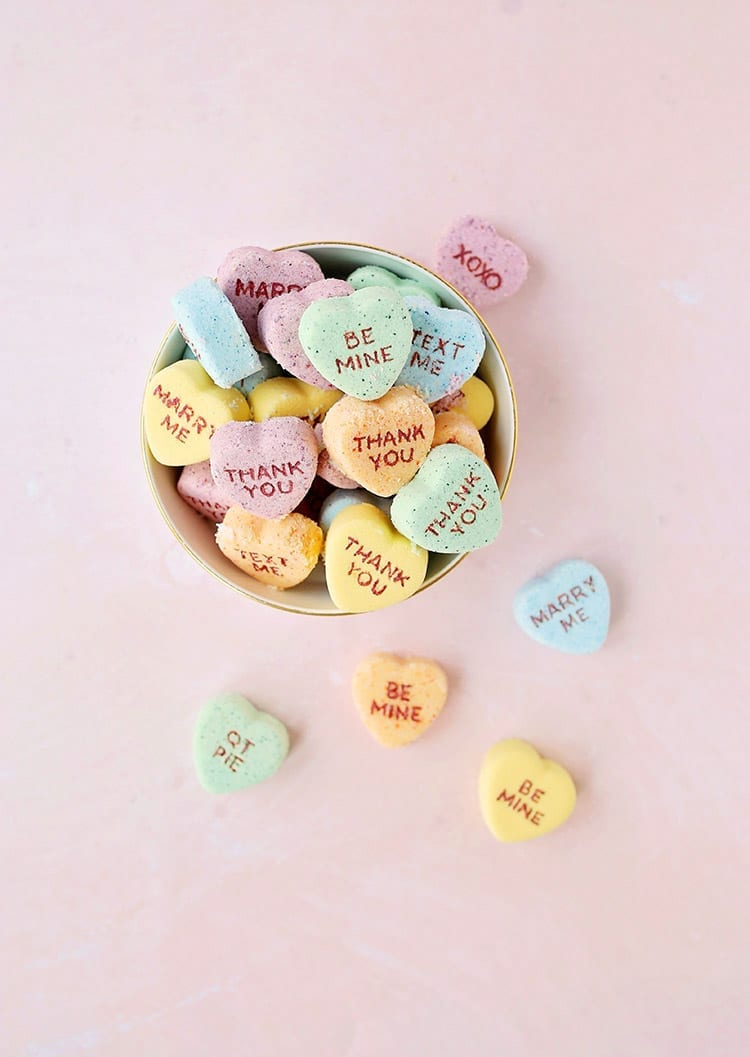 These bath salts for Valentine's Day would be a great accompaniment to my Valentine's Day bath bombs. Plus I have another fun Valentine's Day bath salts recipe coming up soon!
You can use a cotton candy scent if you're making them for kids. Or you could of course do a more grown-up scent if they're going to be Galentine's Day gifts for your adult friends.
These would make an adorable Valentine's Day party favor, too. You could put children's names on them. How much would they love that?!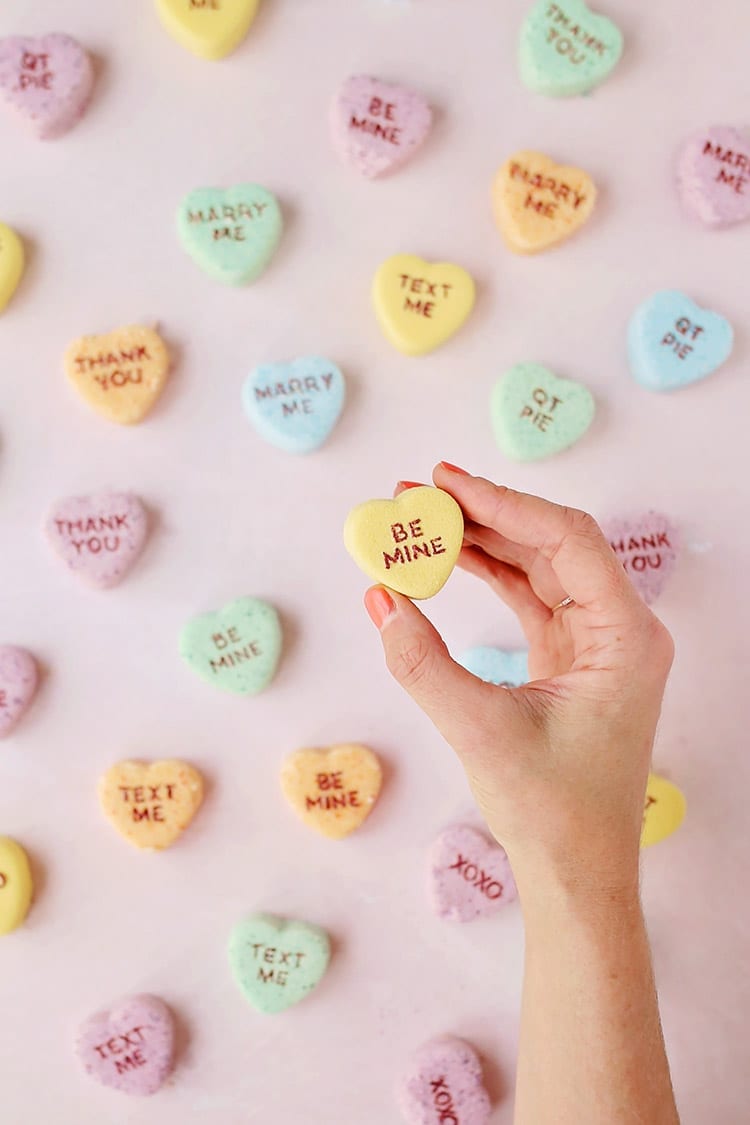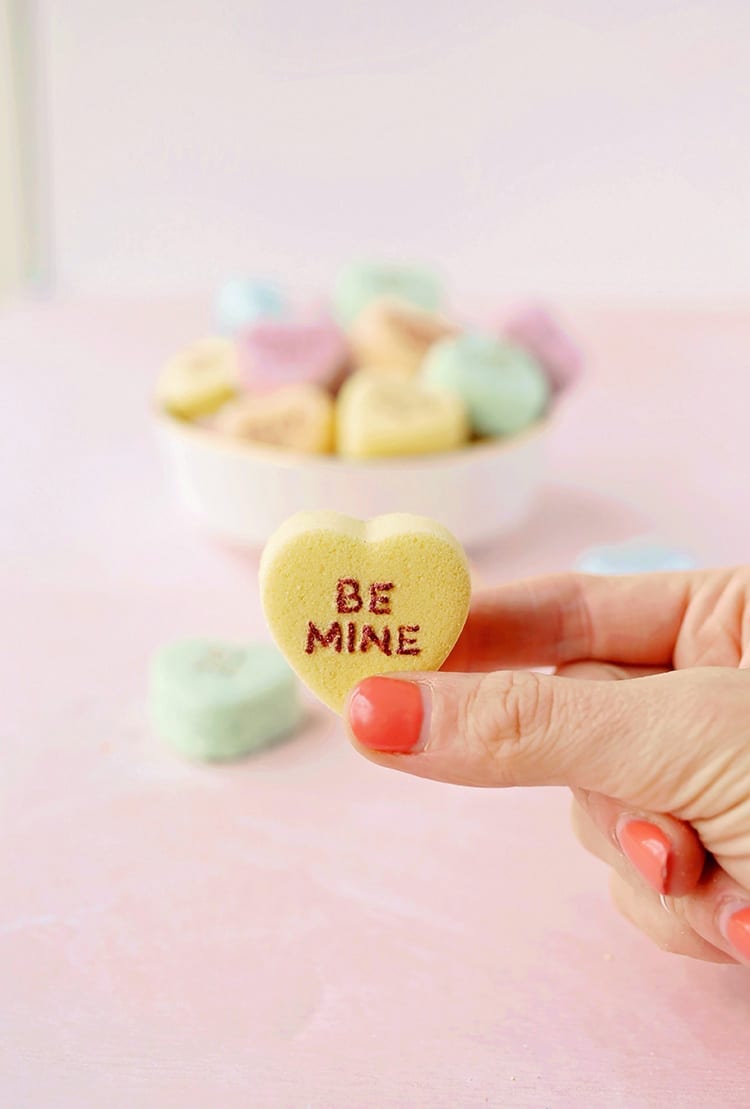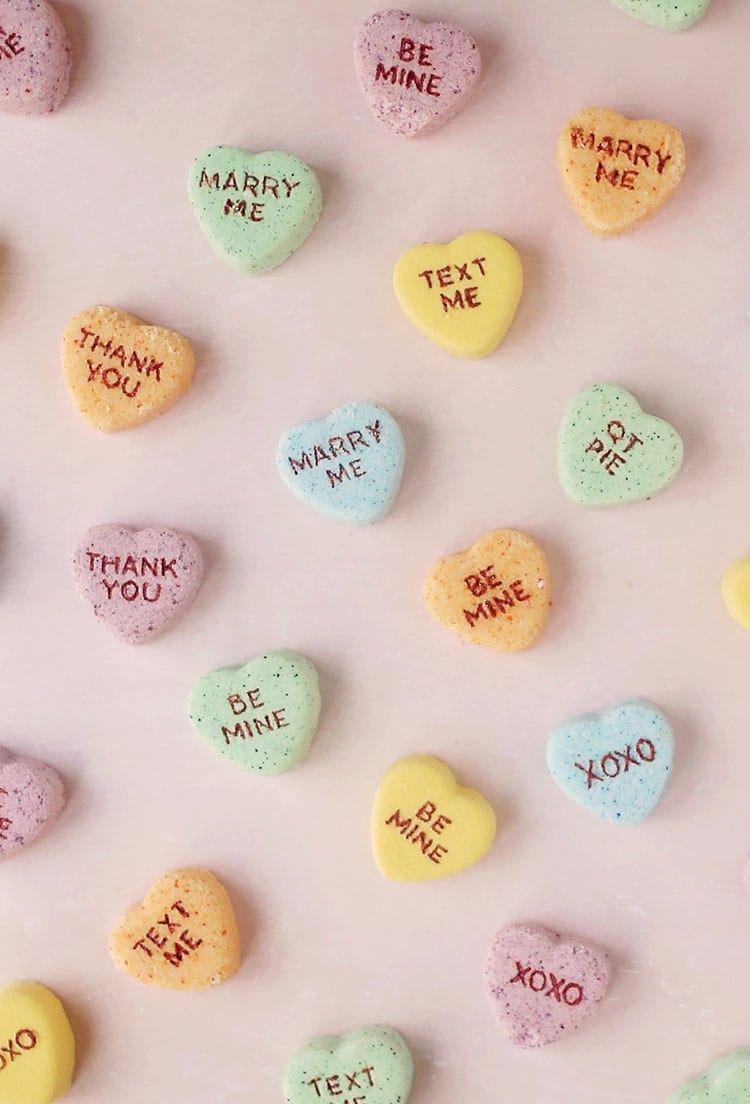 Recipe for Conversation Heart Valentine's Day Bath Bombs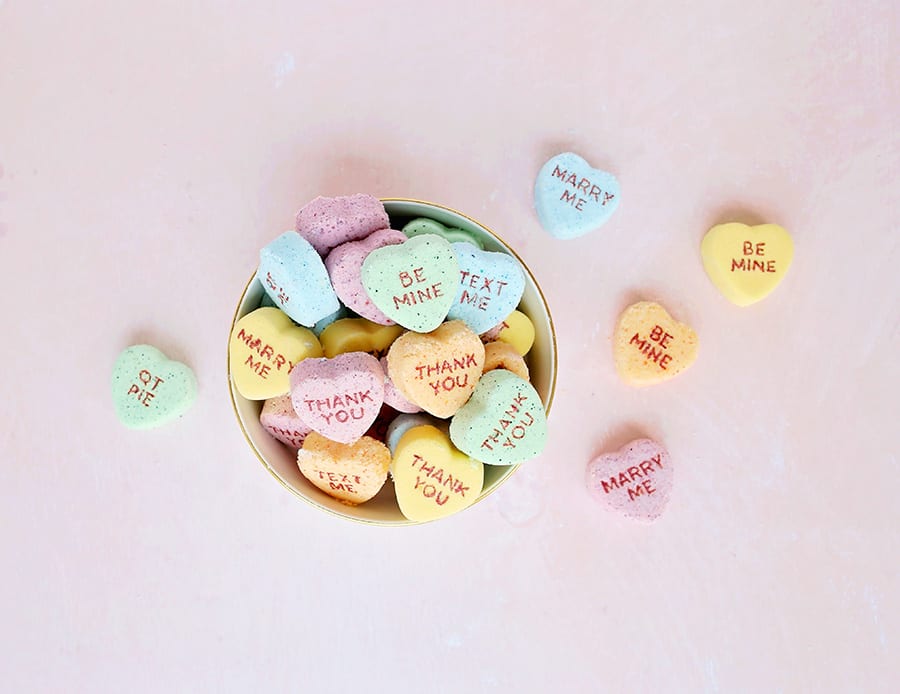 Supplies
I've seen some silicone conversation heart molds at the craft store recently, but I had already purchased the one I linked below. Feel free to try any heart mold in any size you like since you can paint the letters on regardless.
I've been making a lot of DIY bath and body stuff lately (like this yummy DIY mint chocolate sugar scrub or this equally yummy DIY peppermint candy cane sugar scrub cubes recipe!), so I like to buy my ingredients in bulk on Amazon. I linked them below. You can always just get yours from the grocery store if you're only making one small batch.
Vodka or rubbing alcohol
Thin paintbrush
Food coloring
Cotton candy scent
Instructions
1. Mix together 1 cup of baking soda and 1/2 cup of citric acid in a bowl. If either or your ingredients has clumps, use a sifter to break them up.
2. In four separate bowls, mix a spoonful of baking soda with four different colors of food coloring, and mix each color up thoroughly using a fork to break it up and integrate it into the baking soda. It's going to be diluted into the rest of the dry mixture. The color should be really bright because it'll end up a lot lighter.
Note: Since the food coloring is water-based, it could set off the fizzing of the dry mixture early, so I mixed mine into the baking soda to dry it out before adding it to the first mixture.
3. Divide the baking soda/citric acid mixture evenly among the four bowls of color. Mix each bowl thoroughly with a fork or whisk.
4. Add about half a teaspoon of almond oil to each bowl, and mix it up thoroughly.
The texture of the mixture should be like damp sand. When you squeeze a handful, it should hold its shape, but it should still feel dry.
Too dry? If it doesn't stick together, then mix in more oil a tiny bit at a time.
Too wet? If it's too wet, then you can mix in more of the dry ingredients at a ratio of 2 tablespoons of baking soda to 1 tablespoon tablespoon of citric acid.
5. Scoop the mixture into the conversation heart mold, and pack it down really, really firmly
6. Flip the mold over, and gently bend and tap the mold to release the bath bombs onto a flat surface. Let them dry overnight, flat-side down.
7. When the Valentine's Day bath bombs have dried thoroughly and are hard to the touch, you can paint the words on them.

How to Paint Letters on Bath Bombs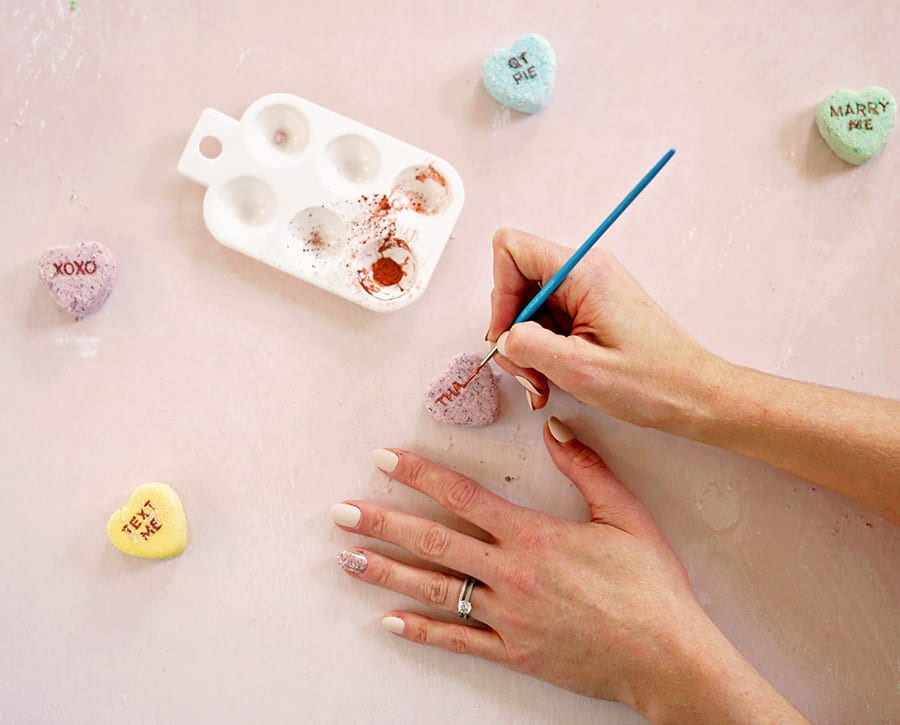 1. Mix a pinch of colored mica powder with a few drops of vodka or rubbing alcohol.
The alcohol will evaporate more quickly than straight water, so it will keep the bath bomb from activating early and fizzing up .
2. Use a very thin paintbrush to pick up a little bit of the color.
3. Brush it onto the surface of the bath bomb, testing a small dot first.
If the dot fizzes up, then your mixture has too much liquid. Add more mica powder, or wait until a bit of the alcohol evaporates off.