(Updated May 11, 2019) Learn how to create a custom paint by number template and transfer it to canvas to make your own DIY paint by numbers DIY wall art — special paint by numbers app not required!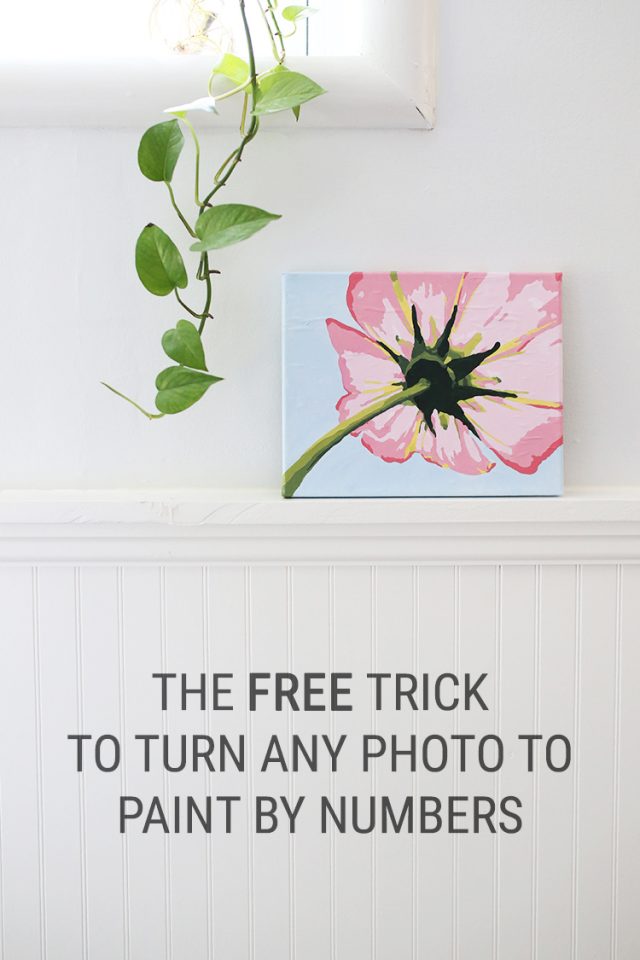 Remember my paint by number pillows?
Well, it turns out paint by numbers for adults is a big thing.
When I made those many of you wanted to know how to turn a photo into paint by numbers.
I used Photoshop and Illustrator for that. It worked fine, but it took me a really, really long time and a lot of fine-tuning by hand. Plus, most of you probably don't have access to that software.
Fortunately, I found a free paint by number tool online!
So today I'm going to show you how you can create your own paint by numbers with your favorite image featuring DecoArt Americana Premium acrylics and free paint by number conversion software.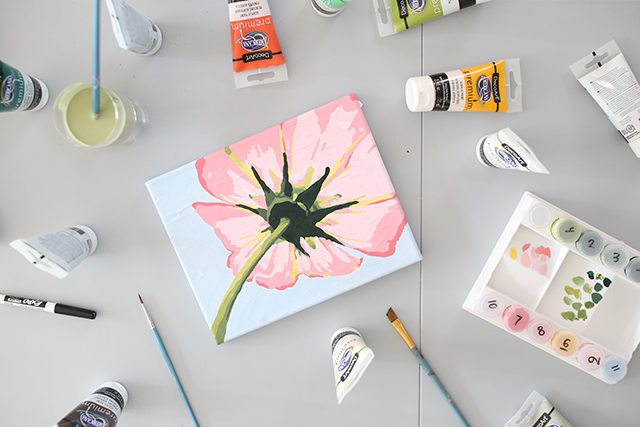 How to Turn a Photo into Paint by Numbers for Adults or Kids
Paint by numbers for adults means getting to do it totally your way, right?
So I'm going to show you exactly how to create a free paint by numbers template from your own photo, right at home.
While this is best done from a computer or tablet, if you're looking for a paint by numbers app, PBNify will still work from a phone.
It's certainly worth a try for a less complicated image, but if you're having trouble, I'd move to a computer for the project!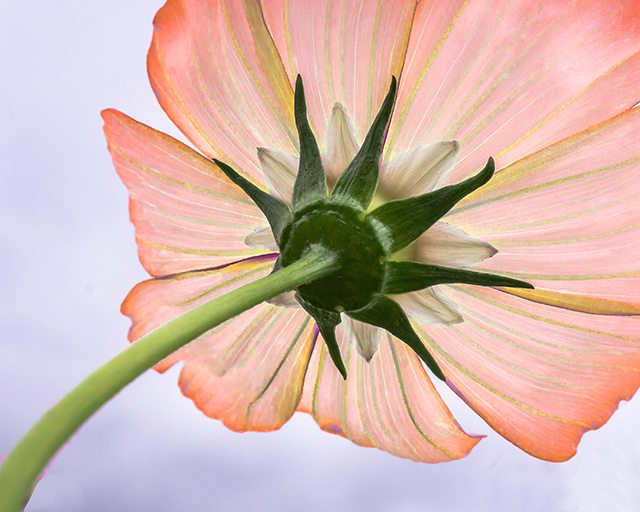 1. Start with a photo that's as simple as possible and has good contrast. I used this pretty flower from Jeon Sang but changed it from lavender to more of a pink coral.
Upload it to PBNify.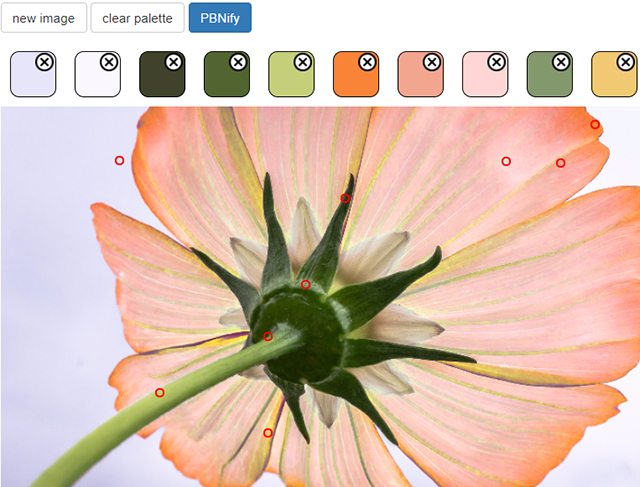 2. Click around with your mouse to select different colors.
The more colors you pick, the more detail your paint by numbers template will have. But each click is a new color you have to paint, so find a happy medium.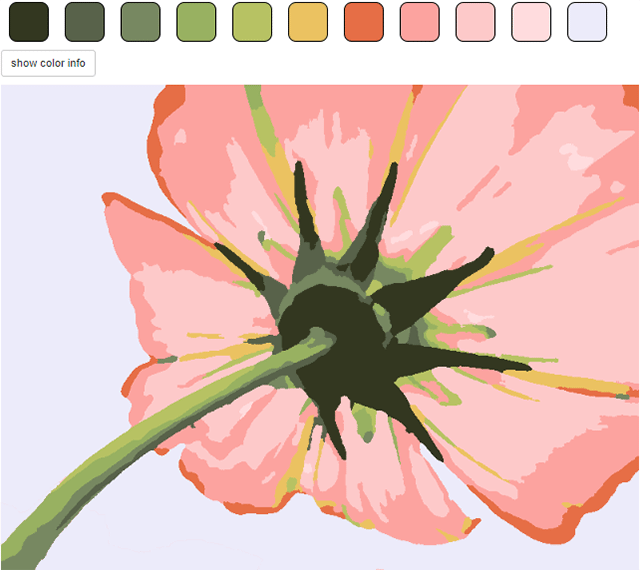 3. Click the PBNify button, and wait awhile for it to convert your image.
Once it's converted, you can click back and forth between "filled" and "outline" to see what the template looks like.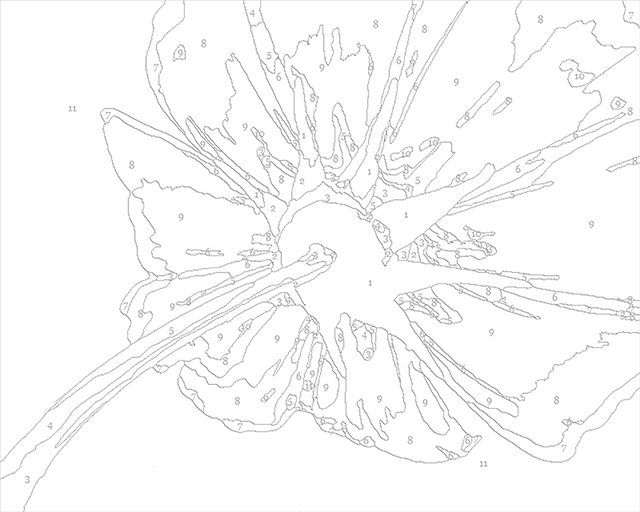 4. Click "save" to save a copy of the filled version (for reference), the outline, and the palette.
Definitely don't skip the palette because you'll use it later to mix your paint colors!
DIY Paint by Numbers: How to Make Paint by Number Canvas Art
Supplies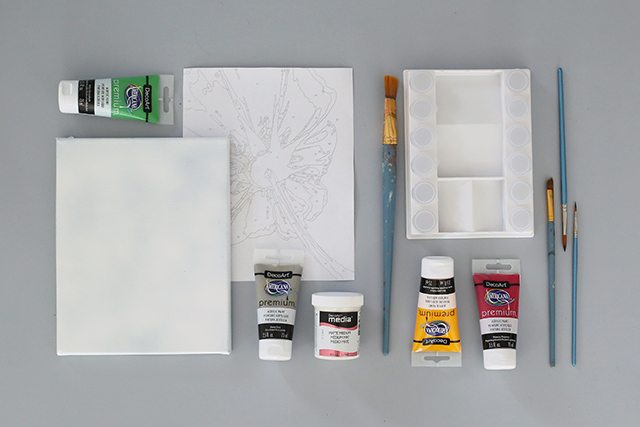 Paint by numbers template – your own or the one I used here, printed and trimmed (Sign up for my newsletter to access the free download in my printable library.)
Color palette – either your own from PBNify or the one for my template (Sign up for my newsletter to access the free download in my printable library.)
Cup of water
Paper towels
Optional (if painting on canvas)
Instructions
1. If you're using my painting instead of creating your own from a photo, download and print your free template.
If you're painting directly on the paper, print it on a nice, thick paper, and move on to Step 3.
Otherwise, you can print it on any old paper; trim the edges; and move on to Step 2.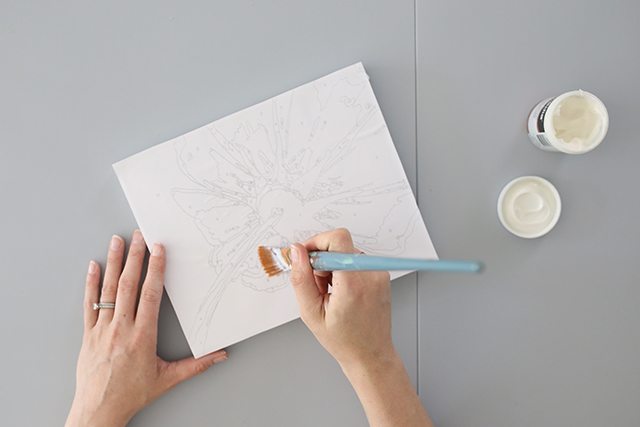 2. If you're going to paint on canvas, brush a thin coat of matte medium all over the canvas.
Carefully apply your printout, beginning at one corner and working toward the opposite corner, smoothing out any wrinkles and bubbles as you go.
Once it dries, paint over it with another coat of matte medium, and let it dry thoroughly before moving onto Step 3.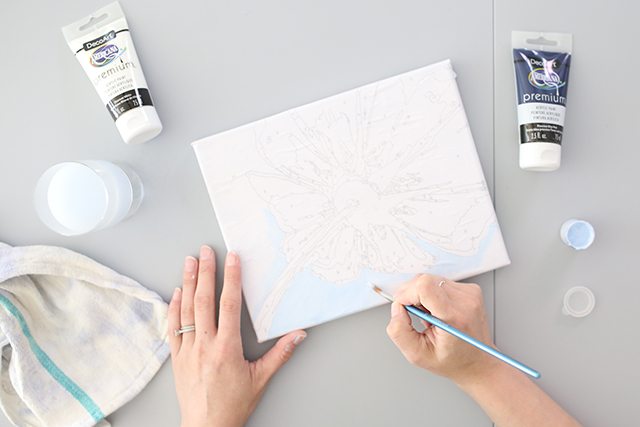 3. Now it's time to mix your first color. For my template, print out the color palette.
If you're using your own photo, use the palette you generated with PBNify as a guide.
Tip: Mixing one color at a time to keep others from drying out while you paint a section. You can mix them in a lidded container to keep them from drying out as you work.
That way, you're not having to try to remix a matching color because it has dried out.
Tip: Save a little extra of each color in your jars until the very end. It's super easy to miss a section, so be sure to leave yourself at least a dab to go back and fill in any spots you missed.
4. Paint all sections of your first color before moving on.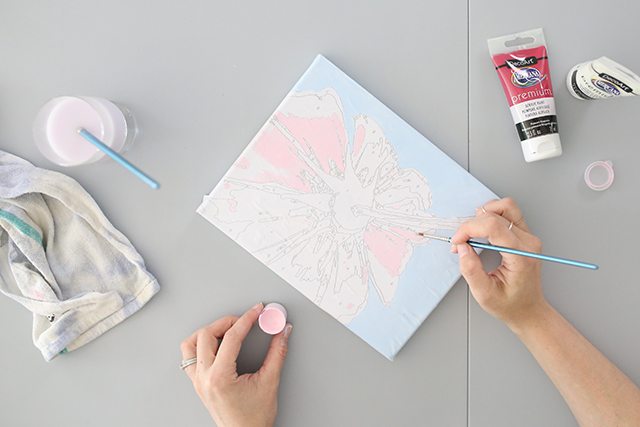 5. Continue by mixing one color at a time and painting that entire section, until you've finished the whole thing.
Tip: Start with the lightest colors and the largest areas of each color.
If you accidentally paint outside the lines, it's much easier to cover up light paint with dark paint than vice versa.
Now, if you want, you can seal it all with another coat of matte medium.
Voila! That's it!
You've created beautiful custom paint by number art to display in your home!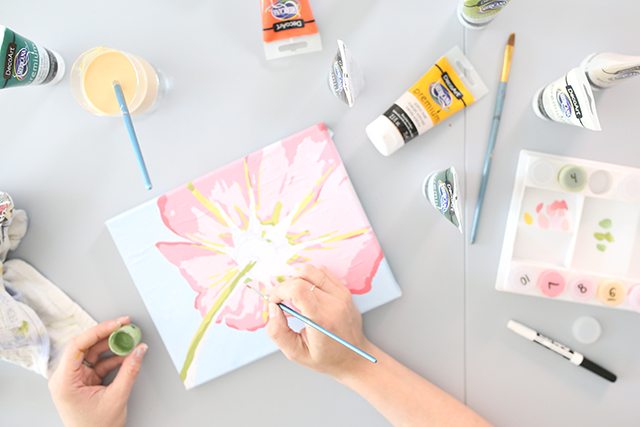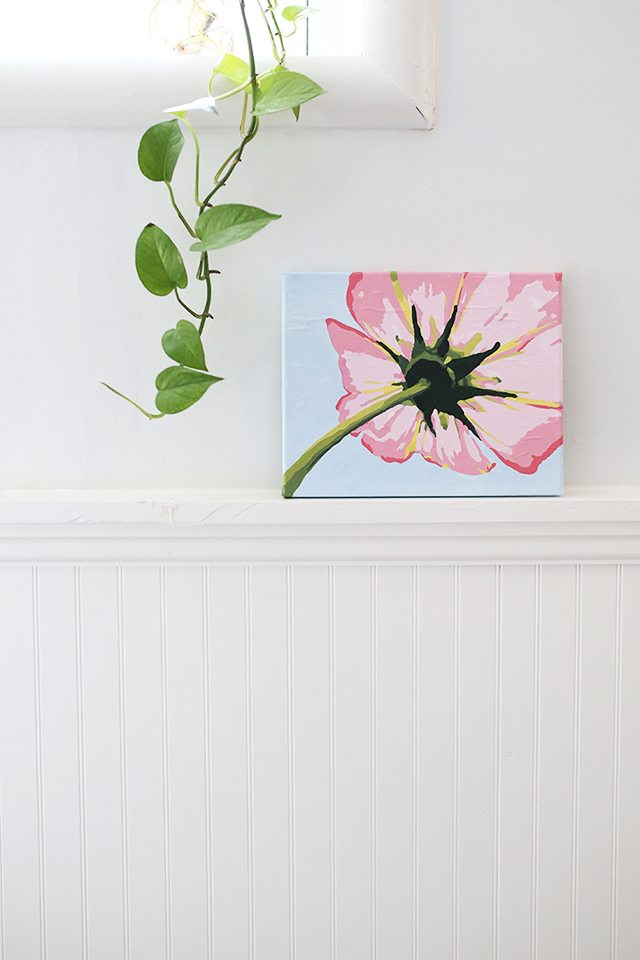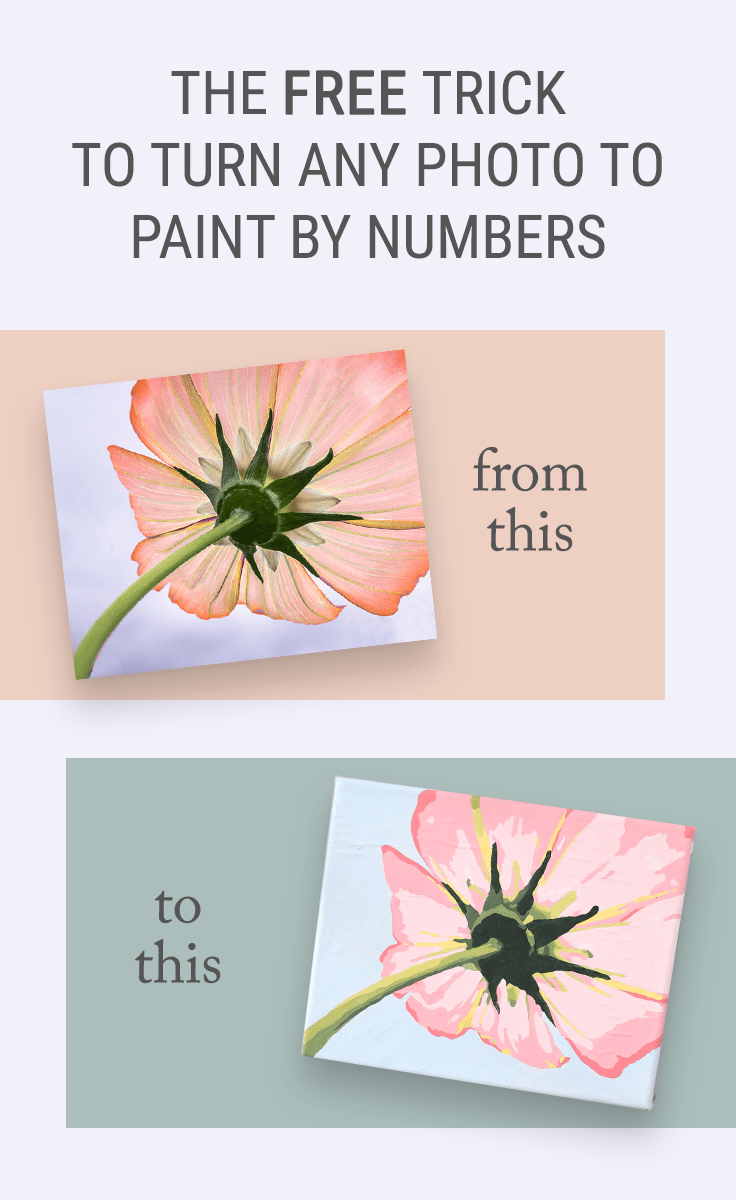 This DIY paint by numbers for adults project and post were created in partnership with DecoArt, but all opinions, ideas and photography are my original creations. Thank you for supporting the sponsors that help me keep Shrimp Salad Circus up and running!