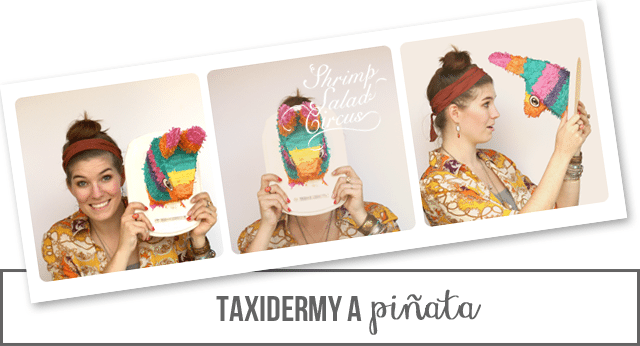 I'll bet you throw your child really cute birthday parties with fun piñatas and favors and whatnot. Or your best friend. When you're 22 and fresh out of college (the same party where this happened)… Oh, is that just me? Anywho… The little decapitated donkey o'fun featured in this post is Ricardo, who has been sitting in a box for fourish years, just waiting for his moment in the spotlight.
Well, here it is, little buddy. Your time has come. Ricardo, you are now internet-famous.
Is there anything more cute or fun on your wall than a "taxidermy" testament to "I beat this thing with a stick until the head fell off?!" Seriously though, this is a really great, easy project to save lots of wonderful memories from parties – birthday, Cinco de Mayo, or … Christmas? Plus, nothing says, "I love you" like a taxidermied piñata.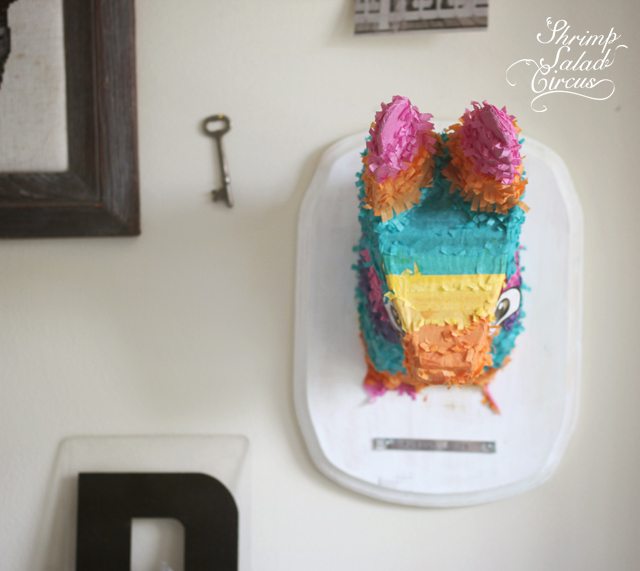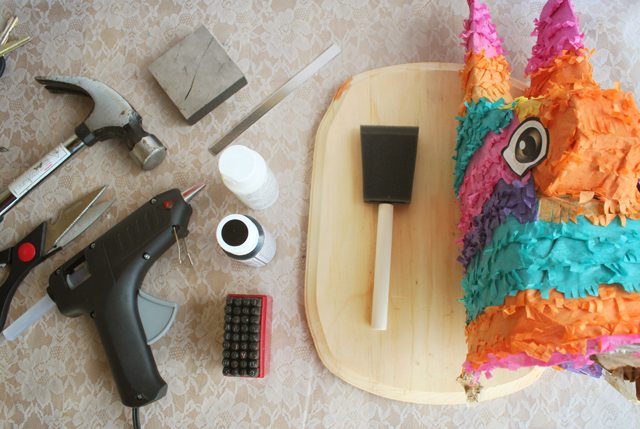 Supplies
Piñata cabeza (That means head, friends.) ;D
Metal letter stamps – I used these.
Unfinished wood plaque
Metal strip – I used this and snipped the ends with scissors to shorten.
Hot glue gun
Lightweight hammer
Scissors
White acrylic paint
Black acrylic paint or permanent marker
Foam brush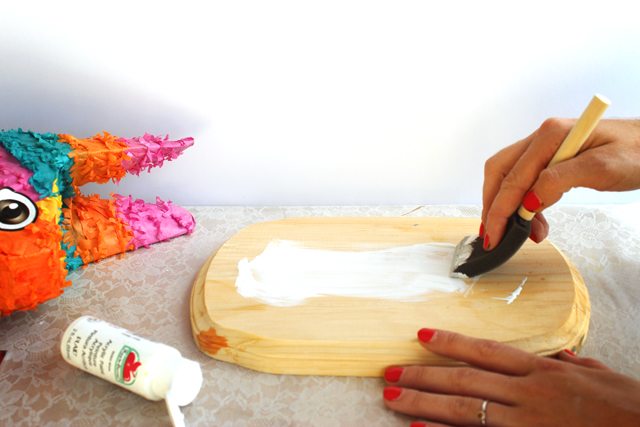 1. Paint your wooden plaque white. You could also whitewash it, stain it, or paint it a fun, bright color – or even a metallic! Now set it aside to dry.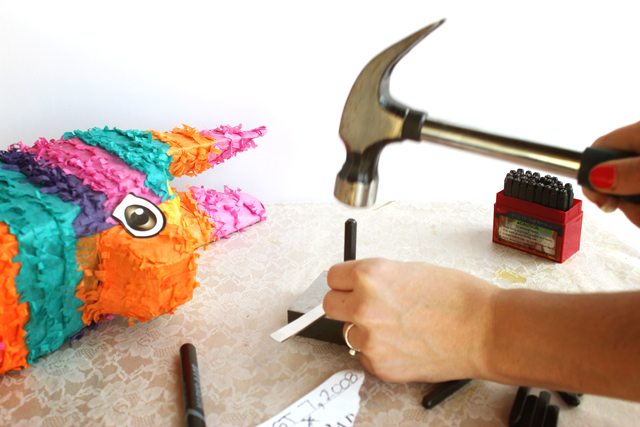 2. Stamp the date onto the metal blank. You could stamp something different, like a name or the name of an event, as well. Click here for a detailed post on how to stamp onto metal.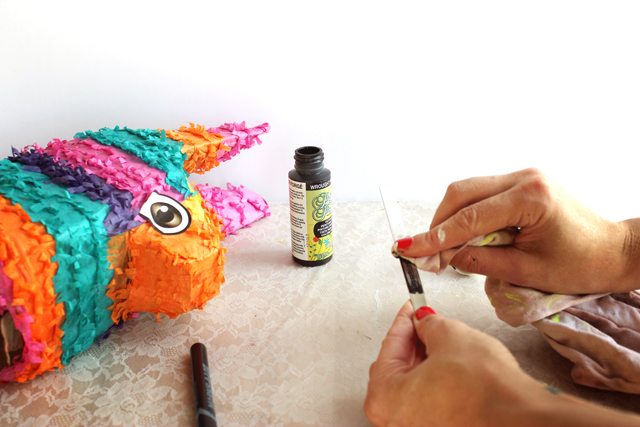 3. After you stamp your text, you can either use the Sharpie method that I show in this post, or you can do the following: Dip the corner of a paper towel into some black acrylic paint, and rub it into the letters so that it fills the indentations. Using a clean section of towel, wipe the paint off the top of the metal so that it's only left inside the letters.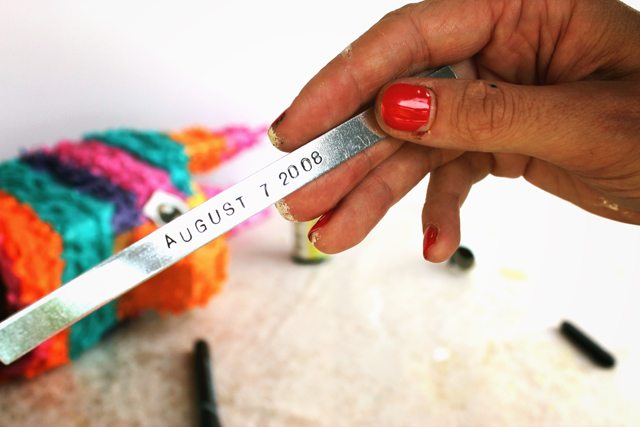 Voila. Your letters will now stand out instead of just blending into the metal. Let it dry for a few minutes.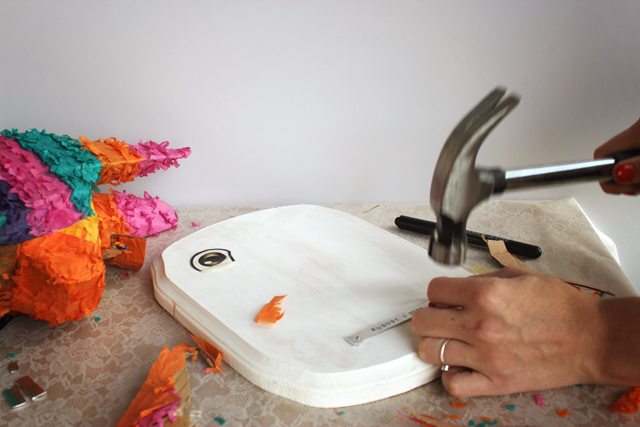 4. Using framing tacks, nail the stamped sign onto the bottom of the wooden plaque. I've found that it's helpful to pre-punch holes in the metal with my metal punch to keep the metal from denting the wood or bending while you're hammering it. I just did one little nail on each end.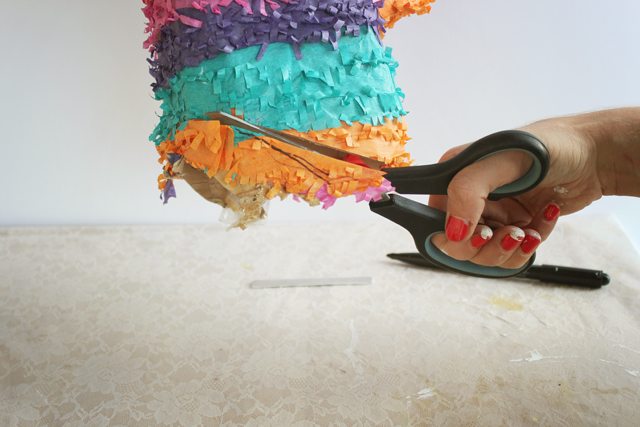 5. Cut your Piñata with scissors so that it's straight across the bottom – no rough, jagged edges! I cut mine at an angle so that he'd be looking up a bit when he's mounted.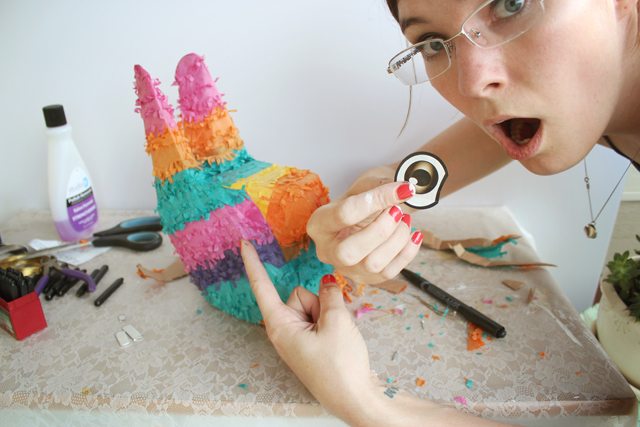 Watch out, though. If you're not careful, somebody could lose an eye!
(And then you just glue it back on, so it's not technically a big deal, but I can't help but think it was at least a little traumatic for Ricardo…)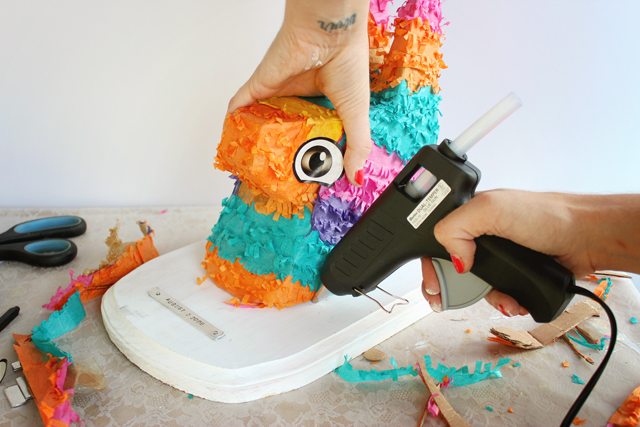 6. Hot glue all the way around the base of the Piñata , and stick it quickly onto the wood. I went back around with a thin ring of Gorilla Glue to fill in the gaps and give it some real staying power.