Learn how to make a paint by numbers pillow, and download your free paint by number template to make your own right at home!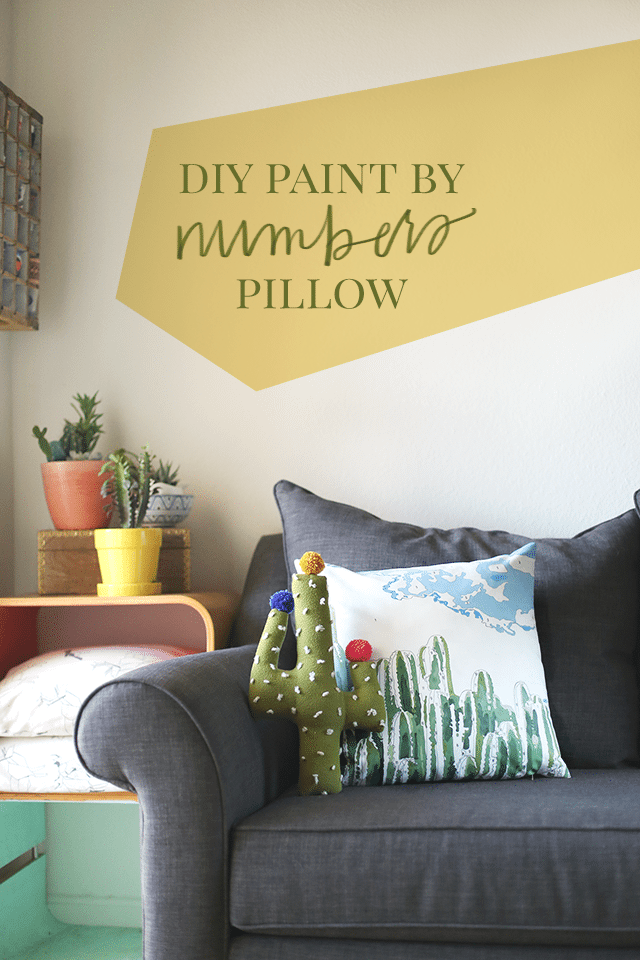 Today's project is my first in a little series of posts with SnapBox, and I'm really excited about the DIYs that are going to come out of this fun partnership! In a rare turn of events, this pillow came out exactly like I was picturing it in my head! And believe it or not, I created it from this photo…
This pillow, aside from fueling my ongoing cactus obsession, is a nod to those old school paint-by-numbers kits.
I was inspired by a mural I found on Katie's Pencil Box literally years ago, and I finally found a way to incorporate it into rental decor until I have a wall I can paint freely!
More Cactus Projects: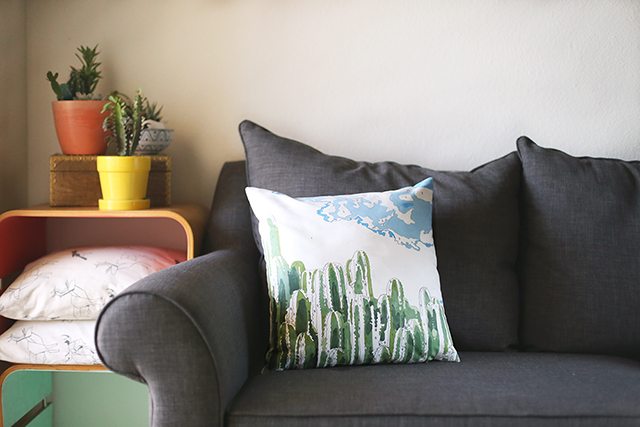 Want More Paint by Numbers Projects?
If you love this cactus paint by number template but don't want to make a pillow, then these two projects below are perfect for you.
You can still use the cactus template, of course. But you can paint it on a canvas, paper, or even a piece of furniture!
Save This for Later – Pin It!
Supplies:
Cactus paint-by-numbers template* (Sign up for my newsletter to access the free download in my printable library.)
Acrylic paint in greens and blues – see guide above Step 2 for colors.
*If you want to try it on paper first or just want to create a flat painting, you can take the file to a copy shop and have them print you a test sheet. That way, you're comfortable with your color palette before you've painted on the pillow!
DIY Paint by Numbers Pillow Instructions
You can paint the whole thing if you want a more finished look, but I personally love the charm of a halfway-painted pillow.
I think it's fun to be able to see the rest of the outlines and number peeking through, and I think it'll make for a great conversation piece!
Read on for the tutorial, my tips, and your FREE cactus paint-by-numbers template to download, print, and paint!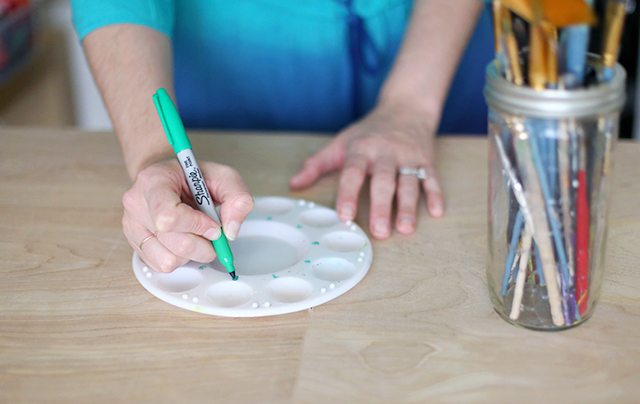 1. Use a permanent marker to mark a number underneath each well on your paint palette. You can wipe this off with alcohol later if it's a glass or plastic surface, so don't worry about ruining your palette. A glass or paper plate also works well!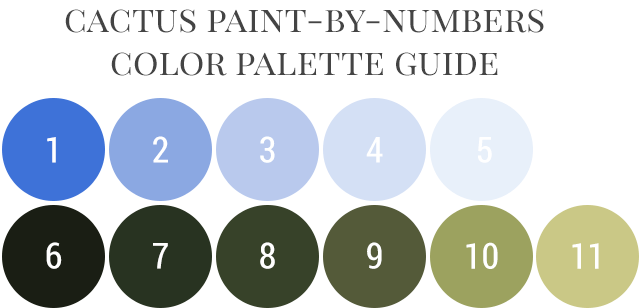 2. Refer to the color palette guide to mix up your first couple colors. I would stick to one or two at a time to prevent them from drying out in between colors.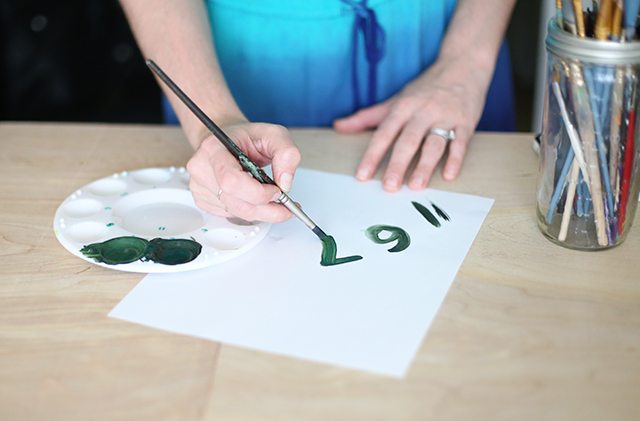 3. Paint each color onto a piece of plain white paper to test and compare it to the guide.
Here, I decided that they were too similar, so as you can see in the next picture, I ended up lightening up the mixture for color seven.
4. Once you have a color mixed exactly how you want it, add a generous squeeze of textile medium. It's a milky liquid that comes in a bottle identical to the acrylic paints you're using.
While it's not essential, I highly recommend using the textile medium. It thins the paint out a bit and makes it go further, and it goes onto the fabric's rough surface more easily. It'll also help it to dry flexible instead of stiff and "crunchy."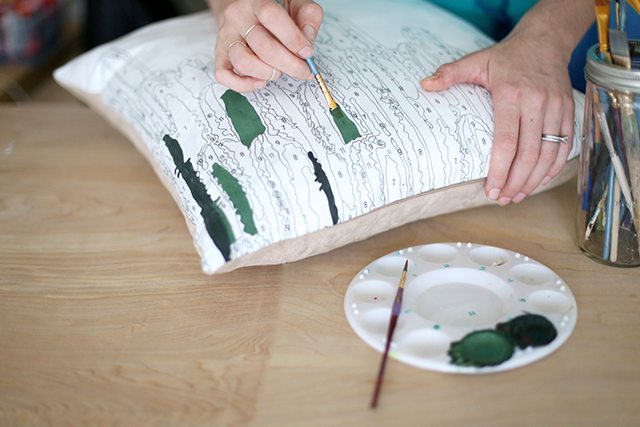 5. Begin filling in the numbered sections, one color at a time. Here you can see I started with the darkest color (6), which only had a couple sections, and then I moved onto seven.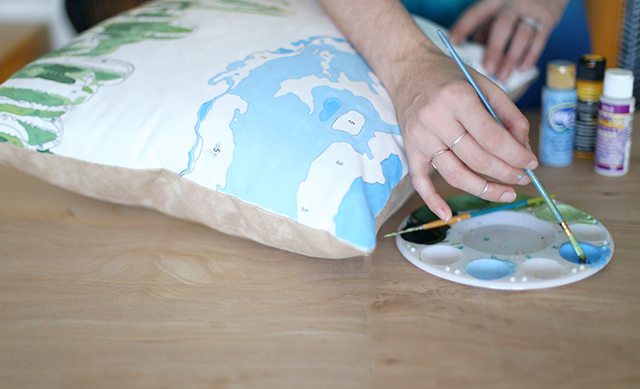 6. When you get through your first couple colors, mix up the next one or two, and keep painting.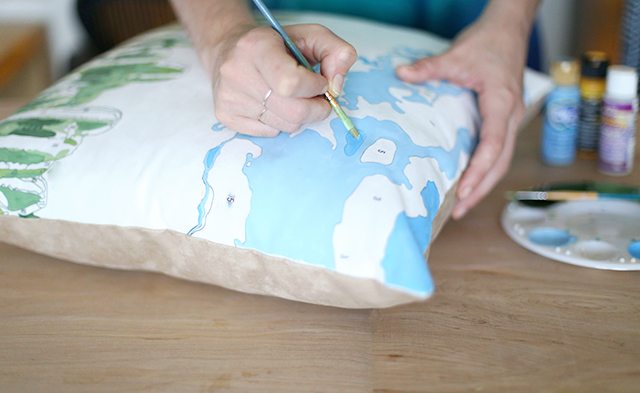 7. You can paint the entire pillow so that there's no fabric left showing, or if you like the paint-by-numbers look, do what I did it and only paint certain parts.
If you want to replicate this exact look, I only painted sections 2, 4, 6, 7, 8, and 9.
As you can see from my palette below, I mixed up a lighter color so that I could lighten up certain spots here and there to make them "pop" and add some variation since I wasn't going to be painting the whole thing.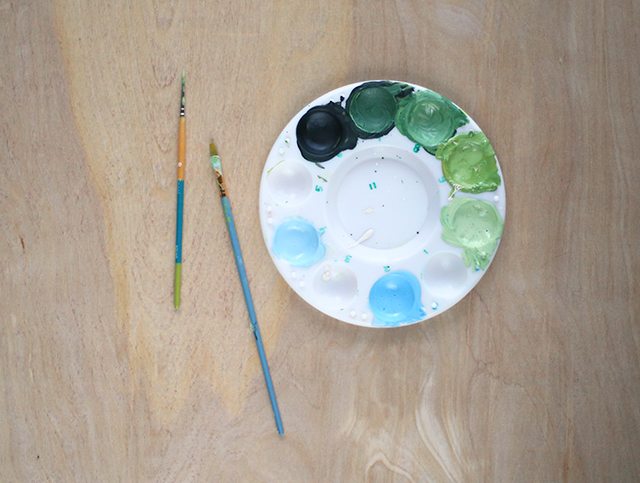 Thanks so much to SnapBox for partnering with me for this wonderfully throwback pillow and helping me do what I love!