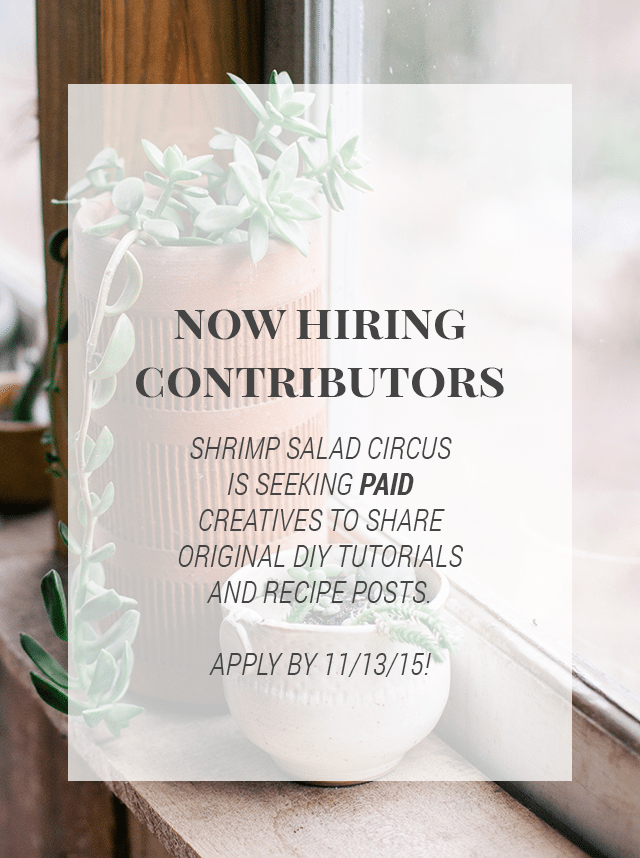 Eeek, you guys! It makes me so nervous to put this out into the world, but I NEED HELP! Whew. There it is. I feel better already!
Why I'm Looking for Writers
For those of you who don't know, I work a full-time job during the day. I do all my blogging between dawn (often literally!) and the start of my workday or between 6PM and the wee hours of the morning. I love it dearly, but I also love time with my family, and I'm finding that I have less and less of that.
What I'm Looking for in a Contributor
I know that so many of my readers are bloggers and creatives themselves, so I'm looking to you to help Shrimp Salad Circus become an even better place to stumble upon in the midst of a Pinterest binge! I'm looking for a couple of people who can create beautiful DIY tutorials or recipes to share with my readers. You should have experience creating beautiful content on a blog of your own (no matter how big or small!) or even as a contributor to another blog.
What's in it for You
First of all, as much as PR agency likes to pretend that it does, "exposure" doesn't pay the rent. Am I right, ladies?! So contributors will be paid a flat fee on a per-post basis. Cash money. Not enough to pay the rent, but maybe you can get some great new throw pillows? 😉
Plus, there's also that exposure thing. I'm not gonna act like it'll put a dent in the bills, but it might help you with growing your own blog and community! I'll be sure to show love on Instagram, Pinterest, Facebook, and Twitter!


P.S. I appreciate the heck out of every single one of you who takes the time to apply! I'm honored that you're interested in sharing your creativity with my readers and jumping into my crazy little world! I'll reach out to prospective candidates after the application period closes, so there's no need to follow-up to check on the status of your application. Thanks so much!
Free Printable Quote Poster
Something that's been on my mind a lot lately is the fact that no matter how good I am at certain things — not that I'm an expert by any means, there's still a brick wall that I often find myself hitting. By the end of the day, after a shoot in the morning before work, a day in the office, and then writing and editing after work, I find my motivation drying up like an old well.
So, to remind all of us that motivation is what's really driving us through our passions and pursuits, I've made a free poster for you to print! Just click the download button below, and you can download and print the PDF on standard paper.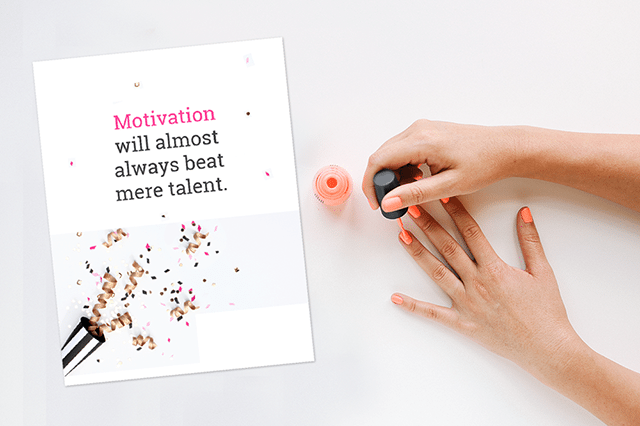 Thanks to Shay Cochrane for sharing this beautiful, oh-so-happy confetti image, too! If you're not already getting her newsletter, join now to get a beautiful freebie every month!!