Learn how to use new Cricut Infusible Ink to create your own floral coloring page shirt with my free hand-drawn SVG file.

I'm so excited to share that I've partnered with Michaels for this sponsored post to show you how to use the brand new Cricut Infusible Ink system – available only at Michaels – to take your crafting to a whole new level! As always, content and opinions are totally my own.
You've probably heard about the latest Cricut innovation on Instagram or your favorite DIY blogs, and you probably have a lot of questions. So first things first…
What is Infusible Ink?
Cricut Infusible Ink is an alternative to iron-on vinyl. It's completely permanent!
Because it bonds with the base material, it doesn't peel, flake, or come off in the washing machine. Infusible Ink designs are super durable, and they can be created with Infusible Ink Transfer Sheets or Infusible Ink Pens and Markers for a ton of versatility.

Save This for Later – Pin It!
What's the difference between iron-on and Infusible Ink?
The biggest difference between iron-on vinyl and Cricut Infusible Ink is that the design sinks right into the material you apply it to and becomes permanent, retaining flexibility and vibrance. You won't get any of the peeling or flaking over time that sometimes happens with HTV.
Where can I buy Infusible Ink?
Cricut Infusible Ink Transfer Sheets, pens, markers, and blanks are currently available exclusively at Michaels.com and Michaels stores. So pop over to your closest Michaels to scoop up your favorite designs before they fly off the shelves!

What kind of projects can I make with Infusible Ink?
You can use Infusible Ink to make clothing, bags, and home accessories! You need to use Cricut blanks with the Infusible Ink compatibility badge (pictured above) to get the best results. Right now that includes t-shirts, tote bags, baby bodysuits, and ceramic coasters.

How Does Infusible Ink Work?
Cricut Infusible Ink works on many of the same surfaces as heat transfer vinyl (HTV), but it's a completely different end result.
HTV sits on top of the surface you apply it to, but Infusible Ink actually becomes part of the material — whether that's fabric or ceramic, like coasters.
Infusible Ink works a lot like sublimation ink, in that the design becomes embedded in the object permanently. But sublimation printing can be expensive and requires special equipment.
If you have a Cricut machine, you already have just about everything you need to get started with creating professional-quality apparel and accessories — no expensive ink sublimation printer needed!

One of the perks of being a crafting addict is that sometimes I get to try out new products before they hit the market so that I can report back to you guys with the results!
I'm really excited about this one — I've partnered with Michaels to give you a peek at the latest Cricut innovation: Infusible Ink.
DIY Infusible Ink Tutorial: Make a Tote Bag

Infusible Ink Supplies

Cricut Maker or Cricut Explore Air 2 cutting machine
StandardGrip cutting mat
Cricut EasyPress 2 or Cricut EasyPress
Cricut EasyPress Mat
Cricut tote bag blank
White cardstock
Butcher paper
Lint roller
Scissors
Weeding tool or tweezers
Design Space software
"I'd rather be in my garden!" free SVG file
Infusible Ink Design Instructions
Start by creating your design in Design Space on your computer or mobile device.

1. Download my free garden SVG file, and upload it to Design Space.
2. Select and size the SVG to fit on the tote bag.
I have a horizontal tote bag, so I used the horizontal SVG file and sized it to 11.5″ wide in Design Space.

3. Click "make," and set the design to mirror.

4. Set your material selection:
For the Explore Air 2, set the dial to "Custom." Then search for Infusible Ink Transfer Sheet.
For the Cricut Maker, select "Browse all materials. Then select Infusible Ink Transfer Sheet.
Infusible Ink Transfer Instructions
Now that you have your design ready in Design Space, it's time to make the transfer. But consider yourself warned: It's addictive!

5. Place an Infusible Ink Transfer Sheet shiny side down onto a green standard grip cutting mat. Use your hand or a squeegee to smooth it out and remove any bubbles.

6. Load the mat into your machine, and pressing the flashing "Go" button.
Unload the mat, and peel the Infusible Ink Transfer Sheet away.

7. Gently roll the sheet between your fingers to crack the cut lines apart.
Use your fingers to peel away the large sections of negative space. Use a weeding tool or tweezers to remove the smaller bits.
Cut away any excess liner material beyond what fits on the EasyPress mat.

Tip: There's butcher paper in each package of Infusible Ink.

8. Put a piece of cardstock over your EasyPress mat, and tuck them both inside the tote.
Set the EasyPress to 385 degrees and 15 seconds.
9. Use a lint roller to remove all dust, hair, and debris from the tote. Anything left on it could interfere with the design transfer.

10. Cover the tote in butcher paper, and make sure the sheet is larger than the EasyPress heat plate.
Press the tote for 15 seconds to remove any wrinkles or residual moisture.
Remove the butcher paper, and let the tote cool completely before moving on.

11. Place the transfer design face-down on the front of the tote.
Tip: Make sure the clear, shiny side is facing you.
12. Cover the design with butcher paper, and press for 40 seconds at 385 degrees.
Tip: Press firmly, but don't let the EasyPress slide around at all. If it does, you could get smudging on your design transfer.

13. Carefully lift the EasyPress straight up after it beeps, being careful not to bump or slide the transfer sheet.

14. Let the tote cool completely, and then carefully peel away the transfer sheet.
Tip: If any of the transfer sheet is left behind on the tote, use tweezers — not your fingers — to remove it so that you don't get smudging.
Printable Instructions
Yield: 1
Cricut Infusible Ink Tips + DIY Tote Bag & Free SVG Files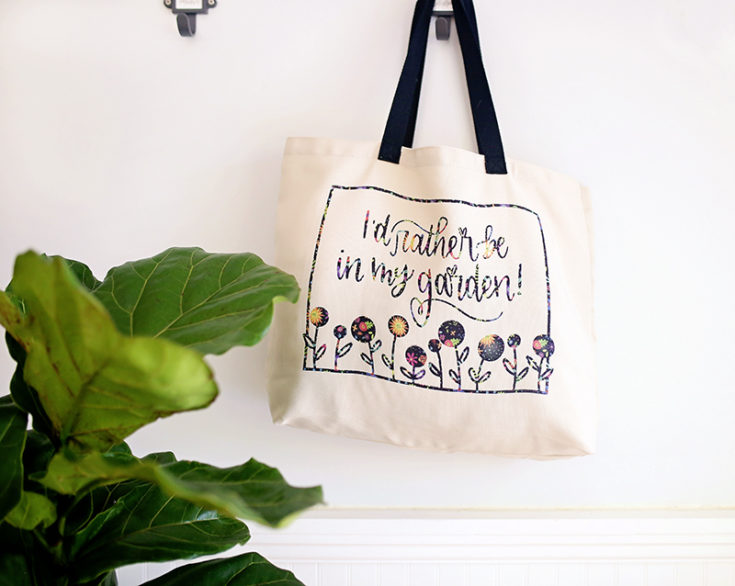 Learn how to use new Cricut Infusible Ink to create your own DIY gardener bag with my free hand-lettered SVG file available for download to use with the Infusible Ink Transfer Sheets and Easy Press 2!
Materials
Cricut tote bag blank
Infusible Ink transfer sheet
Free SVG file
Tools
Cricut machine
Cutting mat
Cricut EasyPress 2 or Cricut EasyPress
Cricut EasyPress Mat
White cardstock
Butcher paper
Lint roller
Scissors
Weeding tool or tweezers
Design Space software
Instructions
Upload your SVG file to Design Space, and size it to fit your tote bag.
Click "make," and mirror the design. Set the material to "custom," and select "Infusible Ink Transfer Sheet."
Place a transfer sheet shiny side down on a cutting mat.
Load it into your machine, and press "go."
Weed the design with your fingers and tweezers, and cut off any excess liner.
Tuck the EasyPress mat and a piece of cardstock inside your tote bag and a sheet of butcher paper on top, and press at 385 for 15 seconds to remove wrinkles.
Once the tote cools, place the Transfer Sheet shiny side up on your tote bag, and cover with butcher paper.
Press at 385 for 40 seconds, and then let it cool.
Peel away the Transfer Sheet, using tweezers to remove any remaining Transfer Sheet.
More Great Cricut Projects