Tutorial: Learn how to make a DIY makeup bag to tote around all your essentials in style.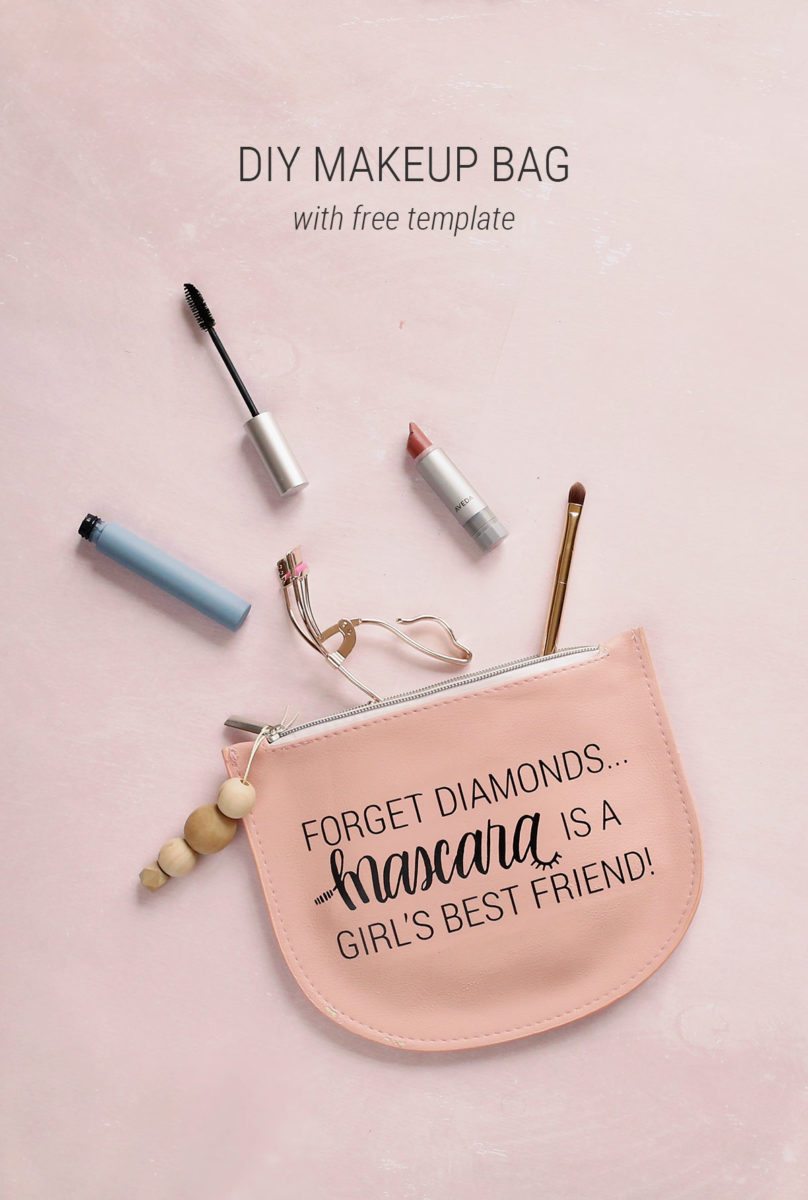 I'm not much for diamonds.
My engagement ring isn't even a real diamond. We were in grad school, and it made way more sense to spend the money on our wedding and honeymoon.
Andrei said we'd replace it with a real one later, but I told him I like it just how it was.
I don't actually wear a whole lot of makeup, either, but one thing I can't live without most days is a couple coats of mascara.
I often throw my makeup bag, filled with just the essentials, in with my stuff when I'm on the go. So naturally I want it to be something I don't mind showing off. I've had lots of cute store-bought options over the years, but I finally decided to put my handmade touch on the project!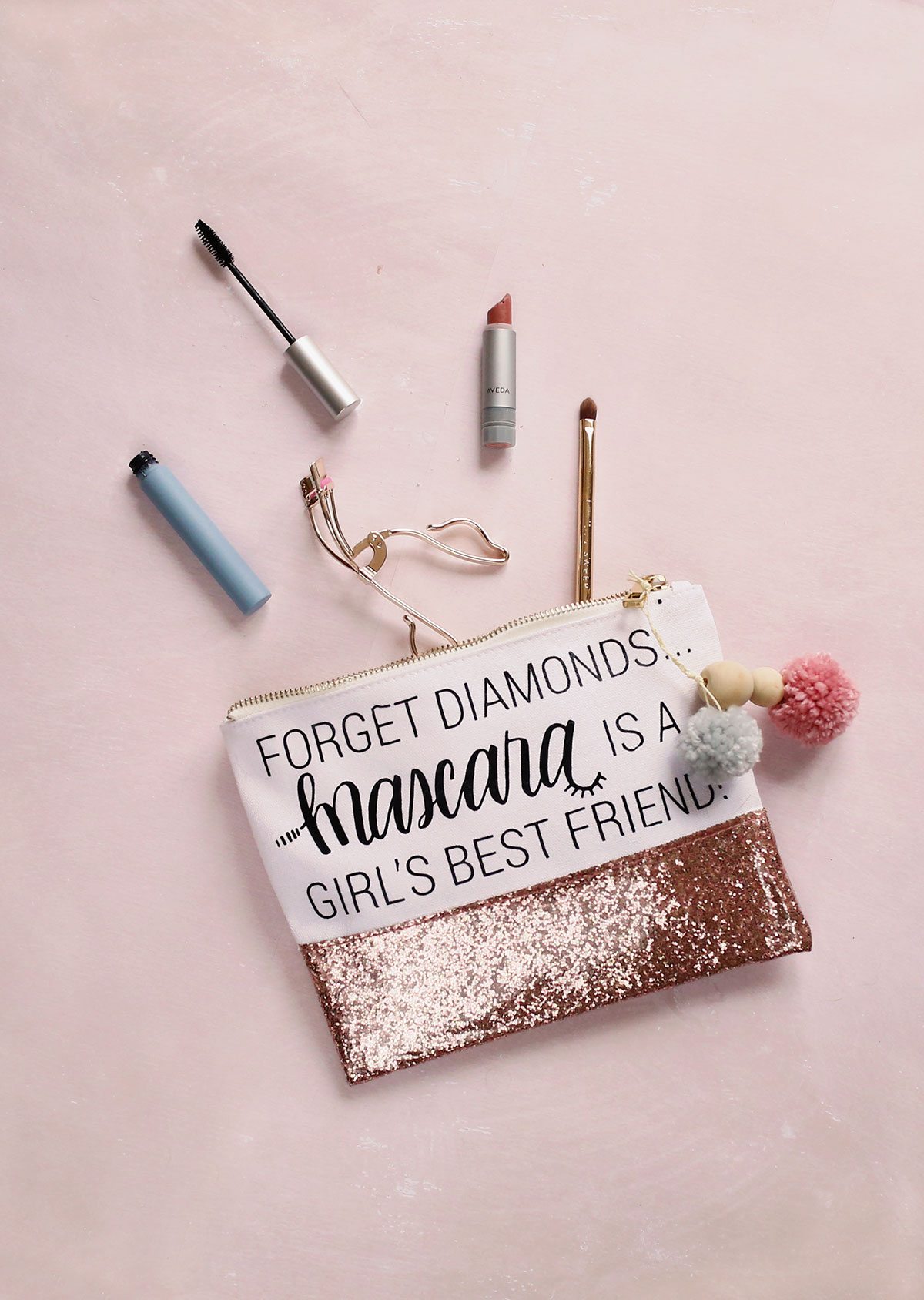 DIY Makeup Bag With Free Hand-Lettered Template

Supplies
This tutorial shows you how to create the project on a Cricut or Sihouette machine with iron-on vinyl, but you can do it without that, too. Just use the supplies listed under "for regular printers," and follow the instructions on the transfer paper package. The supply list contains affiliate links, so I could make a small commission, but they don't cost you anything extra.


Zipper pouch – Mine's from the Target Dollar Spot, but these are the right size.
Iron
Yarn
For Cricut or Silhouette machines
For regular printers
How to Make a DIY Makeup Bag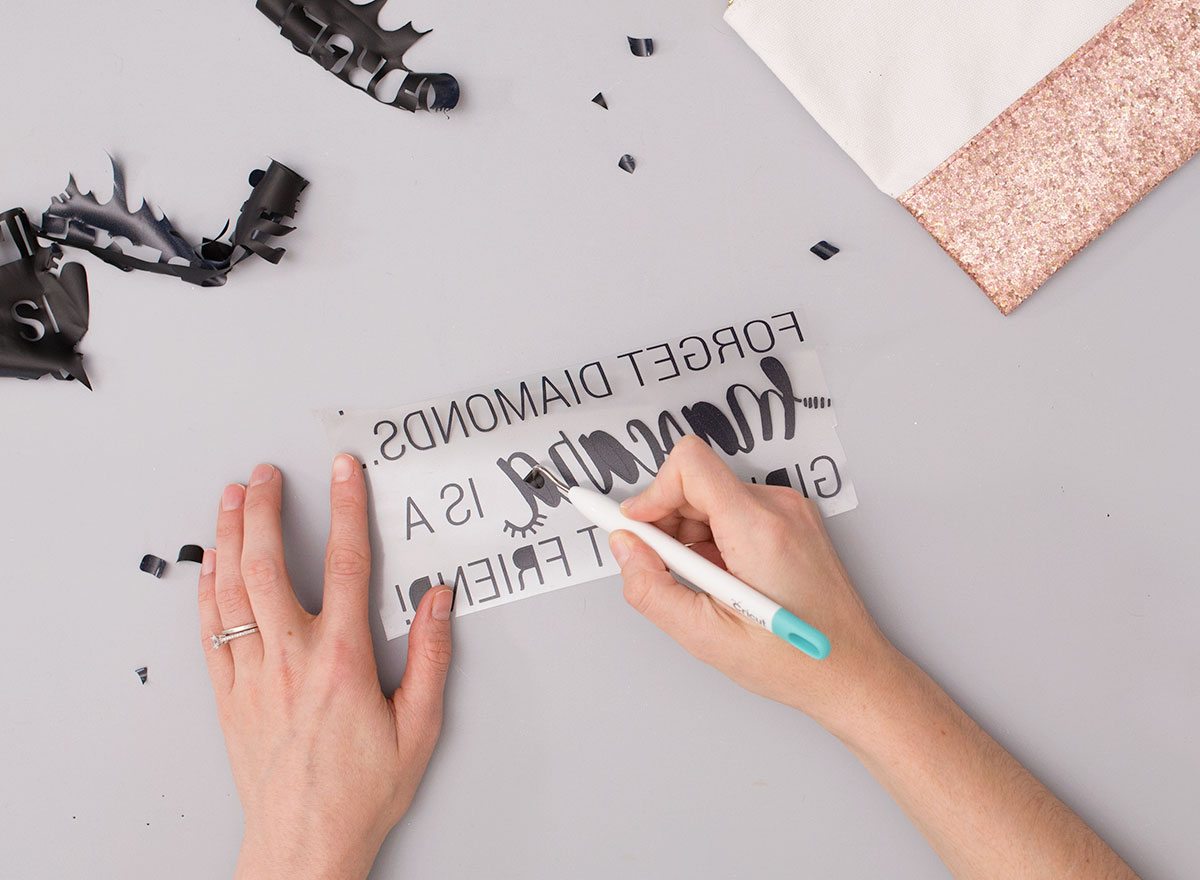 1. Use your Cricut or Silhouette software to size the DIY makeup bag template to best fit your pouch. Just measure the length and width of the area where you're iron on the text, and take off a half inch or so from both measurements to give some padding around the edges.
Cut and weed the design to remove the extra vinyl.
Tip: Don't forget to mirror the design so that it irons on the right direction!
If you're doing iron-on transfer paper, print out the template, and cut around the design.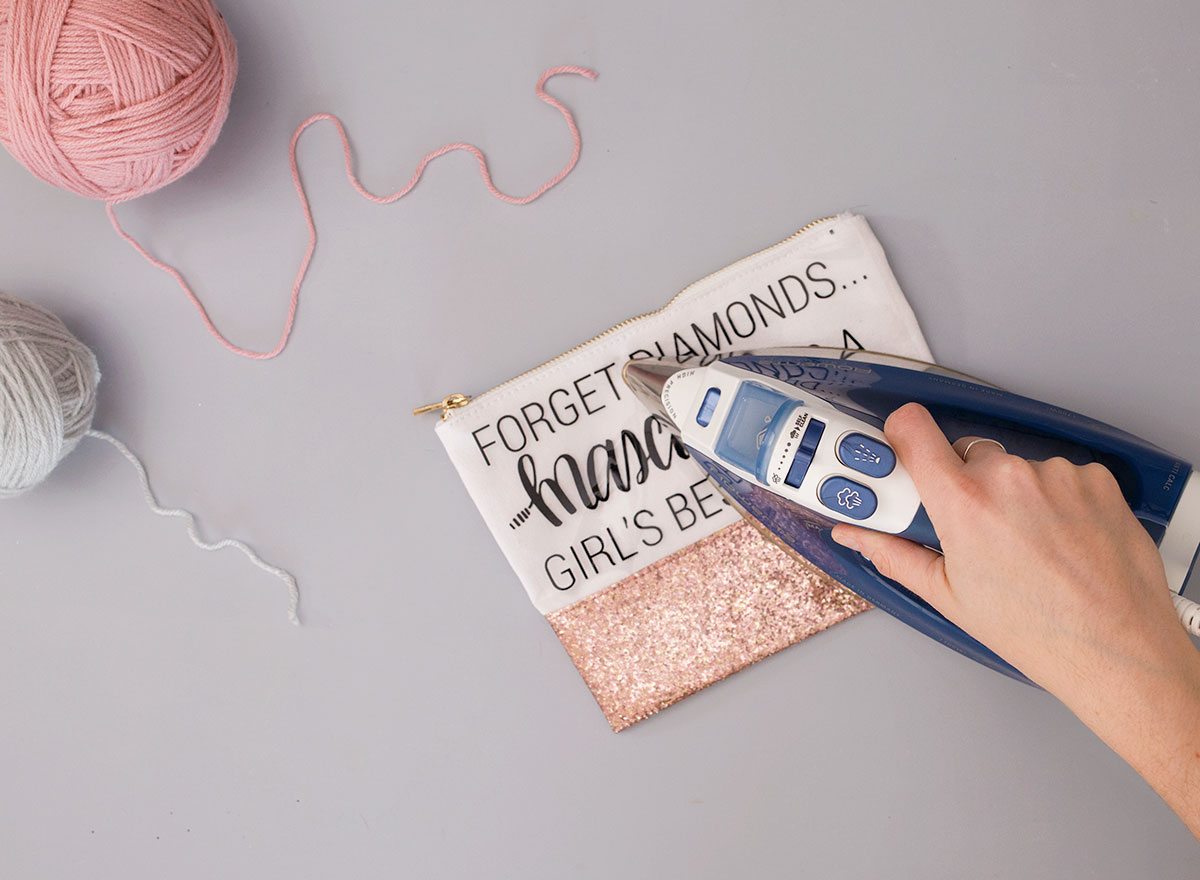 2. Place the vinyl or transfer over the pouch, and iron it on. Be sure to use the heat setting required for the vinyl. But if you're ironing onto anything synthetic,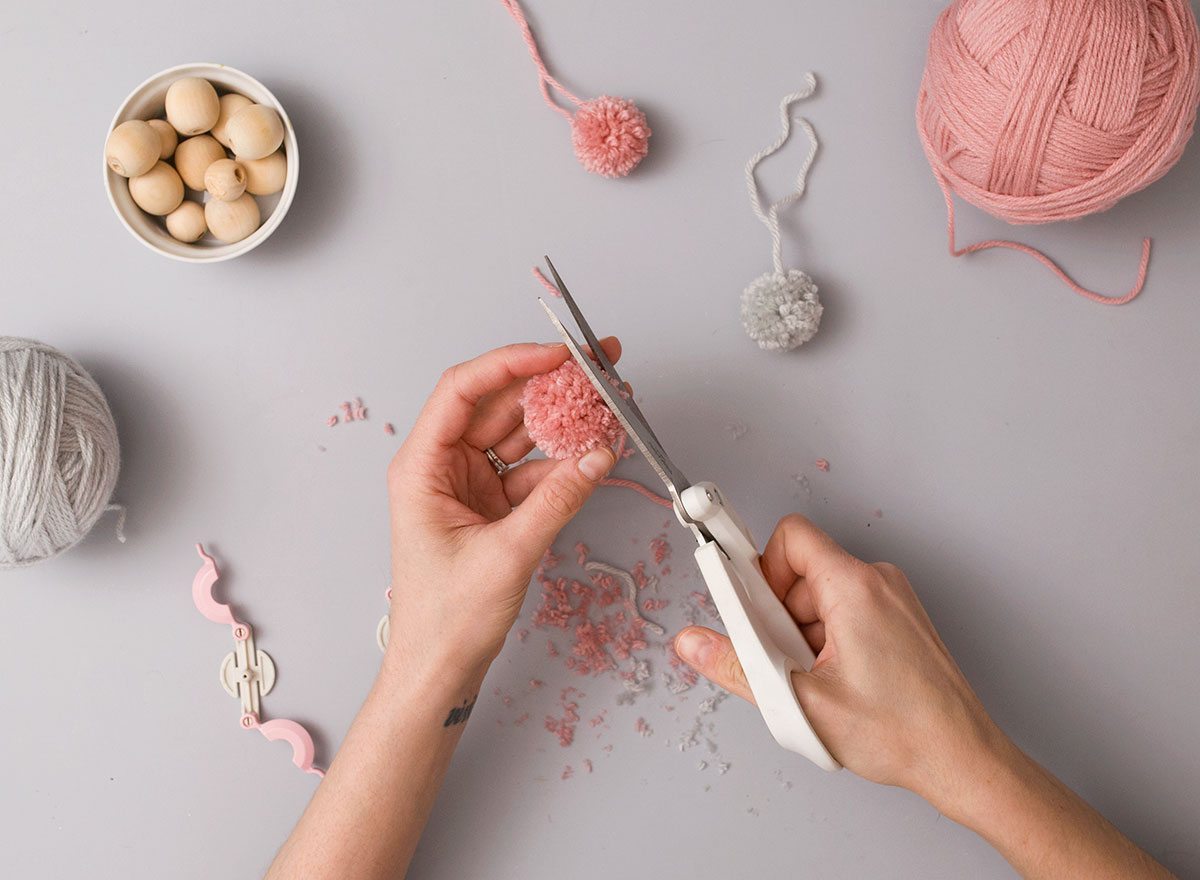 3. Use a pom pom maker to create a couple pom poms. Trim all around the poms to cut any strays and get a rounder shape.
Tip: When making pom poms, wrap a ton of yarn to get a nice, fluffy pom pom with a really round shape.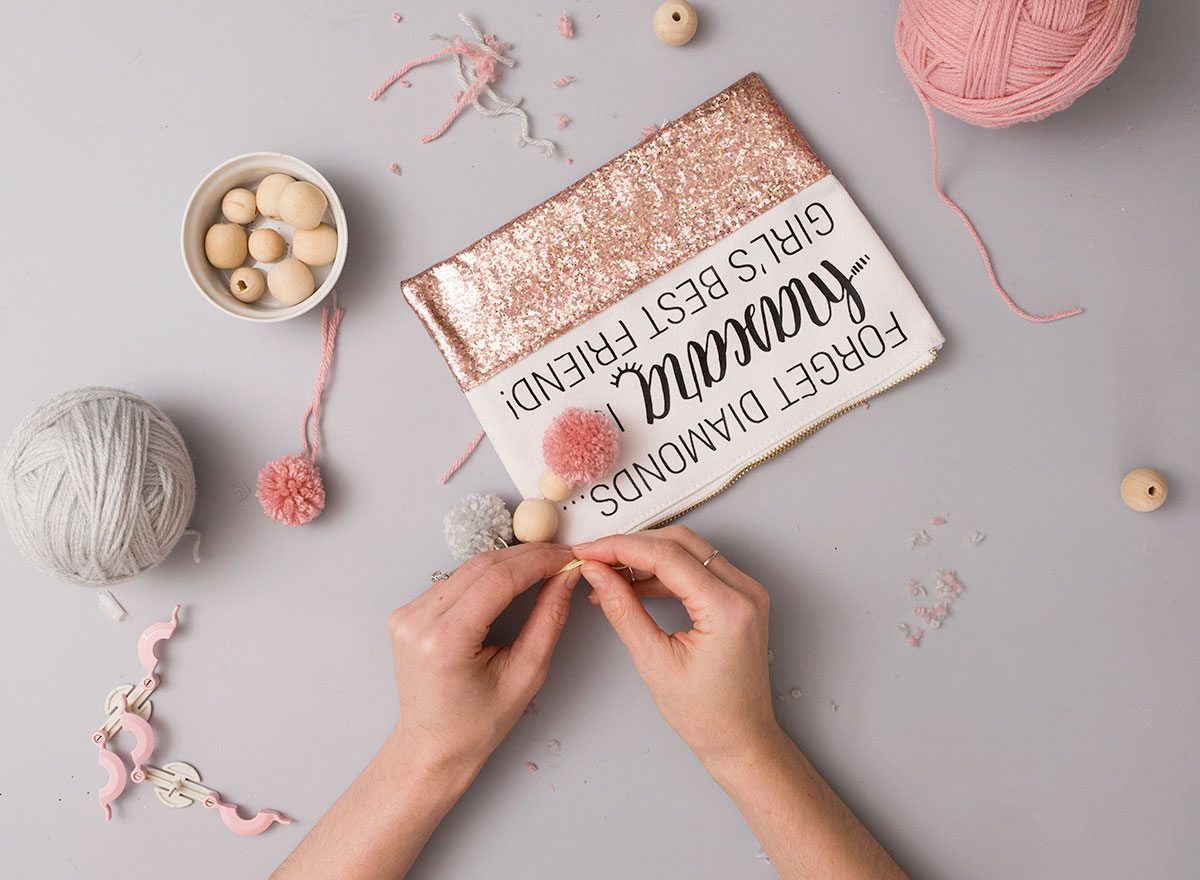 4. String the pom poms together, and tie them to the zipper. You can also do one with just wooden beads if you want something simple or have a pouch that's already a bright color, like the pink one I used.
This would make a super cute gift or party favor for a bridal shower or bachelorette party. You could make several at once and put lip gloss or other cute little essentials inside!