Get ideas for DIY painted terracotta pots with a simple, modern bohemian flair!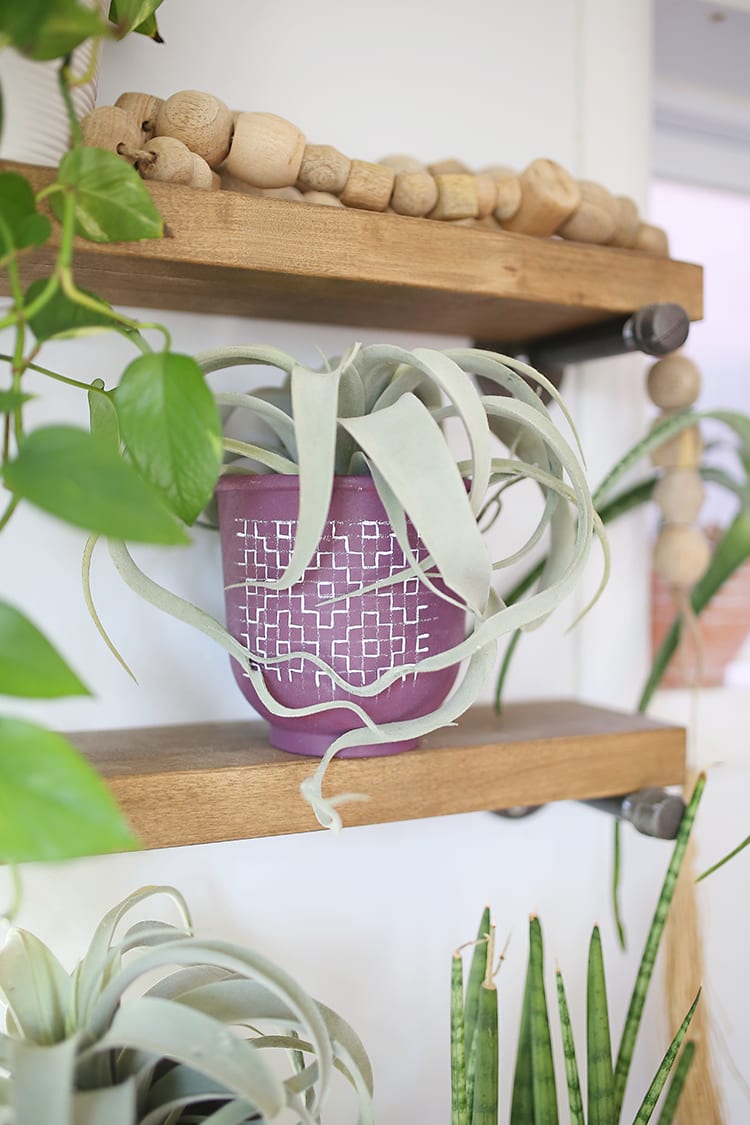 I've partnered with DecoArt to share a beautiful – but super simple – home décor idea using their brand-new Americana Suede Paint. I use their paint all the time, like my free trick for how to turn a photo into paint by numbers and my paint by numbers furniture.
Oh, and if you like this project, then you'll love my giant DIY mudcloth planter makeover or my DIY hanging pot!


I've gotten really into sewing and mending clothes this year, and one of the techniques that I've been dying to try out is sashiko embroidery. Sashiko is a Japanese stitching technique that was originally meant to be functional to reinforce textiles. Today it's often used in visible mending to patch clothing with creative flair.
I'm so drawn to the beautiful patterns and the imperfect finished designs, but I haven't had a chance to try it out with a needle and thread yet.
This project is the next best thing: I've painted sashiko designs onto terra cotta pots to capture the geometric style for my plants instead of my pants. Sorry, that was way cheesy… 😉

Before we get to the project, let's address a few common questions about how to paint terracotta pots.
Is it OK to paint terracotta pots?
You can definitely paint terracotta pots. In fact, I highly recommend it – they're the perfect blank canvas for so many different ideas!

What paint do you use on terracotta pots?
You can use acrylic paint or spray paint to paint terracotta pots, but I prefer acrylic paint because I have more control over the end result. For a beautiful finish on this project, I'm using Americana Suede Paint, which is a type of acrylic paint that lends a luxurious textured finish to the surface.
Note: If you're painting terracotta pots with children, be sure to use a water-based paint to avoid any harmful fumes. Water-based paint cleans up with soap and water, which is also important when crafting with little ones!

How do you prepare terracotta pots for painting?
You can paint directly onto a terracotta pot without any special preparation if it's unglazed. The most important thing is to make sure the pot is free of dirt and dust. Wipe it down with a damp cloth to remove any buildup.
If the terracotta pot is glazed, you'll need to use a primer or a paint that's made to be used without a primer.

Do you need to seal terracotta pots?
Terracotta pots don't need to be sealed, but you can use some sort of top coat if you want to protect your painted design. If you're going to keep your painted terra cotta pots outside, definitely seal with a varnish to keep the design from being damaged or faded by sun and weather exposure.
Terracotta is a type of clay, which is porous, so terracotta pots do allow water to seep through very, very gradually. Using a waterproof sealer will prevent this. It's a good tip if you tend to forget to water your plant babies often enough – not that I've ever been known to do that… 😉


DIY Painted Terracotta Pots

Supplies
Terra cotta pots
Americana Suede Paint (available now at Michaels in 10 colors!)
Scruffy paintbrush
White chalk
White acrylic paint
Thin paintbrush
DecoArt Suede Varnish



1. Paint your first coat of color directly onto the pot. You don't need to do any priming or prep work if you're using the Americana Suede Paint that I used. This paint is permanent and covers minor imperfections on the painted surface, so it's perfect if you're wanting to give an old pot a makeover!
Tip: Brush the paint on with a cross-hatch motion for the most suede-like finish. Basically paint diagonal strokes in one direction, and then overlap them with diagonal strokes in the other direction.
Cover the entire outside as well as an inch or two inside the lip, since that part won't be covered by dirt when the pot is in use. Set it aside to dry while you paint the first coat on the next terra cotta pot.
2. For more texture, paint a second coat, using the same cross-hatch motion. Let it dry to the touch before moving on to the next step.

3. Chalk a quarter-inch grid onto the front of the pot. I actually ended up using a white charcoal pencil for finer lines and because I wanted some of the grid to show at the end.
You can freehand the grid, or download my free template to cut out a grid stencil on your Cricut or Silhouette machine.
If you're using my template, size it to six inches square before cutting. To use, trace all the vertical lines, and then rotate the stencil to trace the horizontal lines.

4. Find a sashiko design you like, and paint it onto the grid. Use white acrylic paint and a thin paintbrush.

Start by painting all the horizontal lines in a row, and then you can do the vertical lines. Let it dry thoroughly, and then wipe away the chalk grid, if desired.

5. Seal with a coat of Americana Suede Varnish to protect the design – especially if you'll be using your painted terra cotta pots outside.