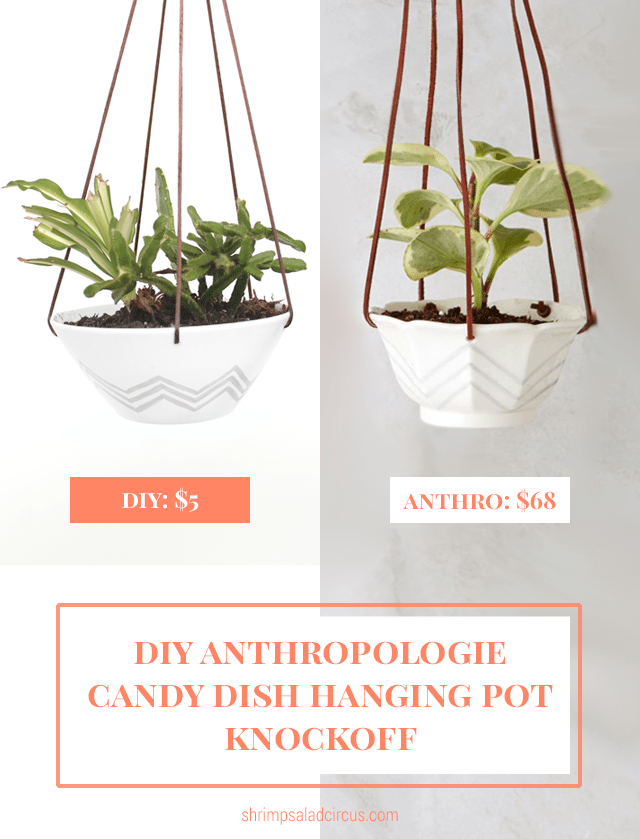 Now that spring has finally sprung (hallelujah!), I've got plants, gardening, and everything outdoors on the brain. I wanted a set of hanging planters for my studio space because I want some greenery up there but have used up all my surface space. I fell in love with the Anthropologie Candy Dish Hanging Pot. It's absolutely beautiful, but it costs $68.
Not in the budget…
After some digging around (gardening pun, get it?), I found a melamine bowl I got ages ago and realized I could make a pretty decent knockoff for well under ten bucks. Read on for the full tutorial.
If you make this project, please share it with me on Instagram! Use the hashtag #MyShrimpSaladCircus so I can find it and feature my faves!
P.S. Thanks to Nicole for hand-modeling for the tutorial!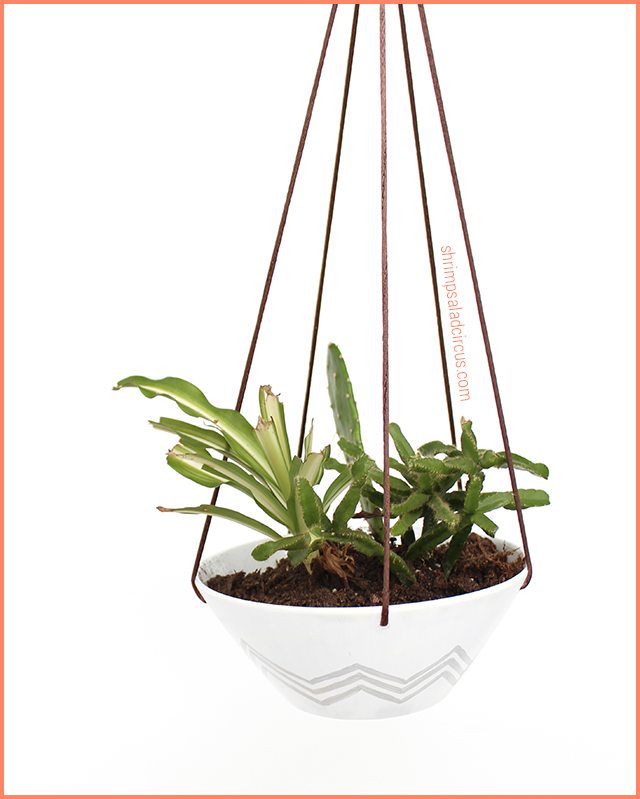 Supplies
Paintbrush
Painter's tape
Brown leather or synthetic cord
Drill
The supply list contains affiliate links, and all that means is that I could get a small commission if you buy something, but it won't cost you anything extra. Thanks!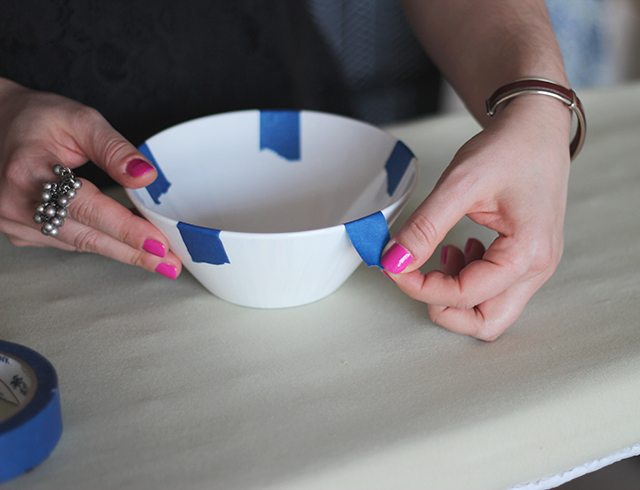 1.   Place a piece of painter's tape over the lip of the bowl at five evenly-space intervals. When we drill the holes later on, this will help keep the bowl from splitting.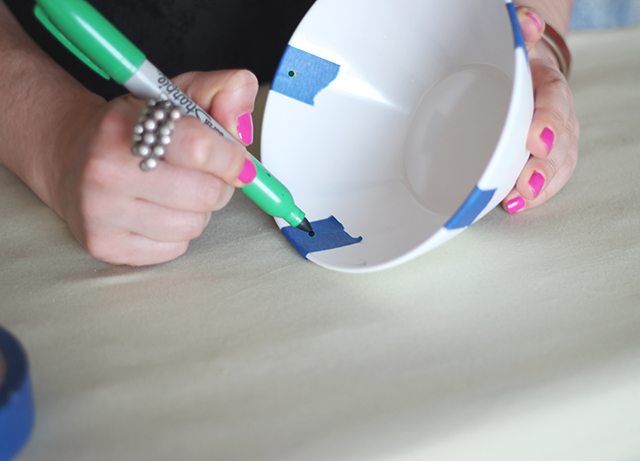 2.   Use a marker to make a dot about 1/4″ from the rim of the bowl in the middle of each piece of tape.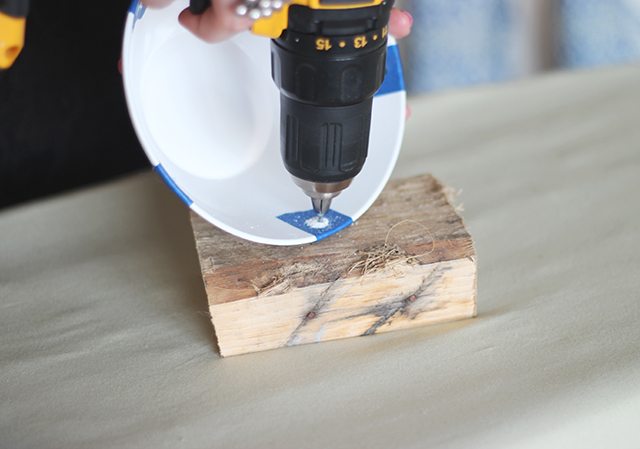 3.   Place the bowl over a block of wood to give you a surface to drill into and stabilize. Go all the way through the bowl, making sure you've made a hole completely through. Repeat for the other four marks you made.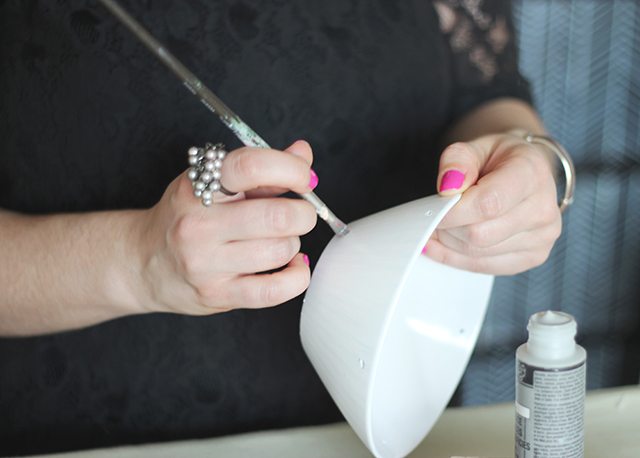 4.   Peel off the painter's tape. Use a multi-surface paint to freehand three rows of zigzags around the base of the bowl. Add another coat of paint or two to the stripes, until you're happy with how opaque they are.
5.   When the stripes are completely dry, spray the outside of the bowl with a couple coats of a clear spray paint to seal it, especially if you'll be hanging your pot outdoors.
*Note: My bowl was really shiny, so I sanded it lightly first to give the paint something to adhere to.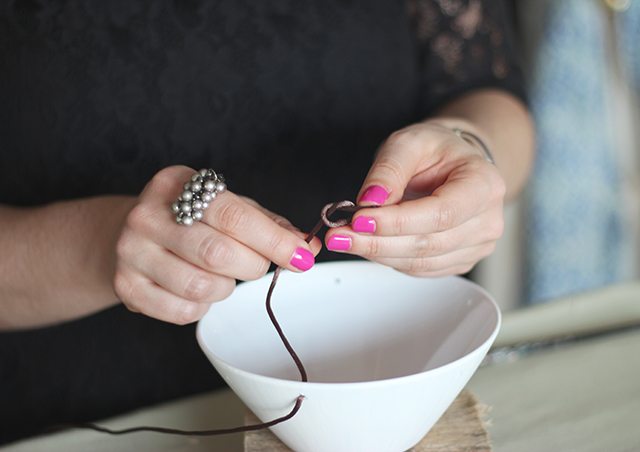 6.   Cut five pieces of brown cord to the same length. Thread a piece through each hole from the outside in. Tie a very tight knot in the cord inside the bowl, and trim off any excess. Once you've tied all five cords, grab them in a bundle at the top end, and knot them all together.