Get inspired to do your own makeover with these IKEA basement ideas. It's budget-friendly, so you can do the whole room at once!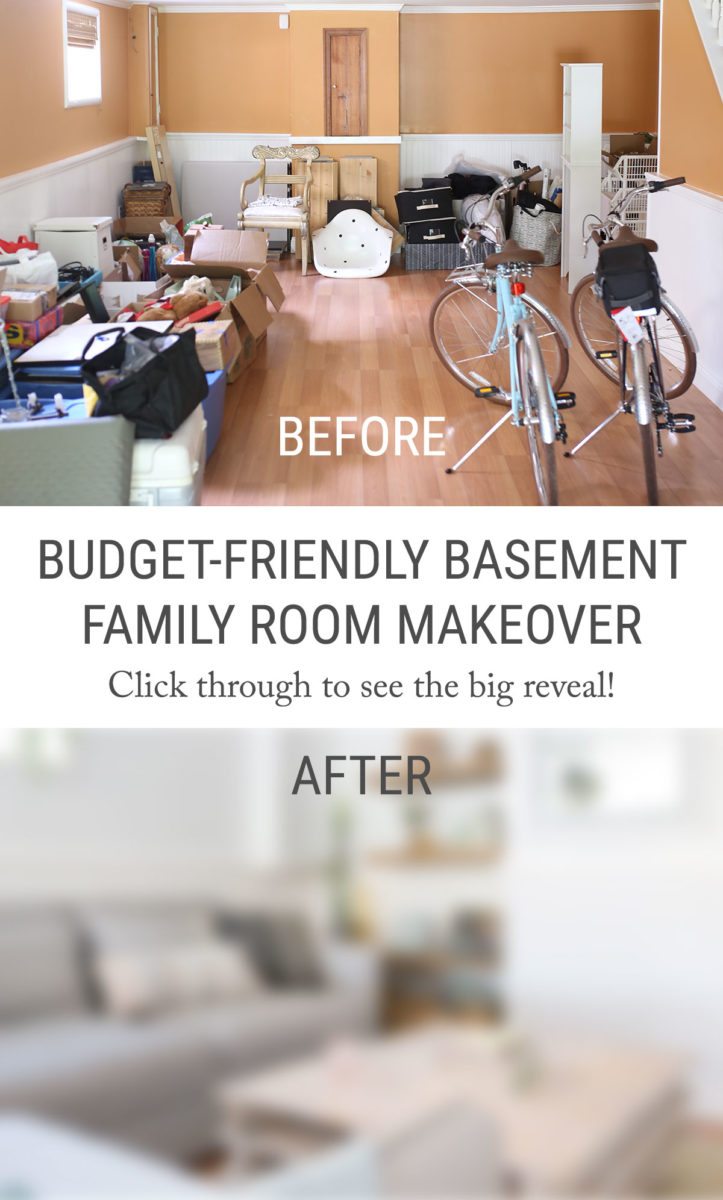 This makeover was created in partnership with IKEA as part of series. All content and ideas are my own.
Hello, new friends! I hope you love this basement makeover. I just wanted to let you know that if you sign up for my email newsletter, you'll receive my FREE printable hand-lettered 2018 calendar (pictured below) as a thank-you! Get it here.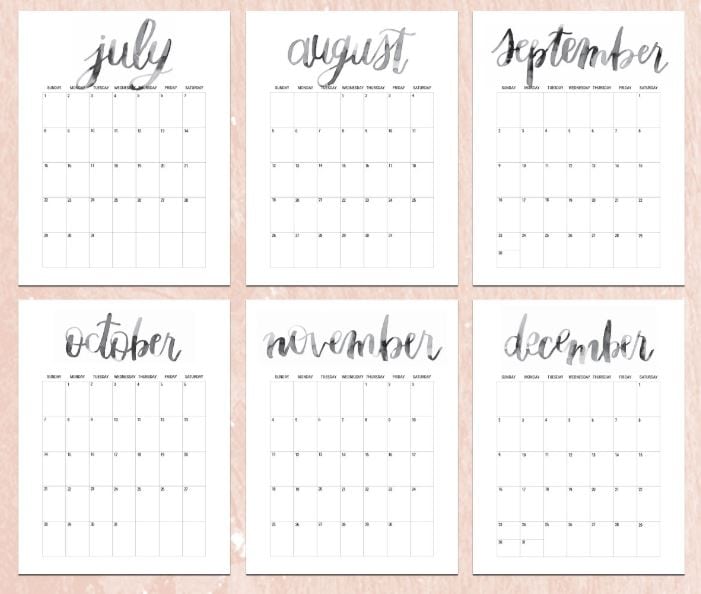 When we bought our house, the basement was:
Orange. So. Very. Orange.
Bowling-alley-esque.
A little bit suffocating with super low (like 6'2″) ceilings.
We ended up storing a bunch of junk in there for a long time because making it beautiful honestly felt a little bit overwhelming.
But with the help of the perfect furniture; a light, airy paint job; and some custom-built design elements, we now have an incredibly functional, multi-purpose family room.
A lot of work and a lot of love — and visions of our newly-grown little family of three — went into this space, and I couldn't be more excited to share that with you guys!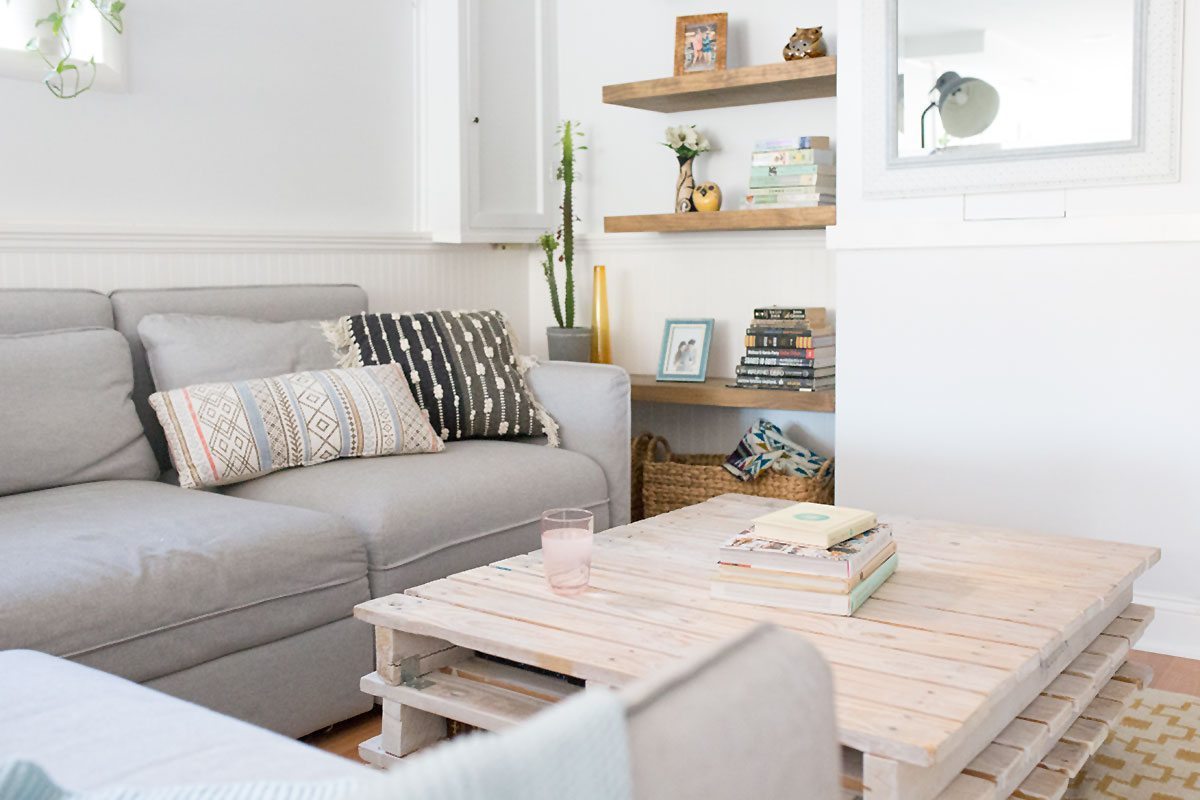 But before we get to the important stuff — the pictures of every little detail — let's take a moment to appreciate how pumped Pippa is for this room reveal. I mean, you guys. Look. At. That. Little. Face!
She takes her job as family room docent very seriously, obviously.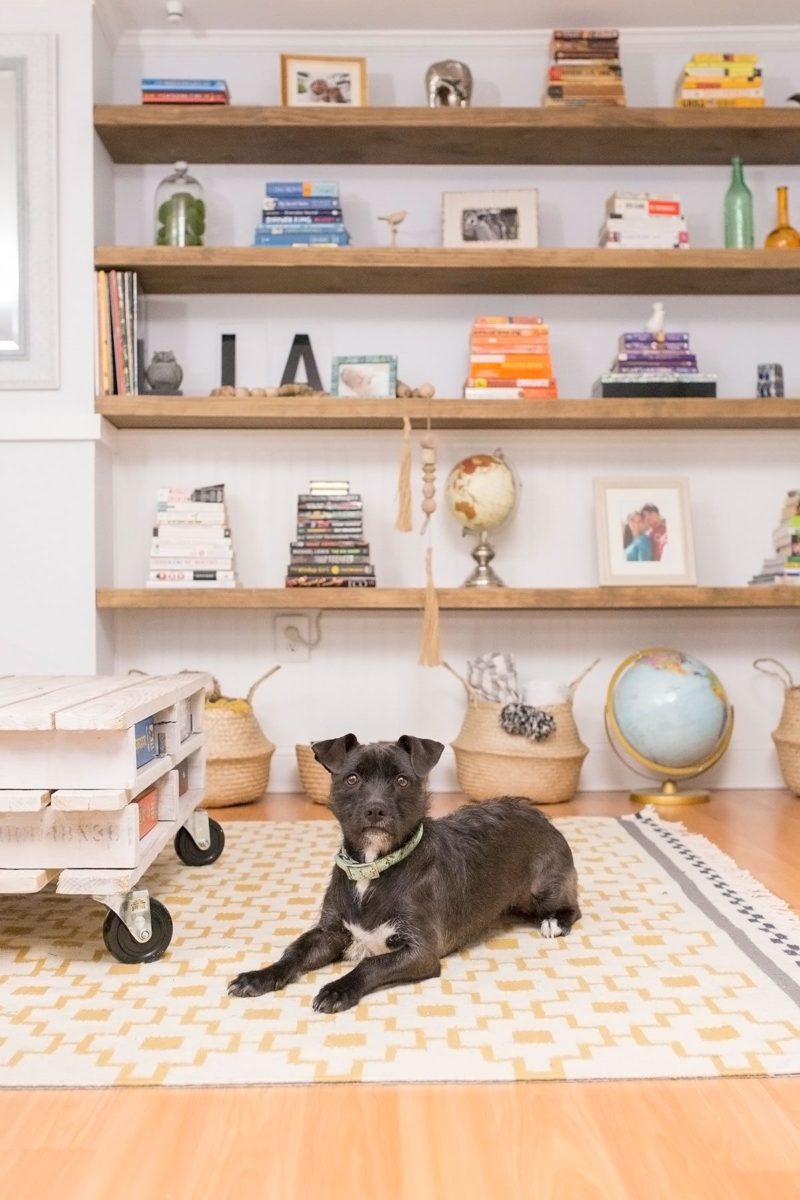 Okay, so now that that's out of the way, onto the good bits…
But First: Other IKEA Hacks and Decor DIYs You Might Like
My Living Room Basement Makeover
Even though it's technically just one room, it's really long and serves a few purposes. So I hardly know where to begin!
But to keep myself from rambling, I think I'll start at the front.
When you first walk in, our built-in bar (pictured below) is on the left, and it's one of my two favorite parts of the room. I'll get to the second in a bit.
We built the bar with a butcher block countertop and the HEMNES sideboard. Here's how we made it. We have used this thing so much, you guys.
Seriously.
It's my starting point for every gathering. It's where I lay out blog projects when I'm getting organized. It's where everything on the dinner table ends up when we clear it for board game night ;). But really, I couldn't have asked for a more versatile piece, and it's so sturdy and solid that I feel like we're going to have it forever.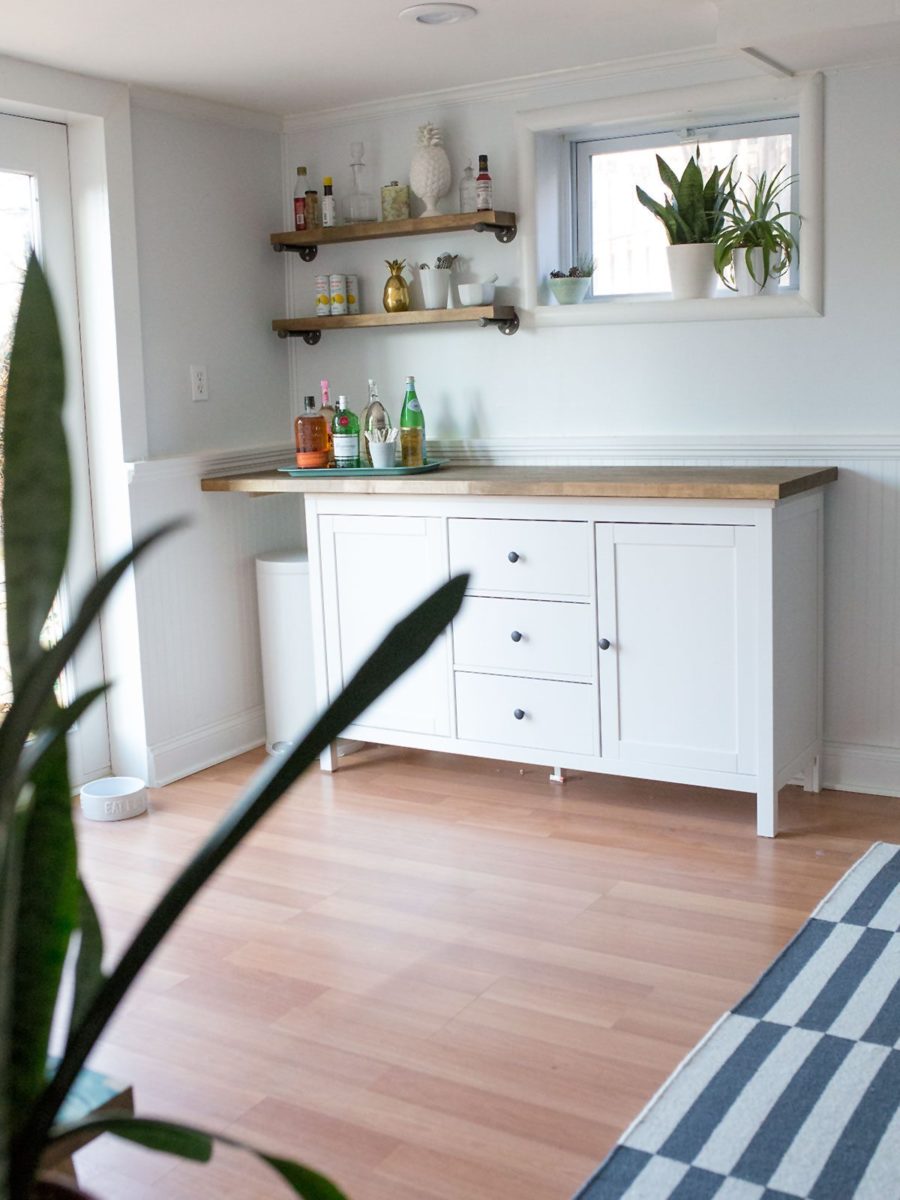 Just inside the door on the right, we have a little mudroom area with a bench and wall hooks to sit and take off shoes and hang everything up.
The paint by numbers furniture is another DIY project using this IKEA bench. It's a functional art piece and makes for great extra seating when we have parties.
When people come over they comment about how cute it is. I think a little pop of unexpected art always makes people notice and smile, so please don't feel limited to the walls!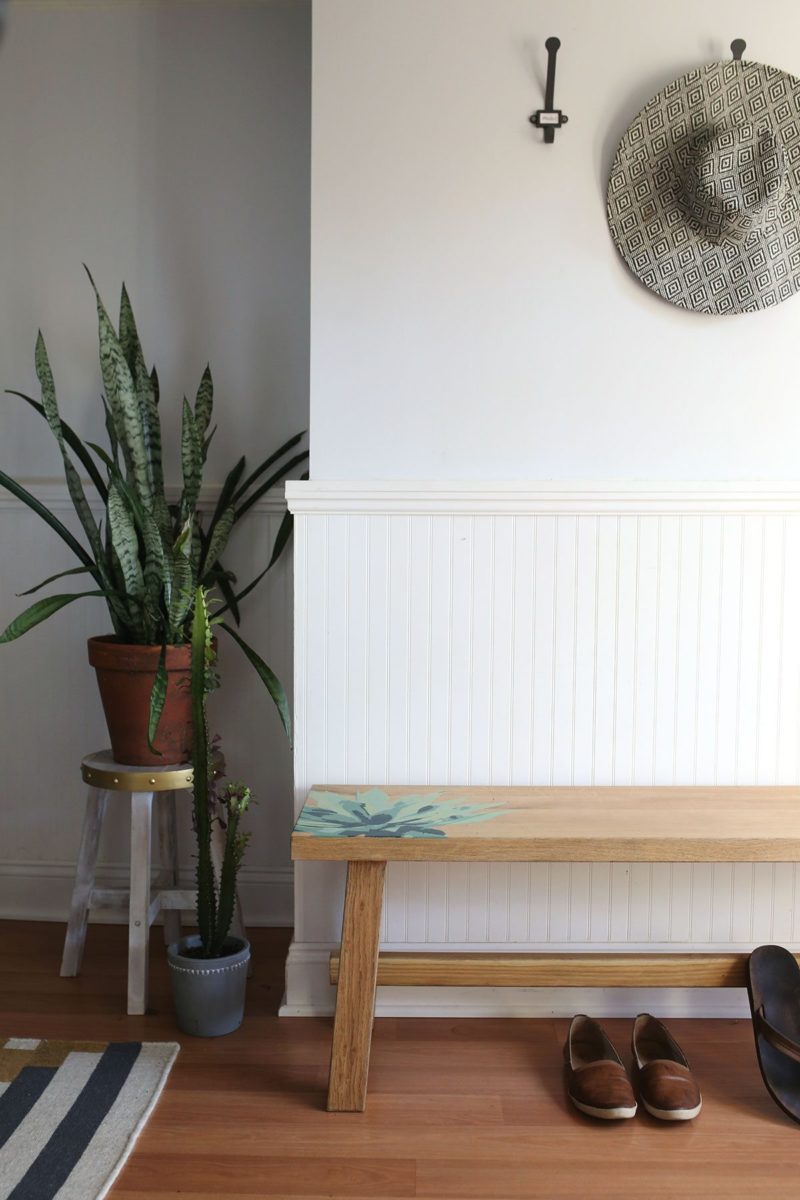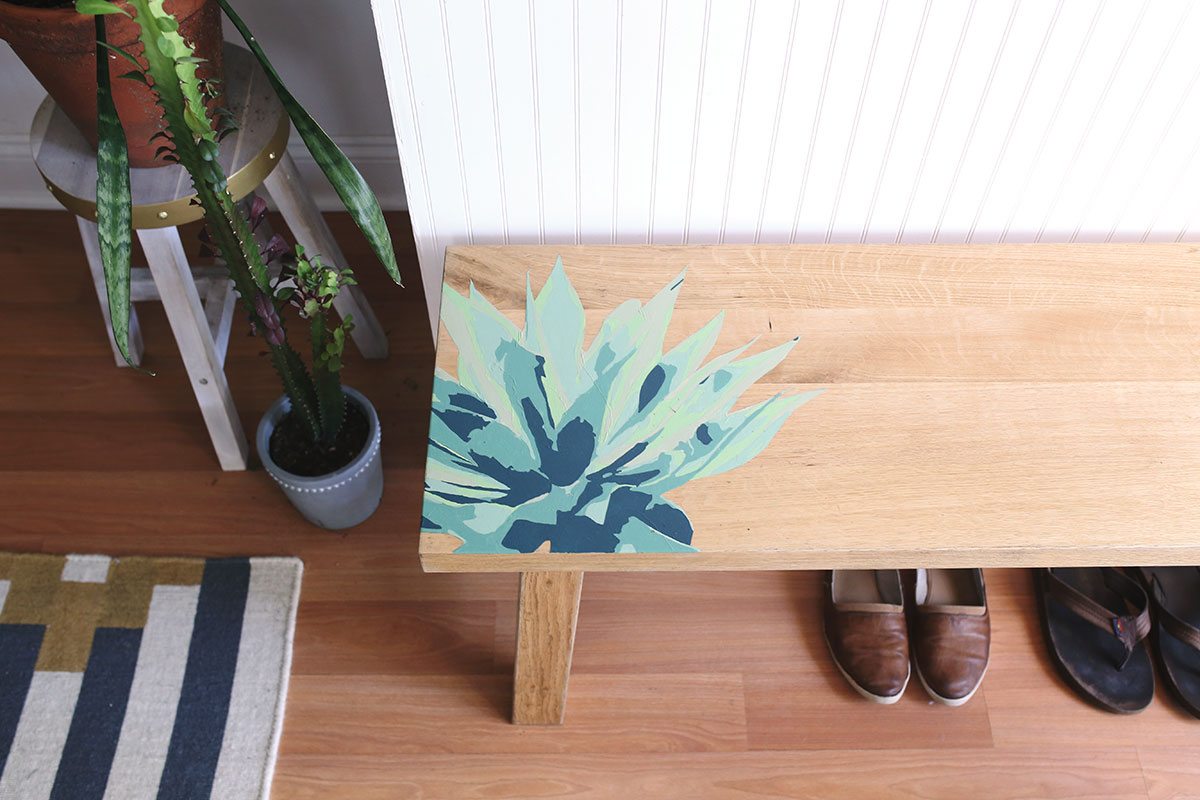 The main area in the front half of the room is a dining area. Our existing dining set was way too big for our space upstairs, but we needed something large downstairs. Instead of starting from scratch, we moved the existing one downstairs and gave it a super dramatic makeover. Here's the the table and chairs before and after. We swapped out the LISABO table upstairs for a much better fit and to keep the makeover on budget. It's only $149 now!
Since it's just two two of us and lady baby most of the time, we just keep the four original dining chairs out. But we often have people over for dinner or to play board games, so we needed more seating options. We got four of the TERJE folding chairs to fill the need. They take up minimal space when we're not using them, which is perfect for this small space.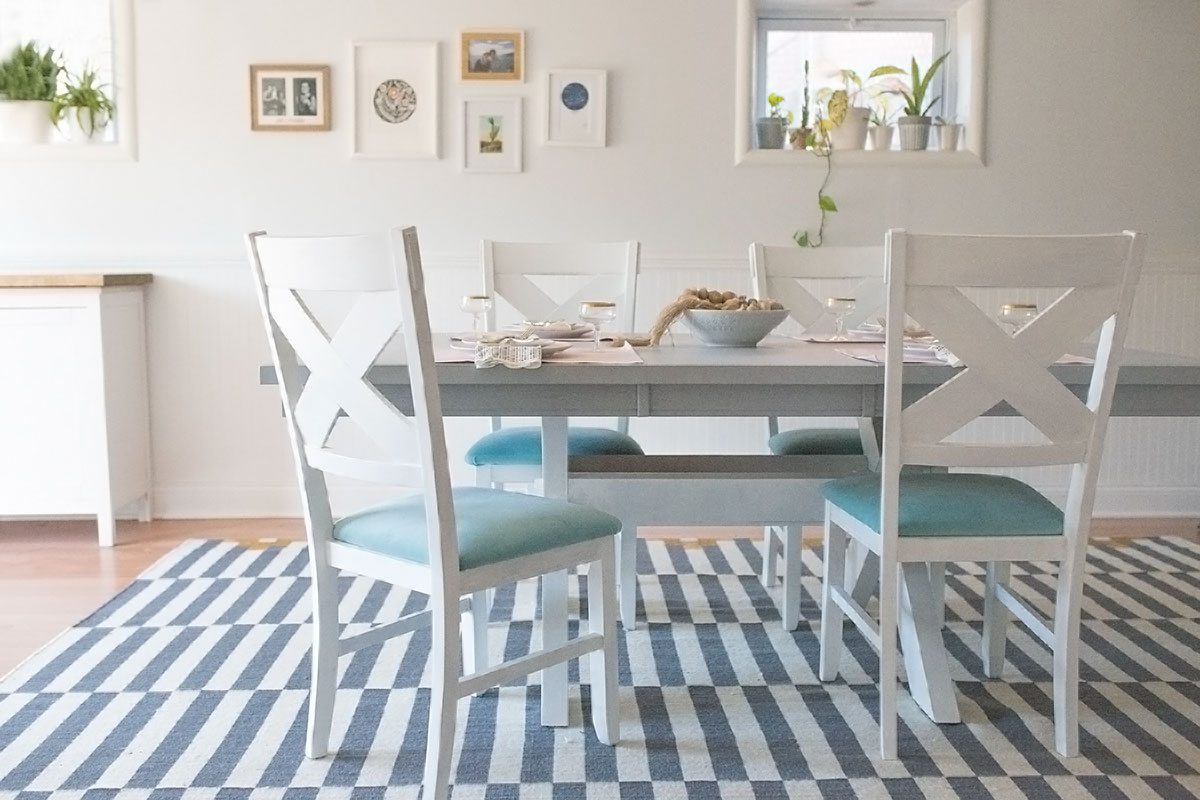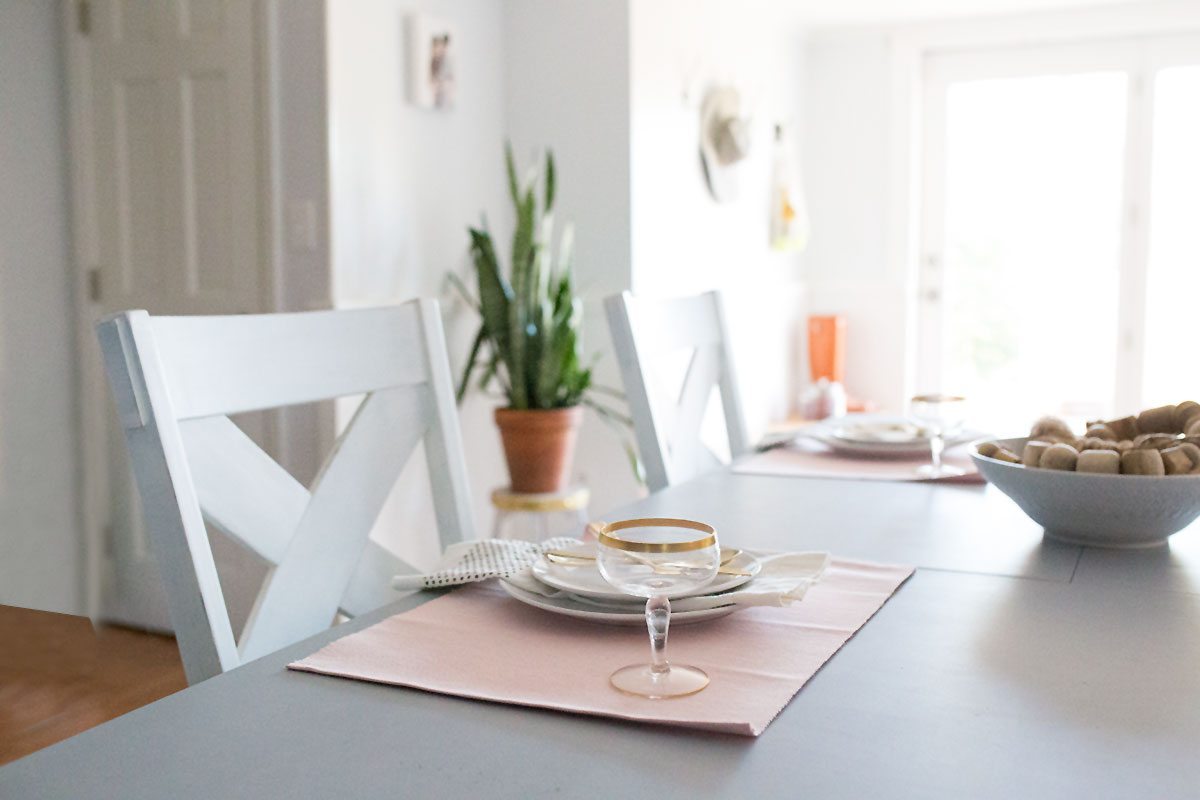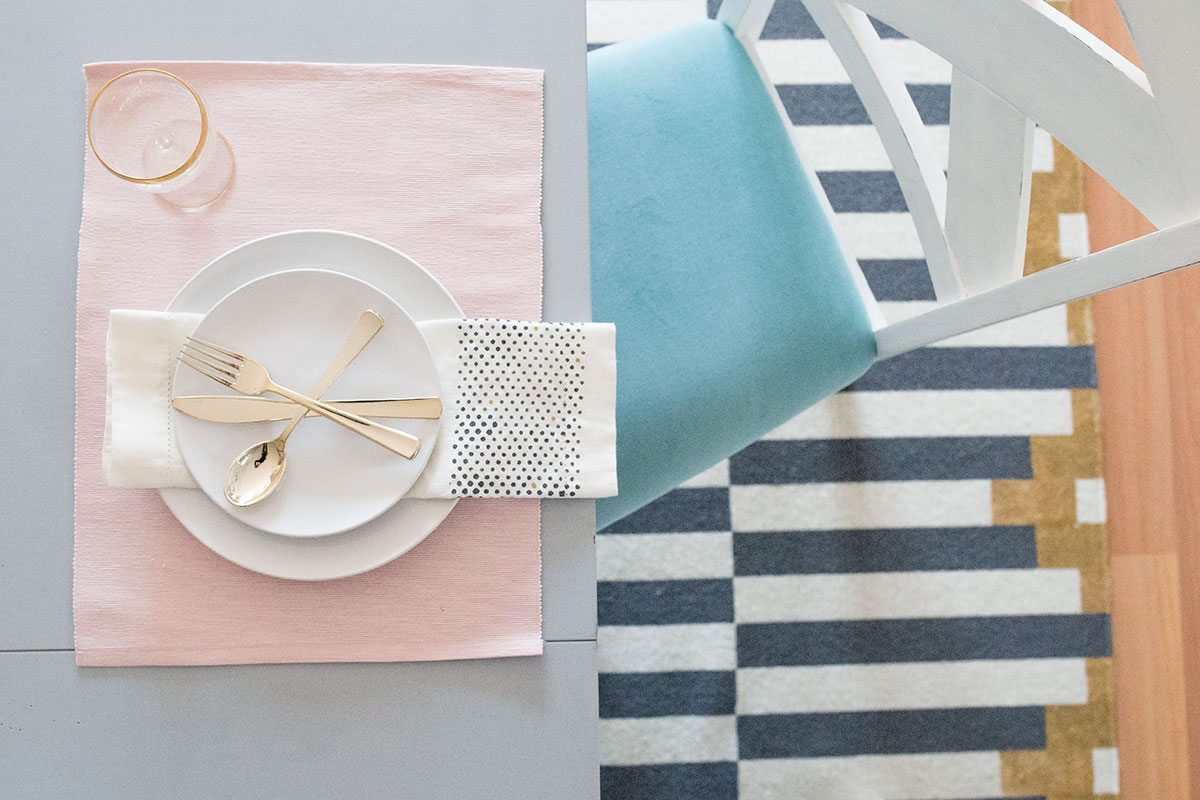 The rug under the table is one of my favorite DIY projects ever! I painted a pattern on the STOCKHOLM rug to coordinate (but not match exactly) with the ALVINE RUTA. As you'll see when we get a little further into the room, it really helps unite the two separate areas. Check out that post to learn how to paint a rug.
Tip: Definitely make sure to get a non-slip rug underlay unless you're layering over carpet.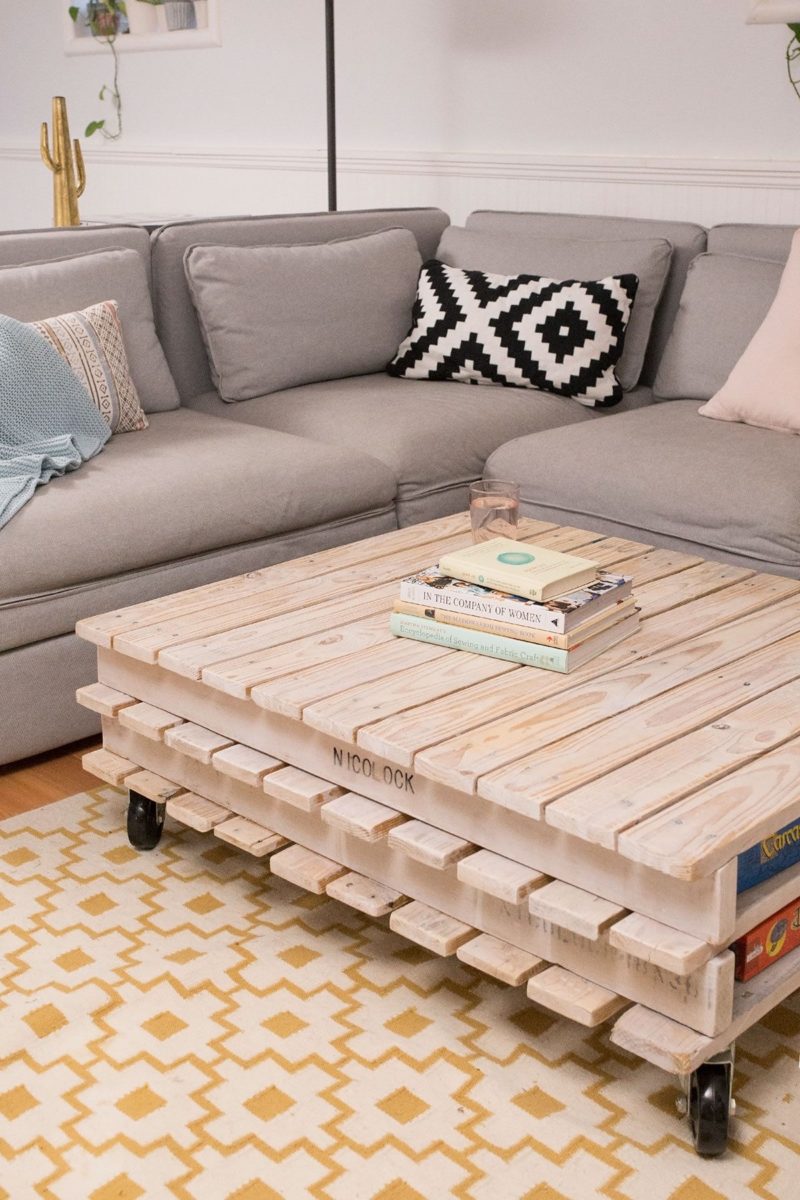 We keep our record player and some board games on the HEMNES Console Table behind the couch. It helps to kind of visually divide the space.
We knew we wanted a lot of seating, and nothing too fussy. When we have everybody over for game nights, there will be quite a handful of soon-to-be-toddler running around!
We also have visitors even more often now that we have a baby, so we tried to prioritize extra sleeping space as well.
The VALLENTUNA sofa series ticked all the boxes for us:
Sleeper sections
Storage sections
Removable washable covers (that we've already had to wash a few times!)
I prefer it pulled away from the wall a few inches because it has a shallow back.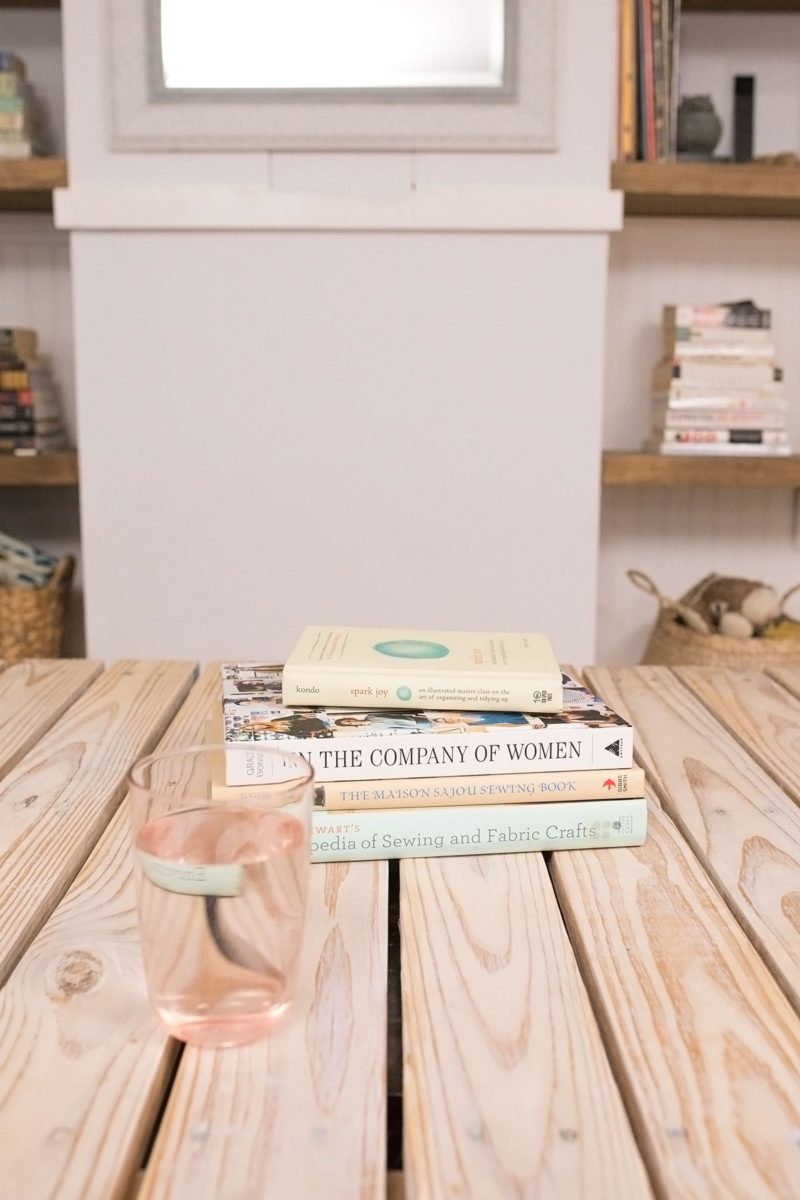 I made our coffee table years ago out of pallet wood. You can see more about our DIY pallet coffee table here if you're interested. It's a total behemoth, but I really wanted the contrast of the wood against all the white furniture, so we brought it down from upstairs and put the HEMNES coffee table upstairs instead.
Tip: Swapping your furniture from one room to the next is a great way to mix things up and get a fresh new look while staying on budget!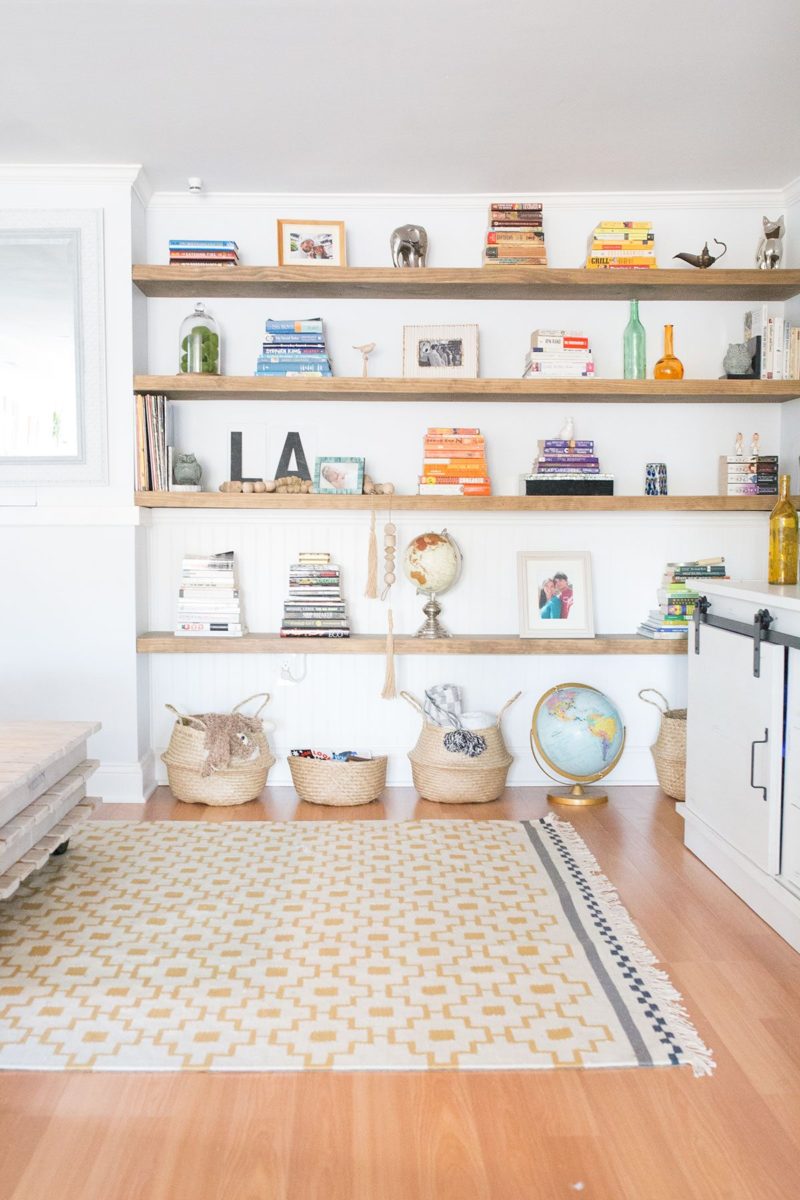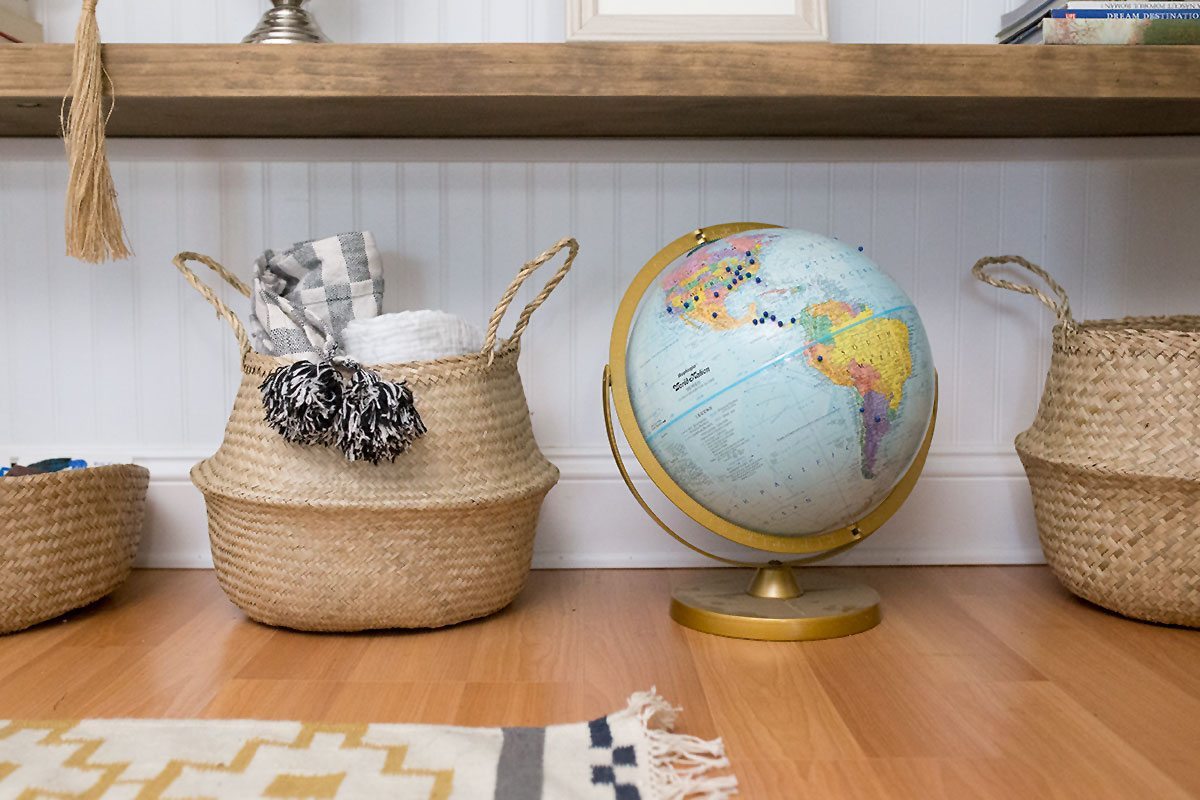 The biggest project — and most custom element of the room — is the built-in bookshelves. I couldn't be happier with how they turned out, and they really helped us cap off this long, awkward space.
I was about a million weeks pregnant when we built them, and I swear I willed Cricket not to come early so we could finish the darn things! They're hollow, so they're much lighter-weight than they look.
We left the bottom shelf higher off the ground because I absolutely insisted on getting some of these FLADIS baskets. They're perfect for all our different storage needs because they look great full of blankets, but folded in half (like the one of the left in the picture above), they provide easy access to Cricket's little books and toys. We even have a downstairs diaper station stashed in one now!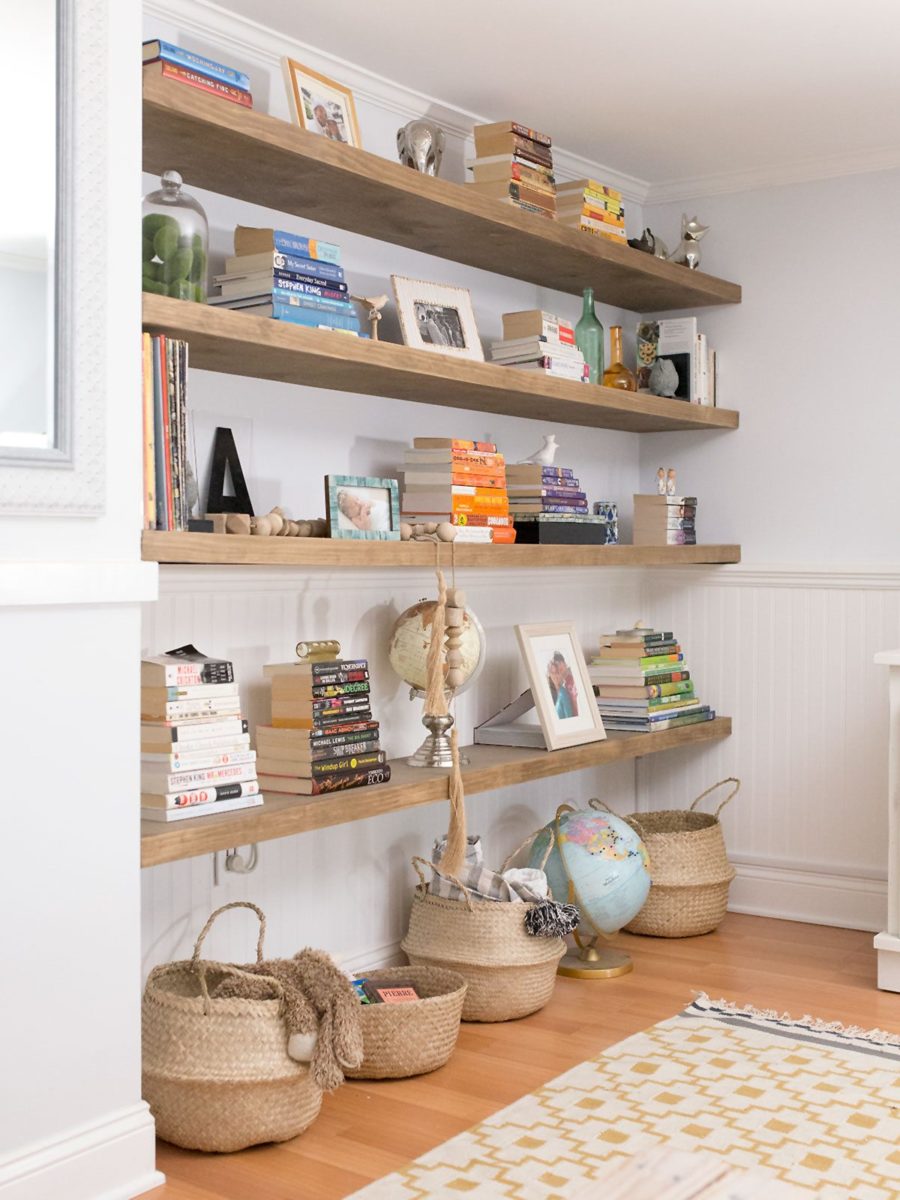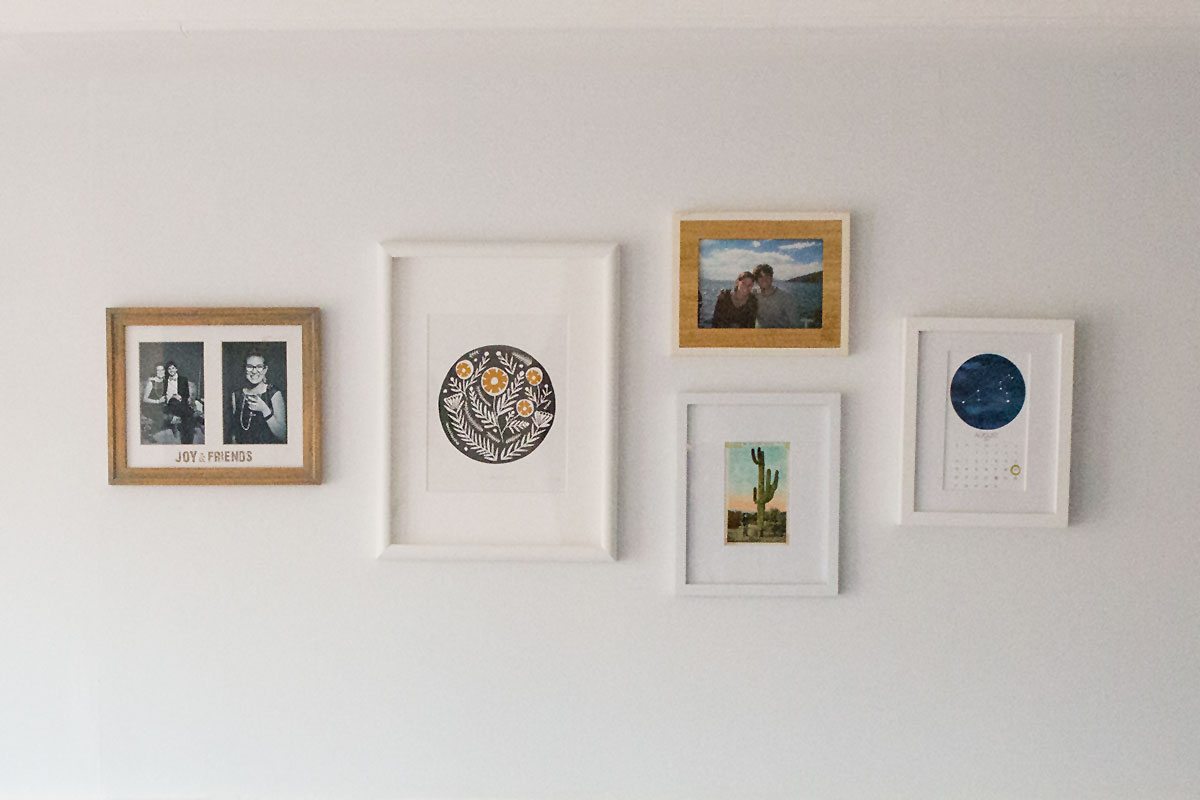 And of course we mustn't forget a little bit of a gallery wall! One of my favorite things to stock up on at IKEA is picture frames. They're SO much more affordable than just about anywhere else…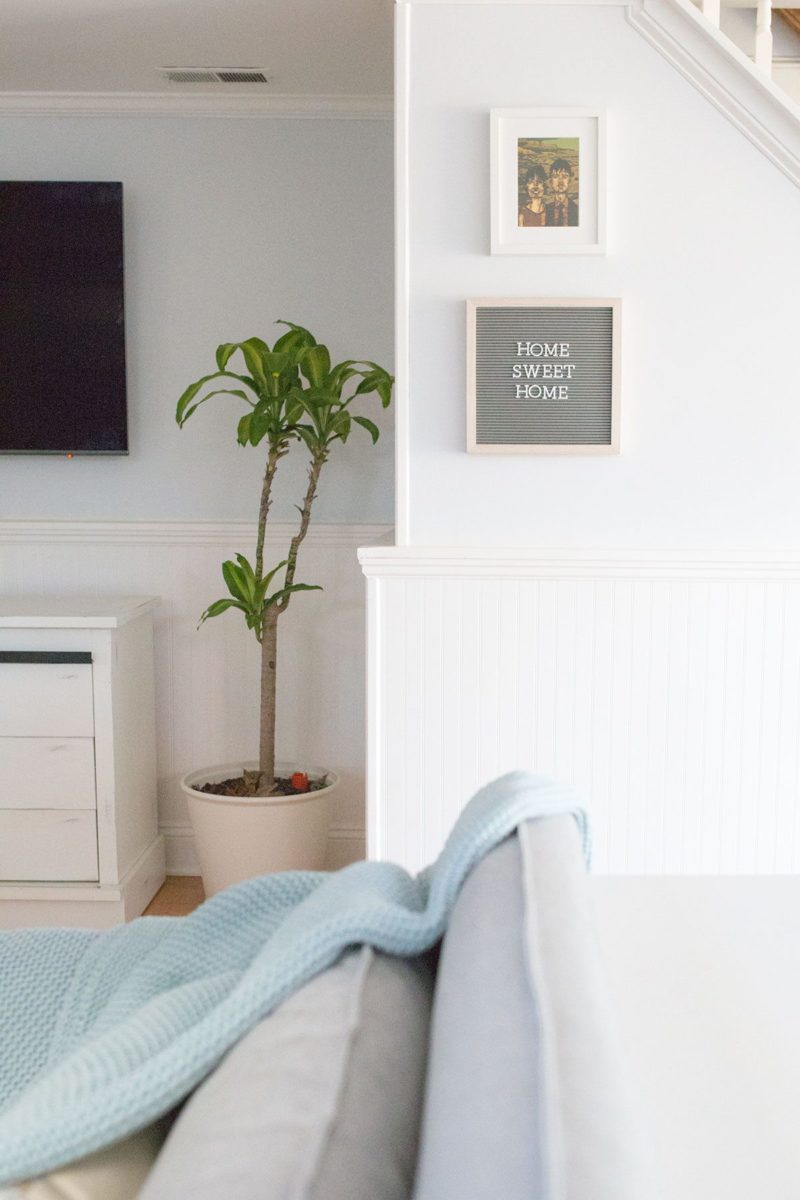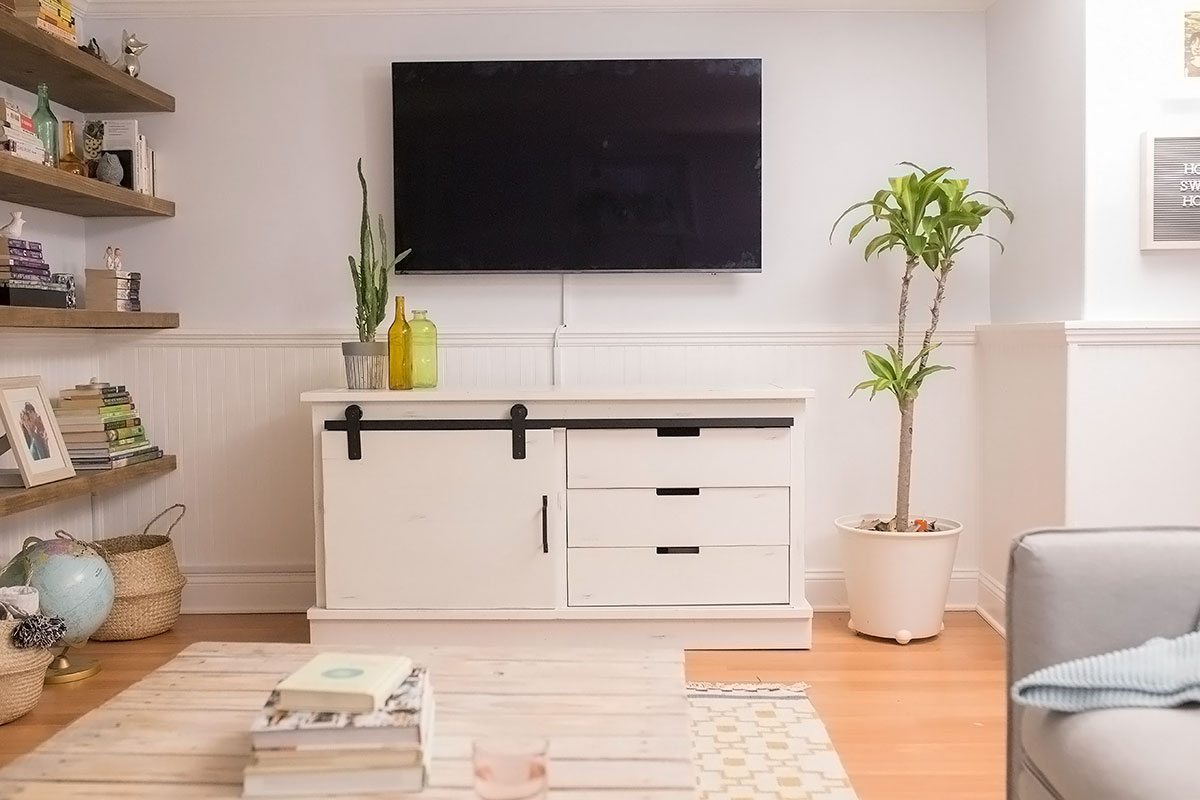 I got this poor tree (his name is Leroy) at IKEA years and years ago, and he almost died. Andrei tried to throw him away, but look at my little guy thriving now! We repotted him into the FEJO self-watering planter because I like the simple lines but also: wheels.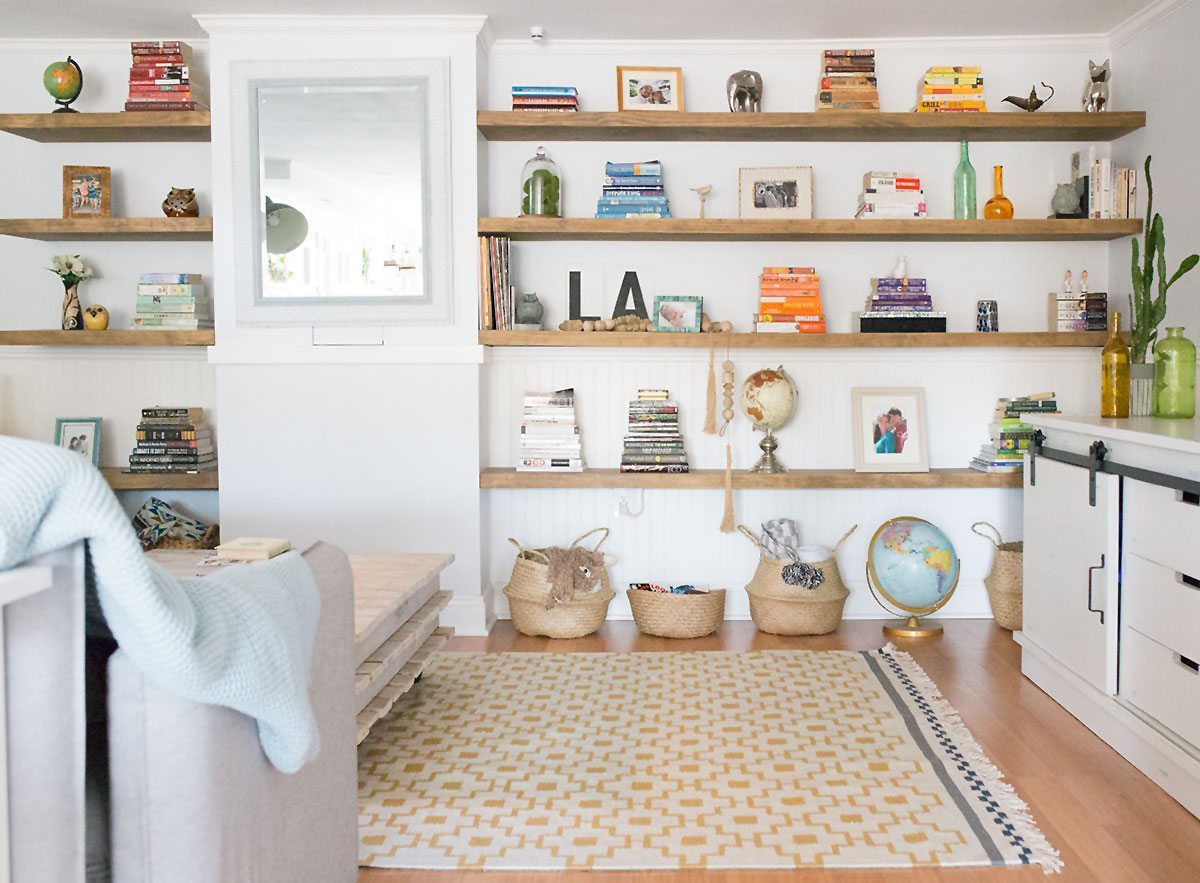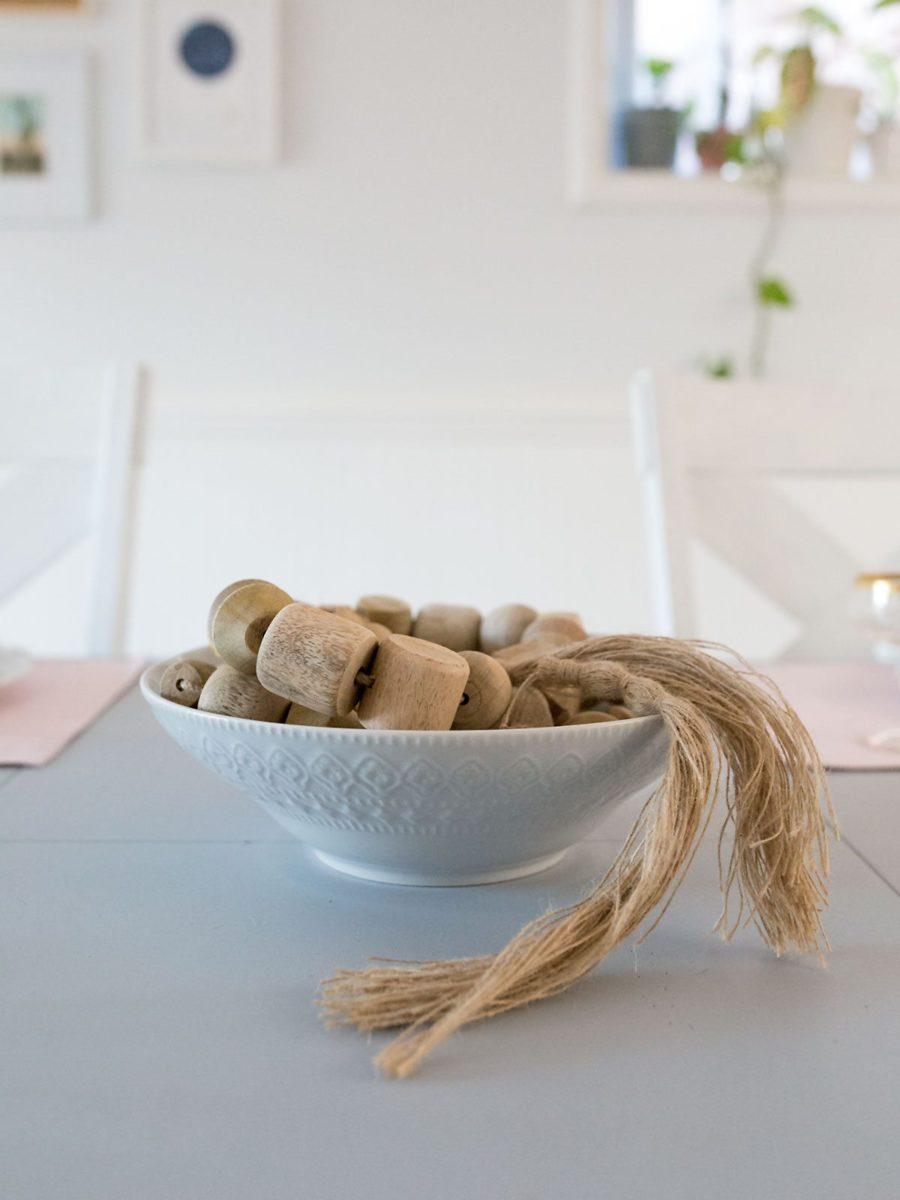 Shop the Room
Bar: DIY with HEMNES | Bench: DIY w/MÖCKELBY
Dining table set: DIY | Sleeper and storage sofa: VALLENTUNA
Coffee table: Pallet DIY | Sideboard: HEMNES Console Table
Rugs: ALVINE RUTA & DIY w/STOCKHOLM and BÅRING underlay
Bookshelves: DIY | Floor baskets: FLÅDIS
Sideboard under TV: pre-owned | Floor lamp: HEKTAR
Self-watering pot: FEJÖ | Knit throw: INGABRITTA
Hooks: KARTOTEK | Dishes: FLITIGHET | Napkins: DIY w/GULLMAJ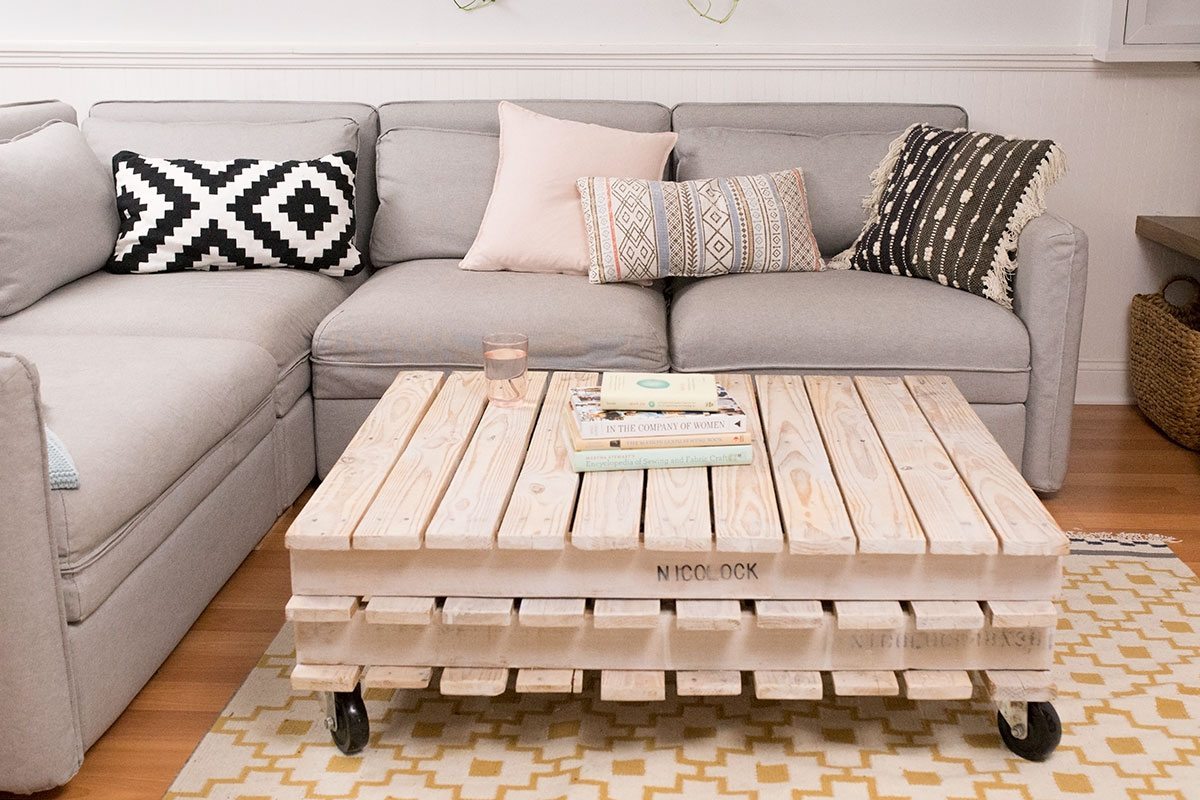 This was one of the biggest home projects we've ever taken on, but oh my gosh it has been SO worth it! We spend so much time downstairs now, and the space was just so dreary and non-functional before.
I had a blast partnering with IKEA on this, and I can't wait to continue to personalize this space over time as our little family changes.