Learn how to make a pom pom baby hat with this cute DIY bonnet idea in just five minutes. It's so easy!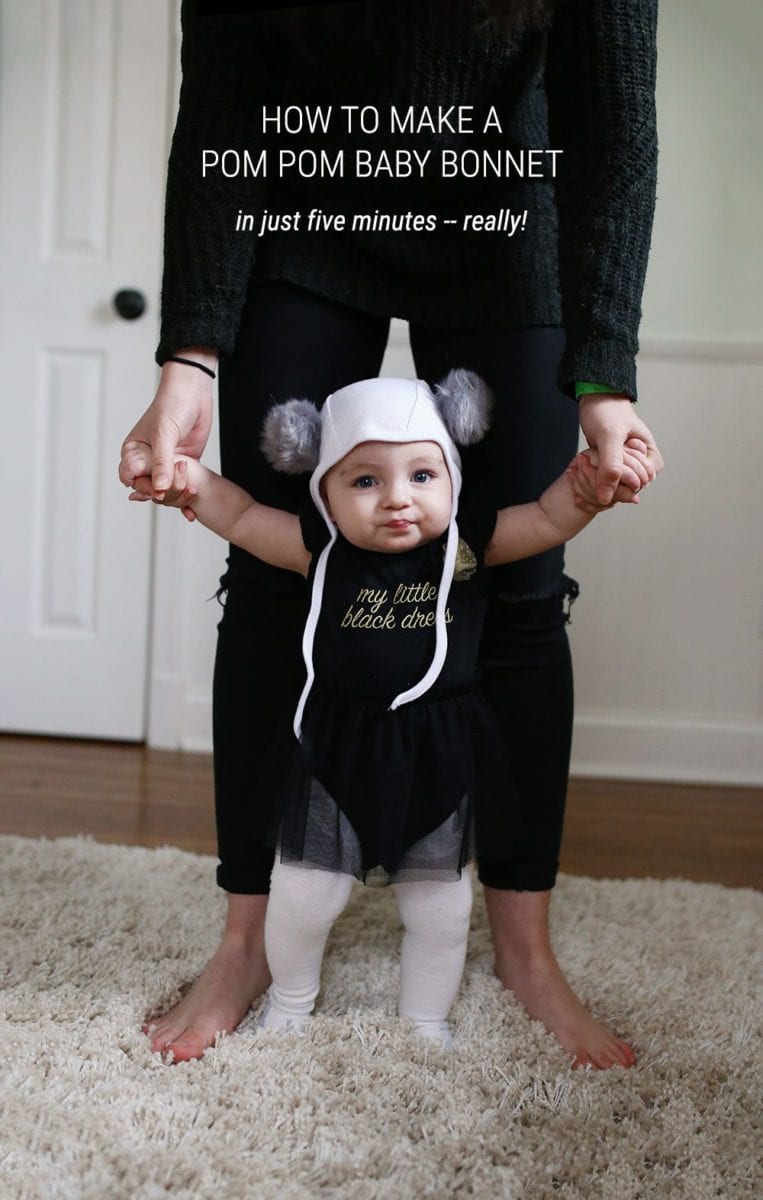 I've been meaning to make this for ages because I knew it was gonna be so freakin' cute.
I even bought all the supplies months ago.
And then they just sat here gathering dust while my baby rounded the corner on her first seven months. But fortunately (not!) spring decided to wait awhile to show up. So I'm going to use this sweet little DIY baby bonnet as my silver lining when I'm feel bitter that it's still snowing today…
P.S. Check out Cricket's DIY Sophie the Giraffe Halloween costume from last year for another unbearable cute baby bonnet project!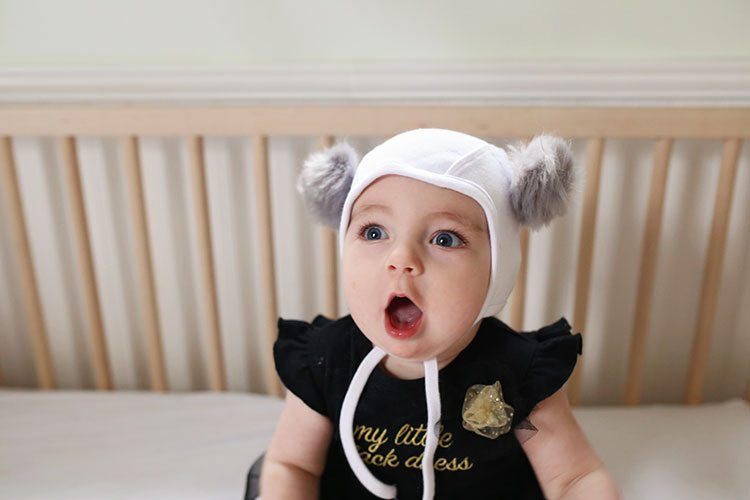 How to Make a Pom Pom Baby Hat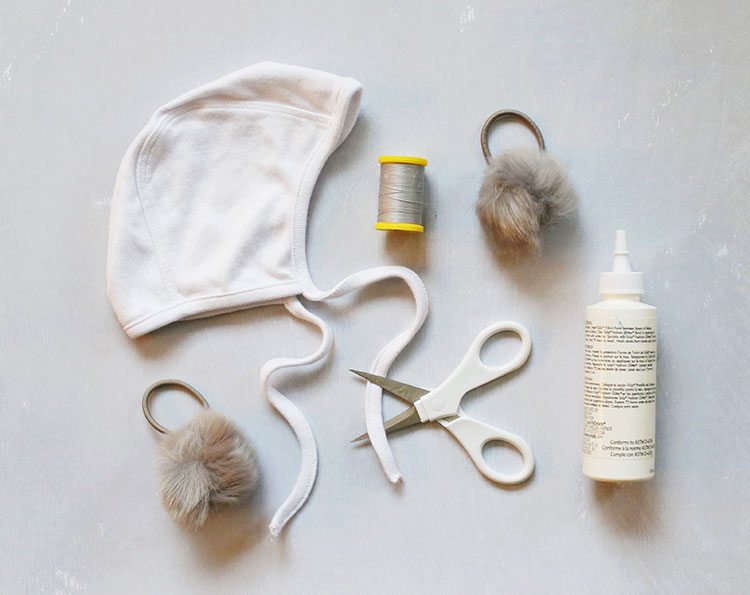 Supplies
The supply list below has everything I use, including the exact baby bonnets. But please note that I couldn't find the exact pom poms online, so you may want to do some digging around. This list contains affiliate links, so I may make a small commission on purchases.

Instructions
You're about to find out that I was. not. kidding. when I said this was a five-minute project. You'll be able to make these as baby gifts for all your friends in no time flat, you guys!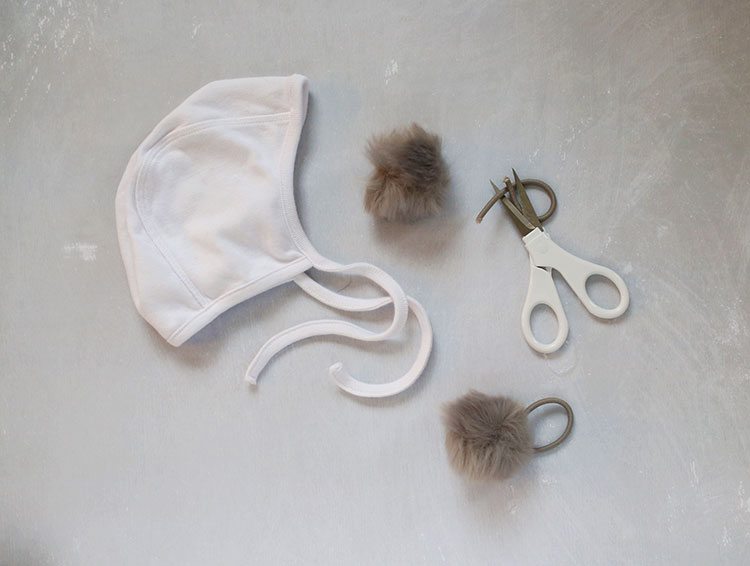 1. Start by snipping the elastic ponytail part off the pom pom.
You don't need it, so go ahead and just throw it away.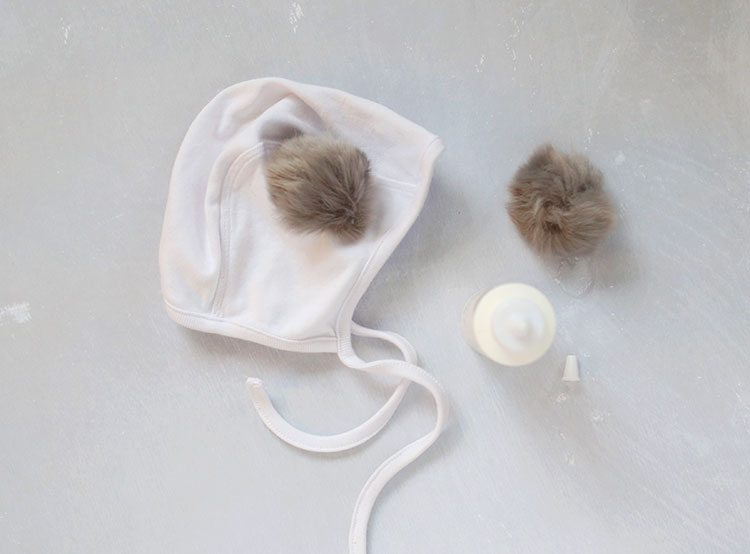 2. First of all, make sure you use waterproof glue — the kind that can be used on fabric and washed without melting off. I linked to my favorite kind in the supply list up above the instructions. I use that stuff for all my fabric projects!
Squeeze a generous glob of glue onto the base of the pom pom. Glue the part where the ponytail elastic was attached because it's a great way to cover up that spot in case you didn't snip it quite far enough down.
Attach one pom pom to each side of the baby bonnet, right about the middle.
Tip: You can try the bonnet on your baby first and mark dots with a marker where you want the pom poms if you're not sure!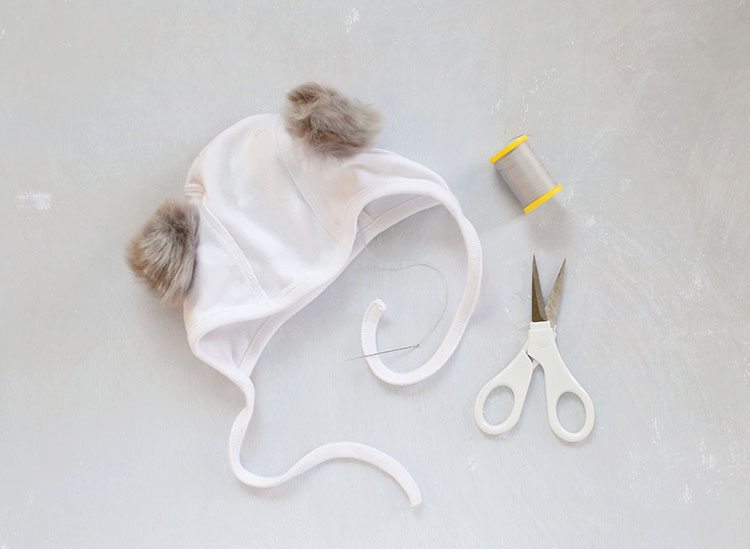 3. Babies are very grabby. If you want to make sure the pom poms are really firmly attached, use a heavy sewing needle and heavy weight thread to hand stitch all the way through the pom pom and back to really hold it on there.
This is totally optional — especially if you're making the bonnet for a newborn who isn't grabby yet!
Let the hat dry thoroughly, and then make your baby wear it constantly so that they get to be the world's cutest little human koala for as long as possible!
P.S. If you loved this, check out my other DIY sewing tutorials!