Now that it's finally spring, I've partnered with Tuesday Morning to celebrate the season with a fun and useful craft that doubles as a great gift idea.
Since Mother's Day is coming up, and it happens to coincide with when people start planting their gardens for the year, I thought a gardening gift would be perfect. Tuesday Morning has new deals every day that are handpicked from around the world by their buyers, so I knew I'd be able to fine some unique, high quality goodies for my gift "basket!"
The best thing about this gift basket is that it's 100% functional. Your recipient can use everything in it to grow their own little garden. And they'll think of you every time they snip off an herb or a pretty bloom!
P.S. Here's how you can find a Tuesday Morning near you to get started with your spring crafting today.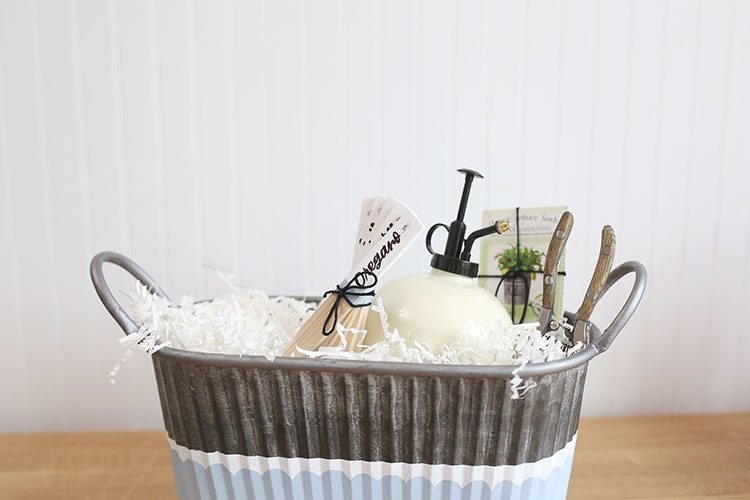 How to Make a DIY Gardening Gift Basket With Painted Plant Markers and Matching Planter
Before we dig into the gardening project (pun intended!), let's talk about what goes into a great gift basket.
Gardening tools in particular take a lot of abuse, since they're subjected to the elements all the time, so quality is super important. Tuesday Morning is where savings meets quality, like the beautiful wood-handled pruning clippers I grabbed for the gift basket.
And since everything has limited availability, you know you'll be gifting something unique.
What to Put in a DIY Gardening Gift Basket
When you're putting together your gift basket, think of functionality first: What can your recipient really use? What will stand the test of time? What do they need most?
Plant mister or watering can
Gardening gloves
Sun hat or visor
Hand tools: spade, trowel, pruning shears or clippers
Sunscreen
Plant seeds
Twine
Potting soil
Pick a handful of items from the list above for your gift basket, and then we'll package them together in a custom-painted planter with matching wooden plant markers.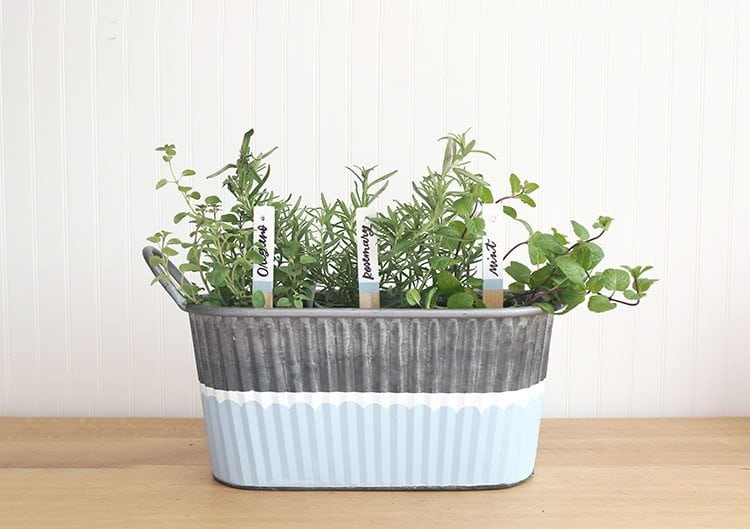 Save This for Later – Pin It!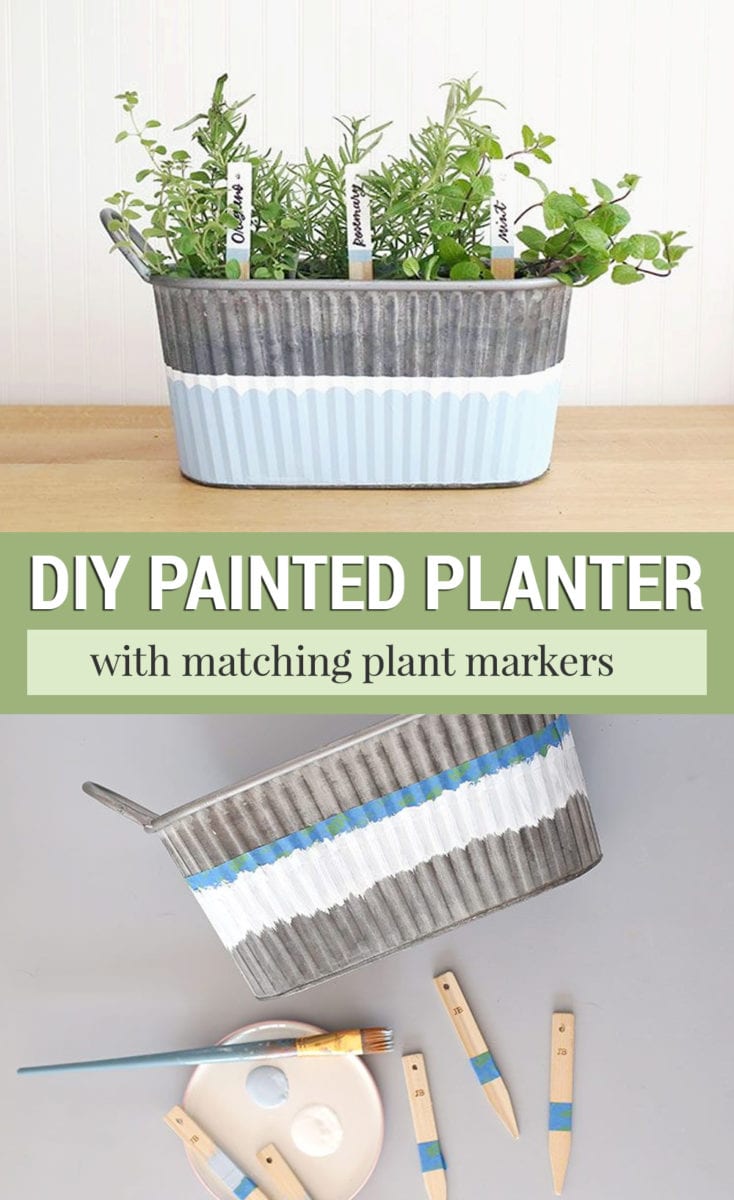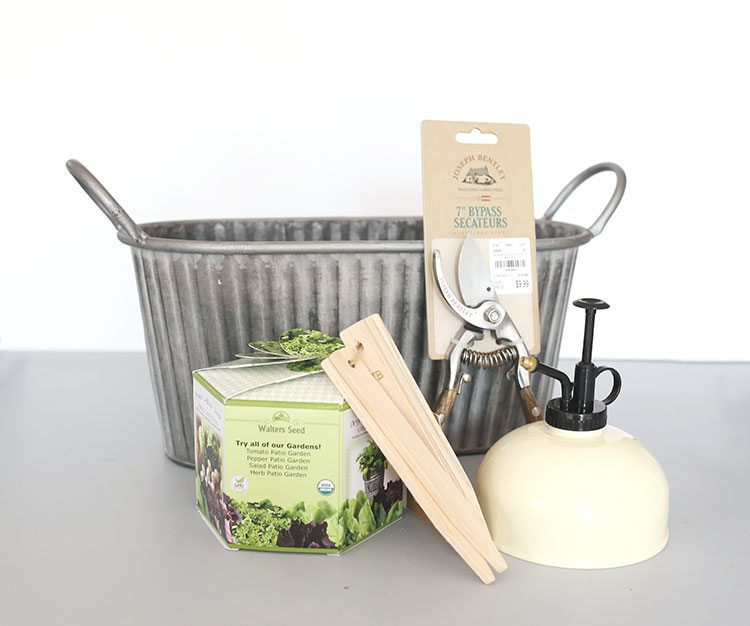 Supplies
I got all the supplies for this project/gift basket from Tuesday Morning, besides the painter's tape and brushes, which I already had at home. Tuesday morning sells quality products at incredible savings, as you can see in the supply list, where I've listed the in-store price compared to what you'd find it for elsewhere.
Planter or pot of your choice – I found a pretty and perfectly-sized galvanized tub planter at Tuesday Morning for $9.99 (compare at $24.00)
Wooden plant markers – $1.99 (compare at $3.99)
Acrylic paint – $0.99 (compare at $1.99)
Paintbrushes
Painter's tape
Tissue paper or shredded paper to fill the planter
Gardening gifts to fill the planter

Small plant mister – $12.99 (compare at $28.95)
Pruning clippers – $9.99 (compare at $19.96)
Plant seed packets – These came in a little patio garden set with soil pellets for $7.99 (compare at $14.99)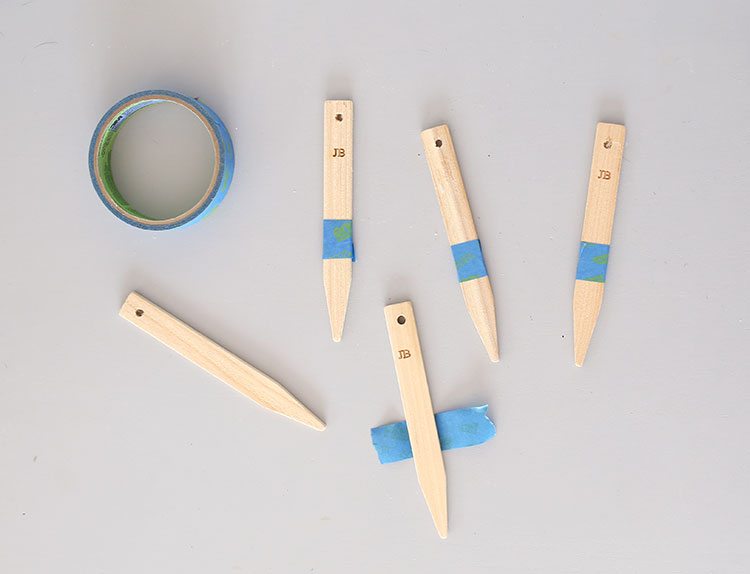 1. Wrap painter's tape tightly around the stakes at the same height on each stake.
2. Wrap painter's tape around the planter, too, making sure it's the same height all the way around. For round spots on the planter, you'll need to use smaller strips of tape to keep it straight along the curve.
Tip: If you're painting on metal, prep it first by spraying with a clear coat or lightly sanding to help the paint stick.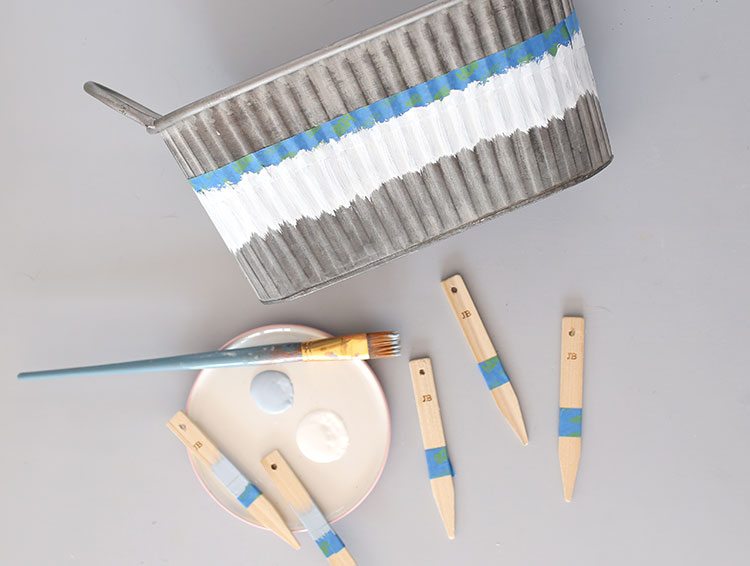 3. Paint the stakes with your colored paint. You only need to paint about an inch down since you'll be painting over the rest later.
4. Paint the planter white beneath the painter's tape. You may need to do two coats, depending on the surface you're painting over. If so, be sure to let it dry between coats.
Tip: Paint away from the painter's tape, not toward it. This will keep paint from seeping under the tape and bleeding.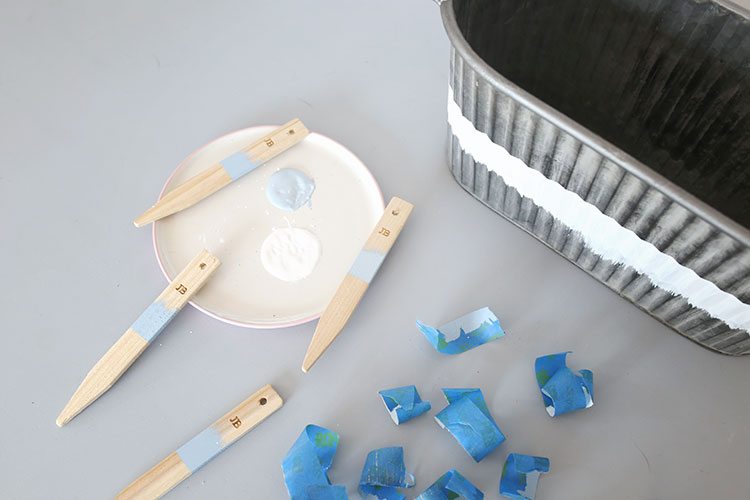 5. Peel off the painter's tape as soon as you finish painting. Don't wait for the paint to dry.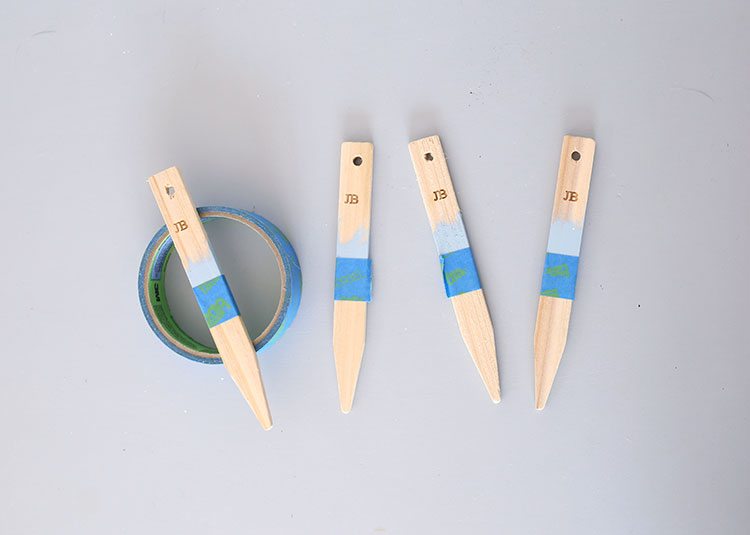 6. Once the stakes have dried completely, add a new line of painter's tape about half an inch from the top of the colored area so that you're covering up half an inch of the blue paint.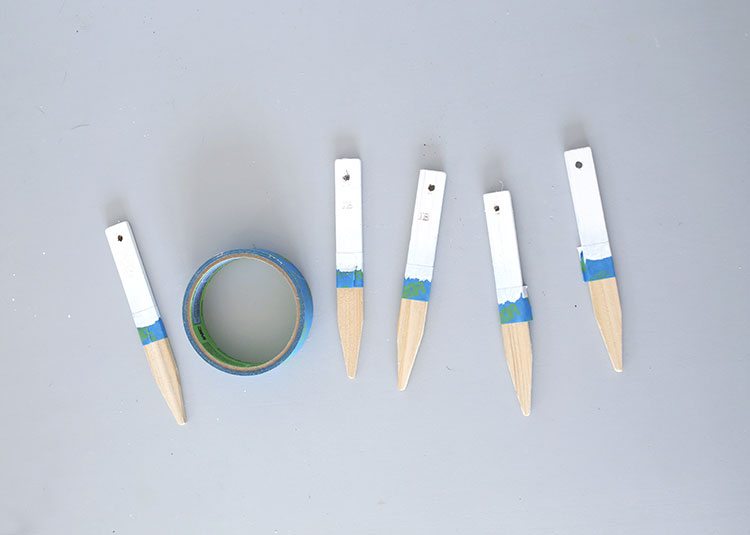 7. Paint the stakes white, and add an extra coat if needed to cover up the color.
8. Peel off the painter's tape as soon as you finish the second coat of white, and set the stakes aside to dry.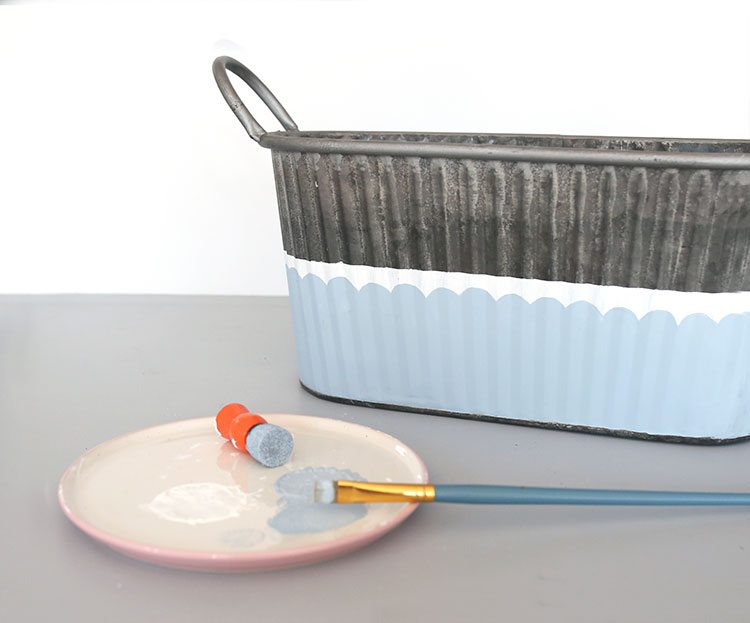 9. Using the same color as you used for the stakes (or a complementary color if you prefer), paint the planter under the white all the way to the bottom.
You could just tape it off and do a straight line like you did with the wooden plant markers, but I wanted something a little more fun and interesting. I used a round foam pouncer to create a scalloped pattern along the top edge and then brush painted the rest blue.
10. Spray the planter with a coat of clear sealant.
Tip: If you're painting on metal and haven't prepped your surface properly (see Step 1), the painter's tape for the stripe could lift off the white paint. If you encounter that problem, then your best option is to freehand paint the colored area without using tape.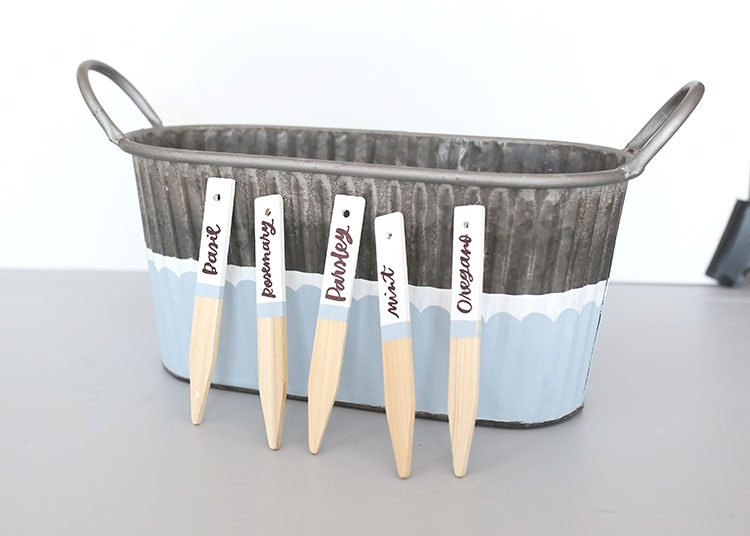 11. Use a permanent marker to add the names of your favorite plants.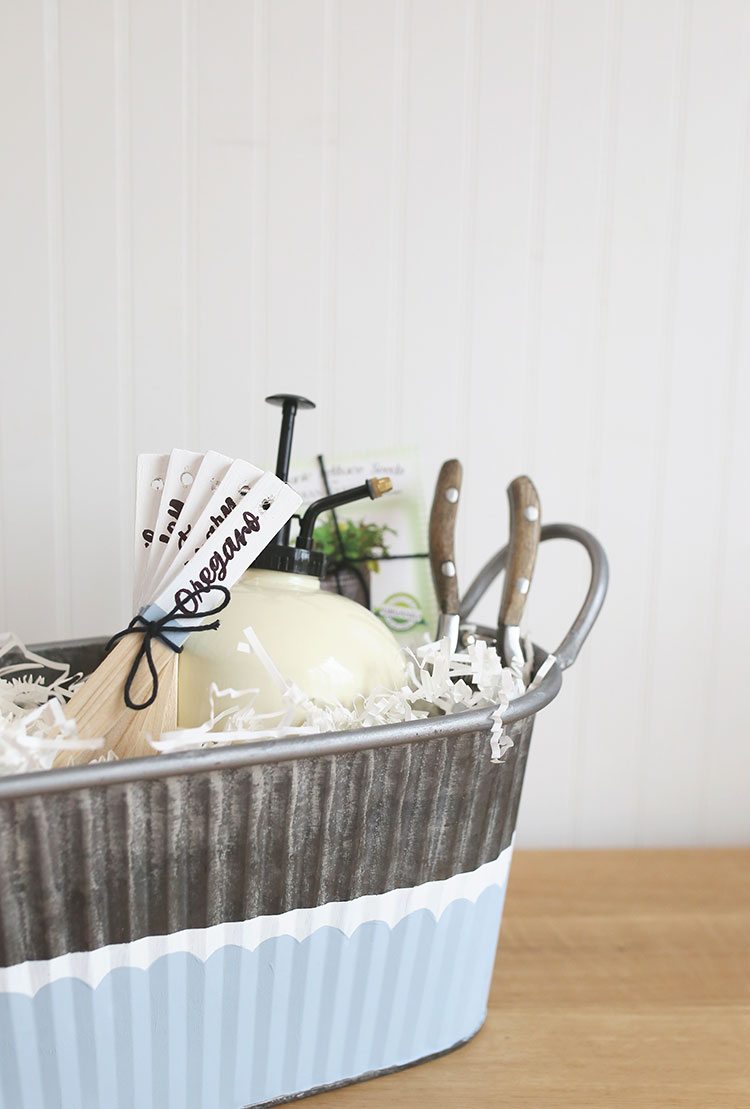 12. Fill the planter with tissue paper or decorative shredded gift bag filler, and then add your gardening gifts.
Tip: If your planter is deep, stuff it with wadded up newspaper before adding tissue paper or shredded filler. This will help your gifts stand up high at the top without having to use a ton of tissue.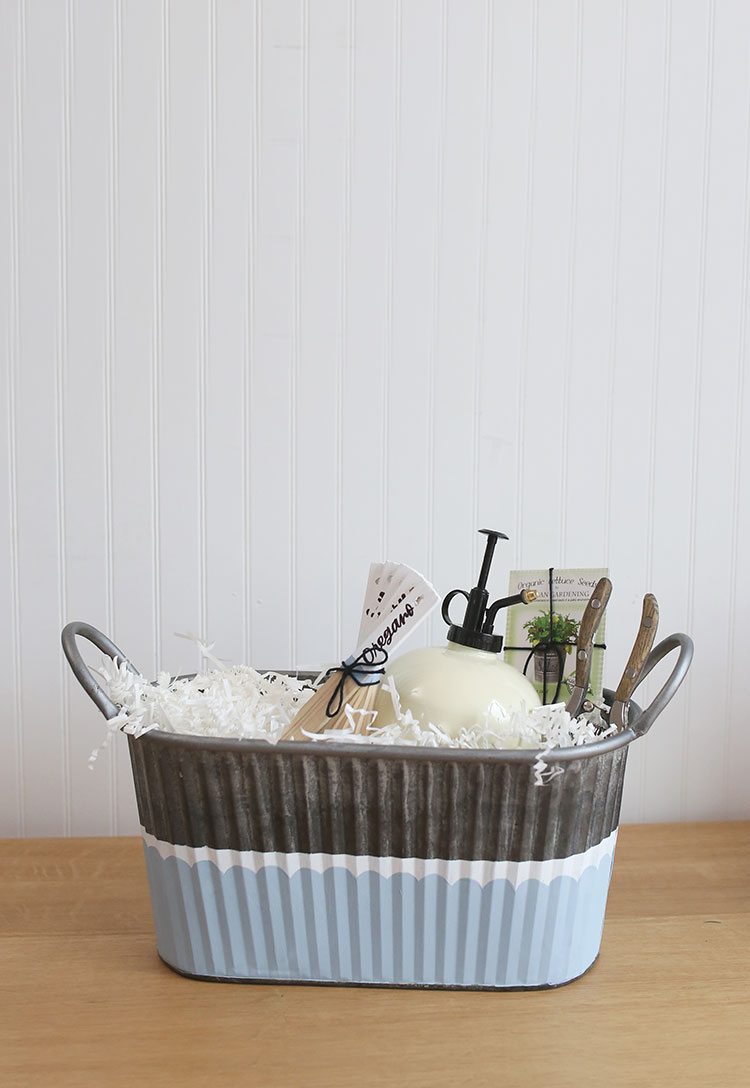 This post is sponsored by Tuesday Morning, and all images and creative concepts are entirely mine. Thank you for supporting the brand partners that help me bring you the best content for Shrimp Salad Circus!