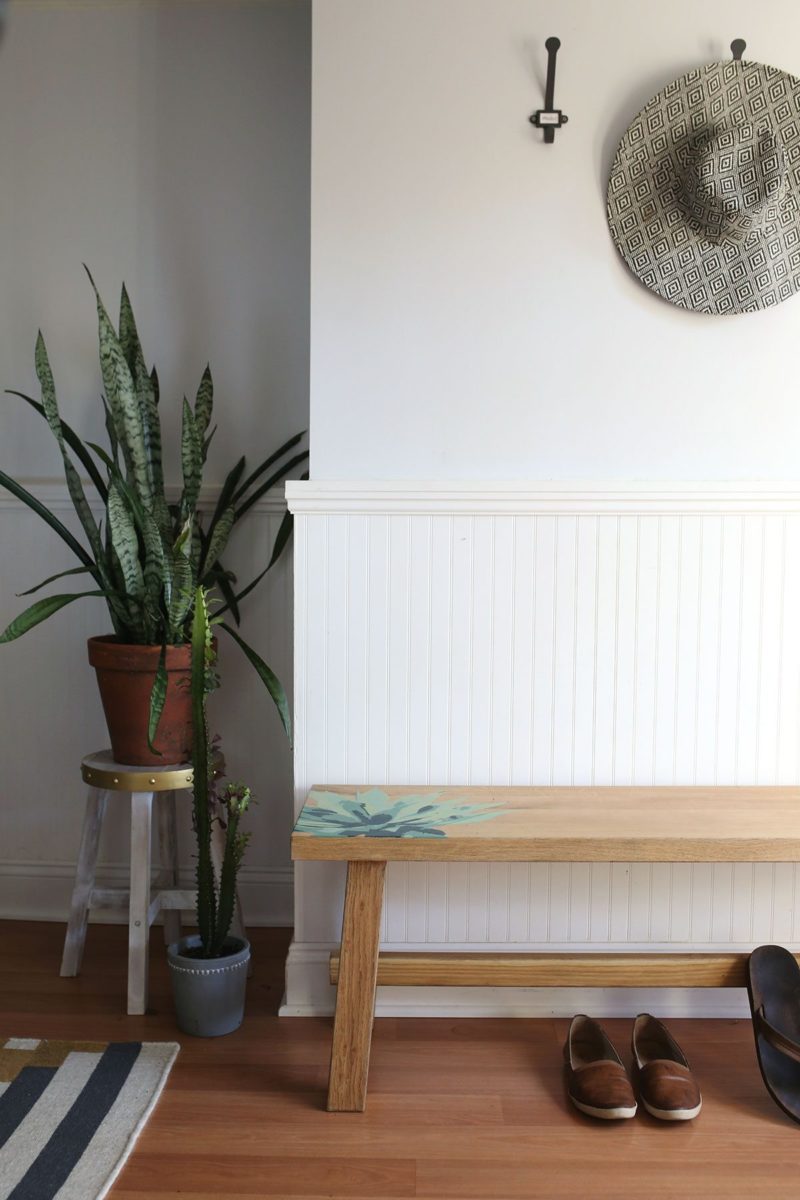 Our basement is finally done, and I can't wait to show you guys how it turned out!
Did you catch the projects I've shared so far for my room makeover in partnership with IKEA? In case you missed them, here's the rug I painted and the bar we built from a sideboard — a couple of my favorite IKEA hacks so far!
Because of the sort of odd shape of the room, we were left with a big empty space at the front, even after adding the bar. I decided to turn it into a mudroom area when I found the MÖCKELBY bench.
It's a nice, heavy oak piece, and I thought a little botanical paint by numbers accent was the perfect touch to tie it into the rest of the room! Read on to see how to create your own paint by numbers furniture.
P.S. That wood and "brass" plant stand up there in the first picture is an SKOGSTA stool IKEA hack, too. Here's the tutorial!
But First: Other IKEA Hacks You Might Like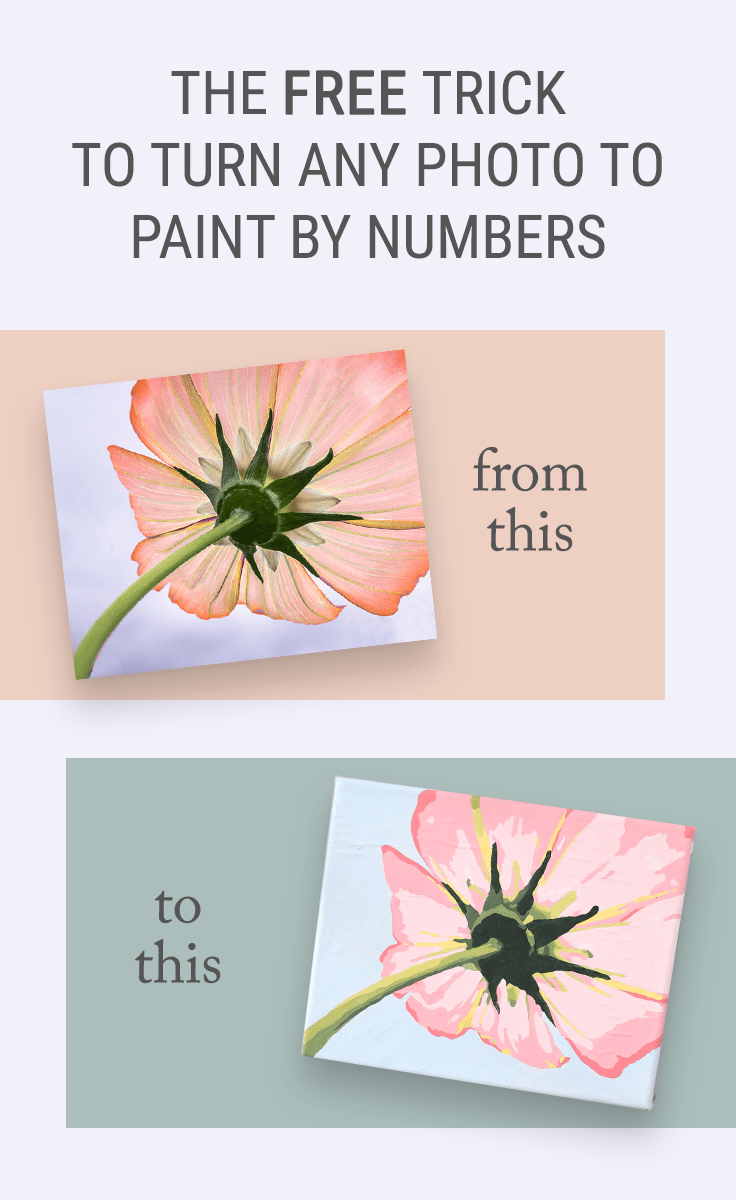 Before we dive into the bench project, let me share a little trick I'm pretty much obsessed with.
I found a free online tool to make a custom paint by numbers template from your own photos, so be sure to check it out if you think you might like that better!
DIY Paint-by-Numbers Furniture
You could make paint by numbers furniture on a bench like I did, but you could also do a table top or the front of a cabinet — even a headboard of a bed. This will work on any flat, matte surface!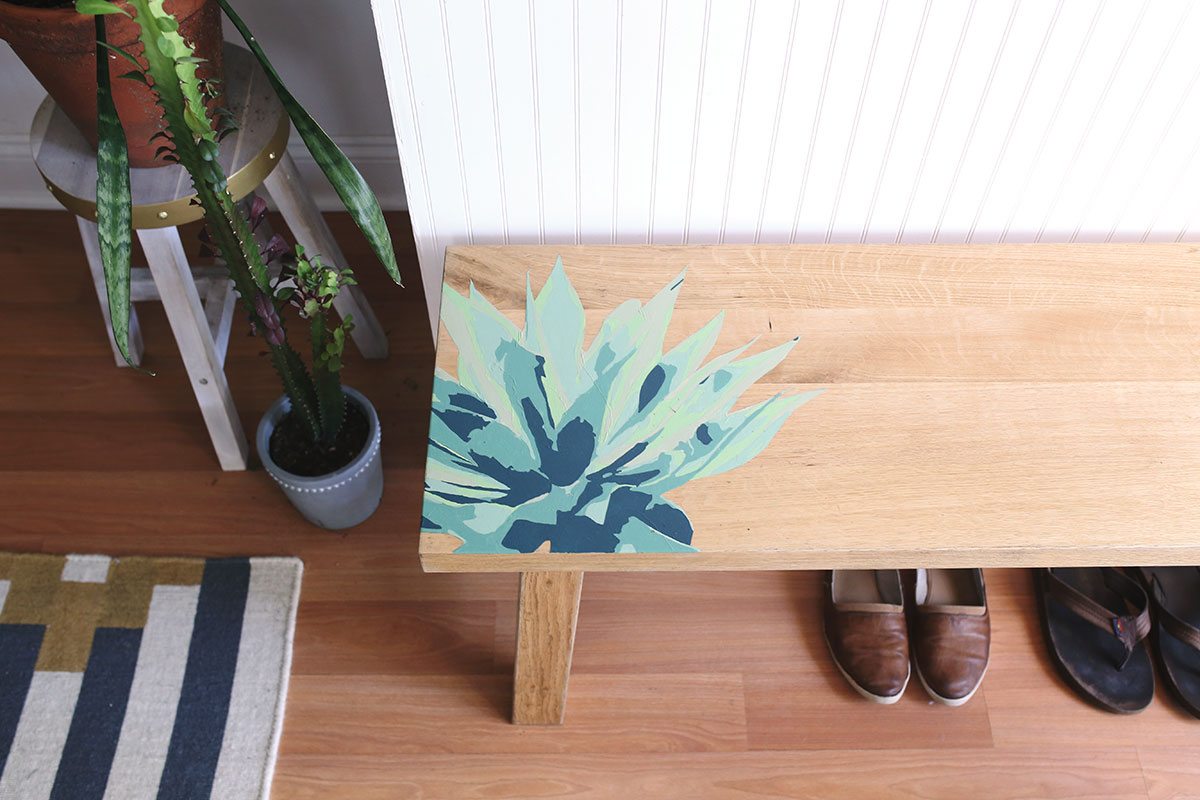 Supplies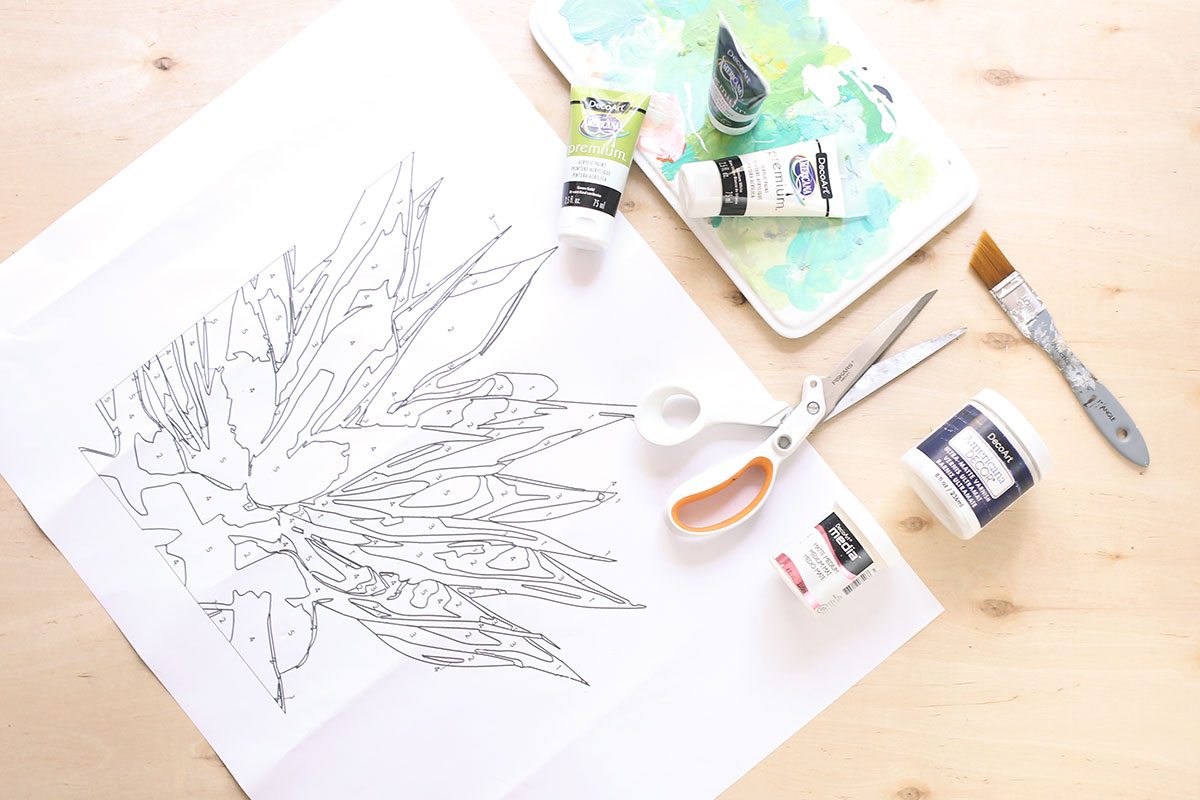 Here's everything you need to make this project, including free printable templates for the paint by numbers design. I also have flower design and cactus scene templates if you want to check those out for your paint by numbers furniture projects!


Paintbrushes
Free paint by numbers template

Outline template:* For the correct size for the MÖCKELBY bench, print on an 18″ x 24″ engineering print at an office store. It should cost under $2 to print. (Sign up for my newsletter to access the free download in my printable library.)
Color chart: Sign up for my newsletter to access the free download in my printable library.)
*Apologies in advance because the number 1s are backwards. Weird design snafu. 😉
How to Make Paint by Numbers Furniture
1. Sand the top of the bench just a bit to give it a rougher finish. This will help the template adhere better.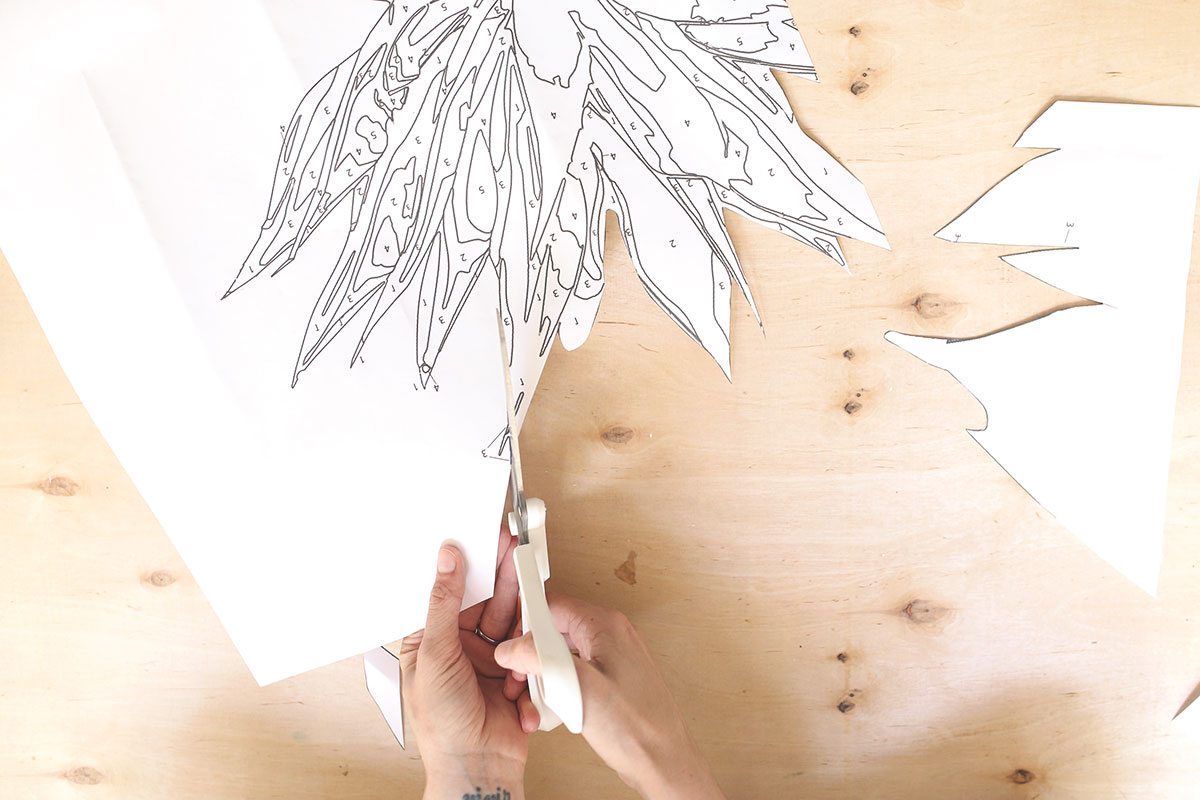 2. Print out the paint by numbers template, and cut it out.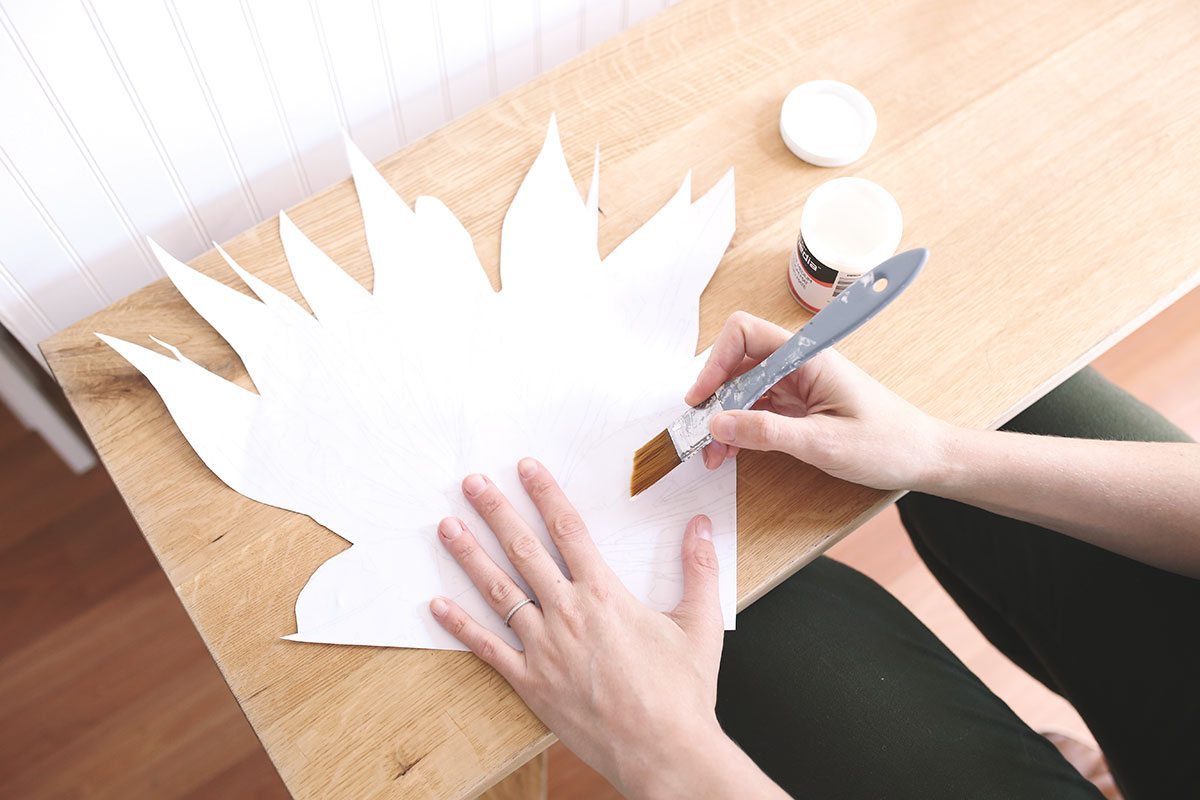 3. Brush matte medium on the back of the template, and carefully place it onto the corner of the bench.
Use a gift card or something with a hard, straight edge to gently smooth out the template, scraping out any bubbles. Be careful not to tear the wet paper.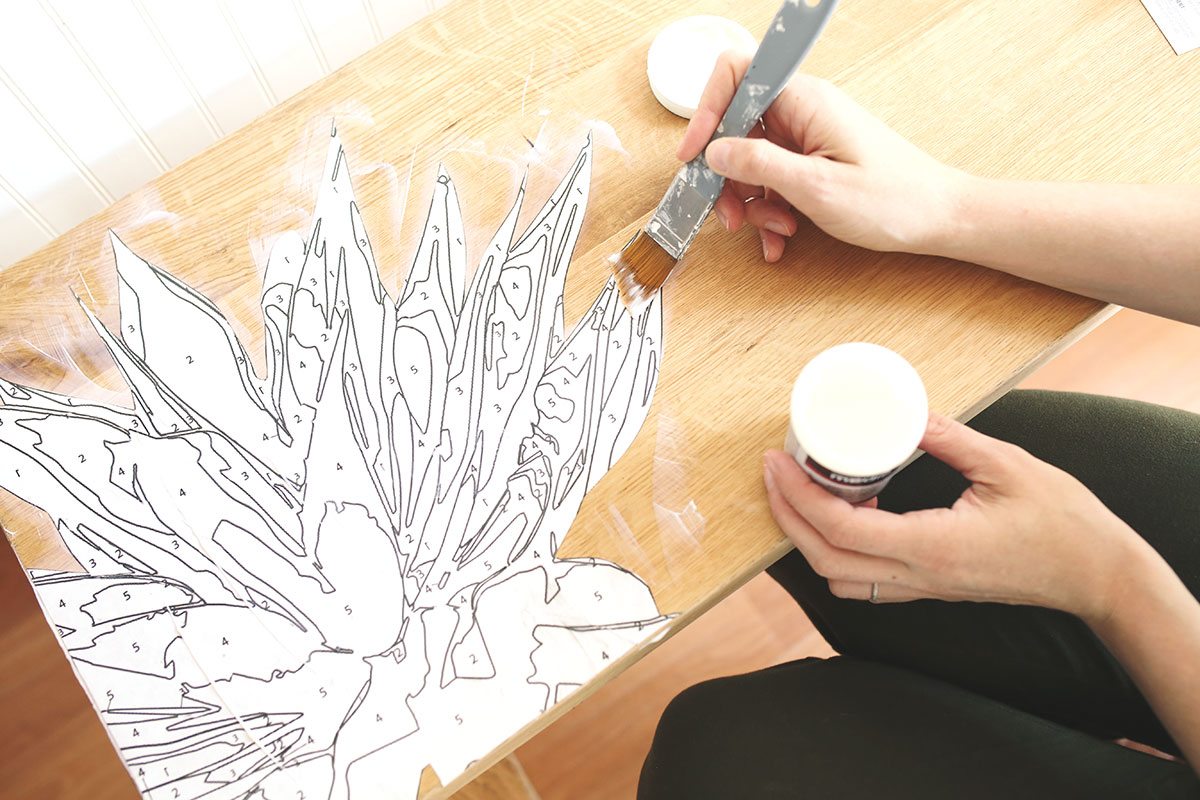 4. Brush another thin coat of matte medium over the template, going over the edges to seal it on.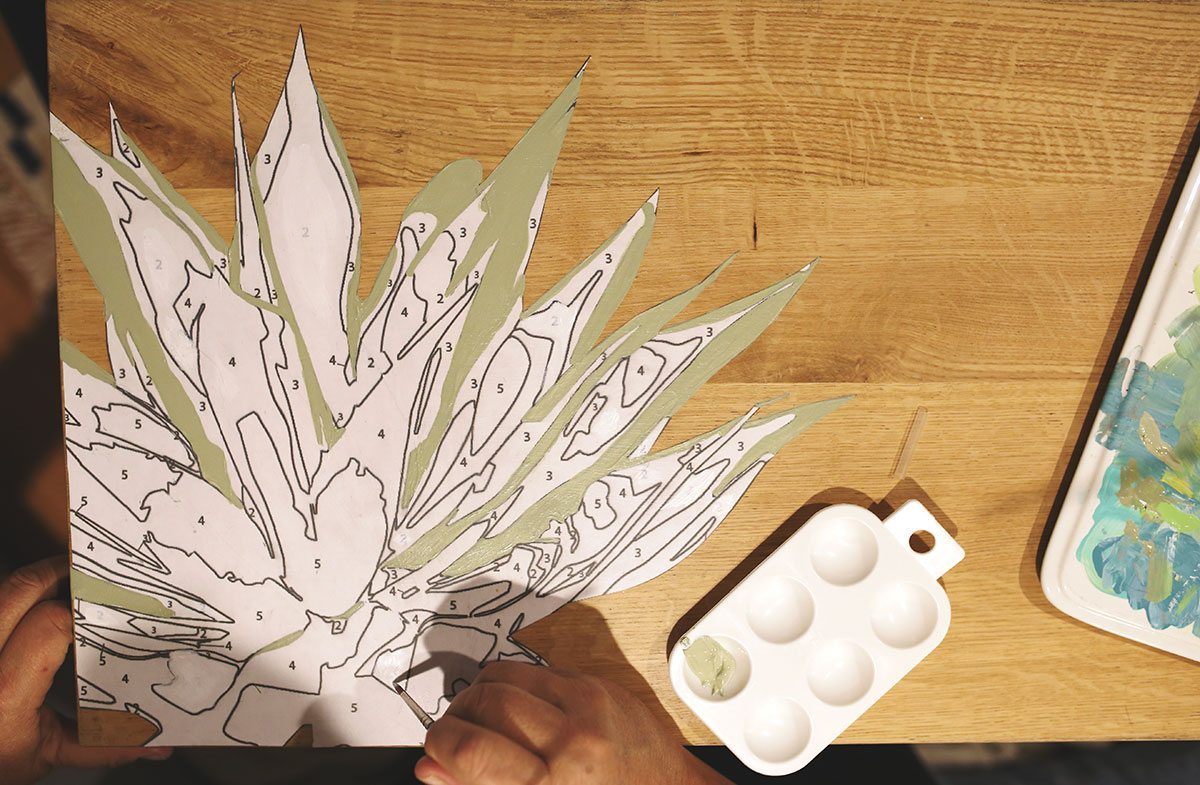 5. Paint the sections one color at a time. I like to paint white over all of the number I'm working on so it doesn't show through at all.
Tip: Start with the lightest color, and work your way to the darkest. It's easier to cover up mistakes that way.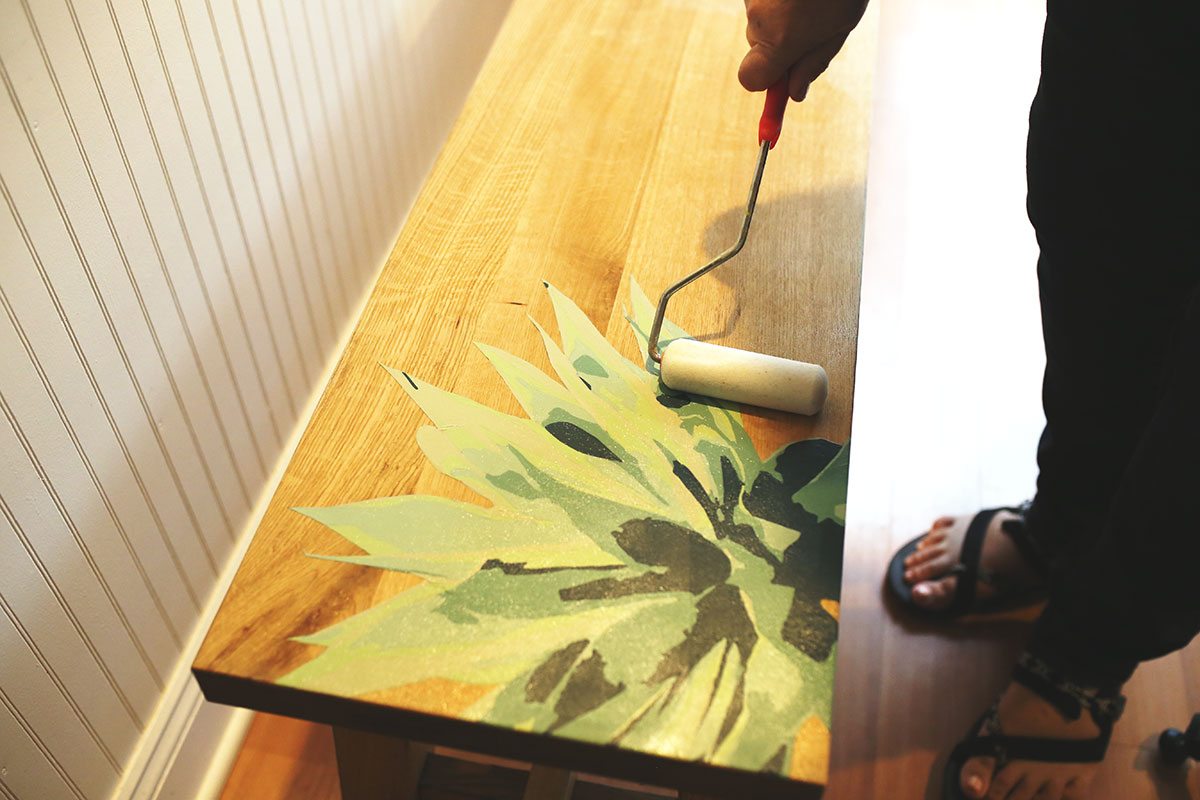 6. When the paint has completely dried, roll over the whole surface of the bench with a coat of matte varnish to seal it.