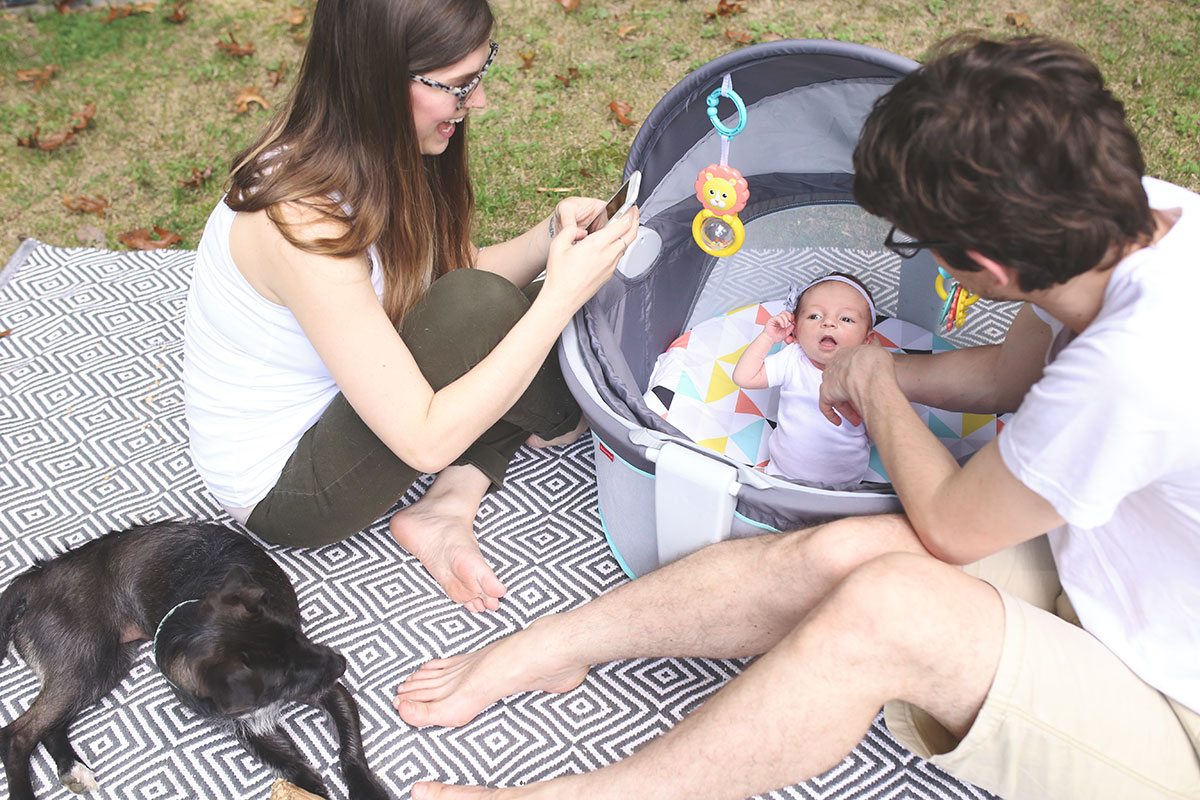 I'm proud to team up with Fisher-Price for this sponsored post. They gave me their On-the-Go Baby Dome to try out, but you can always count on me for honest opinions and original content.
It's still surreal that I have a ten-week-old daughter. It's gone by so fast that it feels like she's just been in our lives for moments, but it's also like I can't remember life without her.
Every day of parenthood so far has meant us growing, learning, and all getting used to life together as a family of three. I've treasured every moment of my maternity leave so far, but it didn't take me nearly as long as I would've expected to get really stir-crazy in those early days.
Fortunately, we discovered early on that Cricket loves to be outside. So I've partnered with Fisher-Price® to share a few tips for enjoying time outside with a newborn.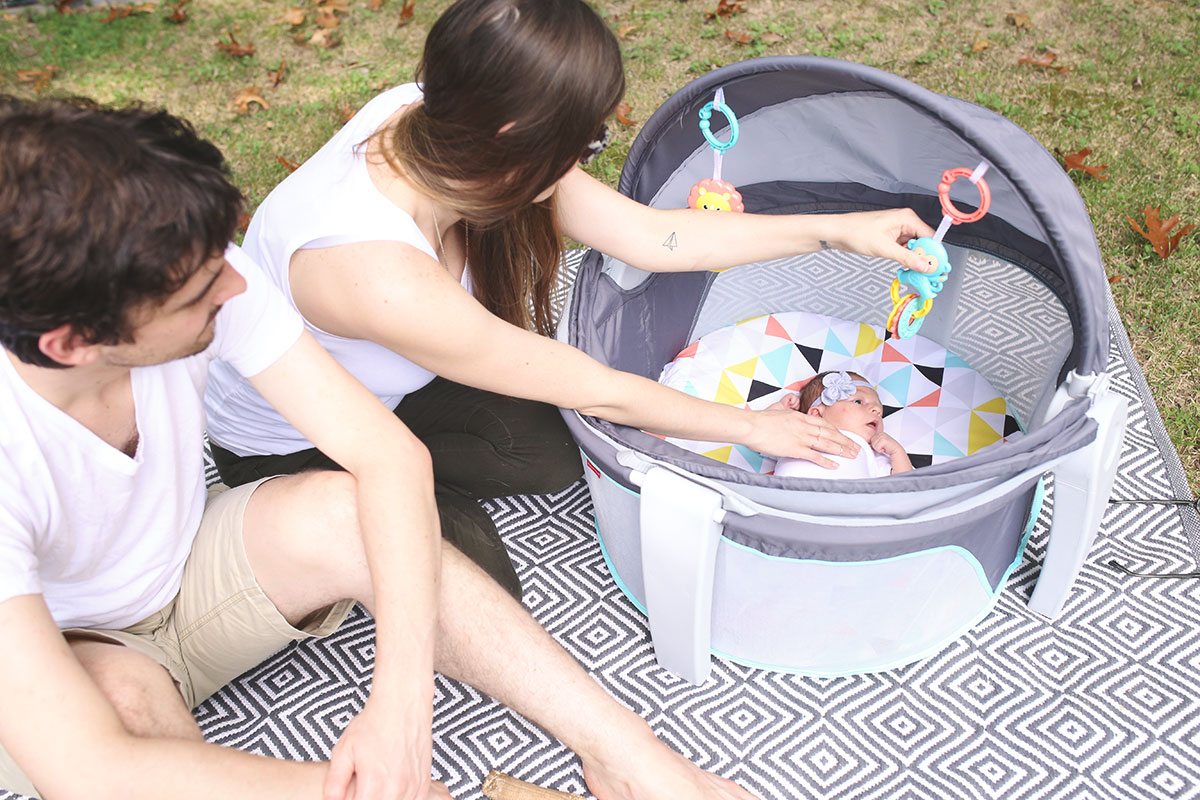 We spend a lot of time going for walks around the neighborhood. In fact, it's my go-to if I can't get our lady baby to quit crying after I've tried feeding, changing, and bouncing around the house for ages. But sometimes we want to just hang out and relax without having her stuck in her stroller.
Tips for Spending Time Outside With a Newborn
Fortunately, having a newborn doesn't mean we're all stuck giving up our favorite activities. That includes outdoor excursions that don't require being tethered to a stroller.
I've found a few things super helpful on our first couple forays out into the world. Hopefully they help you, too:
Make sure you have a safe space for your baby to lie down since they're still too young to roll over, crawl, or hold their head up.
Protect their delicate skin from sun and biting insects.
Stock the diaper bag, including a baggie for dirty diapers.
Plan for any weather extremes with the right clothing.
Bring along a couple of favorite toys or playthings to keep them entertained.
Take lots of pictures of your adorable little one. They'll be doing completely different things even just a week from now!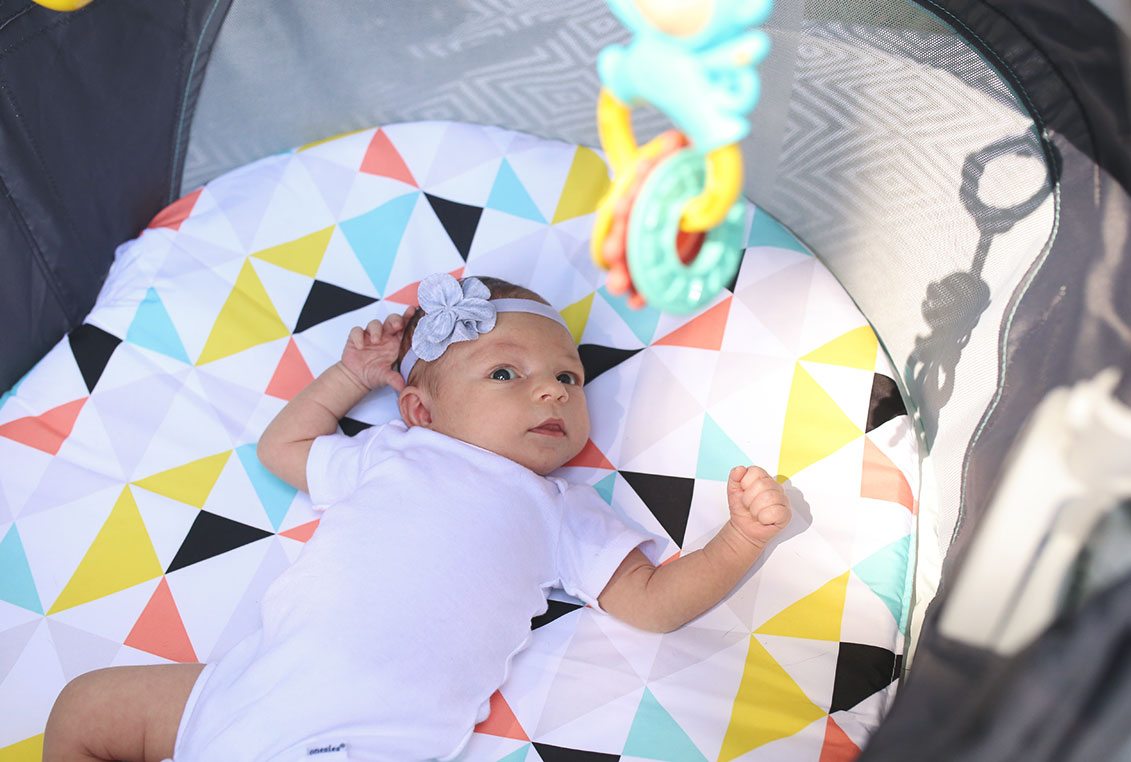 The Hassle (and Worry) Free Way We Get Outside Together
One thing we definitely don't need as new parents is more stuff to haul around, so I appreciate anything that does double-duty. Enter the Fisher-Price® On-the-Go Baby Dome. This adorable little folding play area and nap space checks off a ton of the boxes for a successful outing.
The canopy folds shut and provides UPF 20 to protect babies from birth through months from the sun, but it should only be used with a child who is unable to push up on hands and knees, pull up, or sit unassisted. I was a little worried about closing Cricket in during the warmer days, but this play dome has breathable mesh sides and not only helps keep her cool but also protects her from mosquitoes. To give you an idea how well it works, I think I was bitten at least nine times while we were out taking these pictures. But lady baby didn't have a single bite!
It also has a couple super cute little hanging toys that she can bat at. They even detach for when she starts teething or wanting to grab things. And it's safe for napping (flat on her back, of course!). Since we don't have to head back to the house to let her sleep, we get to stay out longer.
Do you have any pro tips to share for new parents like us?