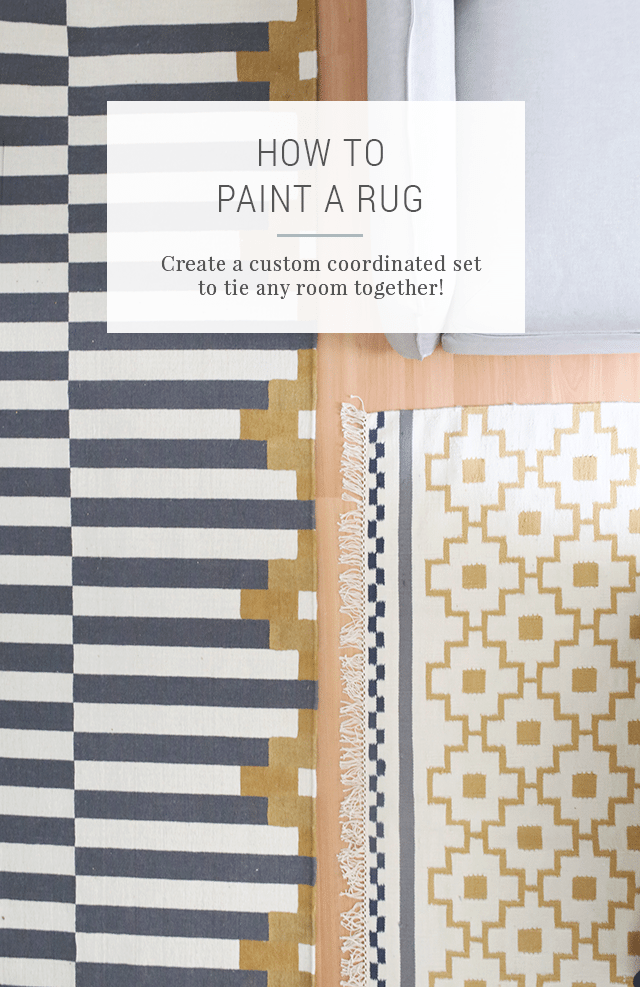 If you loved my studio reveal, then get excited, you guys.
I've partnered with IKEA for another big makeover, and this time we're turning our pumpkin-orange basement into a beautiful retreat for our growing family. The room, affectionately referred to as the bowling alley, is super long and skinny with really low ceilings. The dark orange paint and dark bamboo blinds make it feel like a cave, so something's gotta change!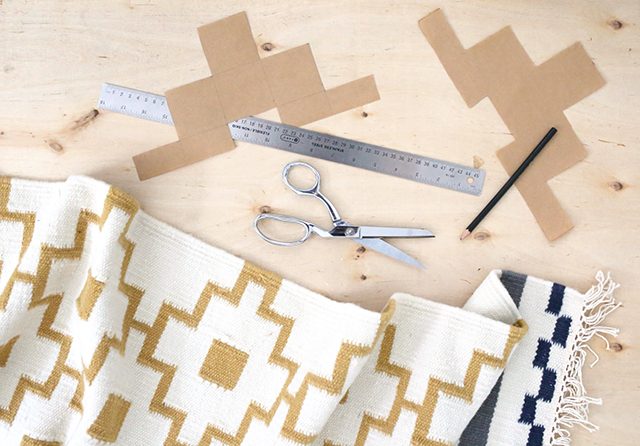 I can't wait to share the room reveal when it's ready, but let's start with our first project. I like coordination but think going too matchy-matchy ends up looking like a furniture showroom. So I needed to find (create) a happy medium to tie the living and dining areas of the room together.
That's when it struck me… Take a rug I've loved for ages (that mustard geometric pattern!!!) and a neutral-ish one, and turn them into the perfect little dream team!
But First: Other IKEA Hacks You Might Like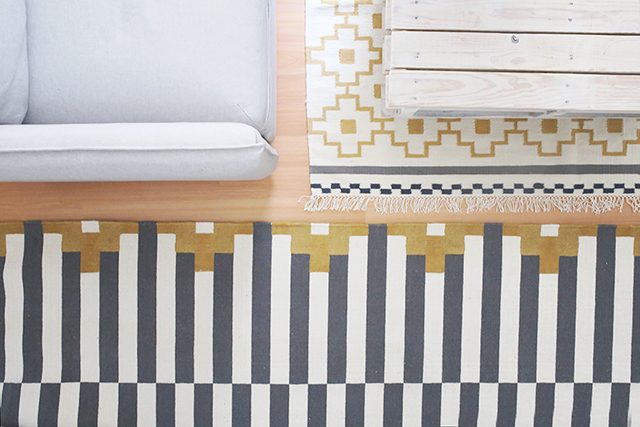 How to Paint a Rug to Make a Coordinating Set
Supplies
Besides the rugs, you can get all these items at your local hardware store. I've included links to everything below in case you want to grab everything online though. Some of these are Amazon affiliate links, so while it won't cost you an extra cent, I could make a small commission. Thanks for your support!

Rug with a pattern you love (just for inspiration, not to paint) – I used the ALVINE RUTA from IKEA.
Flat weave rug – I used the STOCKHOLM from IKEA.
Exterior flat latex paint* – 1 quart will be more than enough for a large border on a big rug.
Painter's tape – 1 roll is more than enough for a large border.
*You can actually take your rug to the hardware or paint store with you and have them custom color match it. They may have looked at me funny, but I ended up with a near-perfect match for the mustard brown color in the ALVINE RUTA rug — even with painting over the dark charcoal stripes on the STOCKHOLM rug!
Instructions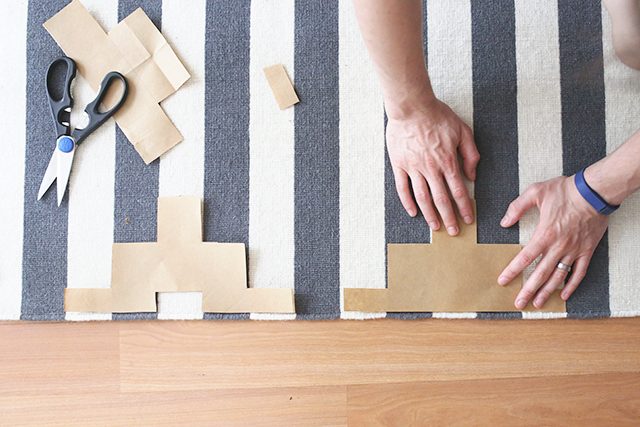 1. Begin by planning out your design. I knew I wanted to replicate the shape from the pattern on the first rug. Since it has three "columns" and "rows," I measured the width of a strip on the second rug (the one to be painted) and multiplied by three.
I drew that shape in the right measurements on a piece of paper and cut it out so I could actually try out the pattern in different places. This also helped me figure out where to start to make sure it was even from one end to the other instead of having extra space on one side.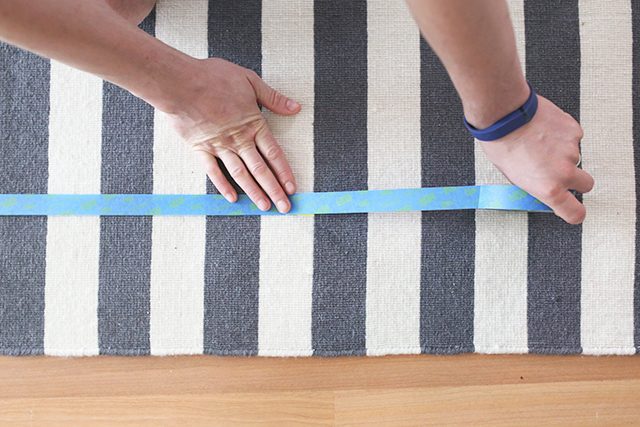 2. Once you've figured out the placement of your pattern, measure and tape a straight line along the outside edge of it to help you stay aligned.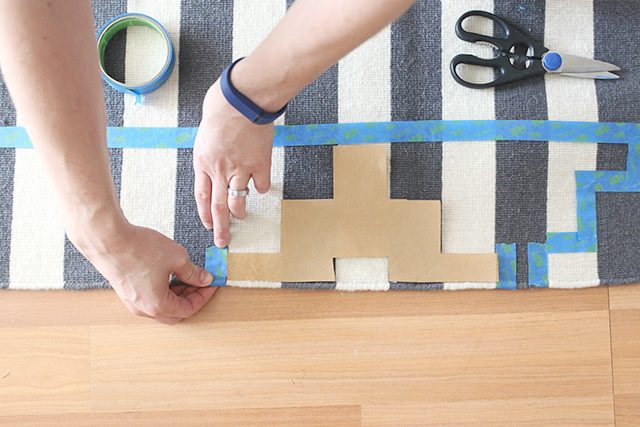 Then, just start at one end and use your ruler and paper guide to help you figure out where to tape. Make sure to press the edges of the tape down really firmly to prevent paint bleeding through later.
Tip: You might need to trim the tape with scissors instead of tearing to get a crisp line at the corners of your shapes.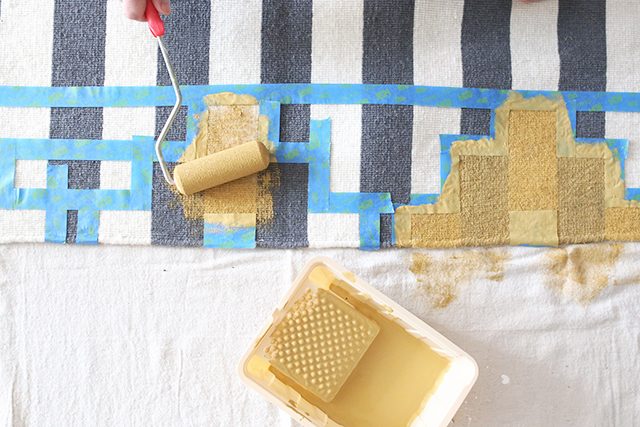 3. With a mini foam roller fully saturated with paint, begin painting inside the tape lines, pressing firmly as you roll to help the paint soak into the rug fibers.
Tip: Roll from the edges of the tape in — only in that one direction. If you roll back over the tape, you could force paint under the edges and end up with messy lines.
Let the first coat dry, and then add at least a second coat. If you're painting over a dark color with a lighter color, like my mustard over charcoal, you may need a third light coat.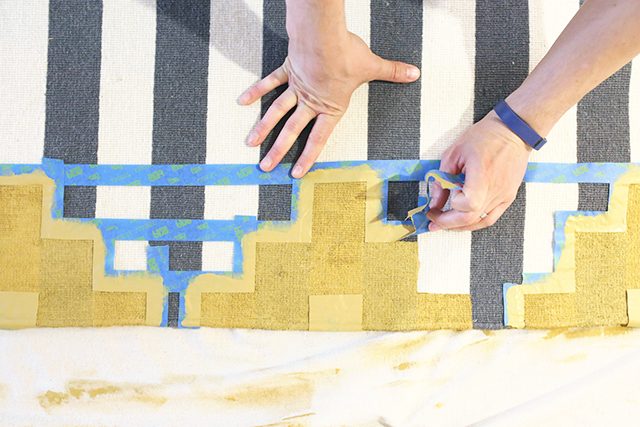 4. Let the paint dry a final time, and peel away all the tape.
Tip: If you have any spots where you went outside the lines or the paint leaked under the tape, you could fix it fairly well by using a small paintbrush and acrylic paint to paint the rug back to its original color. Think of it like crafty white out!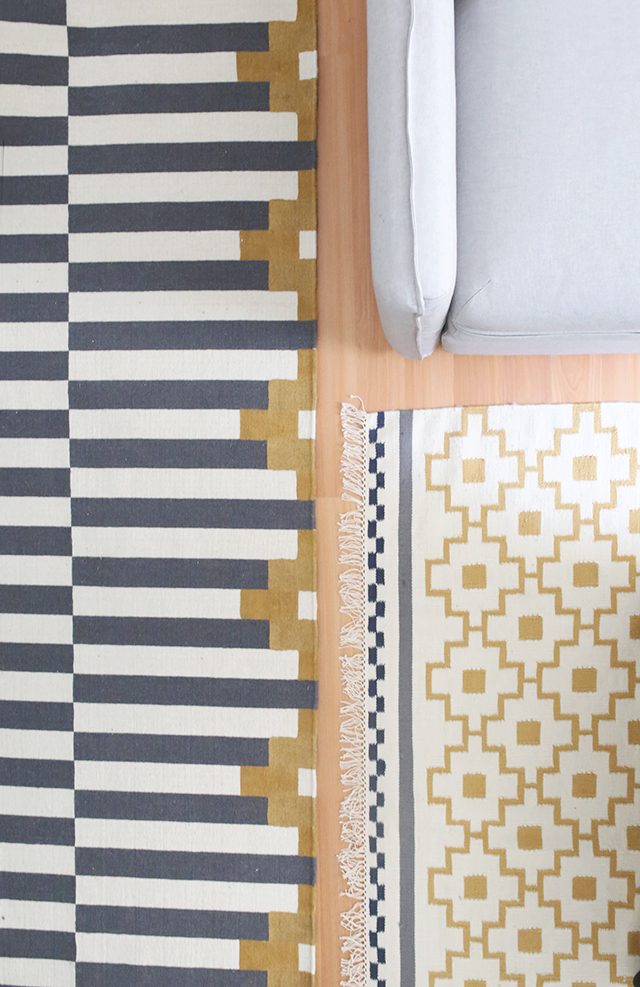 IKEA® is a registered trademark of Inter IKEA Systems B.V. The views, ideas and opinions expressed here are my own.