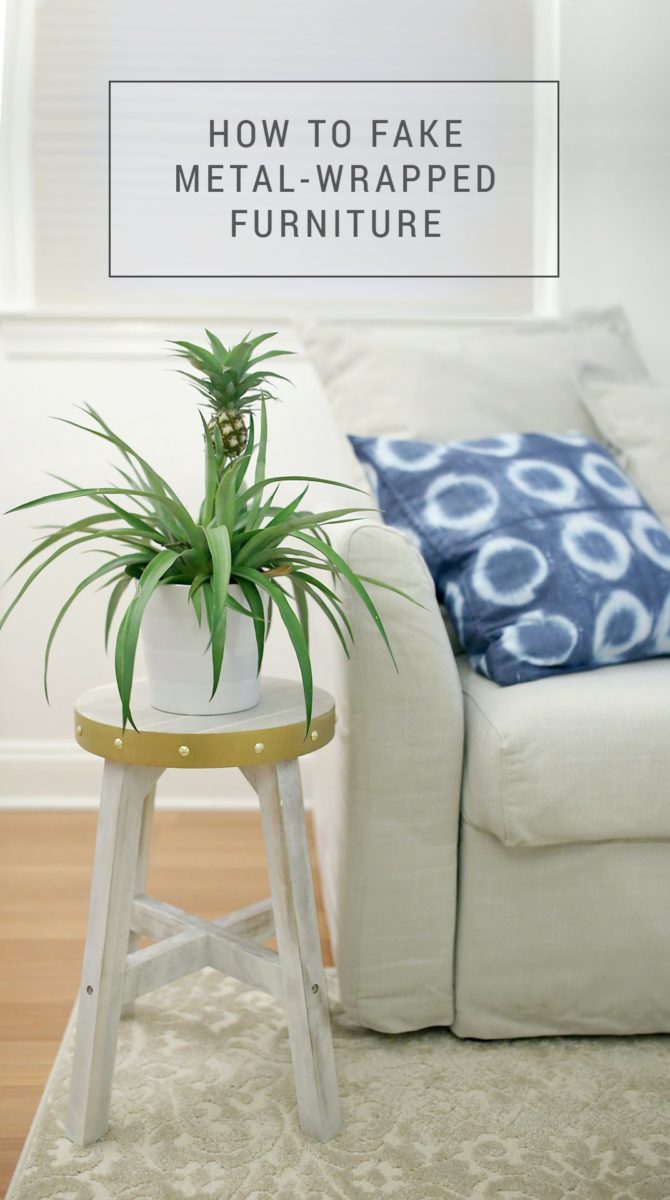 If you caught this post, then you know I'm deep in the midst of creating a studio space and guest suite in our new house. After years of stashing my supplies in out-of-the-way nooks and shooting in weird little corners (or on our bed or on the patio floor or…), I'm so excited to have a space of my own.
I've been working with (and basically living at) IKEA College Park to put together my dream room and make the most out of a rather awkward basement space, and it's so fun seeing my vision and all my sketches coming to life day-by-day!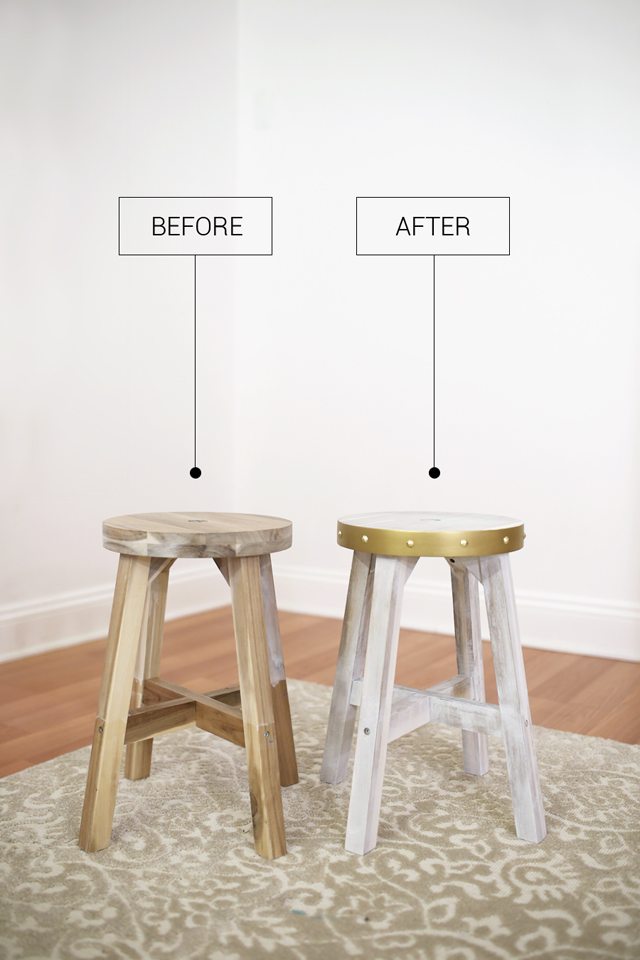 I settled on brass for my accent metal, and one of the projects I'm most excited about for high-end, expensive-looking results without spending a lot is this DIY metal wrapped furniture technique that I created for these stools.
P.S. Sorry it's not a "true" before-and-after. I got paint-happy and started in on the legs of the other stool before remembering I wanted to snap a picture of them together! 😉
Which brings me to my next point…
How to Go From IKEA Showroom to Bespoke, OOAK Pieces
Anytime you're adding a bunch of furniture and accessories from any one source, you run the risk of suddenly looking like you're running a showroom for that store.
The best way to get everything you want from your favorite store without "overdoing it" is to put your personal touch on at least a few key pieces. Turn them into something you can't find at that store. You want to take an ordinary, staple piece and create something that'll make your friends ask, "Where'd you get that amazing ______?!"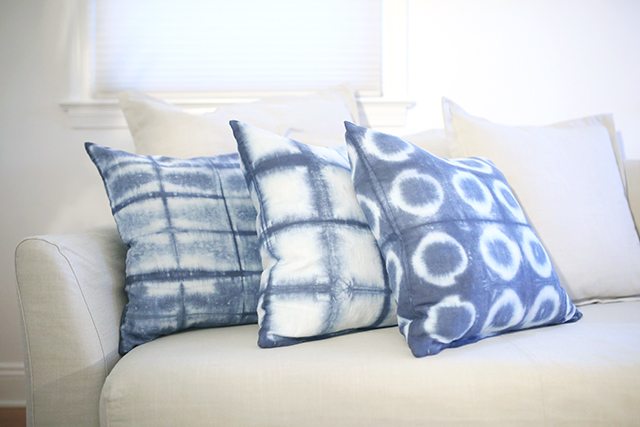 Here are a few times I've done just that with different IKEA pieces:
Read on to get the tutorial for these stools and how to create DIY metal wrapped furniture to fake out all your friends!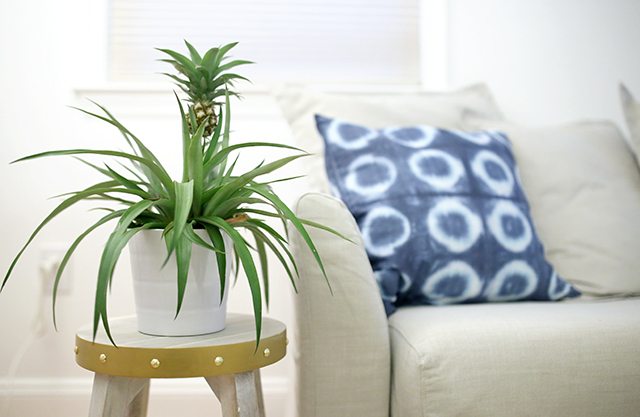 Supplies:
Initially I wanted to actually wrap the stools in real brass. I called several places to find out about getting pieces of sheet brass cut to my specifications, but they were all out of the sheet brass that I needed!
When I started to really think about it, I decided a faux finish might be even better. It's easier for the average person to manage (just paint and nails!), and using real brass might leave sharp edges or corners anyway. Plus, adding a faux metal band keeps the project super budget-friendly, since the stools I used are only $19 with $1 nails and paint!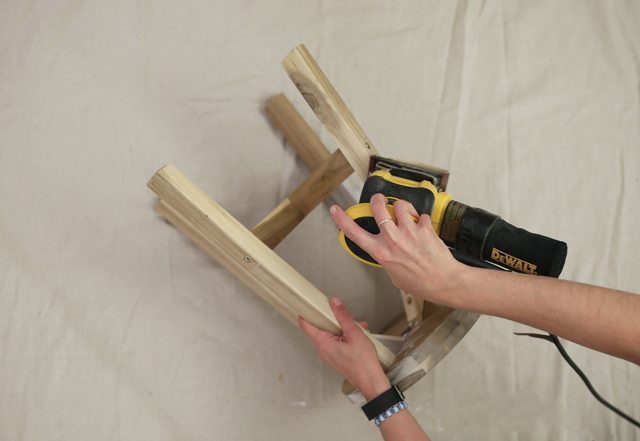 1.  Start by sanding the stool to remove any finish that might block the paint. You can use a fine-grit sandpaper because you just need to buff it a bit.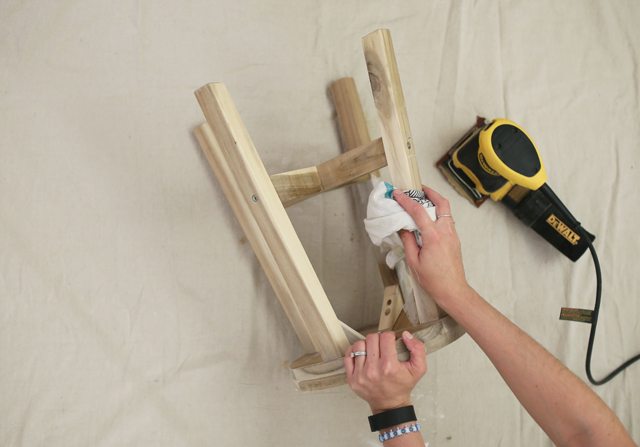 Wipe away any dust with a clean, damp cloth. Don't skip this step, or you'll end up with gritty whitewash! Let it dry completely before moving on to the next step.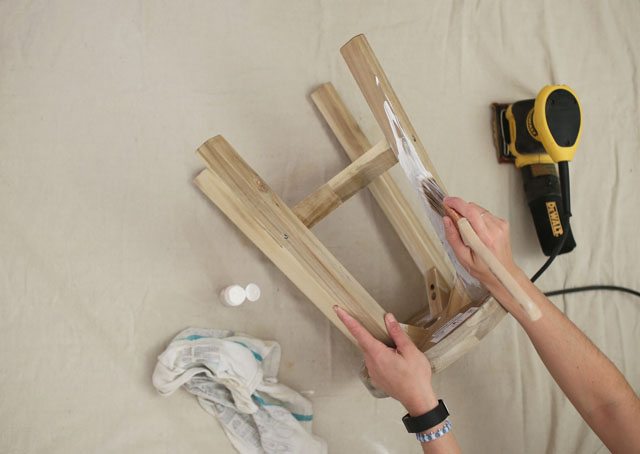 2.   Brush a thin coat of white acrylic paint all over the stool surface, legs, and base. Use a wide brush to make the work go quickly.

3.   Let it sit for a couple minutes, and then use a barely-damp rag to wipe away excess paint. You still want the wood grain to show through.
Let the whitewash dry completely before moving on to the next step.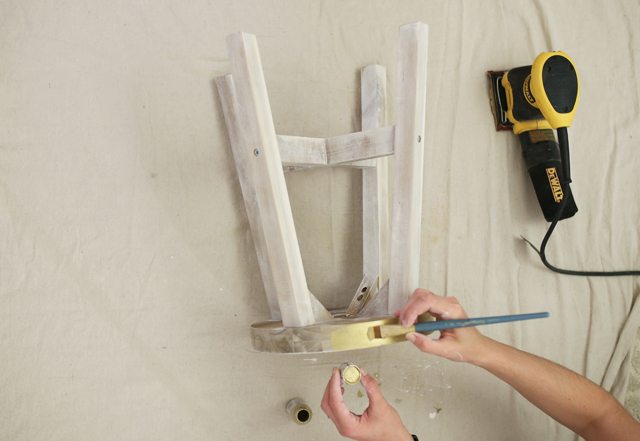 4.   It's time to add the "metal band" to the stool. It's really important to have a clean, straight line around the top to give the illusion of actual metal, so if you don't have a steady hand, you'll want to tape off the top of the stool to avoid getting paint on it.
Use a brush to apply the brass/gold acrylic paint all the way around the edge of the stool.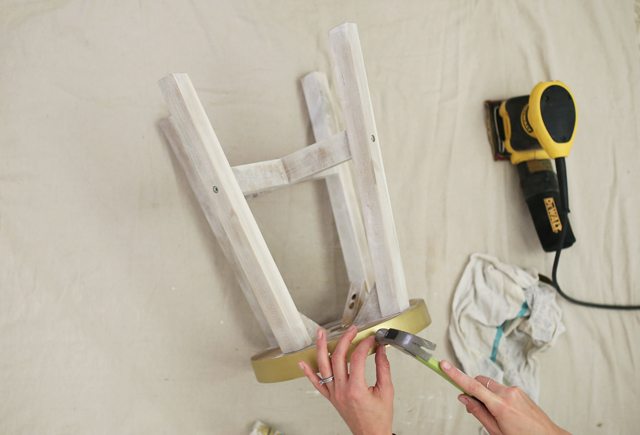 5.   To add the convincing finishing touch, add brass tacks to make it look there's actually a metal band hammered onto the stool.
Space the tacks about three inches apart, and hammer them in the middle between the top and bottom of the stool.
Tip: Since you're hammering real nails into the stool, it's important that it be actual wood. The SKOGSTA Stool that I used is made from solid acacia wood, but if you're using a different stool, just make sure it's not particle board, or the nails will tear it up!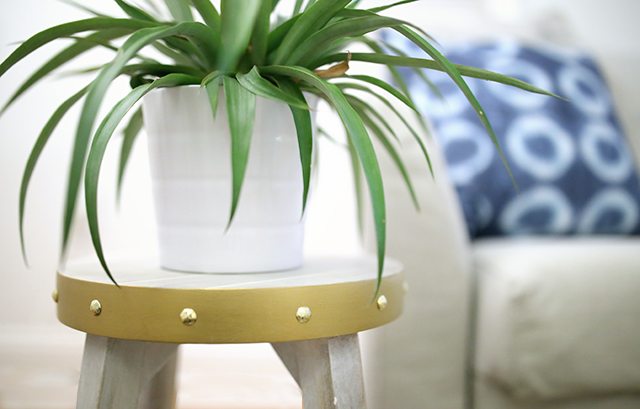 Progress Update
I promised you guys updated on the room as it progresses, right?! You were probably hoping for pretty pictures, but the room's so small that if I show you too much, I'll give it all away before the big reveal next month!
Here's what I can reveal:
Unfortunately, one of our progress updates is a bummer.
Because We Couldn't Have Everything Go Smoothly…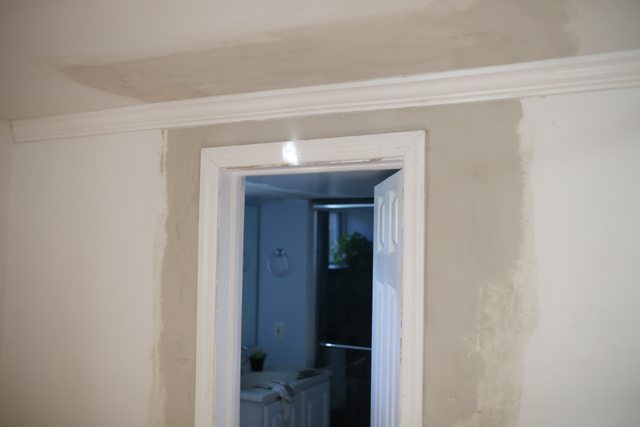 When the furniture and whatnot was being delivered, Andrei and I noticed a weird, slightly dark spot on the ceiling.
Of course we poked at it, and the wall and ceiling in that spot were mushy. Yes, mushy.
It turns out that the upstairs bathtub caulk had pulled away from the wall, so every time we showered, the excess water was draining into the basement ceiling. We ended up having to have somebody remove the crown molding, the bathroom door frame, and a chunk of the ceiling and wall. It put a real damper on my plans and progress for a couple weeks…
But as I type this, he's back downstairs putting the wall and ceiling back together!