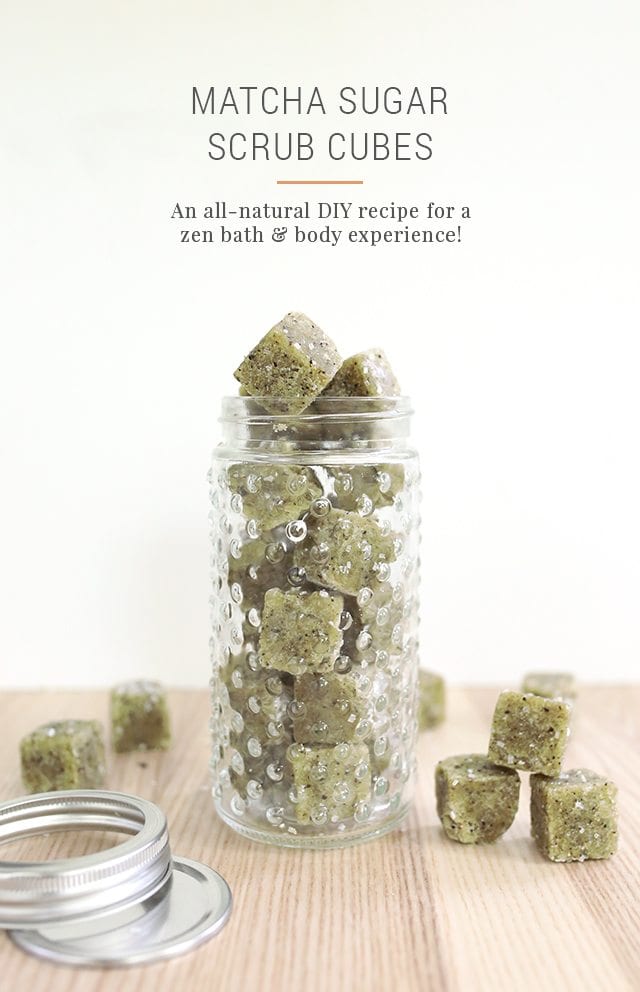 Have you tried matcha?
Andrei and I spent a week in Japan last month, and we got to try matcha-flavored-everything — soft serve, pastries, mochi, Kit Kats… You name it, we tried it in bright green!
I brought a bag of matcha powder back with me, and I decided to turn it into a yummy spa treat instead of a dessert or candy. And so came about the inspiration for these DIY matcha green tea sugar scrub cubes!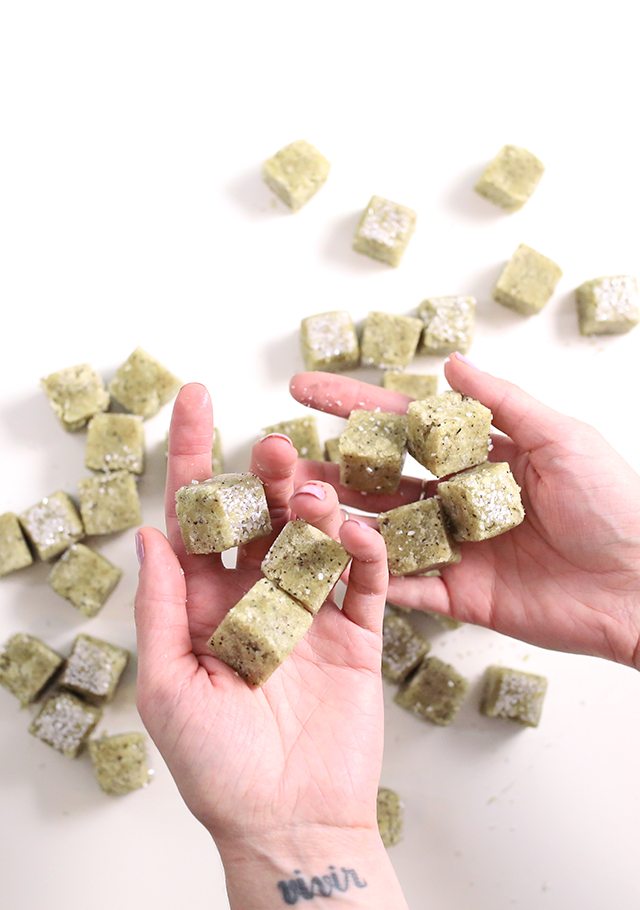 DIY sugar scrub cubes are a great bath product because they're conveniently served up in individual pieces. No more sticking a wet hand into a jar of sugar scrub to scoop out of a messy handful and then ruining the rest!
These also make for beautiful gifts or gift baskets. Just drop some into a pretty jar, and you have a thoughtful homemade present. Bonus points if you tie on a ribbon or a nice gift tag!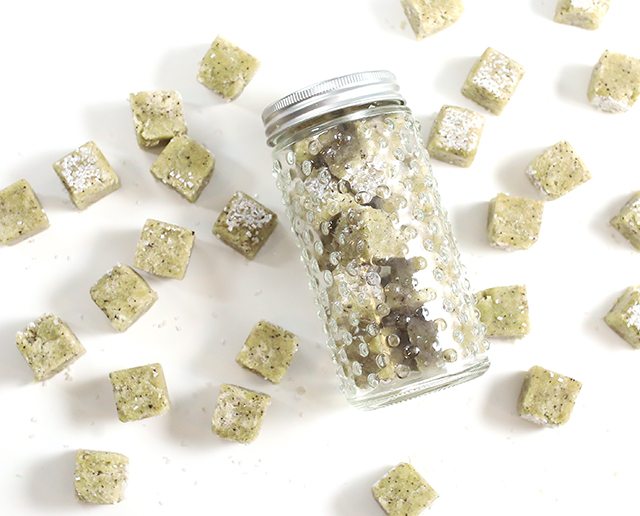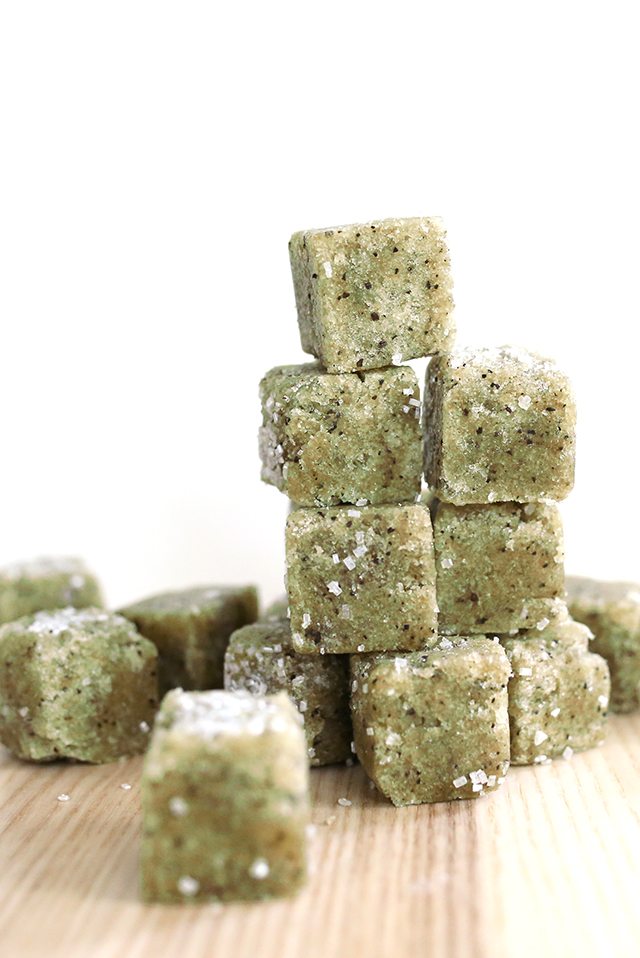 DIY Matcha Green Tea Sugar Scrub Cubes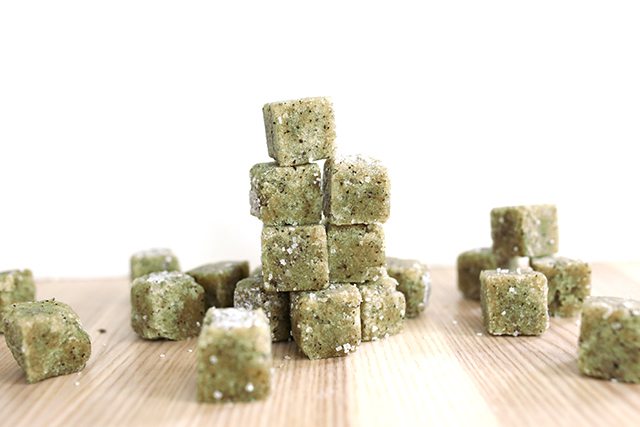 Supplies
These are the actual ingredients and supplies I used, but you may be able to find similar or smaller quantities at your local health food store. These are affiliate links, so if you make a purchase, I can earn a small commission to help me keep this blog up and running. But it won't cost you an extra cent, so thanks for your support!


Granulated table sugar
Optional

Ground coffee
Scented essential oil
P.S. Scroll to the end for a printable recipe/supply list!
Instructions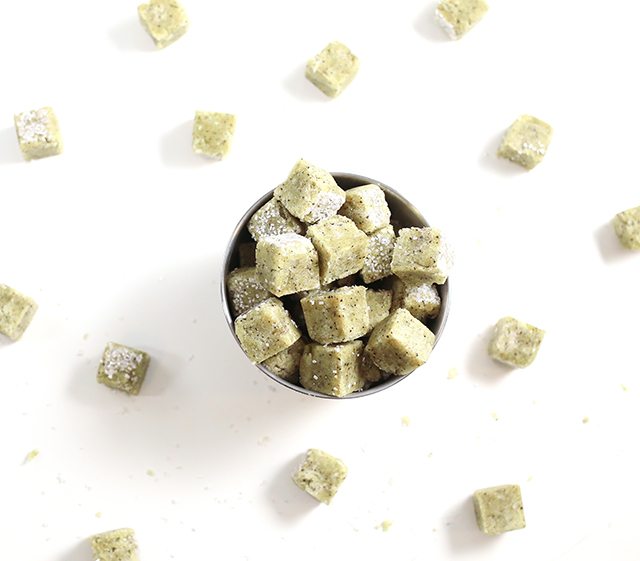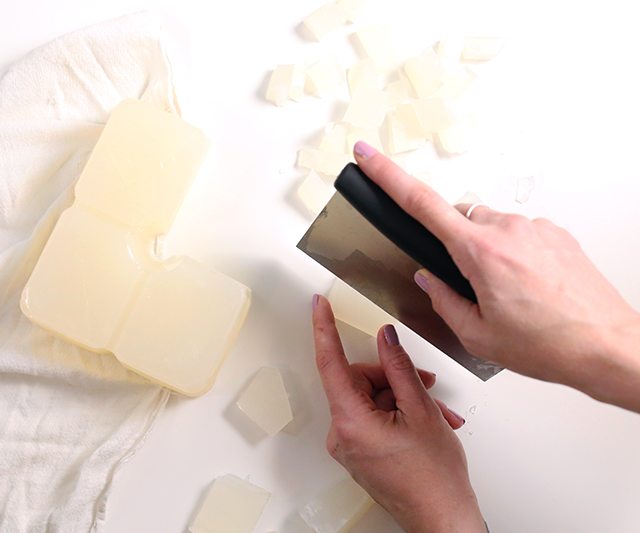 1. Cut up 8 ounces of soap base (1/4 of a two-pound package) into small chunks. Microwave it on high for about 15 seconds at a time, and be sure to stir occasionally to help it melt evenly.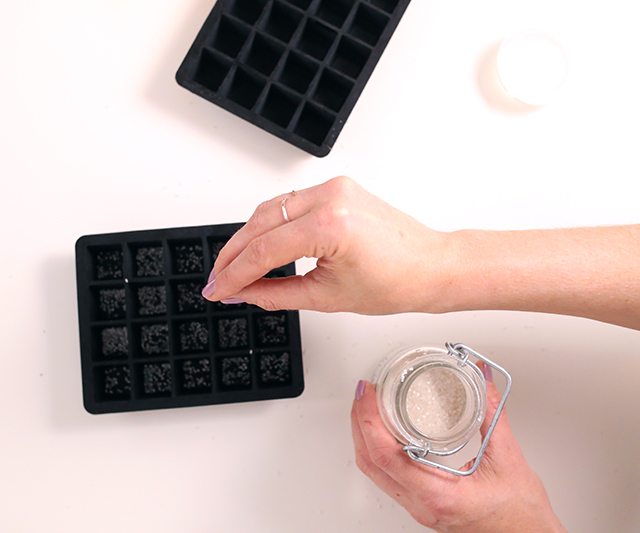 Optional: To give your sugar scrub cubes a sparkly top, sprinkle some sanding sugar into the mold before you start mixing everything.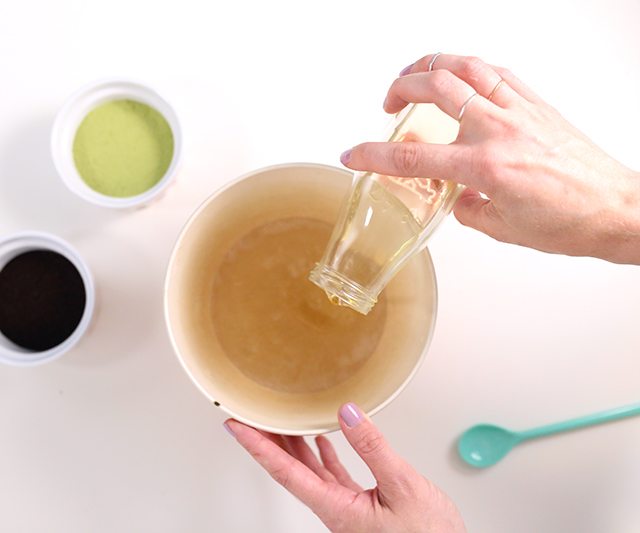 2. Thoroughly stir in 1/3 cup of almond or avocado oil, plus 1 1/2 tablespoons of matcha powder. This is also when you can add your scent, tea tree oil, and color if you want.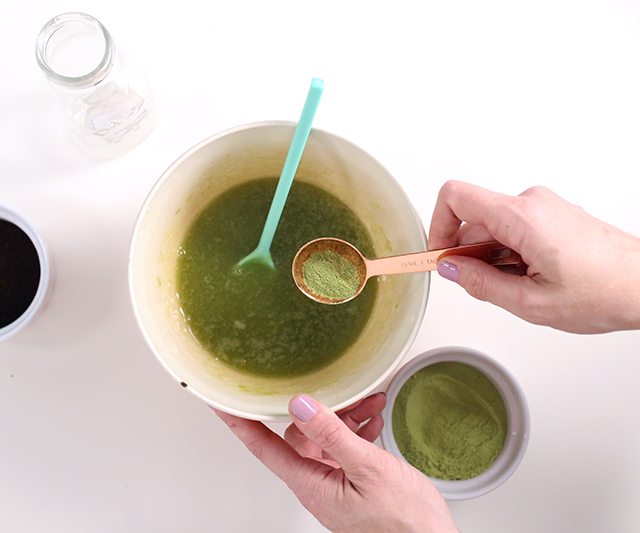 If you're using a fragrance, then you can add 15-30 drops, depending on how strong you want the smell. I used a green tea cucumber scent from Michaels because I wanted to stay true to the matcha. This is the closest I could find on Amazon if you're looking, but almost any soap scent would work.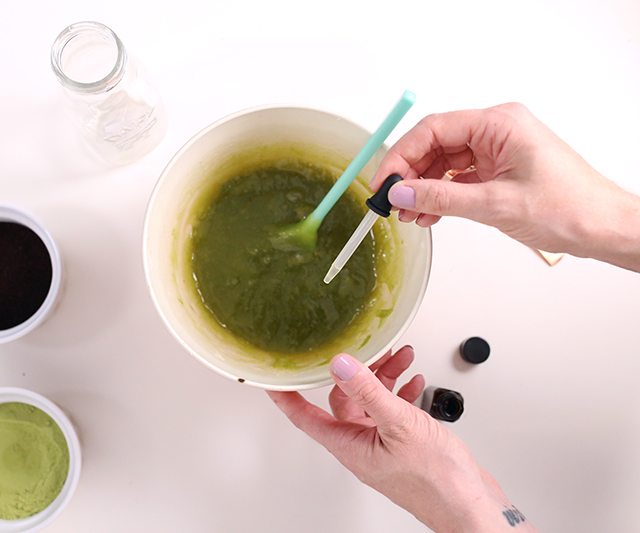 I like the natural color from the tea, but you might want a more vibrant green. To color, dip the end of a toothpick into the gel food coloring and then swirl it around in the oil/soap mixture. Start with a tiny bit because you can always add more if it's not dark enough.
You can also add about 15-30 drops of tea tree oil to give the scrub a tingly feeling. Tea tree oil also helps combat skin oil.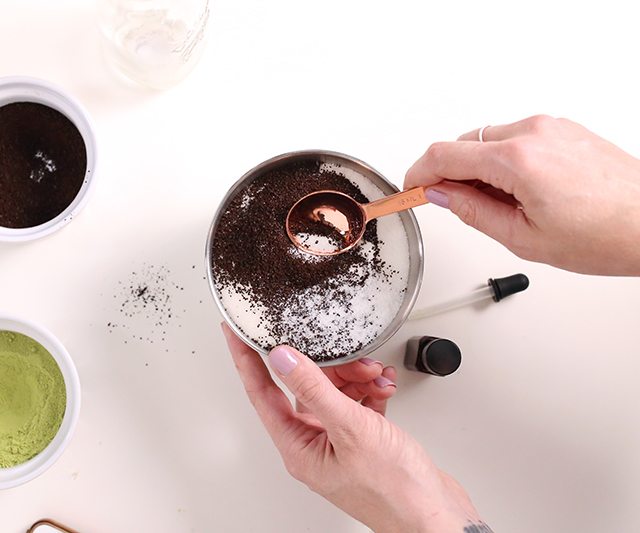 3. In a separate bowl, combine 2 cups minus 2 tablespoons granulated sugar with 1 tablespoon of ground coffee. The coffee is optional but is a nice extra exfoliant because of the coarse texture.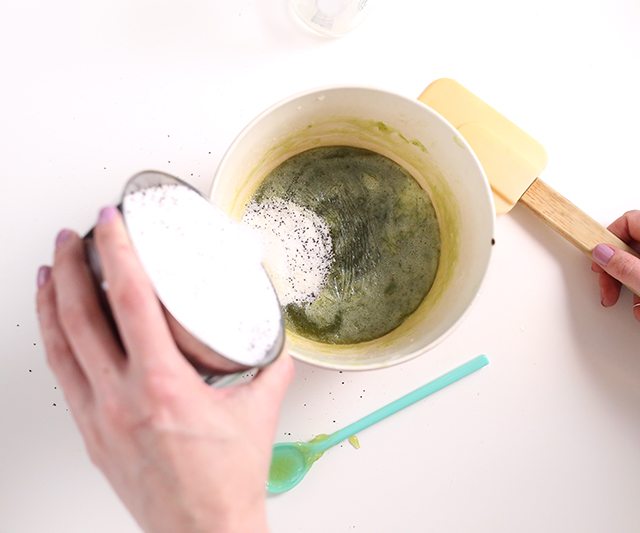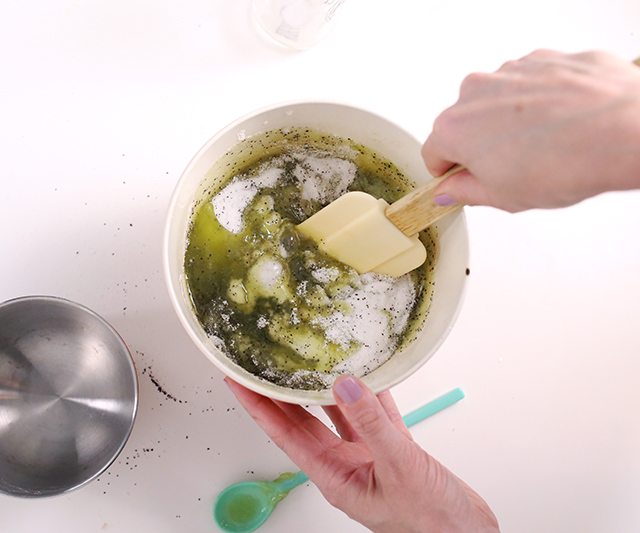 4. Rapidly and thoroughly stir the sugar mixture into the soap mixture until completely mixed because it will thicken up really quickly at this point!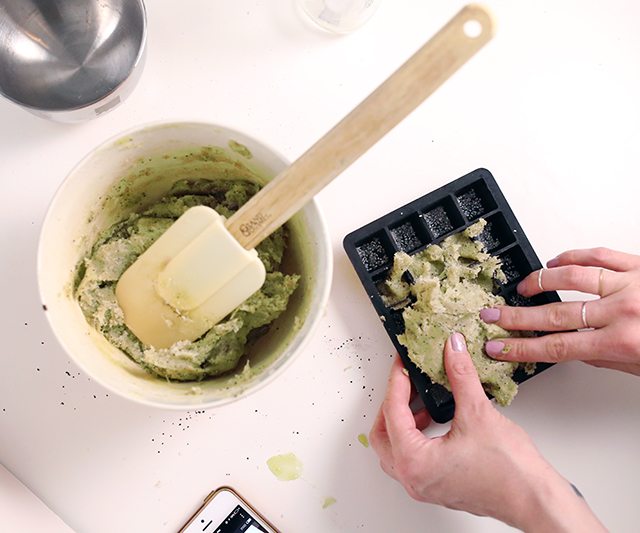 5. Quickly spoon and press the mixture into your cube mold. You could also pour them into a loaf mold or lined pan and then cut them up later.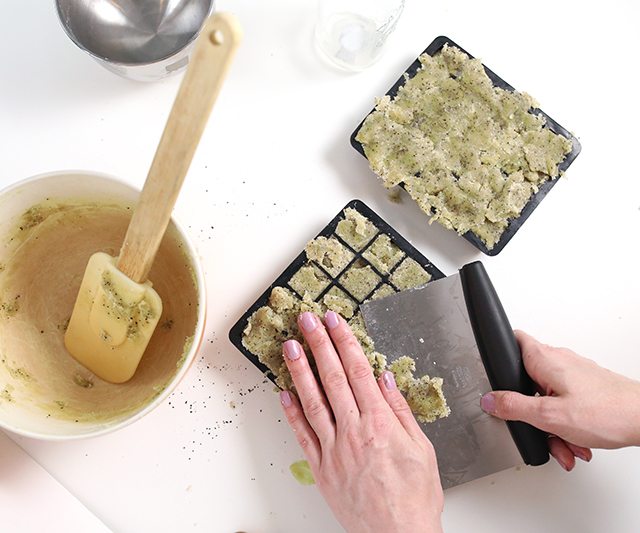 6. Use your knife to cut away any bumpy excess from the top so the cubes are smooth on all sides.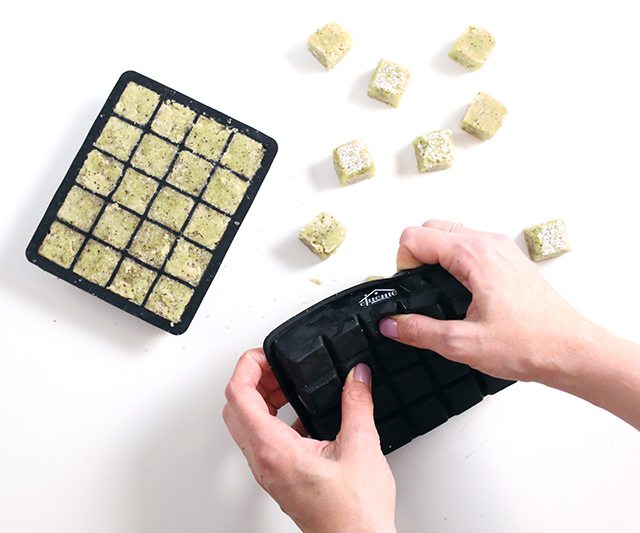 7. Finally, stick them in the fridge for half an hour, and then you can pop them out of the mold and let them harden up in the air for an hour or two before storing them in an airtight container.
How to Use DIY Sugar Scrub Cubes
Try out your new DIY sugar scrub cubes next time you're in the bath or shower! Just grab one or two, and squish them in your hands under running water to soften. They'll start to turn into a bit of paste. Then, you can just use them to exfoliate like you would with any sugar or salt scrub — so relaxing!
And because they're in separate little cubes, you won't accidentally ruin a whole jar of regular scrub!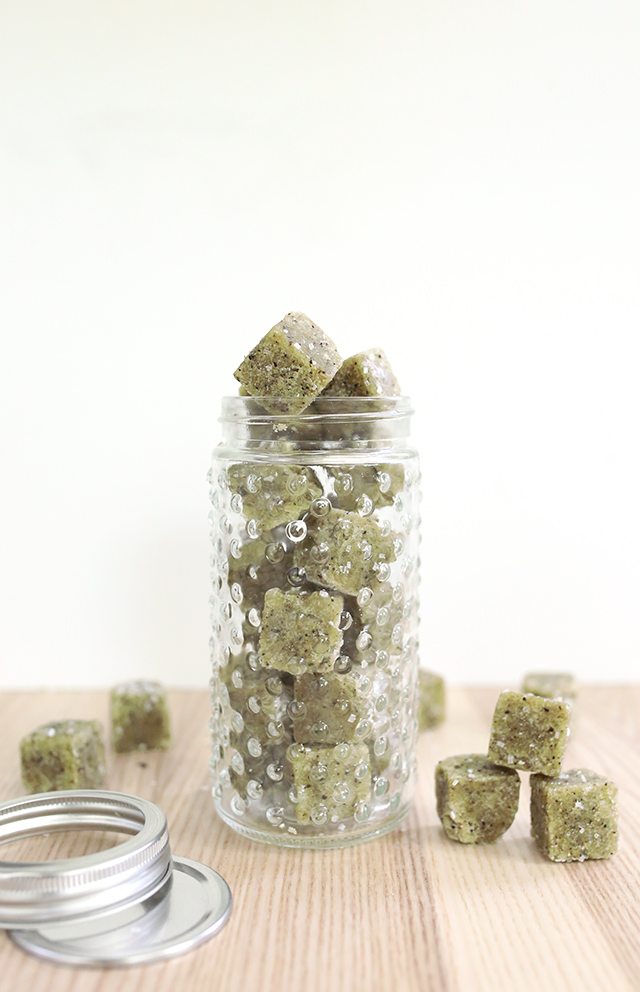 Printable Recipe
DIY Matcha Green Tea Sugar Scrub Cubes
Author:
Prep time:
Total time:
Whip up a batch of DIY matcha green tea sugar scrub cubes for a soothing, all-natural home spa experience. They're beautiful for bath & body gift baskets!
Ingredients
One-inch cube molds
8 ounces clear melt and pour soap base
2 cups granulated table sugar
1/3 cup almond oil or avocado oil
1.5 tablespoons matcha green tea powder
Optional:
1 tablespoon ground coffee
Scented essential oil
Tea tree oil
Gel food coloring
Instructions
Cut an 8-ounce block of melt and pour soap base into small pieces and melt in the microwave.
Mix in 1/3 cup almond or avocado oil, 1 1/2 tablespoons matcha powder, and any scented oil or coloring of your choice.
In a separate bowl combine 2 cups of granulated sugar and an optional tablespoon of ground coffee.
Pour the sugar mixture into the melted soap and stir. Work quickly as the mixture will harden rapidly.
Spread and press the mixture into a cube or loaf mold.
Let it harden, and then remove from the mold. If you used a loaf mold, slice it into cubes.
To use the sugar scrub cubes, crush one or two between your hands under running water to soften, and then use as a soothing exfoliating scrub in the bath or shower.