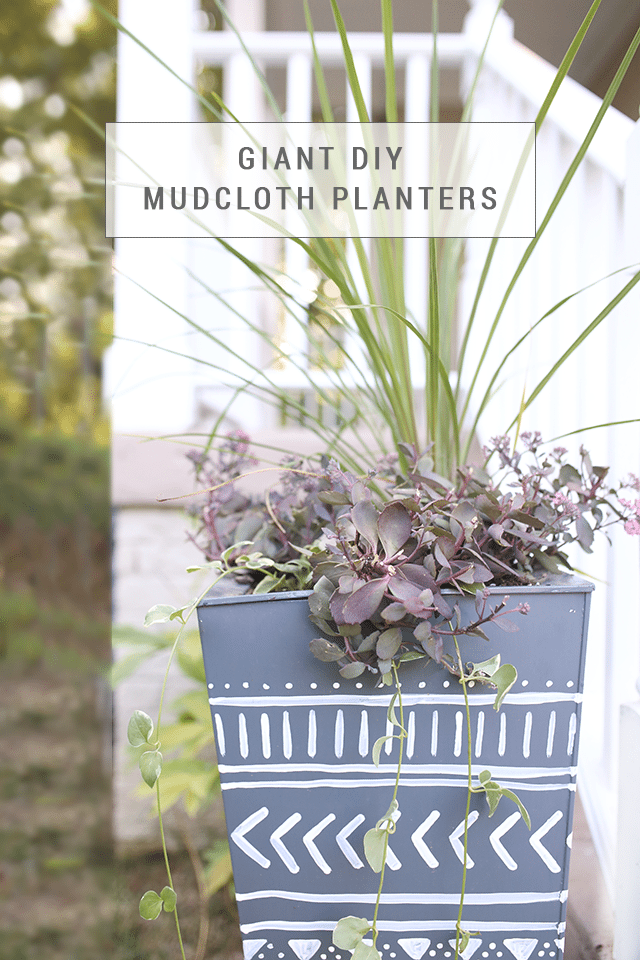 When we moved into our new house, it already had these two big, black metal planters alongside the porch steps. They were rusted everywhere and filled with deeply depressing dead plants. But I really loved the shape and scale of them, so I knew I wanted to give them a new life instead of scrapping them and starting from scratch.
Ever since I saw this mudcloth frame on Idle Hands Awake and this mudcloth pot on Francois et Moi last year, I've been a little bit in love with all things mudcloth, so I decided to take that beautiful idea to a whole new proportion and create my own giant DIY mudcloth planter.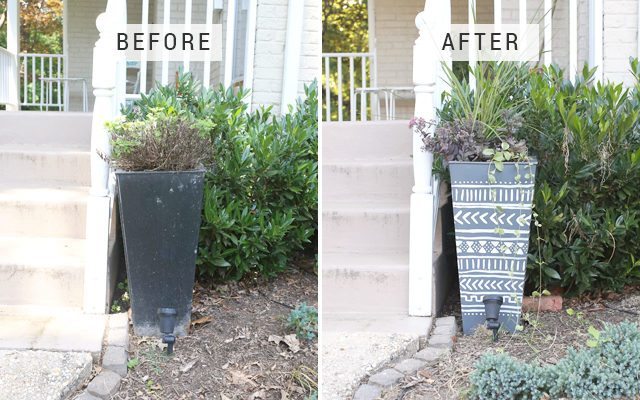 Definitely check out Erin's tutorial if you want to do something smaller scale, like a normal sized terra cotta pot, but read on for my tutorial and tips for refinishing and weather-proofing something large-scale on metal that's going to live outdoors, subjected to the elements.
The History of Mudcloth
I started reading into it a bit and fell even more head-over-heels for mud cloth. Every pattern has a meaning, and bògòlanfini — that's the word for it in Bambala, the language spoken in Mali — literally means cloth painted with mud. You can read more about the rich history of this unique textile on Design*Sponge if you're as interested as I was!
You can really use any color combination you want, but mudcloth seems to rely traditionally on a lot of black and deep earth tones. By painting it hematite grey — much lighter than the original black — I still got the mudcloth "look," but it will be able to withstand long, sunny days without getting scorching hot quite so fast.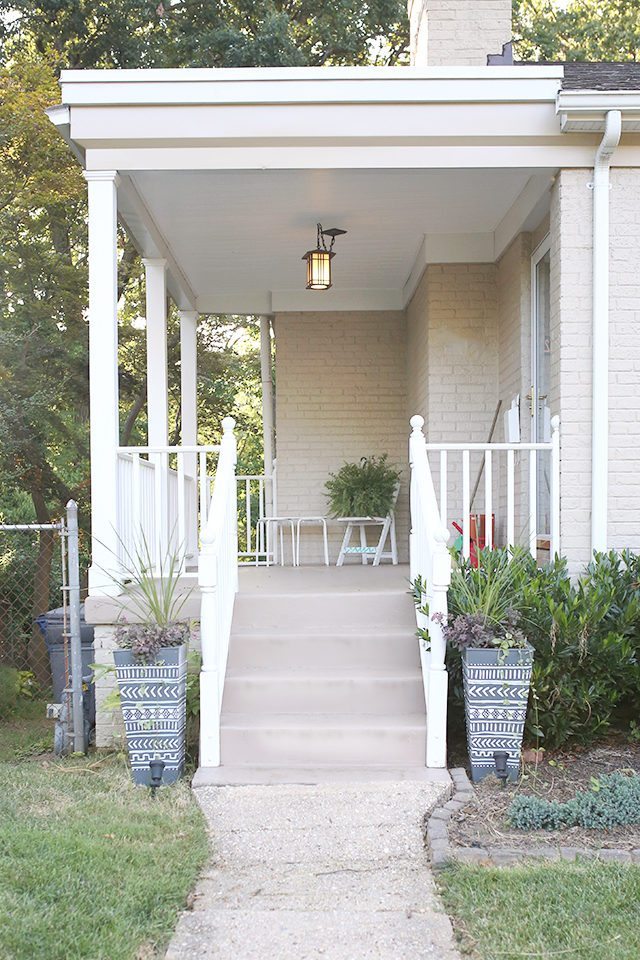 Supplies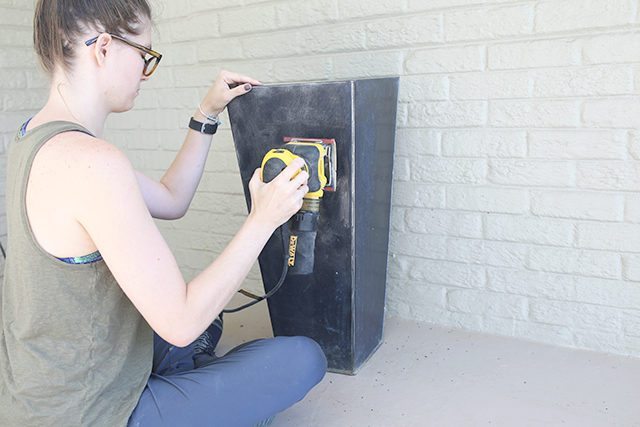 1.   If you're upcyling an old planter like I did, start by sanding it thoroughly to get rid of any rust, old dirt, and bits of debris. This will also give the paint a better surface to adhere to.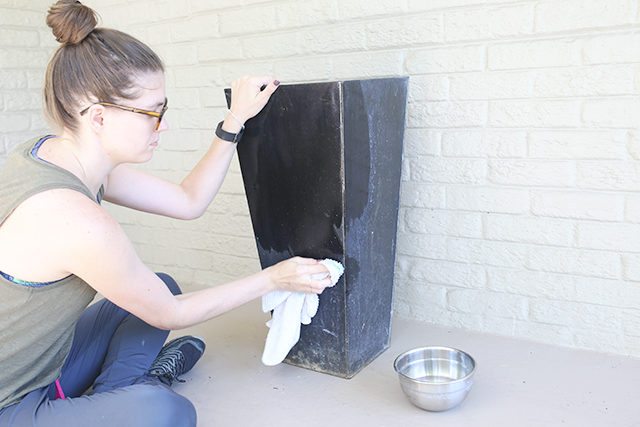 2.   When you've completely finished sanding, clean the whole thing up really thoroughly with a rag dipped in watered-down dish soap. Rinse it with clean water when you're done.
Tip: Make sure you're using a clean, lint-free cloth so you don't end up painting over any rogue fuzzies!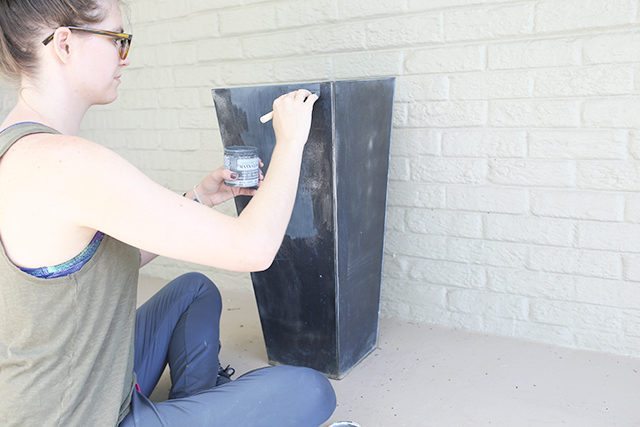 3.   Paint a medium coat of the dark base color of paint. The American Decor Maxx Gloss that I used (see this post also) is self-leveling, so if you paint a medium (but not too thick) coat, the brush strokes will settle out. A little paint goes a really long way — at least with the kind I used here, so don't be afraid to start with a small amount and build up.
Tip: Use a foam brush to avoid brushstrokes altogether!
Let it dry for the amount of time recommended on the paint jar or can, and then apply a second coat.
Let it dry again completely. Patience will pay dividends in the long run!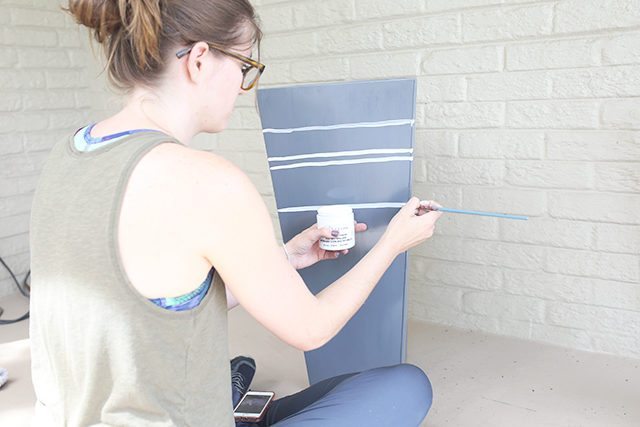 4.   Start painting your pattern!
I recommend painting out all the straight, horizontal lines first all the way around the planter. This will help you remain consistent from one side to the next and will give you a better guide when you start filling in the rest of your pattern.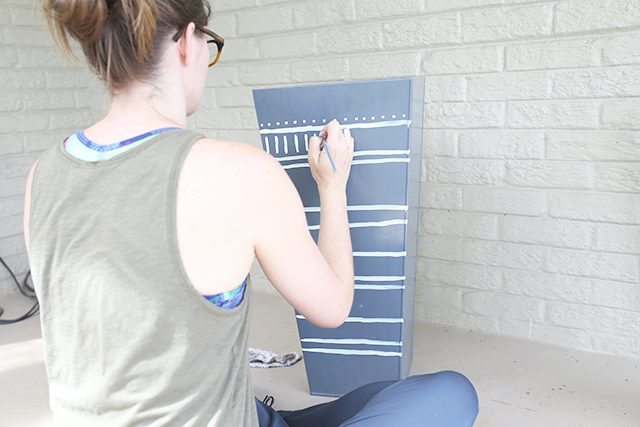 5.   Fill in the rest of the pattern — all the stuff happening between those horizontal lines.
You can refer back to your inspiration pattern as much as you need to, but don't be afraid to go a little bit free form with this. The imperfections and natural, flowy look are part of the beauty of mudcloth!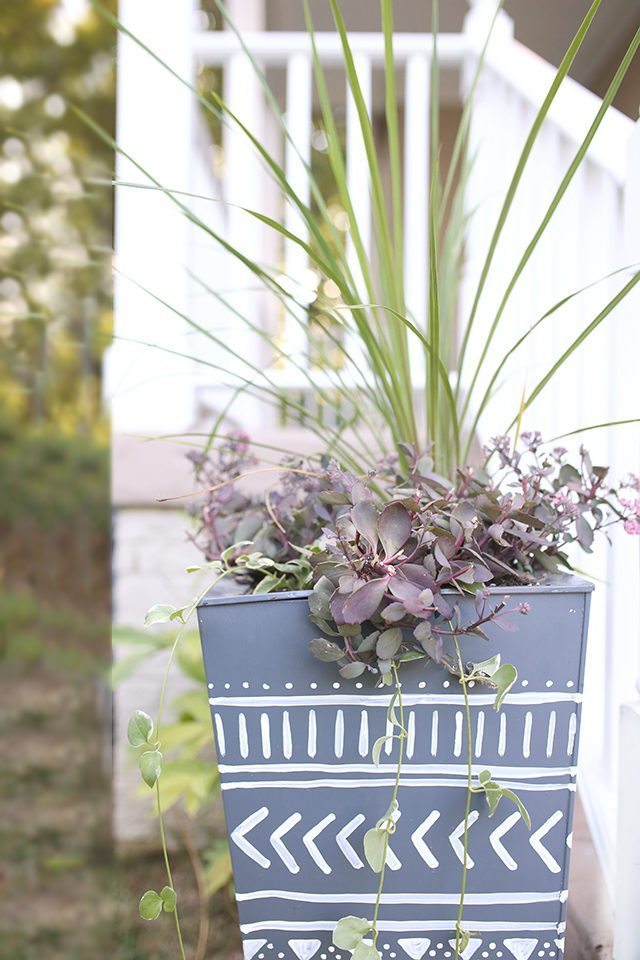 6.   If you need to, go back and add a second coat to the pattern to make it really pop.
7.   Finish it off with a blast of Rustoleum clear. It will protect it from rusting, sun damage, and give it a final even finish!