Give a double sided standing chalkboard easel and dry erase board a makeover with bright pops of color and the alphabet!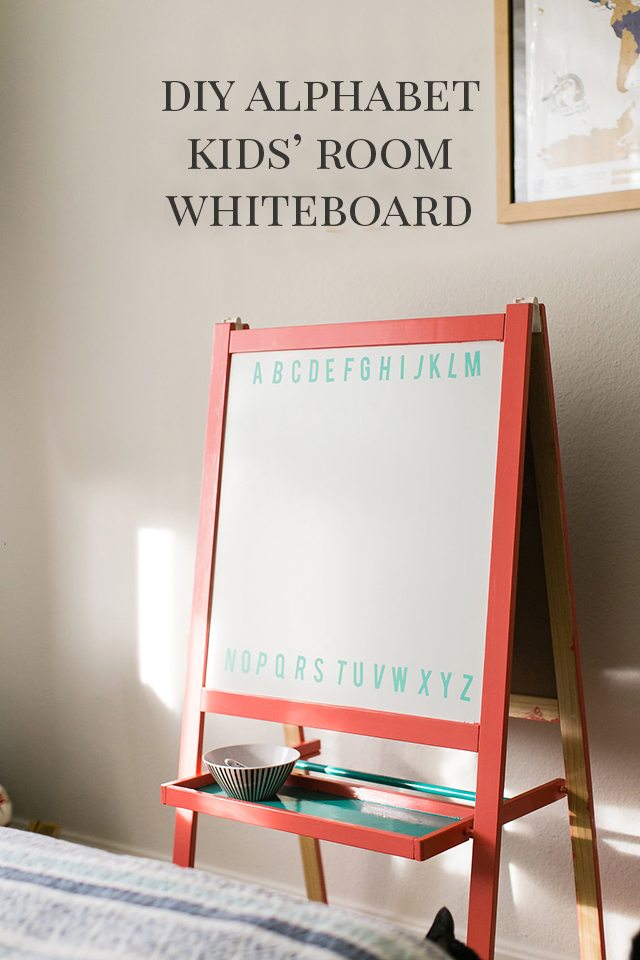 For this one, I wanted to do a bigger furniture piece that could be a focal point in a child's room because these colors felt so vibrant and perfect for a young, playful project. You know I'm an obsessive doodler, so I think kids should have a surface to play around with chalk or markers and get super creative on a whim.
Come see how I turned a $14.99 easel into a sweet, candy-colored accent piece for a kids' room or playroom!
This would make a GREAT birthday or holiday gift kids gift idea — especially on a budget!
Speaking of budgets, isn't it crazy how you can go into IKEA feeling confident because it's all so affordable…
And then you do the walk of shame on the way out because you accidentally bought half the "super affordable" store?!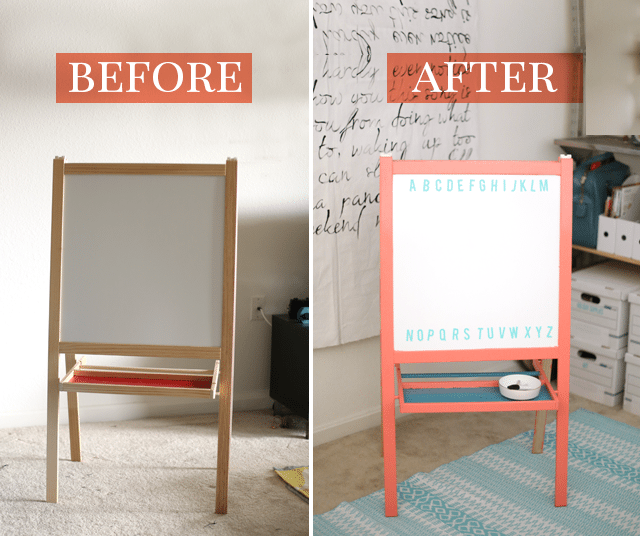 Ideas for Using Your DIY Chalkboard Easel
The IKEA easel is nice because it's super versatile. You're not limited in the ways you can use it. And if you're making it for your kids, it's perfect because it can really grow with them!
Here are a few ideas:
It's the perfect size to set up a kid art station in a playroom or classroom. Just put a cut little stool in front of it!
Use a chalk marker to turn it into a fun chalkboard sign when you have a party or guests. Fun signage should be one of your favorite party supplies anyway!
Use it as the end of a room divider since it's double sided.
Get some dry erase markers and use it for homeschooling lessons or for helping with homework.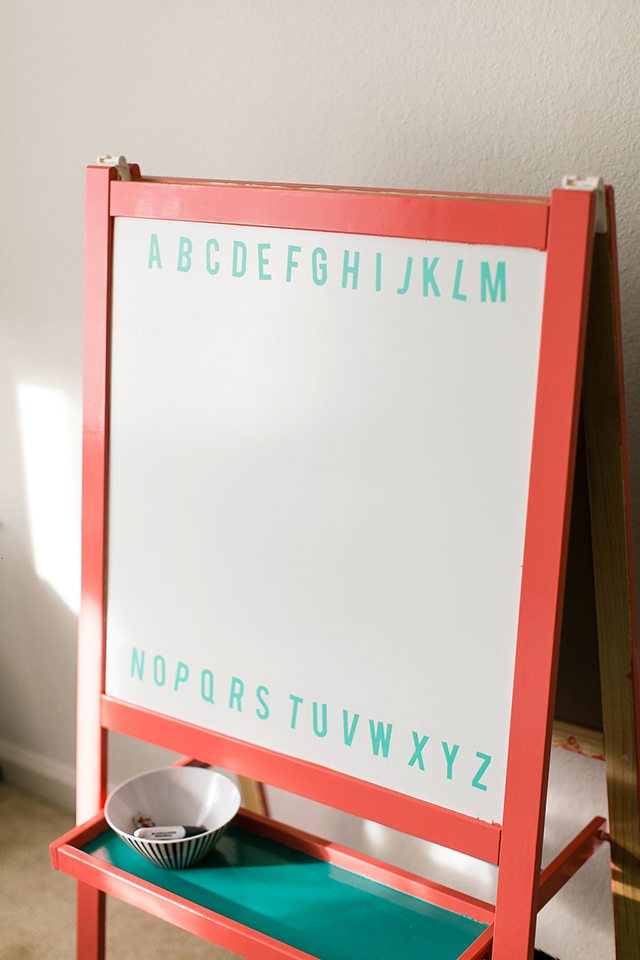 Supplies:
Wooden chalk board easel – Any will work, but the IKEA MÅLA easel which I used here is only $14.99. Here's why it's perfect:

The IKEA Mala easel has a whiteboard side and a blackboard sign for lots of kid art options!
You can always add IKEA MÅLA drawing paper when it runs out, and you know it's the right size! It doesn't come in the original package, but it's so cheap to add on!

Americana Decor Maxx Gloss – colors in this project are Juicy Melon and Aqua Waters

In addition to the link above, it's available at Michaels (in-store & online), Home Depot (select stores & online), Jo-Ann Fabric & Crafts Stores (in-store & online), and Meijer.

Spray primer
Painter's tape
Drop cloth
Paper bags or roll paper (for covering the whiteboard/chalkboard surface)
Paintbrush
Vinyl letter decals

I actually made these with my Silhouette, but you can pick some up online in a variety of styles.
Alternatively, you can stencil them straight onto the background, but I haven't tested paints on the whiteboard surface.
Instructions: How to Paint a Chalkboard Easel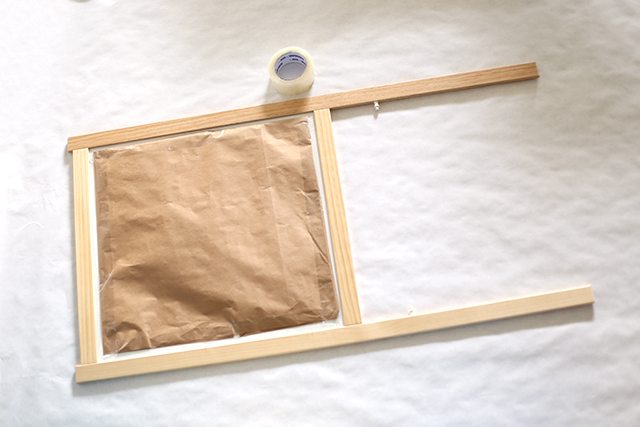 1. Cover the whiteboard and chalk board surfaces of the easel with scrap paper (from a drawing roll or paper bags), and use painter's tape to mask off the edges for a really nice, clean line.
Ignore the fact that I ran out of painter's tape three inches in and ended up having to use masking tape. Do as I say, not as I do. 😉 #bloglife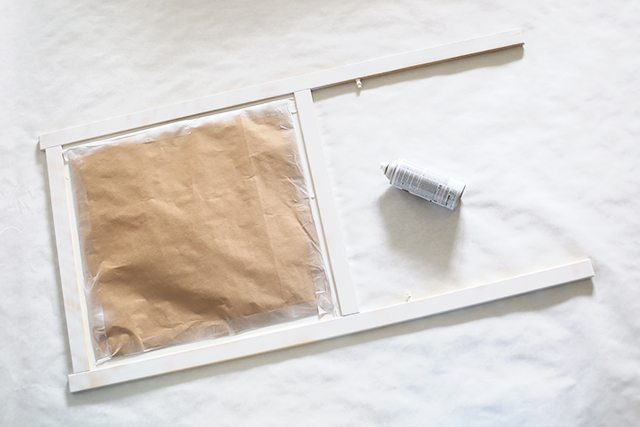 2. Spray or brush on a white primer.
This step is optional, but if you do, your color coat will be more true to color. A thin coat will do just fine!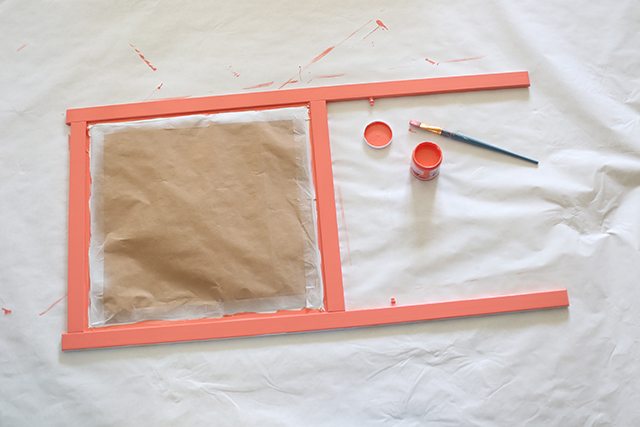 3. Brush on a medium-thick coat of Americana Decor Maxx Gloss, and set the first half of the easel aside to dry while you paint the other half. The peachy coral shade I used here is Juicy Melon if you want to match the DIY exactly.
While there are plenty of paints you could use for this, the Maxx Gloss is really nice because it's water-based, which means that unlike other high-gloss finishes, you can use it without having to worry about crazy fumes. Plus, you can brush it on, and it's actually self-leveling, which means that as long as you brush on a heavy enough coat, all the brushstrokes and grooves will flatten out. You end up with a hard lacquer finish – really smooth and shiny!
It's just really important that you let it dry long enough when you're completely done. If you don't, then you could get dents and scratches in the beautiful painted surface!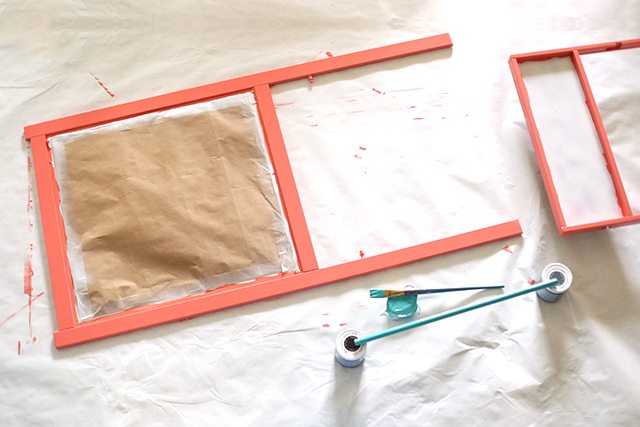 4. Paint the dowel that holds the drawing paper roll using a complementary color. U
Use that same complementary color to also coat the inside base of the little shelf. The turquoise shade I used is called Aqua Waters.
5. While the dowel and shelf are drying, add a second coat to the easel pieces. You don't have to wait long between coats; just make sure it's dry to the touch.
How to Add Letters to the Whiteboard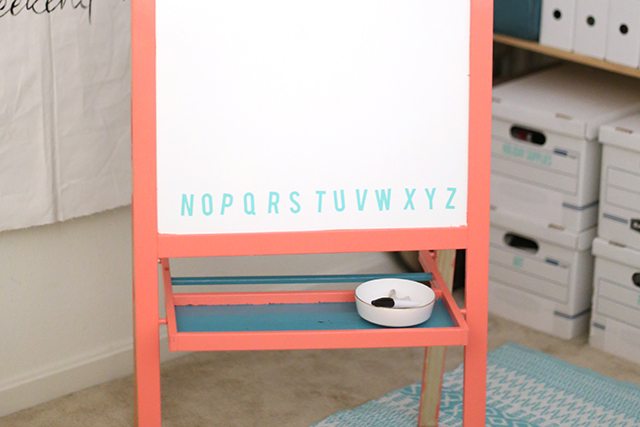 6. Add the letters A-M along the top and the letters N-Z along the bottom.
You could do this with either permanent or removable vinyl and a craft cutting machine like a Cricut or a Silhouette. Or, you could pick up letter stickers from the craft store or Amazon. At the craft store, you can find them in the scrapbooking section or the section that has science fair display supplies.
Now you have a super cute, colorful place for your kids to practice their alphabet and work on all their masterpieces!
And this post just wouldn't be complete without the obligatory cat sniffing the diy chalkboard easel photo bomb, so you're welcome!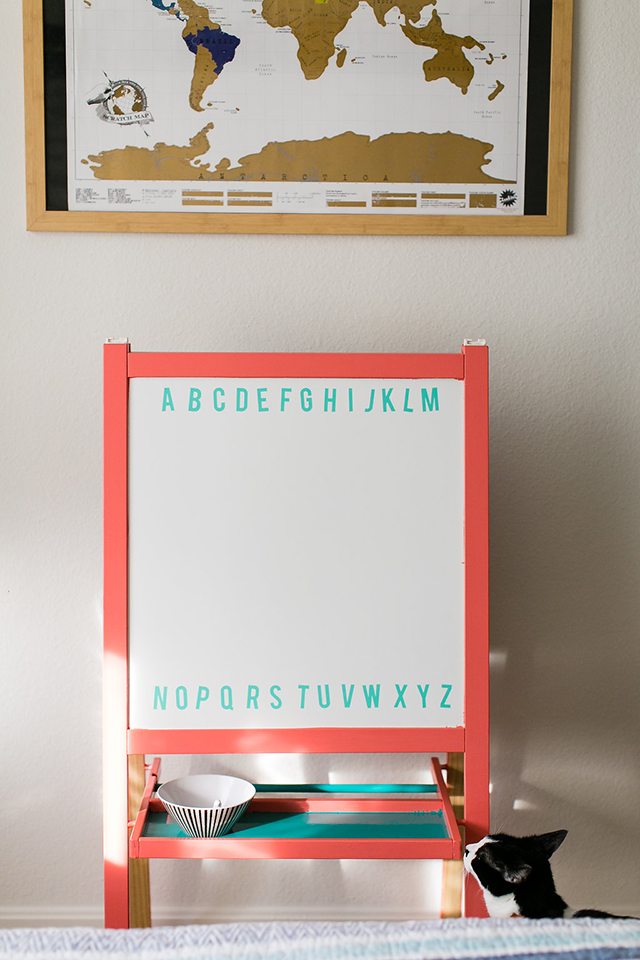 Select photography by Alicia Bruce of Love Knot Photo.
Thanks to DecoArt for sponsoring this post and helping me show off their fab new Americana Decor Maxx Gloss paint! And thanks to YOU for supporting partnerships that help me make Shrimp Salad Circus better for you!