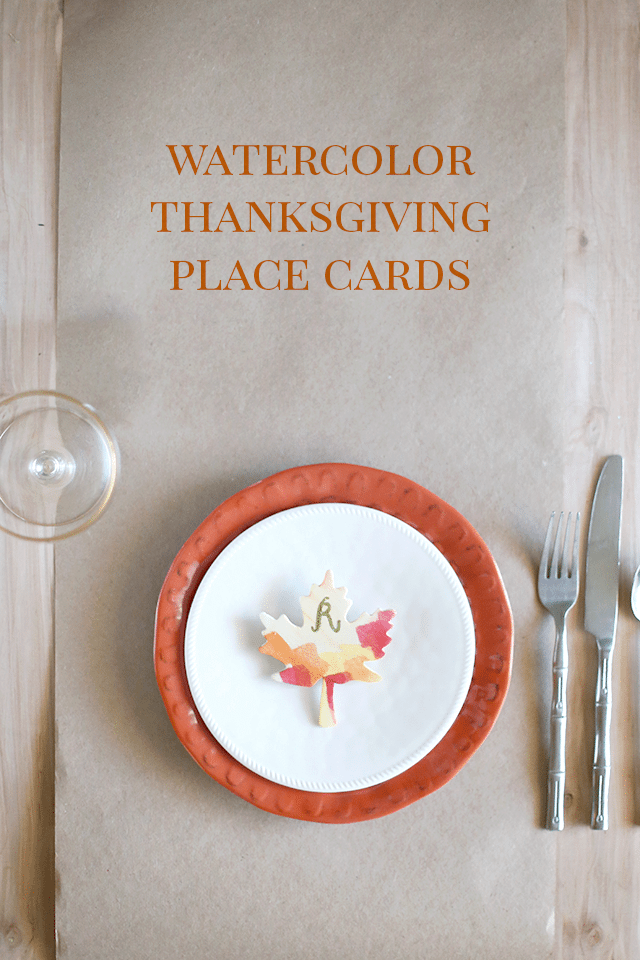 Are you a last-minute holiday planner like I am? If so, then you're probably currently somewhere in between deciding how to cook the turkey and deciding whether you're even getting a turkey.
Never fear – there are lots of ways to add beautiful last-minute touches to your holiday decor, from crafts you can make with the kids to these simple but stunning DIY Thanksgiving place cards. You can make them using those wood cutouts every craft stores sells for like $0.39, so bonus: they're affordable!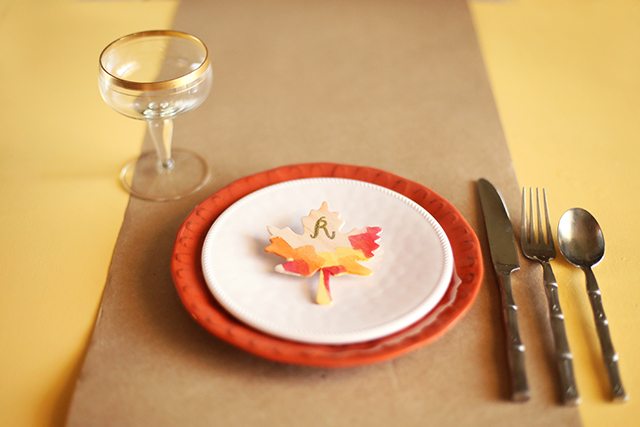 Last-Minute DIY Thanksgiving Place Cards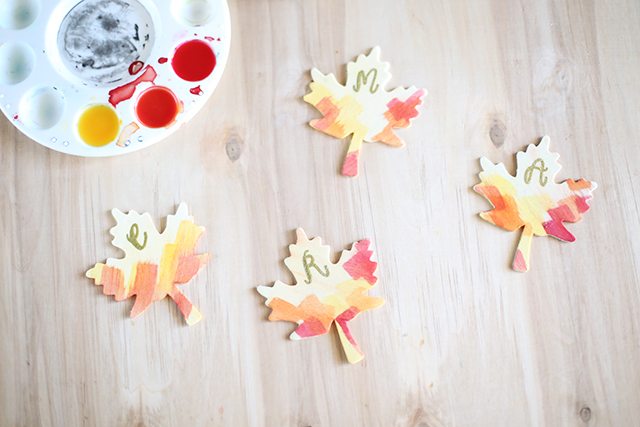 Supplies:
You can find all these supplies at your local craft store if you're on a last-minute holiday decorating mission. Otherwise, I've included links to supplies below so that you can stock up. This post contains affiliate links, and although you get the same price as always, I could earn a small commission, so thanks for supporting my blog!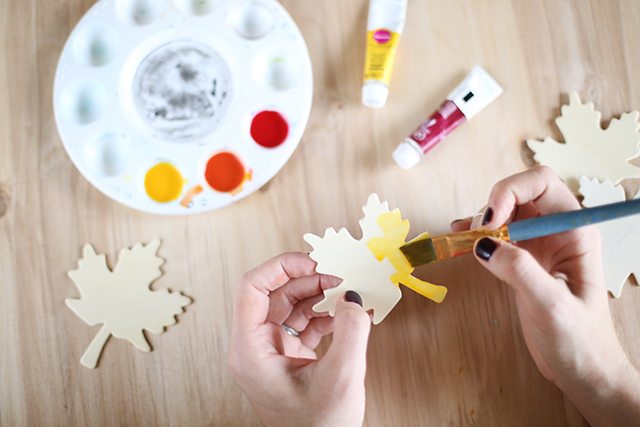 1.   Using a really wet brush, paint a few splotches of yellow onto a leaf. Set it aside to dry, and paint the rest yellow while you're waiting.
I won't tell a soul if you sneak off to the bathroom to blow dry them…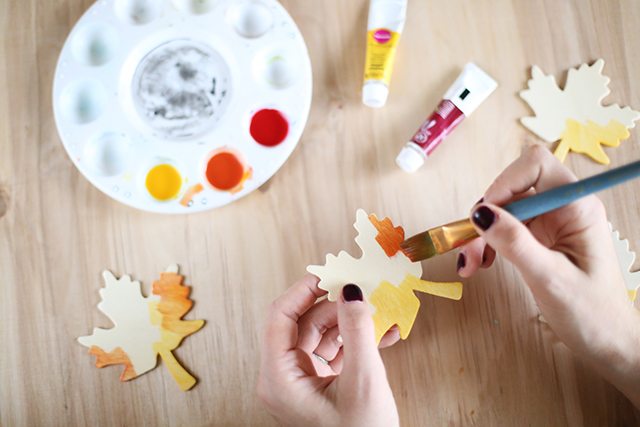 2.   Mix a dab of crimson and yellow to make a warm orange. Add orange to some unpainted spots around the bottom and sides of the leaf, and overlap the yellow a little bit, too.
As you can see in the spot under the brush in the picture above, the paint will bleed into the wood grain a bit. This is perfectly fine, and I honestly think it's kind of a pretty, natural effect!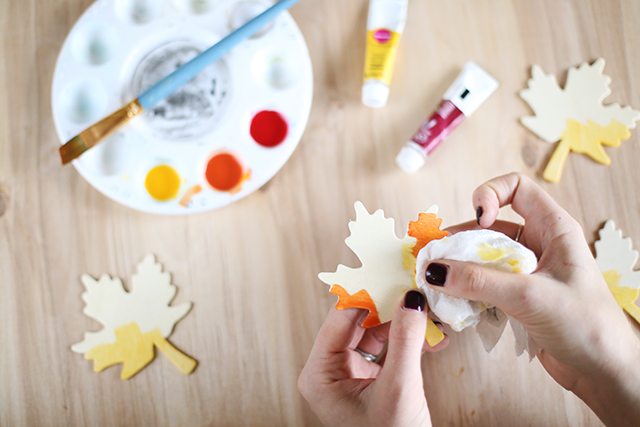 3.   Use a paper towel throughout the process to blot up some of the excess paint in certain spots but not everywhere. This'll help you get that uneven watercolor look that's just so pretty.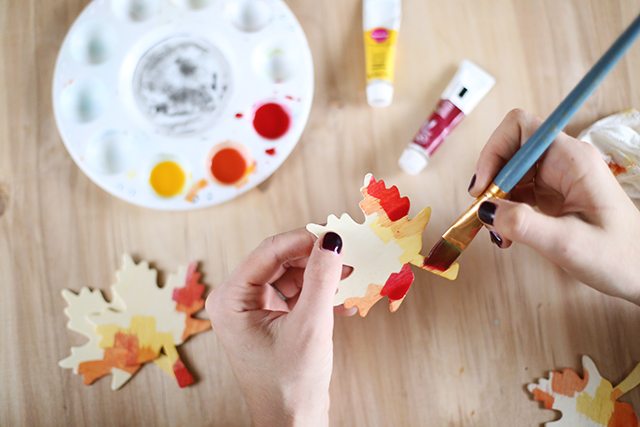 4.   Add your red. Since these are DIY Thanksgiving place cards, I knew I wanted colors that just screamed "fall." I used a really deep, vibrant crimson to make everything pop.
Remember to overlap the other colors in a few places and blot with the paper towel here and there for that uneven, layered effect.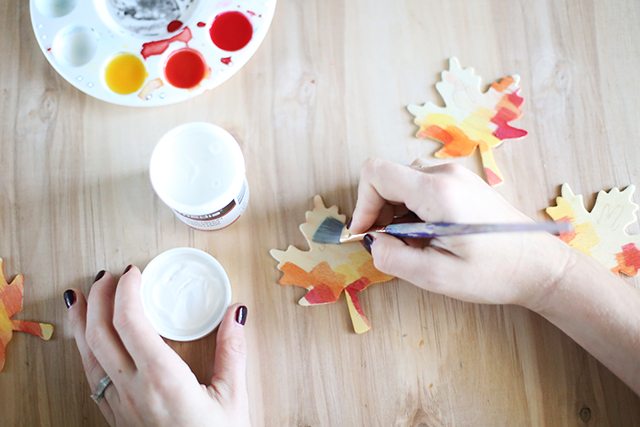 5.   Brush on a thin coat of matte sealant. I used gel medium.
This is optional, but it'll help give you a smoother surface in the next step, and it will keep colors from bleeding if somebody drips their drink on it during dinner.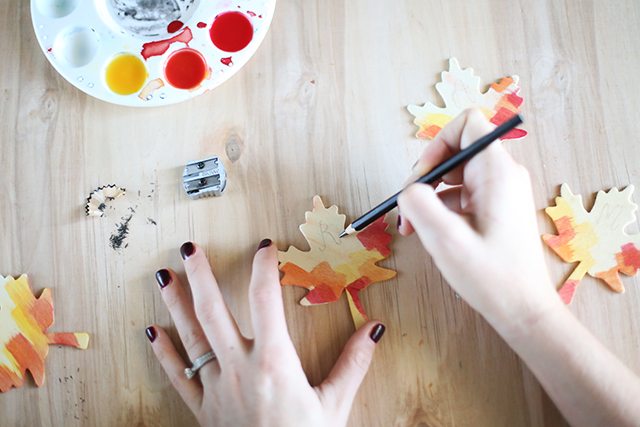 6.   Use a pencil to softly draw an initial onto the top center of the watercolor leaves.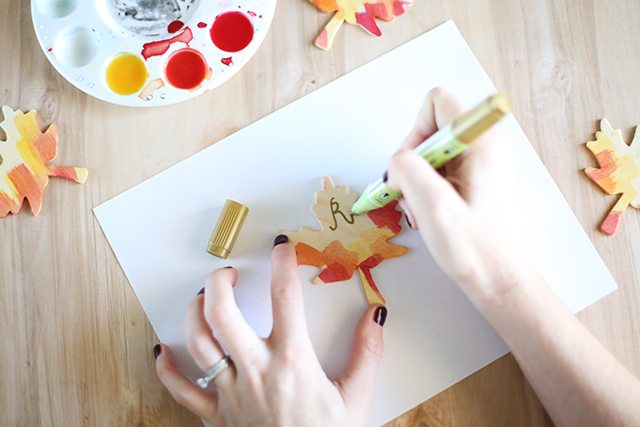 7.  Set your leaf on a piece of paper to prepare for the next couple steps.
Go back over the pencil with a gold (or any color you choose, really) pigment marker.
It must be a pigment marker if you want to add embossing powder (see Step 8) because any other sort of marker or pen will dry too quickly or will not hold the powder while it sets. I used a 1mm marker tip. I can't find the one I used online anymore, but this one and this one seem to be a close match.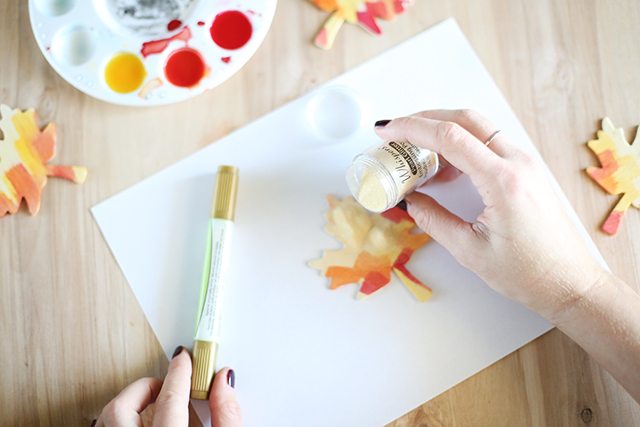 8.   Immediately sprinkle a generous amount of gold (or a color that matches your marker if you're not using gold) embossing powder onto the wet marker. Tip the leaf onto the paper and tap it a few times to remove excess powder. It's just like when you're pouring glitter onto glue!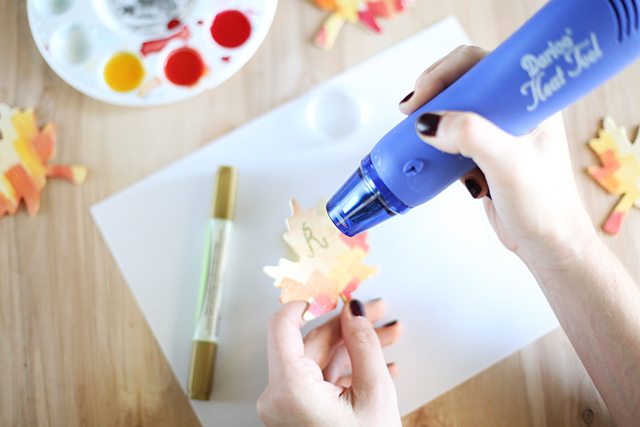 9.   Wave a heat gun back and forth a couple inches away from the embossing powder. You'll start to see it suddenly melt and come together into a solid surface over the letter you drew.
P.S. I use this heat gun, and blogger confession: I used it to dry the watercolor in between each step so that I could shoot everything more quickly!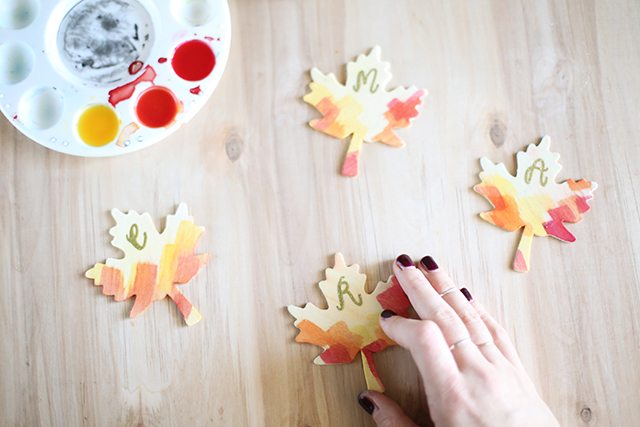 10.   Finish for each leaf, and then you can just add them to a plate, napkin, or on top of a drinking glass for a perfect keepsake DIY Thanksgiving place card that your guests can take home. Maybe they'll even end up hanging them on the Christmas tree afterwards!