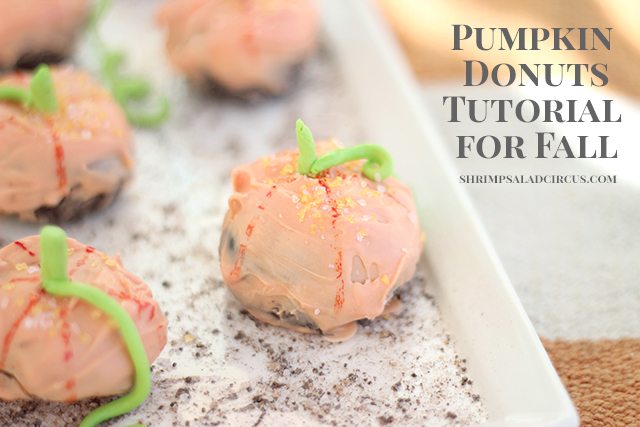 I'm back with another fun bakery post this week! Since we're all gearing up for Halloween, and since everybody loves donuts, I've created a pumpkin donut tutorial. And just to let you know, this post is sponsored by Rich Foods, but I thought up the project all on my own! Since a lot of us don't have time to make some elaborate treat from scratch, this tutorial takes out most of the work. You can pick up some pre-made mini donuts from the grocery bakery section, and the rest is pretty much just melting, dipping, and eating! Read on for a giveaway and the full tutorial!
The whole premise behind #GiveBakery is to inspire us all to show appreciation for the people in our lives just because. My "just because" for this project is all the "grownups" who think they're too old to do Halloween. You've gotta take time to eat total junk food and act completely ridiculous, friends!!!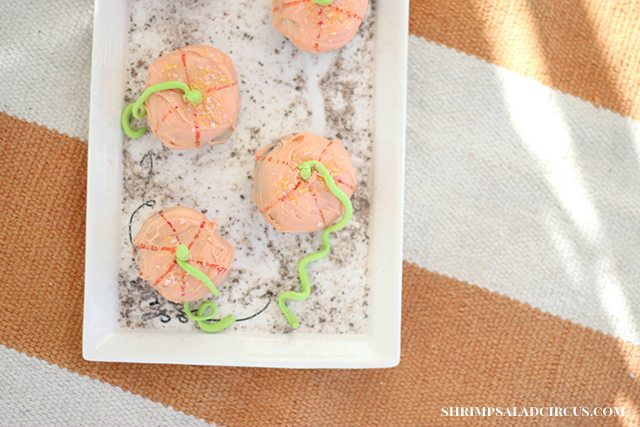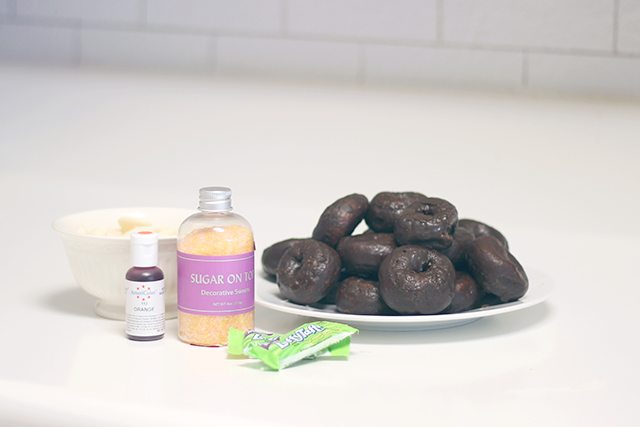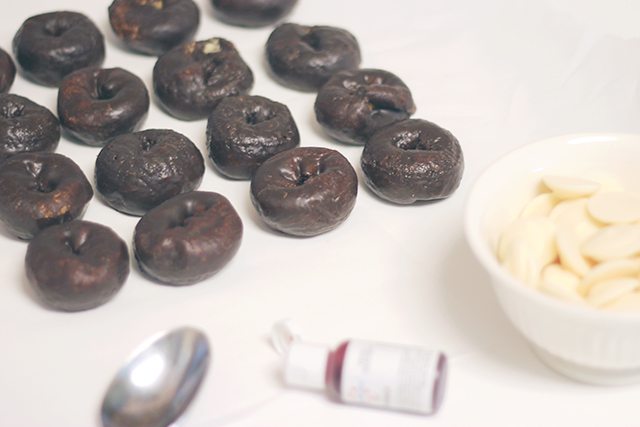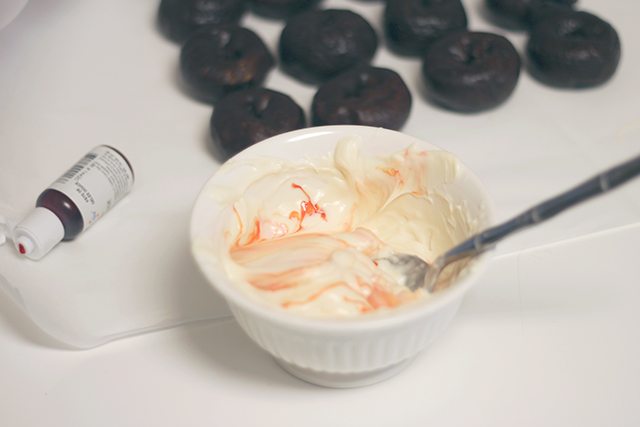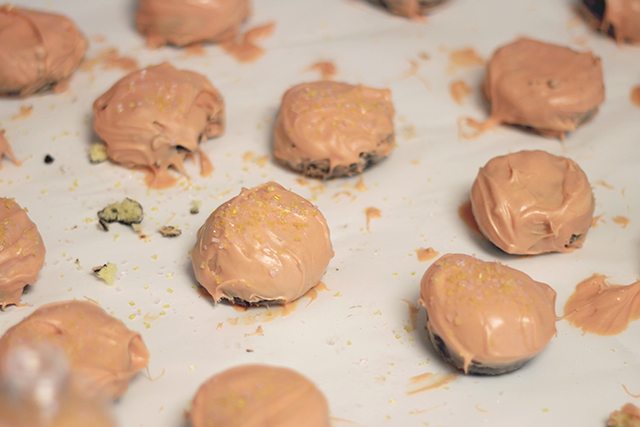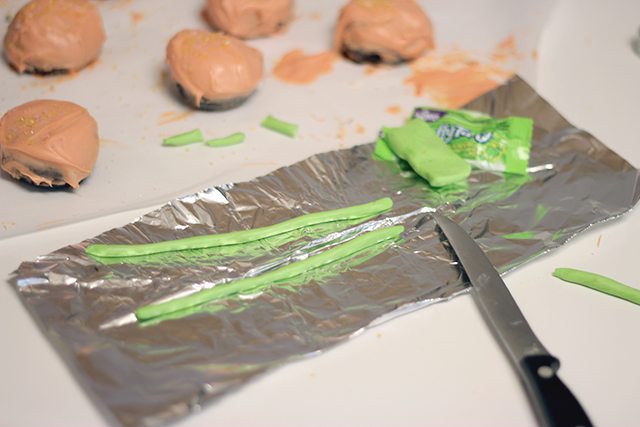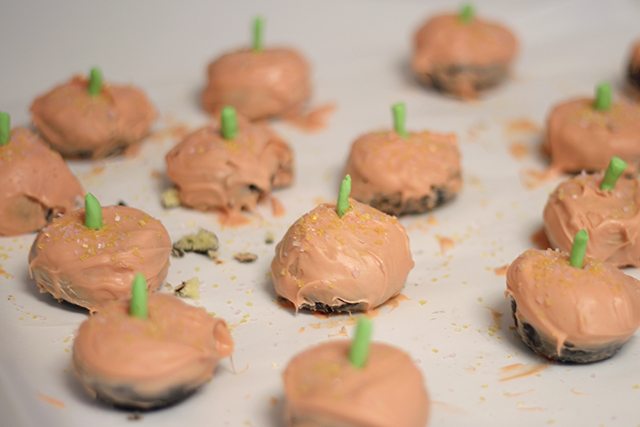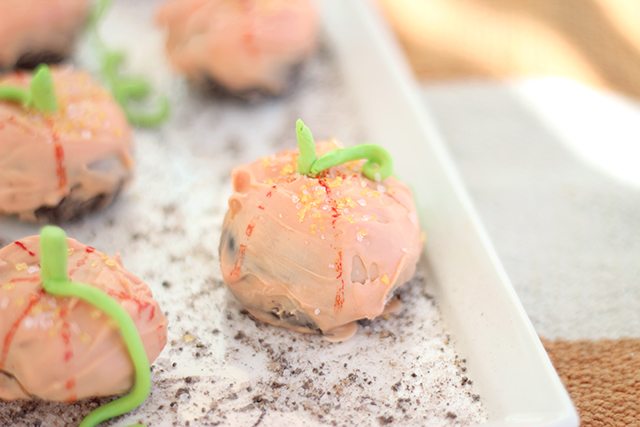 Pumpkin Donut Tutorial
Author:
Prep time:
Total time:
Ingredients
Pre-made mini powdered donuts
White or orange candy melts
Orange gel food coloring (if using white candy melts)
Green chewy candy, like Laffy Taffy, Airheads, or Starburst
Instructions
Separate any broken or crumbling donuts, and lay out the good ones on a sheet of parchment or wax paper.
In a microwave-safe bowl, heat the candy melts according to the package instructions. Be careful not to overheat them because the chocolate can scorch or seize up, which you can't fix.
If you used white melts, use a toothpick to add a few drops of orange gel food coloring. You want to be sure to use gel, not regular, because the liquid in the regular could cause the chocolate to seize up.
Grab the donuts one at a time, and dip them ⅔ of the way into the melted chocolate. Pull the donuts back out with a swirling motion to evenly coat them. Immediately set them on your sheet of parchment paper to cool.
While the donuts are cooling, roll the green candy between your hands until you have long, thin ropes of it. Use a sharp knife to trim small segments. Dip the ends into the chocolate to "glue" the stems onto the pumpkins.
Optional: You can use the extra candy to make pumpkin "vines," and you can dip a paintbrush into food coloring to paint stripes onto the pumpkins.
3.2.2802