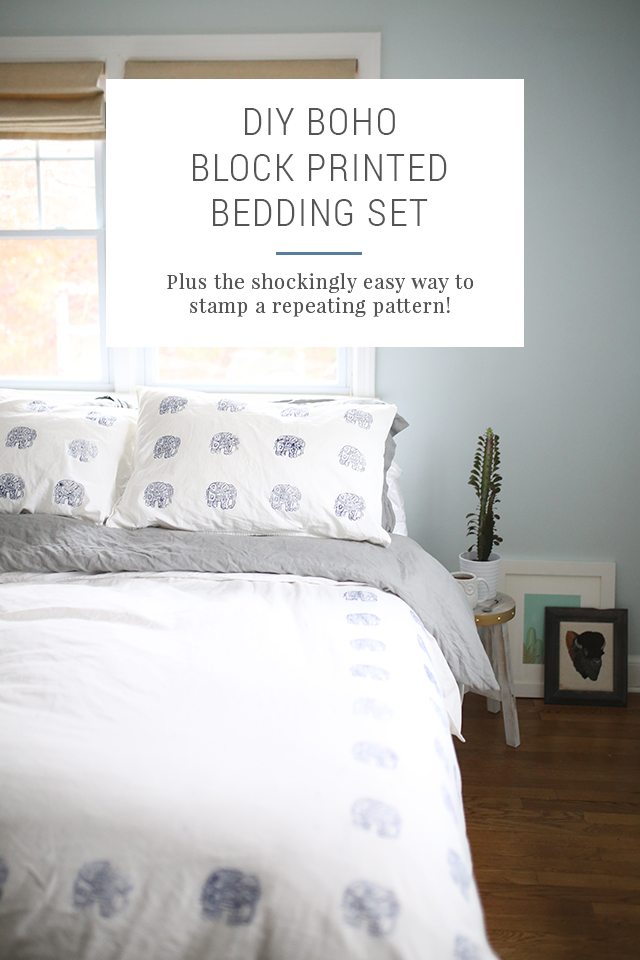 It's already the end of the years, and it's already time for the next post in my collaboration with IKEA College Park. Time flies when you're having fun, right?
This month I decided to address the guest room part of the project and do a pretty duvet set for the fold-out sofa bed. Bonus: you get to learn how to block print on fabric!
I didn't want to give away too much of the room before the big reveal, which is coming soon in a separate post, so these pictures are actually on our bed upstairs. Cheating, I know. I'll bet the suspense is killing you… 😉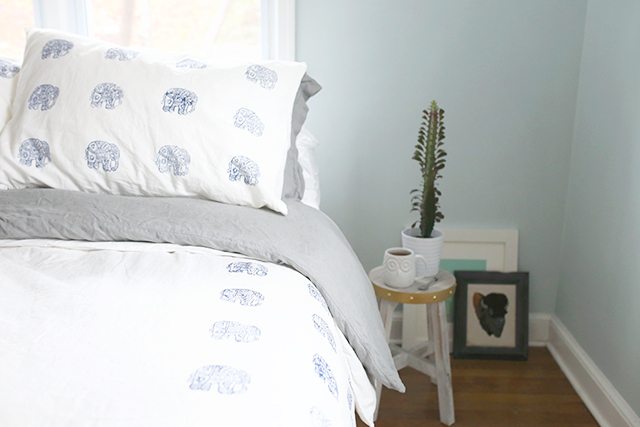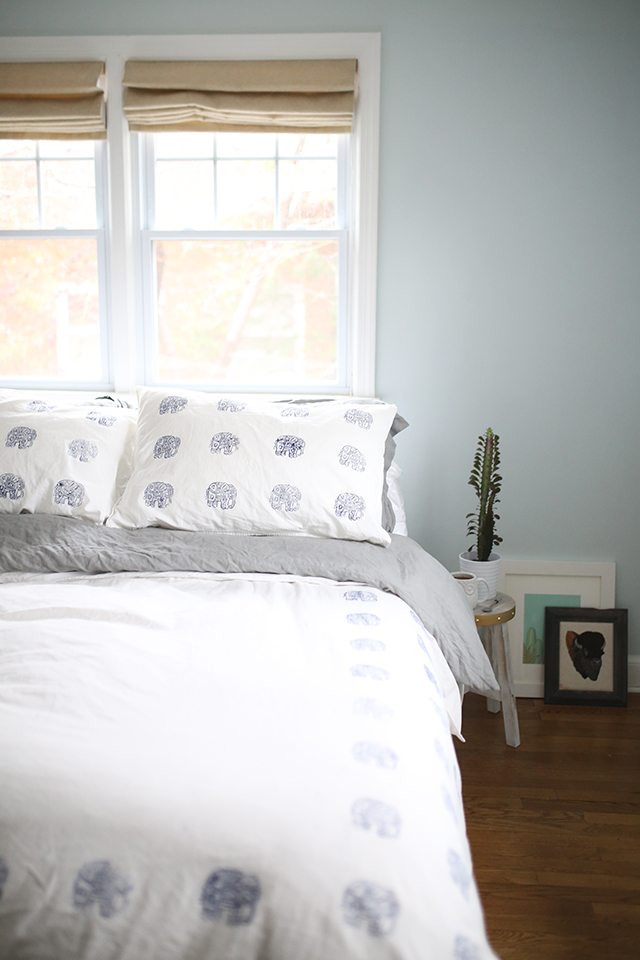 Making a Creative Escape, One Project at a Time
No idea what I'm talking about? The whole story's here, but I'm working with IKEA to turn a bright yellow, cave-like room in our basement into a studio space to make my projects and shoot all my photos. It'll also double as a guest suite when we have company.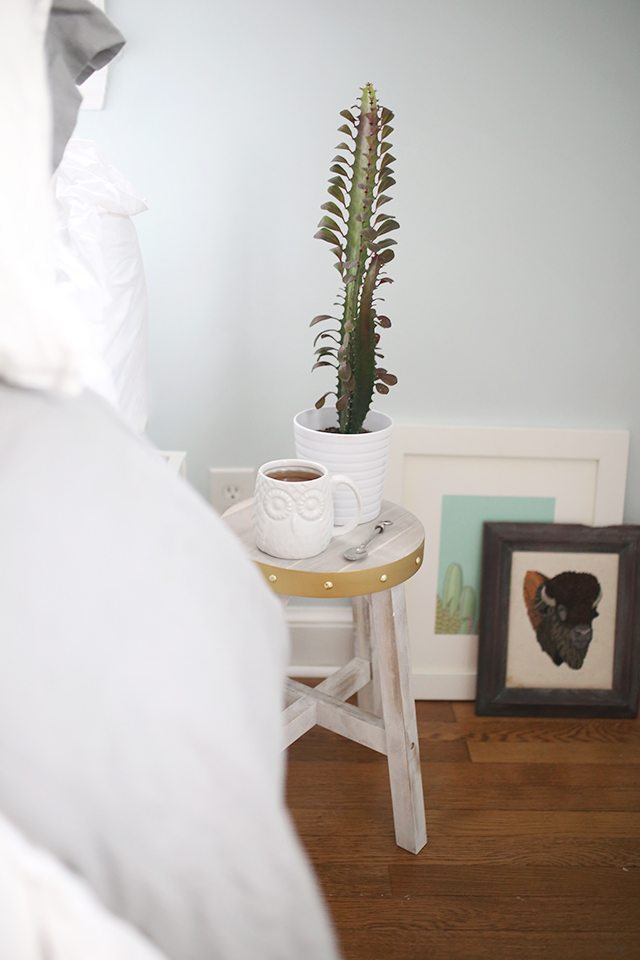 P.S. Do you love the stool I'm using as a night stand in these pictures? Here's how to make it!
P.P.S. Here's the free printable for the art behind the stool!
Read on to learn how to block print fabric, and don't miss my shockingly easy trick for stamping a pattern!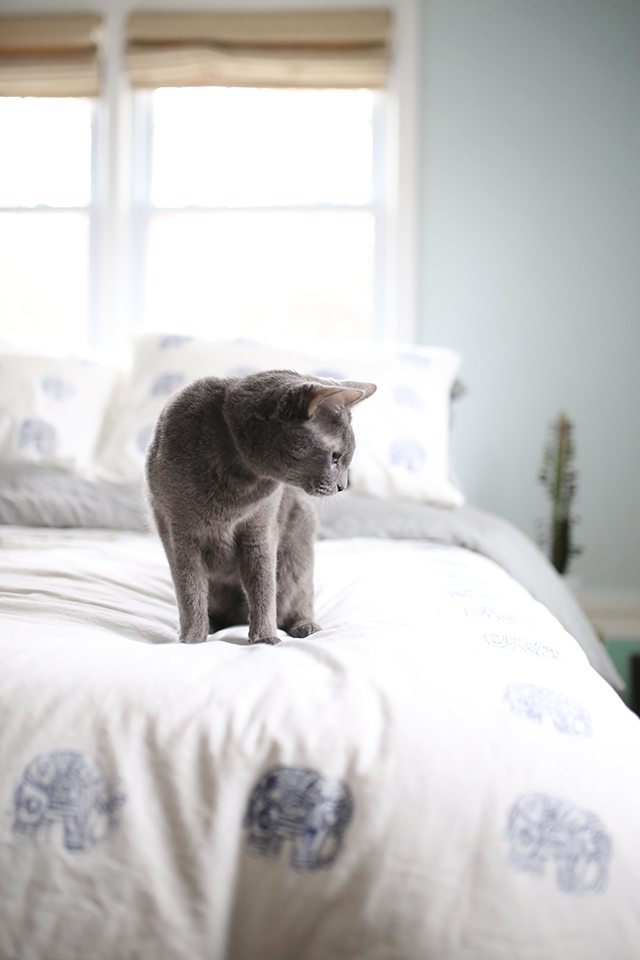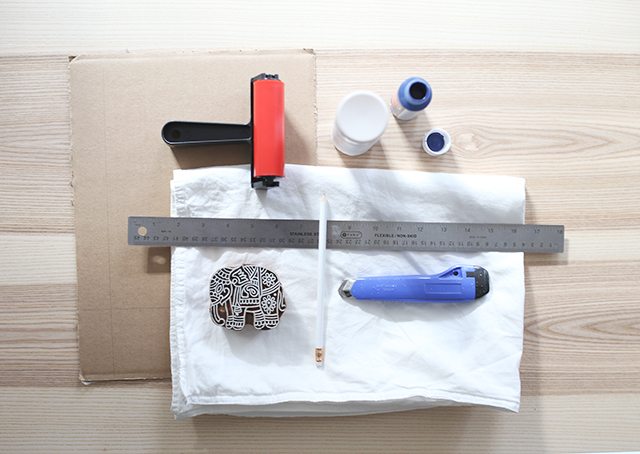 Supplies:
Cardboard
Pencil
Acrylic paint
Craft foam
How to Create a Stamping Template
The first thing you want to do for a smooth stamping process is to create a template. This will save you the trouble of having to measure each time you stamp. It makes the process go much faster!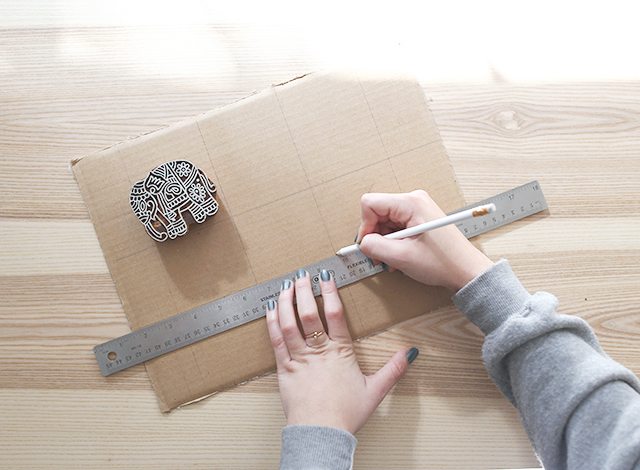 1.   Get a large piece of flat cardboard without any creases. Trace the side of the ruler against the top edge and the left side edge to give yourself a corner line to start from.
Place your stamp face down against that corner, and mark the furthest spot the right side and bottom side of the stamp touch. Remove the stamp.
2.   Use the ruler to draw straight lines across the spot where the bottom of the stamp touched and down the right side as well.
3.   Now measure the box you've just created. Draw two more lines to the right that are the same width as the box. Draw two more lines beneath that are the same height as the box.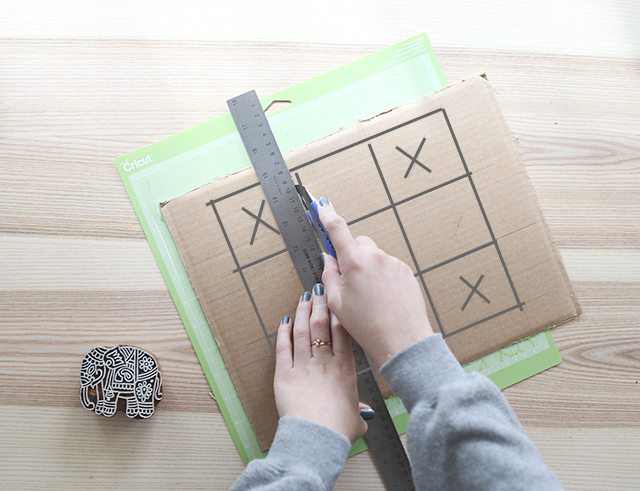 4.   You should have nine boxes drawn out. Mark an X on the four corner boxes.
Use the box cutter — with the ruler as an edge guide — to cut out the four marked boxes.
How to Block Print Fabric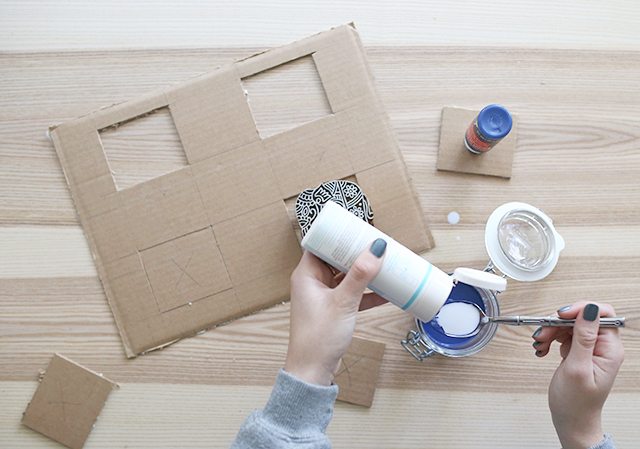 6.   Mix up your paint. Add two parts acrylic paint to one part fabric/textile medium, and mix it thoroughly.
Spoon a bit onto a piece of craft foam, and spread it around with the back of the spoon.
Tip: If you can't find fabric medium, don't stress too much. Just use the paint as-is. But the fabric medium is great for keeping the painted fabric softer to avoid that "crunchy" feeling painted fabric cant get!
7.  Slide a piece of cardboard or craft foam inside the pillowcase or duvet cover to keep paint from bleeding through.
Place the cardboard template a few inches from the top and left side.
Tip: Always wash fabric before painting or dyeing it to remove any sizing or starch. If it's wrinkled, iron it to give yourself a smooth stamping surface.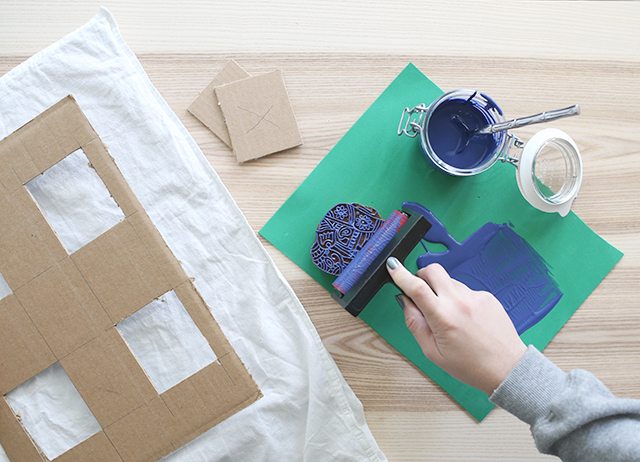 8.   Roll the brayer in the paint on the craft foam, and then roll it onto the stamp, being sure to cover the full stamping surface.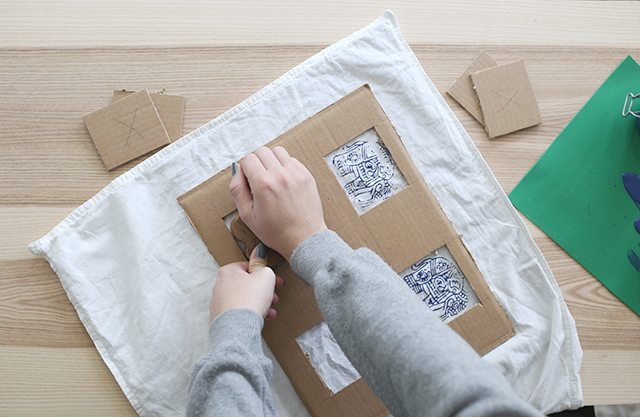 9.   Carefully place the stamp into an opening in the template, and press it down firmly on all corners and the center.
Gently lift it up and away from the fabric.
That's it! You officially know how to block print fabric!
10.   Re-roll paint onto the brayer, and repeat the stamping process, filling all four holes in the template.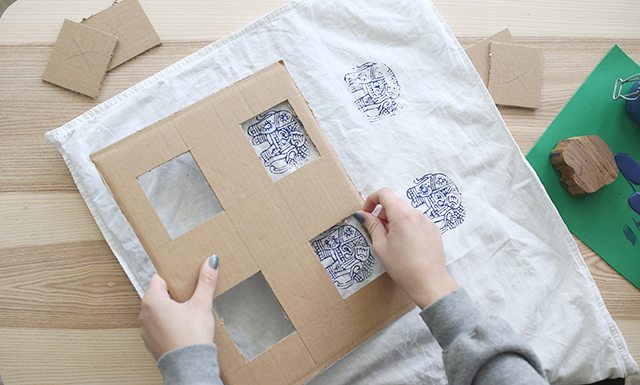 11.   Lift the template away, and reposition it so that two of the holes are already stamped, and two are blank. Stamp the empty spots, and repeat the process until you've stamped your whole surface.
Creative Escape & Guest Suite Progress Update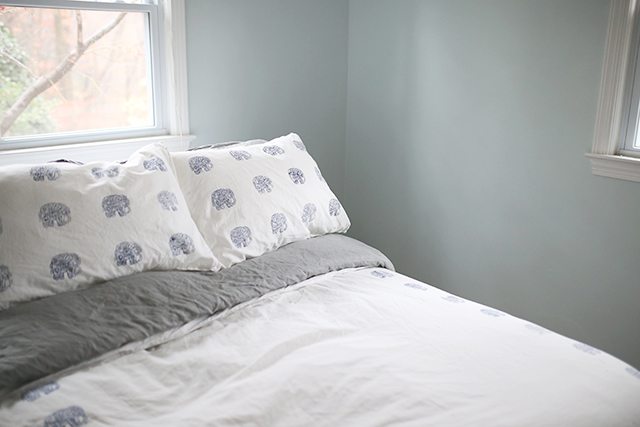 Now that know how to block print fabric and you've seen my "metal" wrapped stools and shibori throw pillows, I'm sure you're dying to see the full room reveal!
Updates:
We've repainted after having our wall and ceiling put back together after last month's leak, and it's good as new!
I have successfully named almost all my plants. I don't want to play favorites, but besides the mini pineapple, Hershel might be my fave.
We discovered that our floor in the room is completely slanted, so we had to add lots of shims under the legs of our IVAR shelving to keep everything on the up-and-up.
We finished putting up the shelves along one wall, and I've made a couple subtle but beautiful little additions to the unit. Look out for a sneak peek on Instagram soon!
I moved my computer downstairs and am now working exclusively in this little haven (when I'm not at my day job, of course!) on my schfancy sitting/standing desk.
I'll share the final pictures of the full room soon in its own post, but I can say it's been a big hit so far. We had our families over for Thanksgiving, and they absolutely loved staying in our little guest suite oasis!
More Quick & Easy IKEA Hacks
Here are a few times I've done just that with different IKEA pieces:


GET THE FREE DESIGN FOR THIS PROJECT!
Subscribe (free!) to get INSTANT access to my resource library with all my free printables, cut files, and templates! Once subscribed, you'll receive my weekly newsletter with new projects and freebies.