Learn how to set up a cozy brunch biscuit bar for your next gathering, and catch up with your friends over Nutella®! 
This post was created in partnership with Nutella®. All photos and content are my original ideas.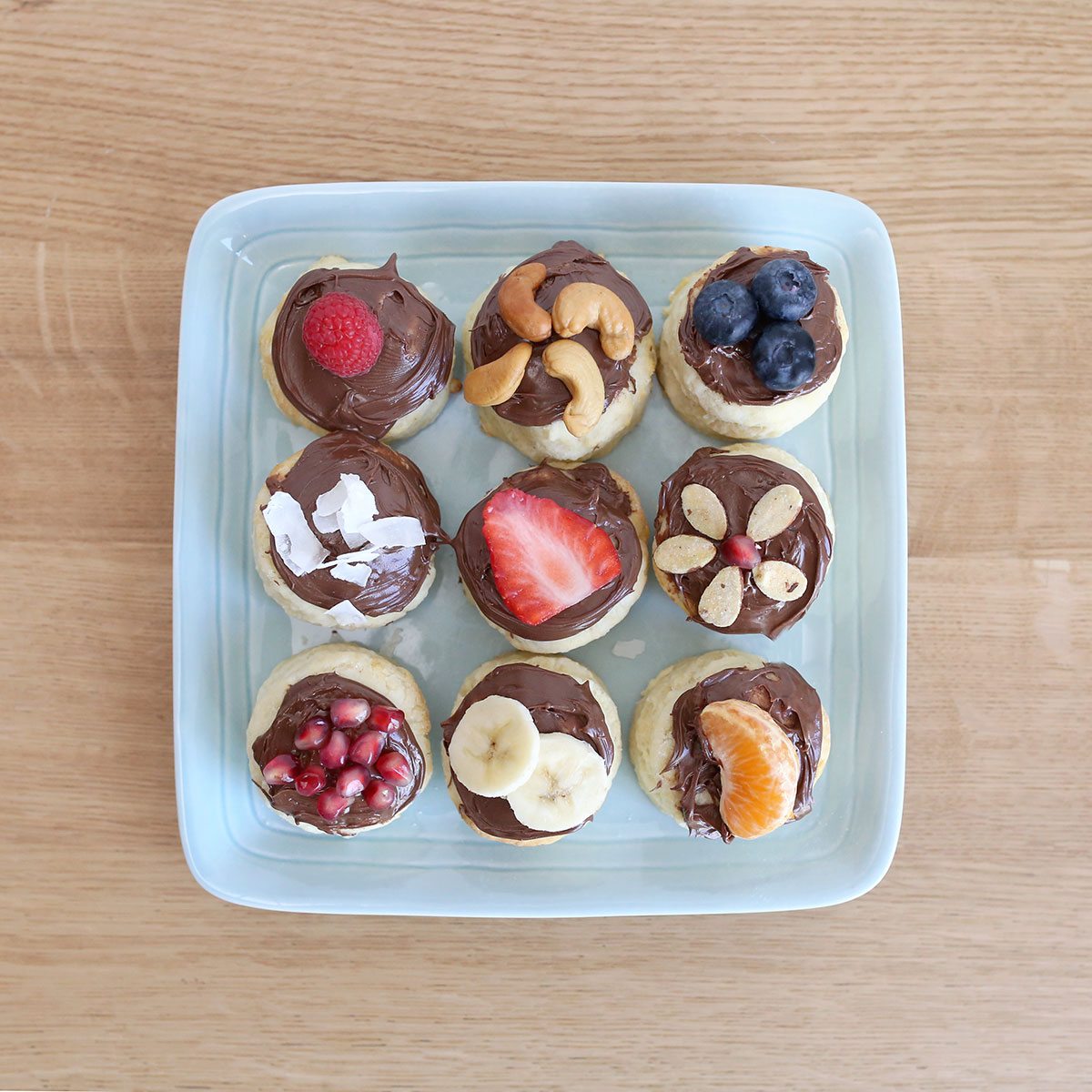 I've met the most amazing group of women since becoming a mama, and I've been dying to have them over for brunch. Since we all have our hands full when we get together, Nutella® hazelnut spread was the perfect starting place for an unfussy brunch biscuit bar!
I realized right away after I had Cricket that I needed real connections with other women in the same place in life. I found an incredible group of women through a Wednesday morning support group at the hospital while I was on maternity leave. Now that most of us are back at work, it can be difficult to prioritize time to just gather together and talk, but it's so important to feel like part of a community during a time of such great change and uncertainty.
The perfect time never simply presents itself – you have to make time to celebrate everyday moments.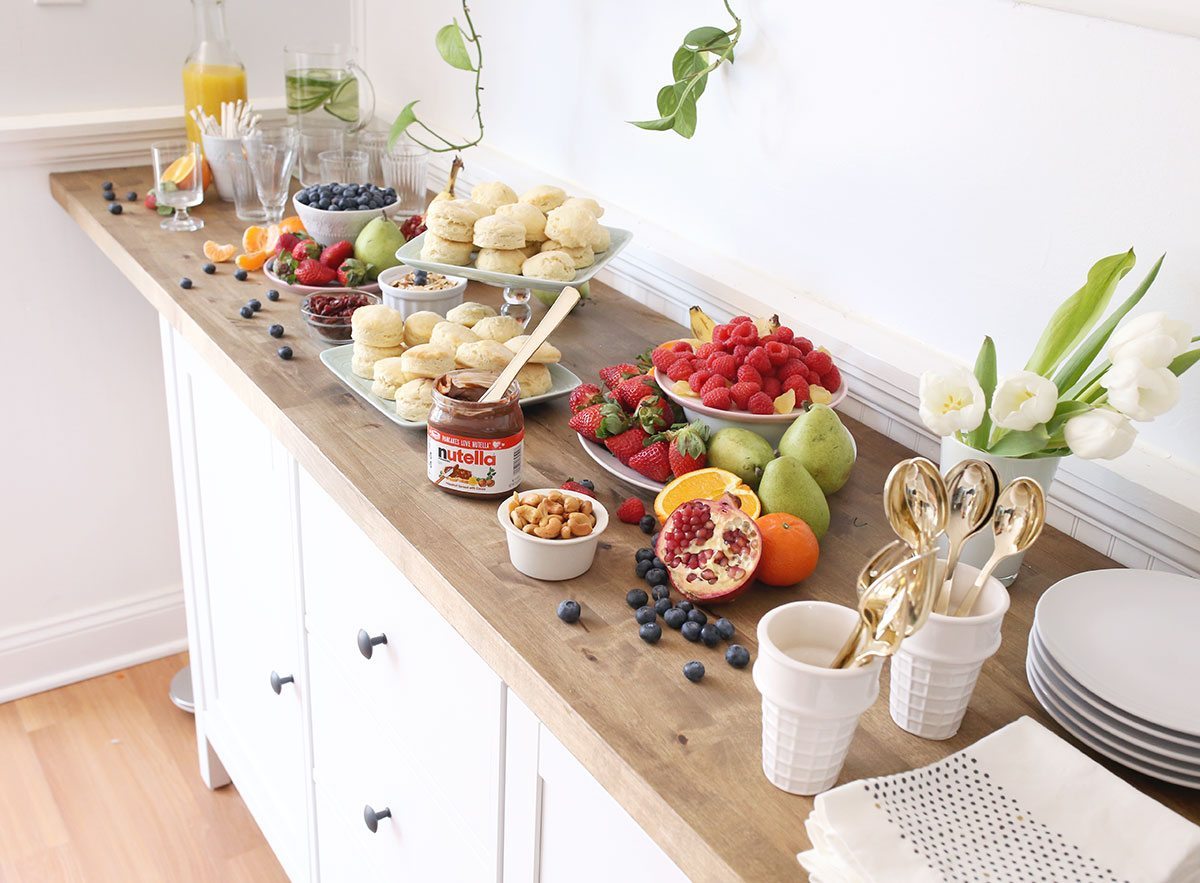 We try to get together as often as possible. We used to meet up often at coffee shops or restaurants. But now we've started taking turns hosting brunch at home. It's so much easier than trying to park 5+ strollers in a tiny restaurant or keep ever-increasingly mobile babies contained.
It's just so much more approachable, too, don't you think?!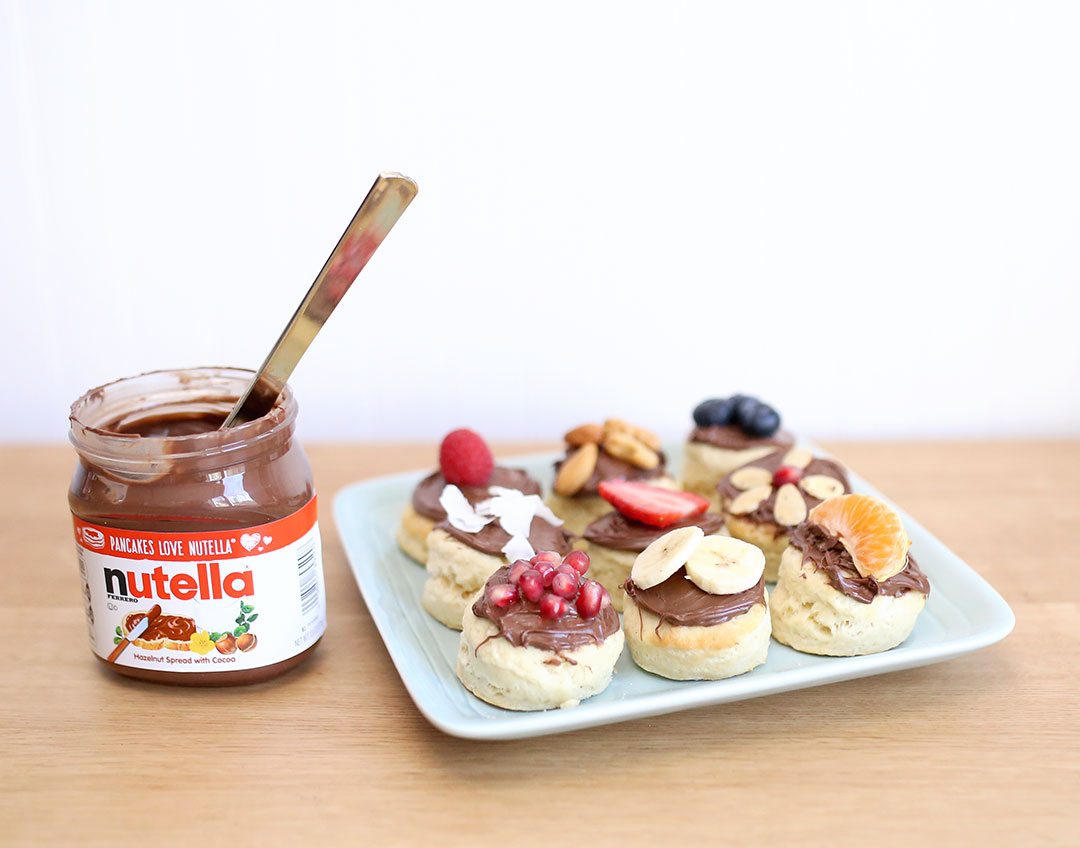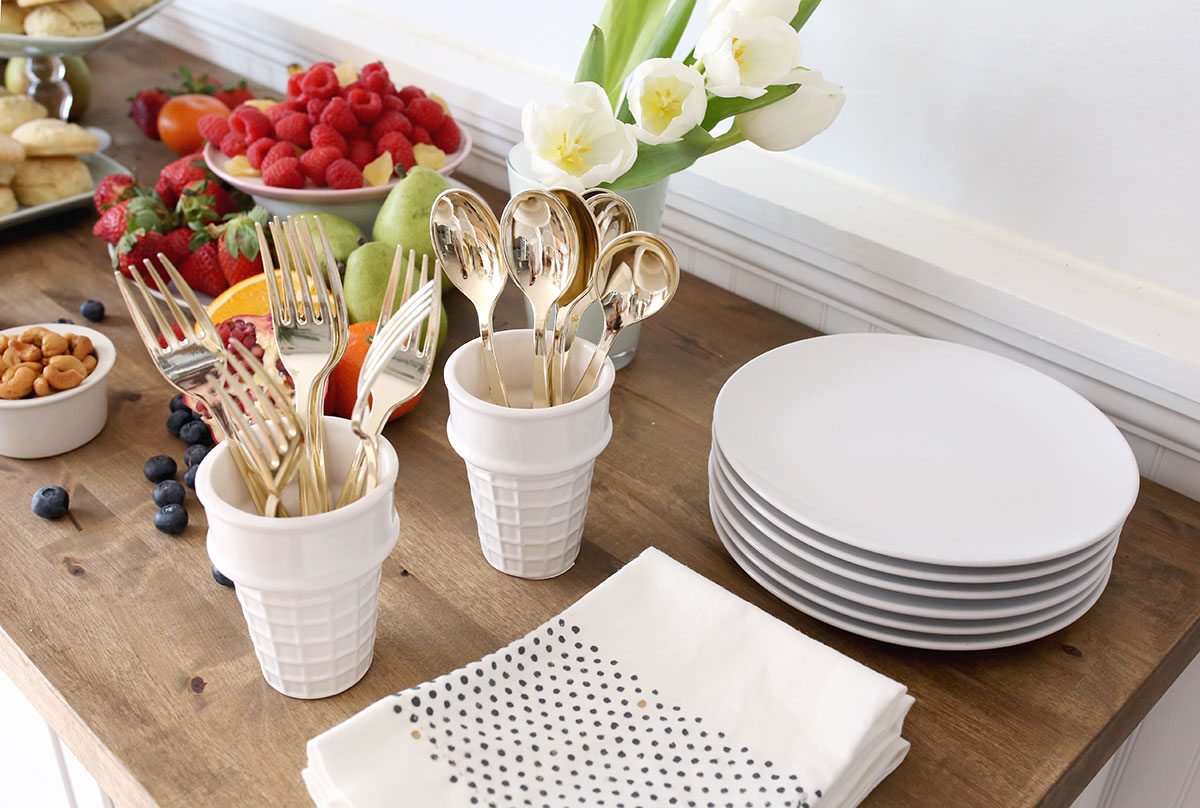 Mini biscuits and fruit are perfect for grazing and munching as people come and go; they're pretty and are a classic comfort food. You can't go wrong with Nutella® hazelnut spread, even for us ingredient-conscious new mamas, since it's made with quality ingredients like hazelnuts and cocoa and doesn't have any artificial colors or preservatives.
A biscuit buffet would be a great potluck-style option, too, since everybody could bring different fruits or toppings!
Read on for my tips for hosting your own mama brunch with a biscuit bar.
And remember: Whether you're hosting a pretty brunch or just simply grabbing a few minutes over coffee and snacks, don't forget to make time to nurture your friendships. It's so important to have a network you can share with and rely on!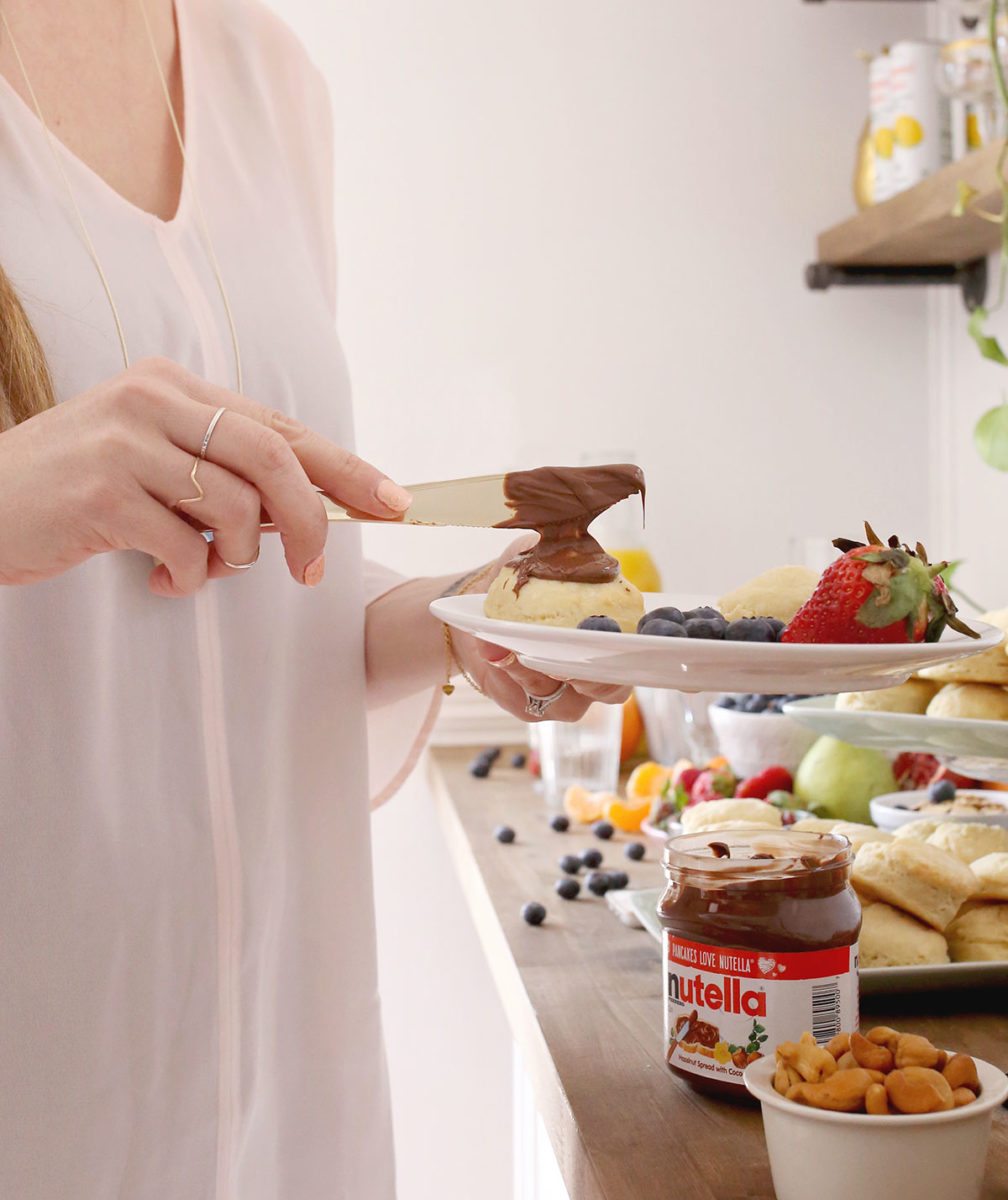 Tips for Setting up the Perfect Brunch Biscuit Bar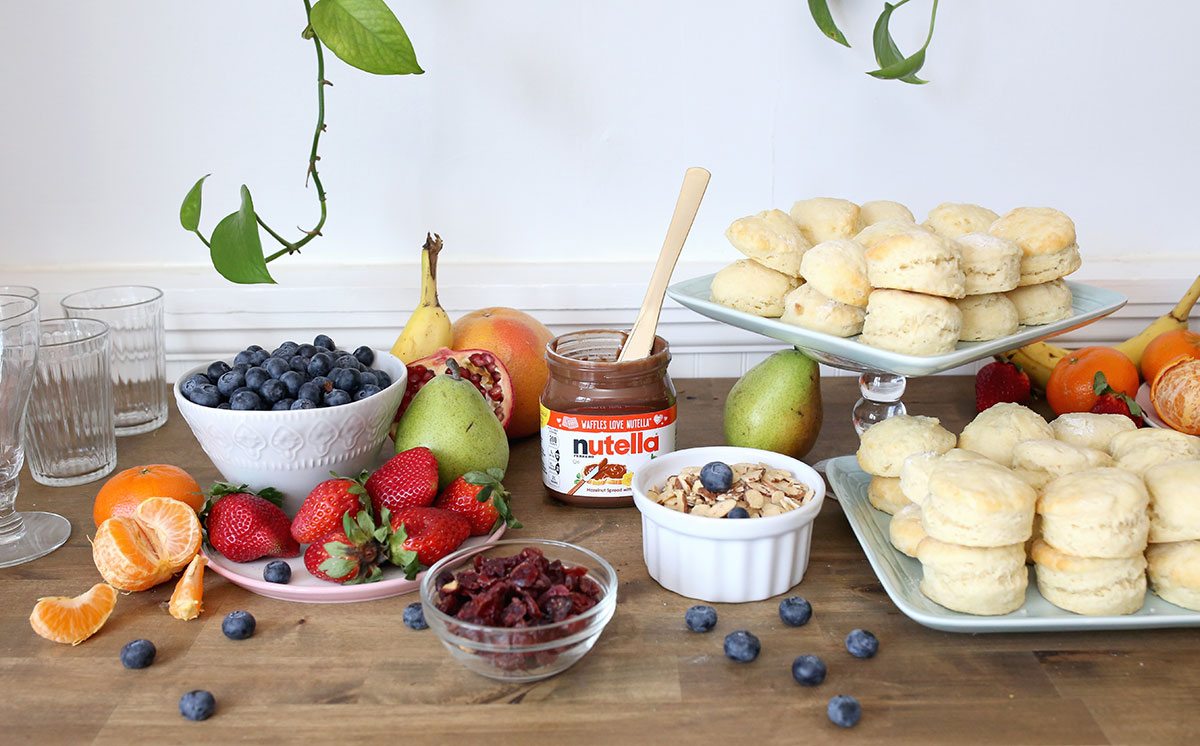 The key to a good biscuit bar is variety. Make sure you have something for everyone, and give your guests a range of flavor combinations to enjoy.
Set everything up in a way that will keep the line moving along, with dishes, napkins, and utensils at one end and drinks at the other end.
What to Include in a Biscuit Buffet
Biscuits – Mini biscuits are a great way to let your guests sample different toppings. Use your favorite homemade biscuit recipe, or if you're fine with full-size biscuits and don't want to fuss with homemade, store-bought work fine, too!
Nutella® hazelnut spread – You just need a bit of Nutella to get the biscuits ready for all kinds of yummy toppings, and it's super versatile in terms of what you can put it on — or put on it. Be sure to place a couple jars to keep traffic moving along the food line.
Fresh fruits – Your guests can eat them as-is or use them to top their biscuits. Great options include bananas, clementines, pears, and berries. Pomegranates are a great unexpected treat, too.
Nuts – Nuts are a great way to add some crunch. Try them sliced, chopped, or whole.
Dried fruits – Mix up your flavors and textures with dried cranberries, pineapple, and coconut.
Tell me: What would YOU put on your perfect biscuit?