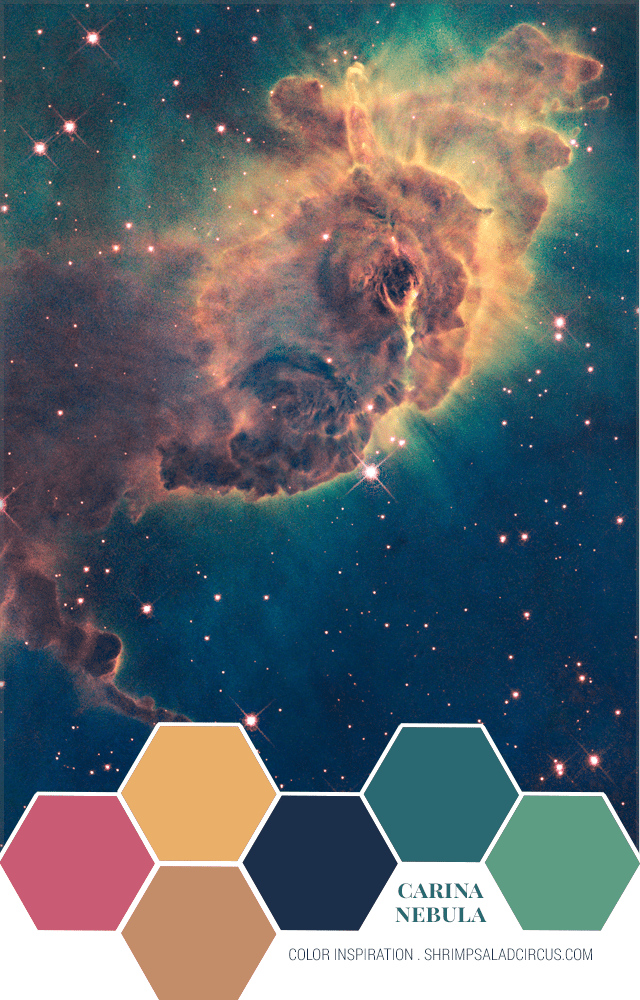 Hubble Telescope Images
When I was hunting around for color this week, I kept finding myself drawn to muted pastel palettes like this one, but then I landed on the HubbleSite… The NASA site for all things Hubble Space Telescope-related is really interesting (because, space…) but also surprisingly pretty and engaging. They have a print shop where you can download any of a series of Hubble Telescope images and print them in various sizes at high-resolution (up to 16″x20″).
Since they all look sort of like magical explosions of fairy dust and unicorn tears, I had a hard time picking just one photo. For some reason, though, this image of the Carina Nebula held my attention for just a little bit longer than the others.
A pillar of gas in the Carina Nebula is bathed in the light of hot, massive stars. Radiation and fast winds from the stars sculpt the pillar and cause new star formation within it.
Even the way they describe it sounds like some sort of wild fiction, doesn't it? I love the beautiful, moody colors, but when I was pulling a palette from this photo, I was actually drawn to some of the bright, unexpected colors. I love how in the midst of the blackness of space around it, this shot captures fuschia auras around stars and a mass of swirling yellows and oranges bleeding into teal.
Submissions
I'm going to try something new this week and see how it goes. I know there's a lot of talent out there that I might never just stumble across in my internet ramblings, so if you're an artist and would like to submit your work for consideration for a Color Inspiration post, get in touch. Be sure to put "Color Inspiration Submission" as the subject of your message. 
Since this is only a once-a-week feature, I won't be able to feature everyone, but I'd love to see what you're doing in the creative world!