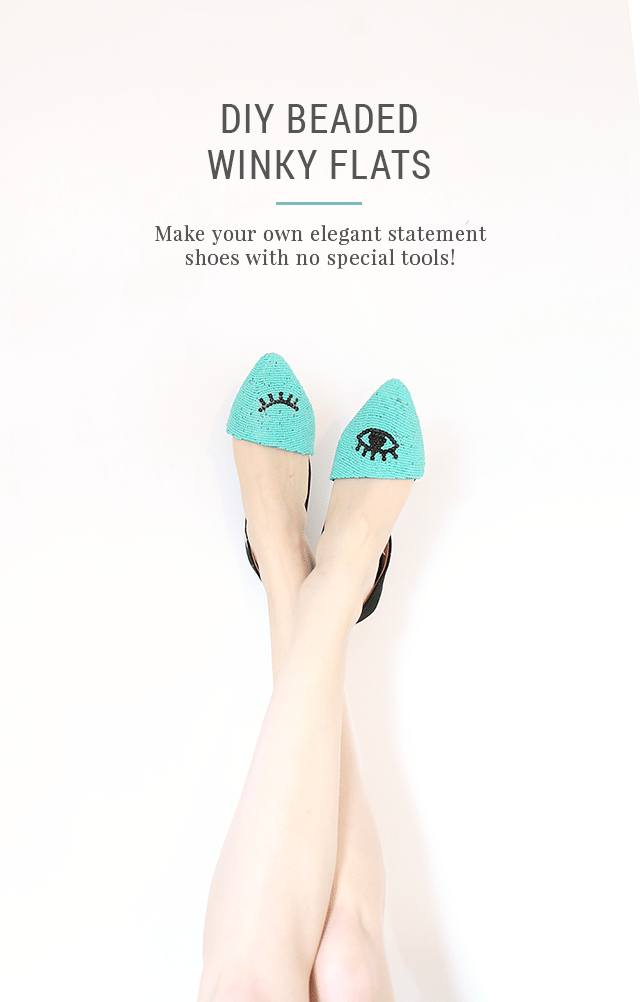 When you think of beads, you usually think of jewelry, right?
Well, when Michaels asked me to come up with an easy and unique project using the green label strung beads they gave me for their Make-a-Thon, I knew I had to get outside the jewelry box! (Sorry, I couldn't resist…)
Follow along to make your own DIY beaded shoes. And if you make them, be sure to share on Instagram with #shrimpsaladcircus so I can see, too!
Check out Michaels Make-a-Thon – 14 days of amazing deals, ideas & hands-on making!
DIY Beaded Shoes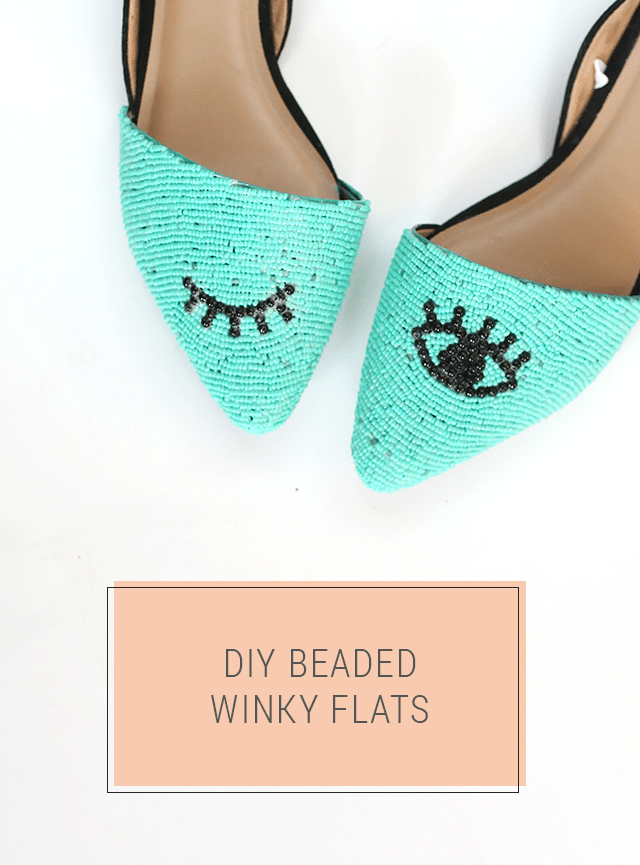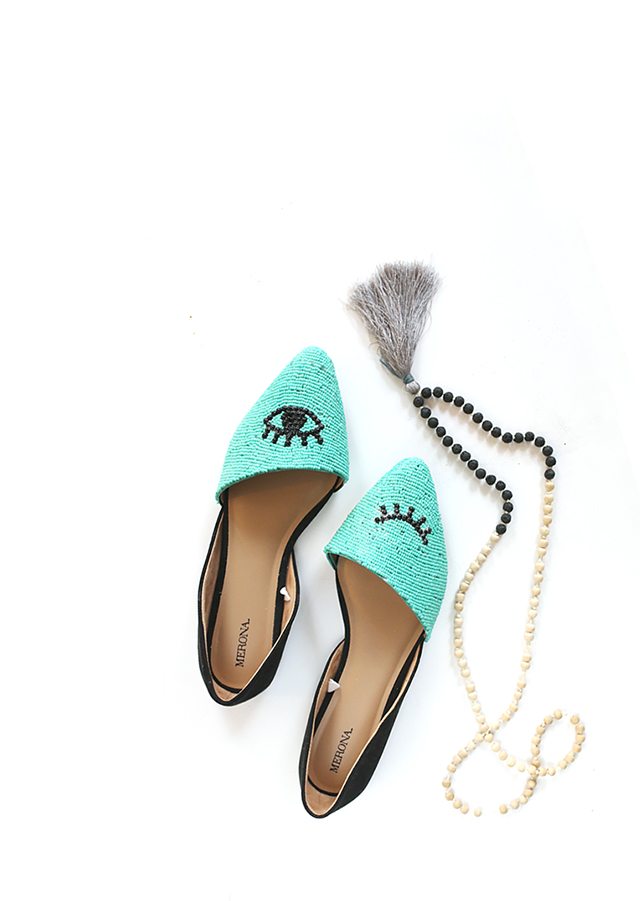 Something to keep in mind: This is a beginner-friendly, easy project that doesn't require lots of specific tools or supplies, but it'll definitely take awhile to complete if you're a perfectionist like I am.
So pour yourself a cup of coffee or a glass of wine; cue up Law & Order on Netflix; and then settle in for some craft therapy! 😉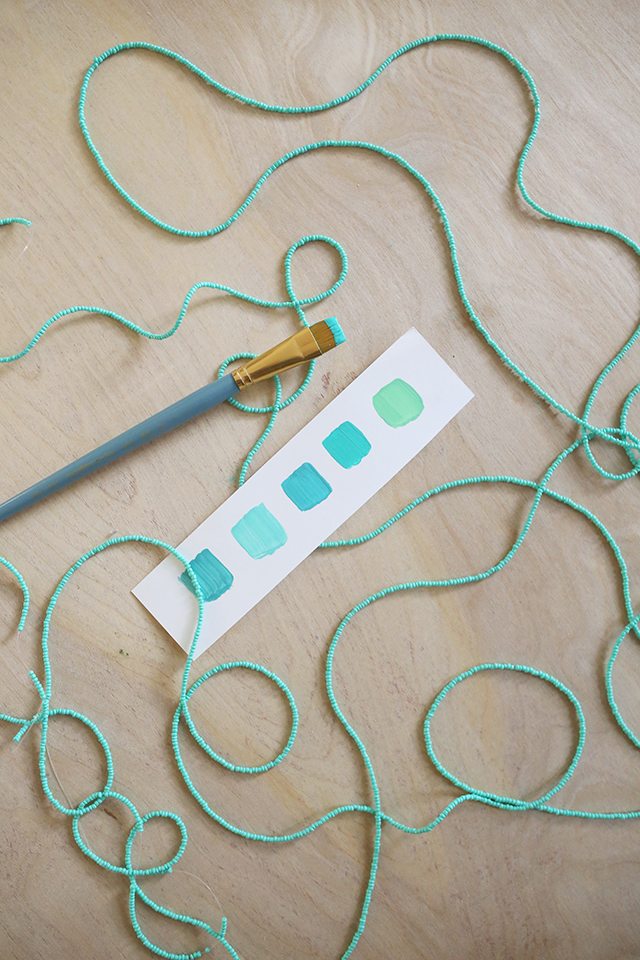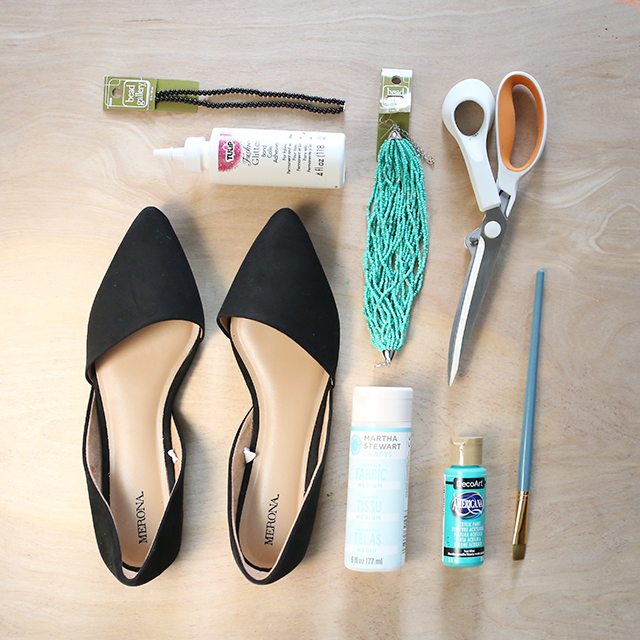 Supplies
Plain shoes; suede or fabric finish would be better than patent or leather – I used these.
Seed beads, pre-strung – I used about 2.5 of these.
Black round beads – I used one of these.
Acrylic paint to match seed beads
Textile medium
Waterproof, flexible glue
Glossy Mod Podge
Paintbrush
Scissors
Toothpicks
Optional: tweezers or jewelry pliers
Instructions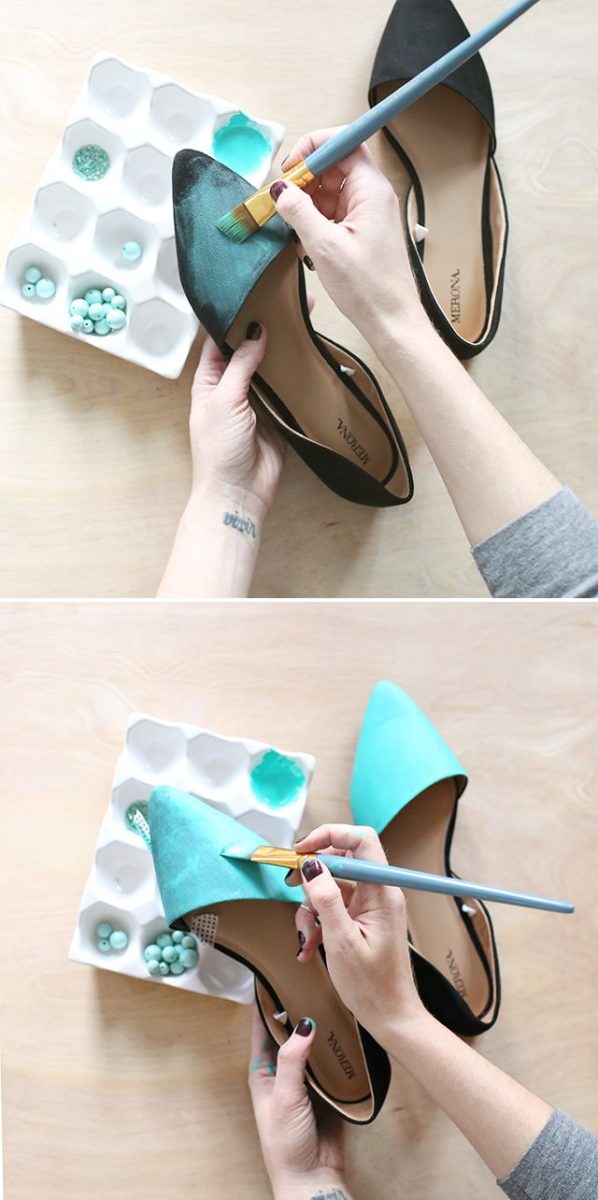 1. Mix one part textile medium with two parts acrylic paint, and mix it up thoroughly until it's smooth.
Paint the front portion of the shoe. You may find that the original shoe color is still peeking through. If so, let it dry before painting a second thin coat.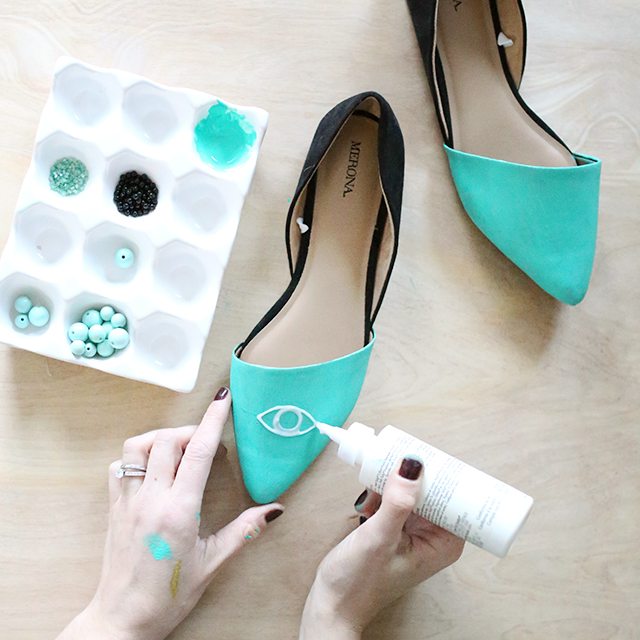 2. Use the tip of the glue bottle to draw a thick eyeball outline. Fill in a circle in the middle as well.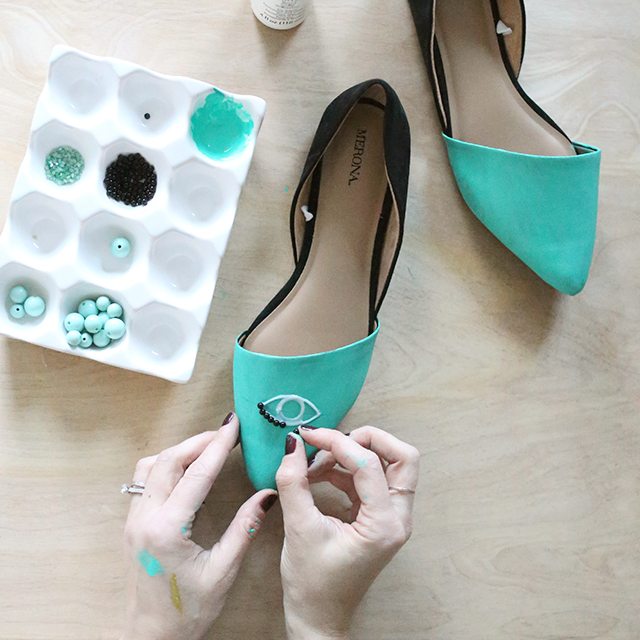 3. Place black beads along the glue line. You may find it easier to use tweezers or needle-nose jewelry pliers to lay down the beads.
Repeat on the other shoe, but this time do a closed, "winking" eye.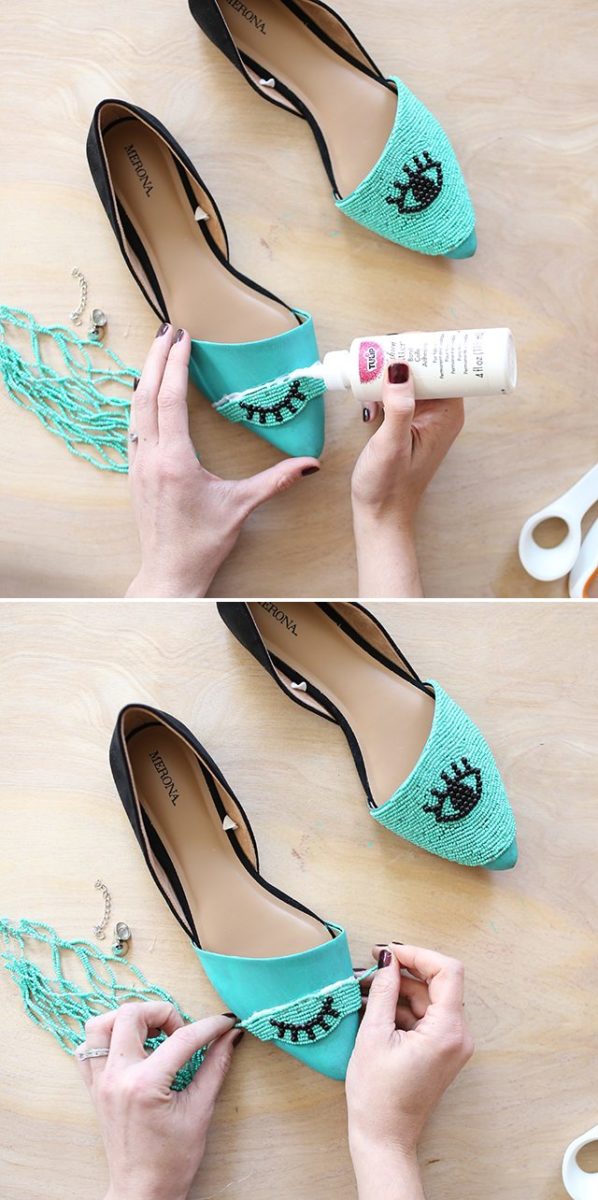 4. Now it's time to start adding the seed beads, starting with the inside of the eye and between the eyelashes. These will be the trickiest parts, but just fill the gaps with glue, and drop in the beads.
Tip: You can use toothpicks to spread glue into tight spaces or nudge seed beads where you want them.
Continue adding seed beads, moving outward from the eye toward the top and bottom of the shoe. Draw heavy lines of glue as you go.
Tip: Don't worry about using too much glue because it should dry clear anyway.
Once you get outside the tiny spaces of the eye, you can actually glue whole strings of the seed beads if you're using a pre-strung version like I did. No need to even remove the strings after!
Shortcut note: I'm a total perfectionist, so I really wanted all my beads lined up in these straight rows. If you're more go-with-the-flow and want a shortcut for this project, you can try just dumping loose seed beads into a shallow dish and then applying them to the shoe like glitter!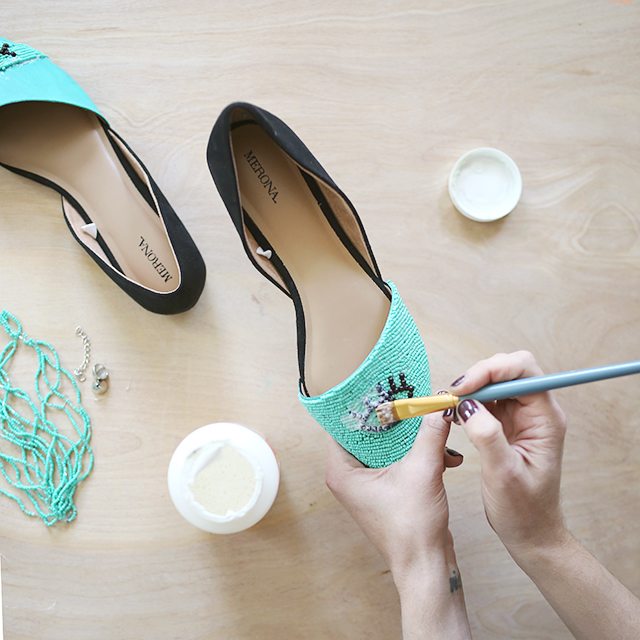 5. Once you've covered the shoe in seed beads, set it aside to dry. When the glue has dried completely, brush on a heavy coat of Mod Podge. Use a paintbrush to really work the Mod Podge in between all the beads, since this will seal everything and help hold it together when you're walking around in the shoes.
How do they hold up to wear?
Since I made these in the middle of winter, I haven't had a chance to take them out for a proper spin, but they've held up well around the house, including up and down stairs to my basement office. The beading bends and flexes with the shoe well so far, but I'll update after I've had a chance to wear them out a bit more!