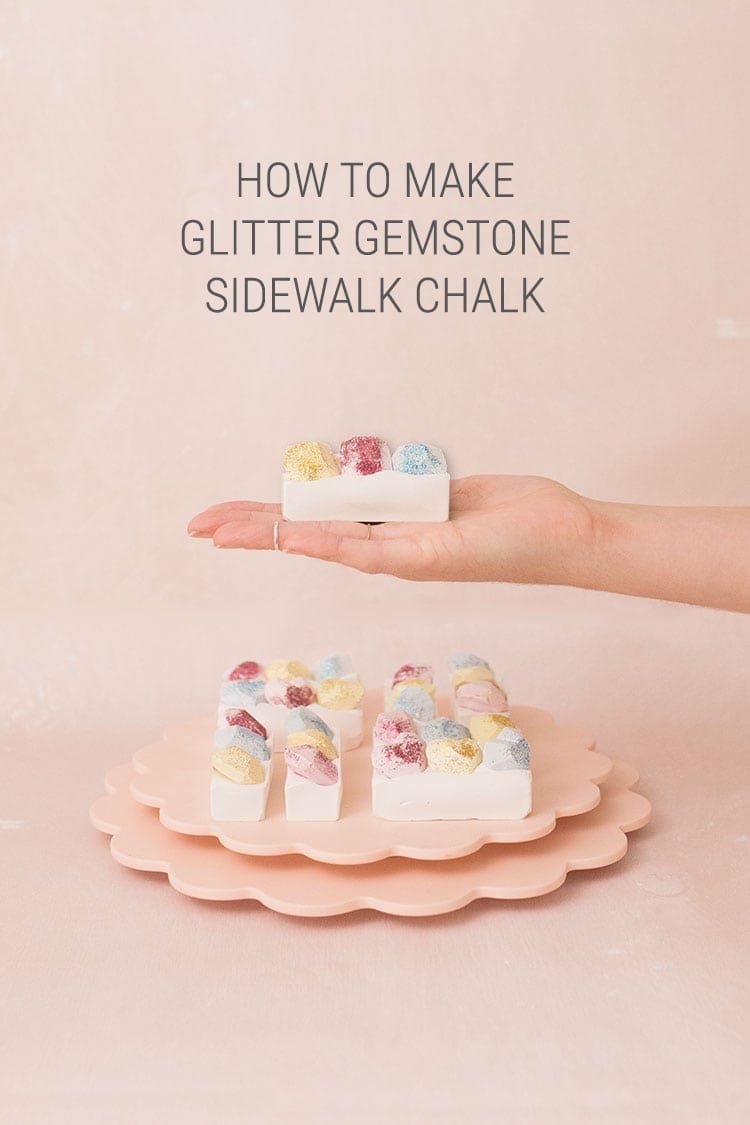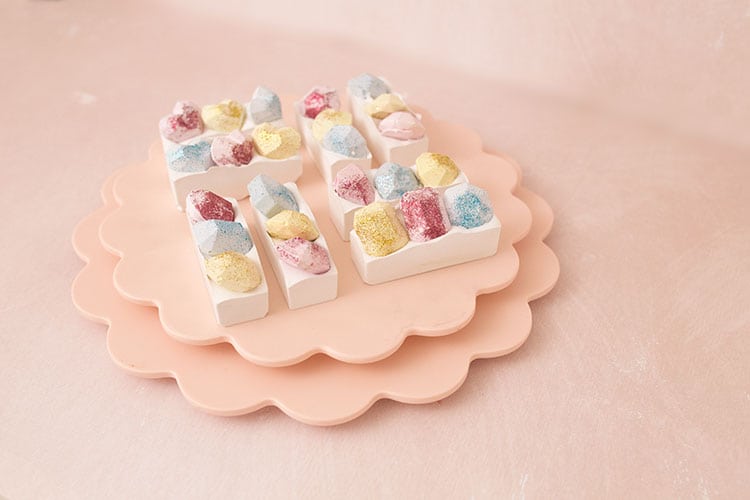 Ever since I became a mama, I find myself wanting to make all the kid things, even though she's still way too tiny for most of them.
So, here I am with a 10-month-old, making DIY gemstone glitter sidewalk chalk that she would just eat if I handed it to her.
And I freaking love it. You guys. It's so sparkly and pretty — especially in the summer sun! I can't think of a kid who wouldn't love to play with these little sticks of magic.
You can use it like regular sidewalk chalk, or you can flip it over and draw a rainbow in one fun swipe.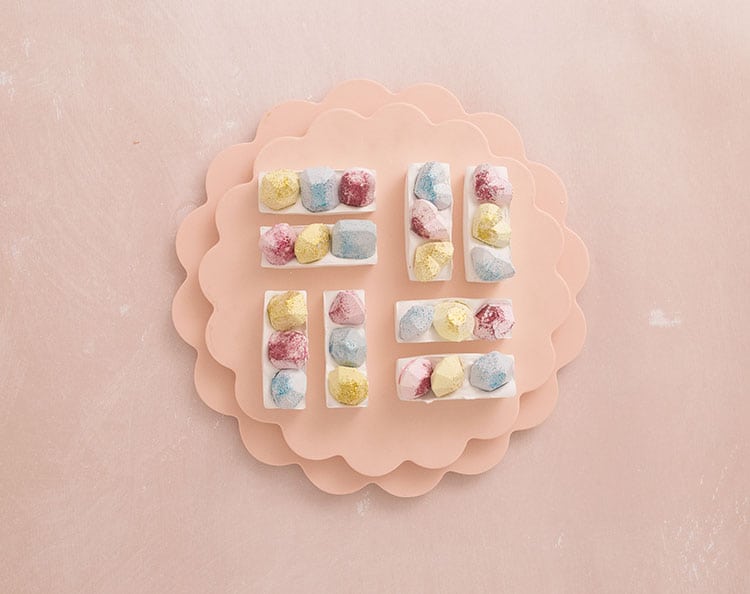 How to Make DIY Gemstone Glitter Sidewalk Chalk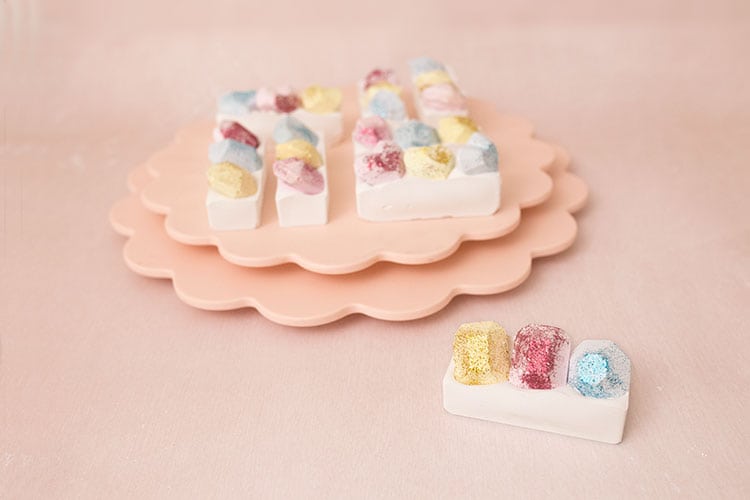 Supplies
When I can't find the exact product I use, I try to find the closest approximation. The list contains affiliate links, so I may make a small commission, but it won't cost you anything extra.

Plaster of Paris – I made a ton of sidewalk chalk with the 5 lb. bag.
Silicone gemstone mold – I can't find the one I used here because I've had it for years, but from the reviews and description, it seems like the one I linked would work well. Feel free to search around Amazon for a shape you love!
Mixing bowls and spoons
Sidewalk Chalk Base Recipe
DIY Sidewalk Chalk
Author:
Prep time:
Total time:
This is a basic sidewalk chalk recipe that can be used to make all sorts of variations. The amount you'll need will vary depending on the size of the chalk you're making.
Ingredients
1.5 cups plaster of Paris
1 cup water
Enough tempera paint to reach desired color
Instructions
Mix plaster of Paris and water.
Add tempera paint a little at a time, mixing thoroughly, until desired color is reached.
Final mixture should be similar in texture to cake frosting. If it's too thin, add plaster of Paris a spoonful at a time. If it's too thick, drizzle in water a spoonful at a time.
Immediately pour into a flexible silicone mold, and set aside to harden.
Instructions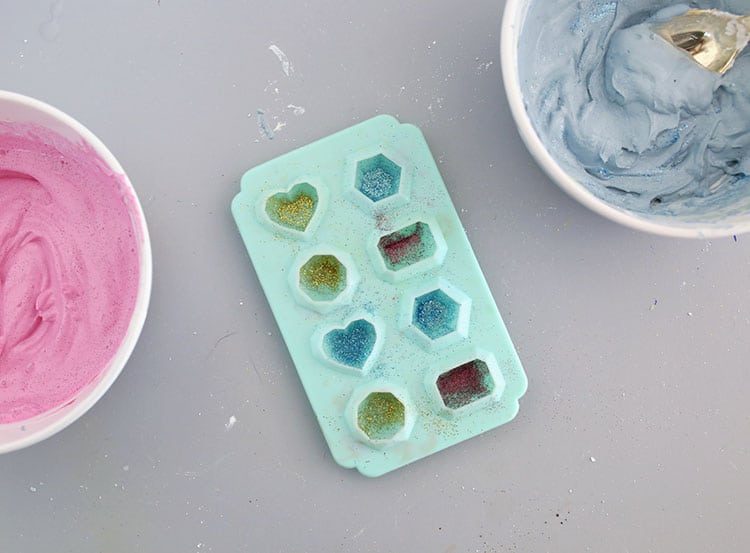 1. Sprinkle a generous amount of glitter into your gemstone mold, and tap and shake the mold to spread glitter all around the inside. Use glitter that matches the color of the chalk you're going to pour.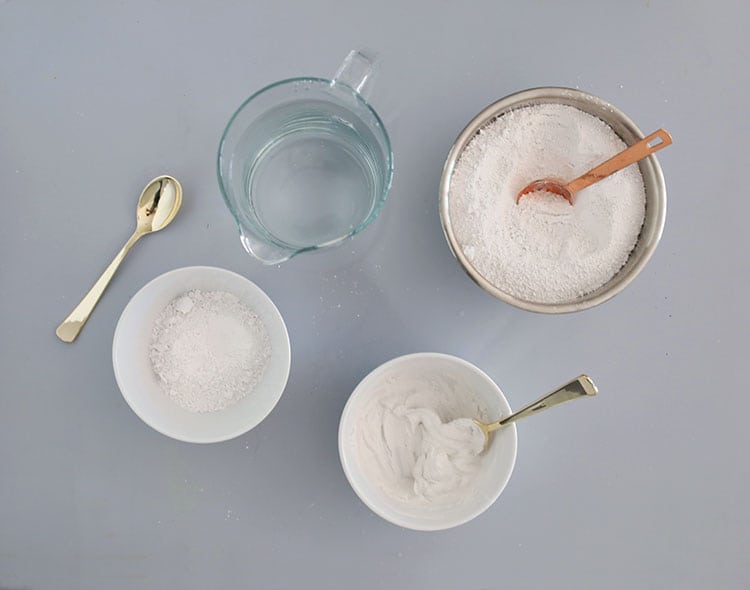 2. Mix up a small batch of sidewalk chalk mix. Start with the powdered plaster of Paris mix, and add water little by little, stirring constantly, until it's approximately the consistency of pancake batter.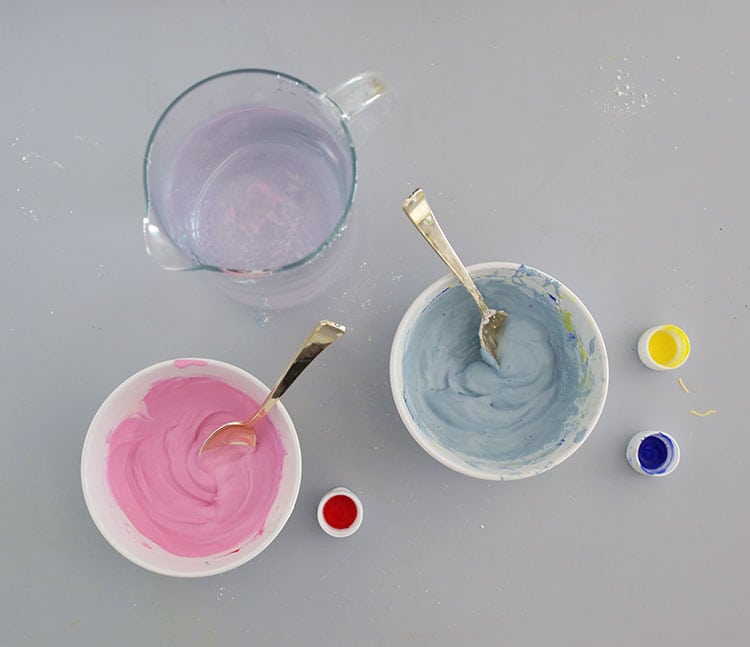 3. Let me preface this with: do as I say, not as I do. I usually try things at least once — and usually several times — before I post so that I can eliminate as much trial-and-error as possible for you guys. So even though I show mixing multiple colors at once here, I recommend doing it one at a time to keep from having one batch dry out while you work on the other.
Add tempera paint to your bowl of sidewalk chalk mixture, mixing colors until you have a shade you like.
Tip: The paint might thin out the chalk mixture, so if it gets too thin, you can add a bit more plaster of Paris to thicken it back up.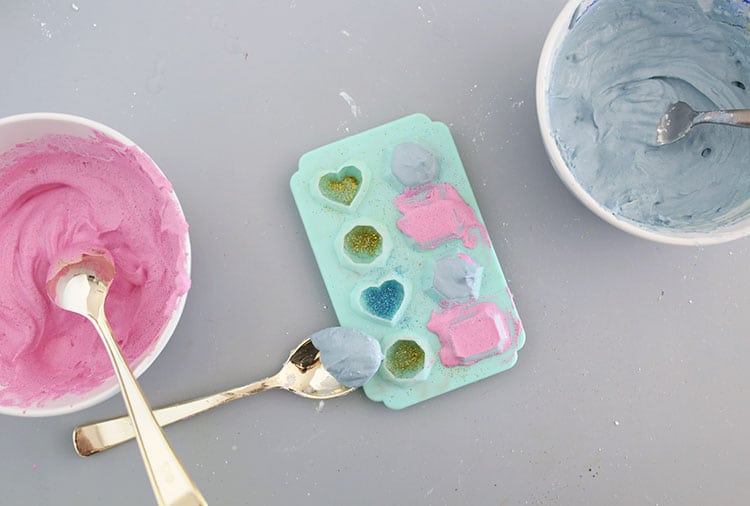 4. Spoon the colored chalk mixture into the gemstone mold. Tap the mold a few times to let the mixture settle into the corners and to remove any bubbles.
Tip: Even though mine is different in the picture, I recommend doing a whole mold of a single color.
Set the mold aside to dry for an hour or two. If it's warm and sunny, set it outside in the sun. You should be able to pop the gemstones out as soon as they feel dry on top.
Once you pop them out, leave them to dry for awhile longer somewhere warm and dry.
5. Repeat the whole process with two other colors.
Tip: If you get a few gemstone molds, you can mix all three colors at once to save time.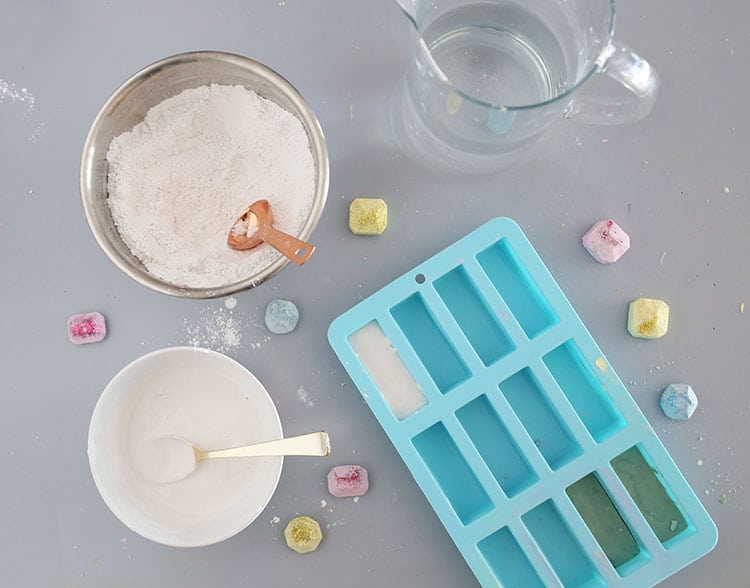 6. Mix up another, much bigger batch of plain sidewalk chalk mix, and pour it into the rectangle mold.
Tip: Pour one rectangle at a time and then move on to step 7 before coming back to the next rectangle. It starts to solidify FAST.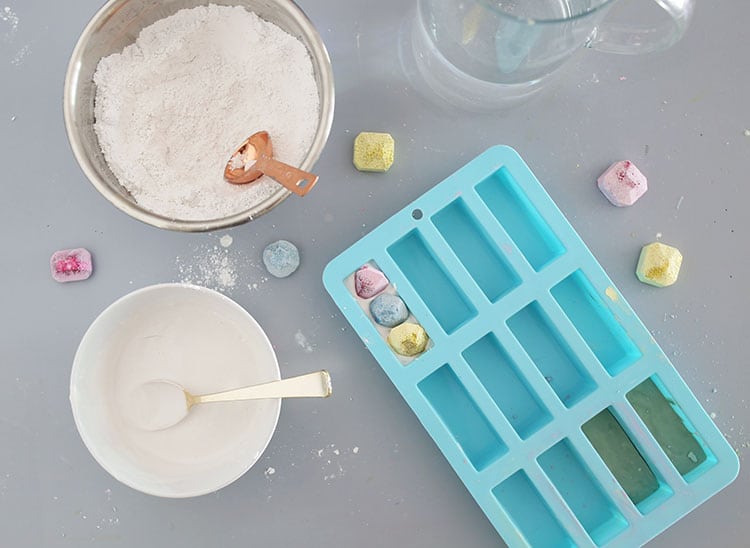 7. As soon as you pour the white chalk mix into the rectangle, immediately press three gemstones into the top.
8. Set the whole thing aside to dry for at least an hour or two, and then peel back the silicone mold on one rectangle to see if it's dry.
Pop them all out, and set them somewhere warm and dry to air out for a couple days. Because even though they'll look and feel dry, they still retain a lot of moisture. If you seal them up in a plastic bag right away, they'll get condensation and turn yucky.