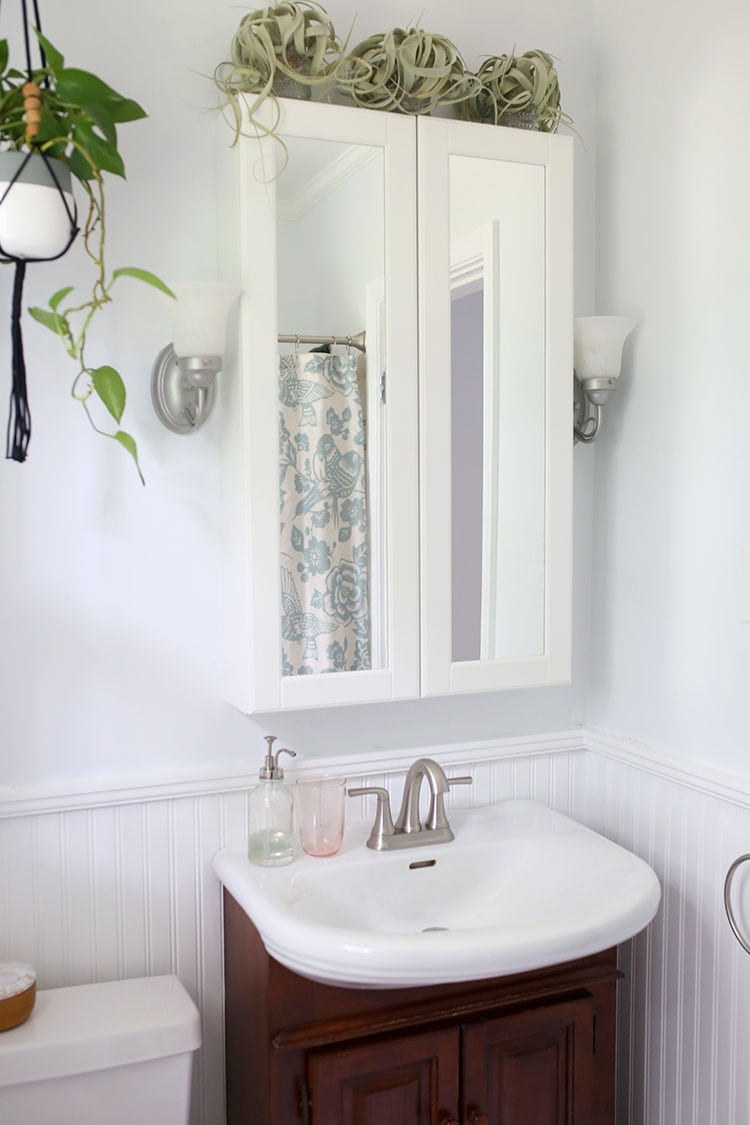 This post is sponsored by BEHR® and POPSUGAR. This is the third time I've worked with Behr. They're a company I'm always thrilled to say "yes" to because I have been using their paint since before we even actually moved into our house. I find it to be the quickest, easiest, and most affordable way to completely change the look and feeling of a room.
Have you noticed that home improvement projects seem to have a bit of a … reputation?
You hear things like, "I don't know how they managed to get through that project without driving each other crazy!"
Well, we've had a much different experience in our house. Admittedly we haven't done any construction-level renovation, but we've had a blast making our first house a home together – building and installing furniture, drywalling, flooring, and painting. I love getting to make our house more "ours" right alongside Andrei!
This time, we decided to tackle our main bathroom, and "right alongside Andrei" is the understatement of the century.
You guys, this bathroom is tiny. Like so tiny so that we had to take the door off its hinges to have enough room to paint and take pictures!
The tripod is literally sitting in the bathtub for this selfie! ha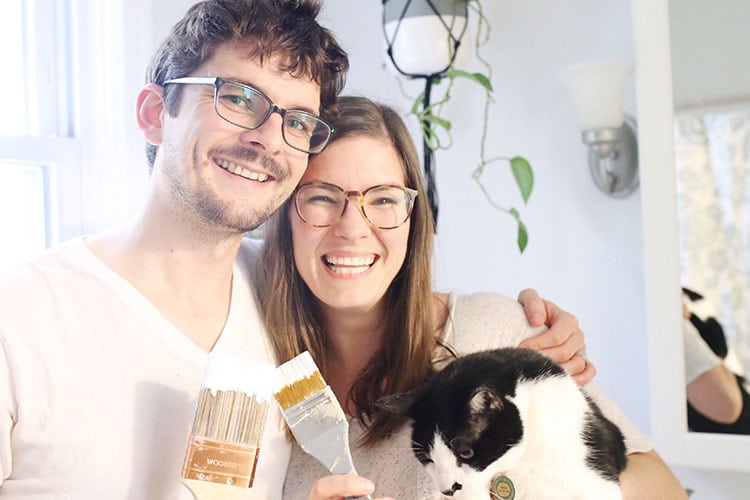 Before and After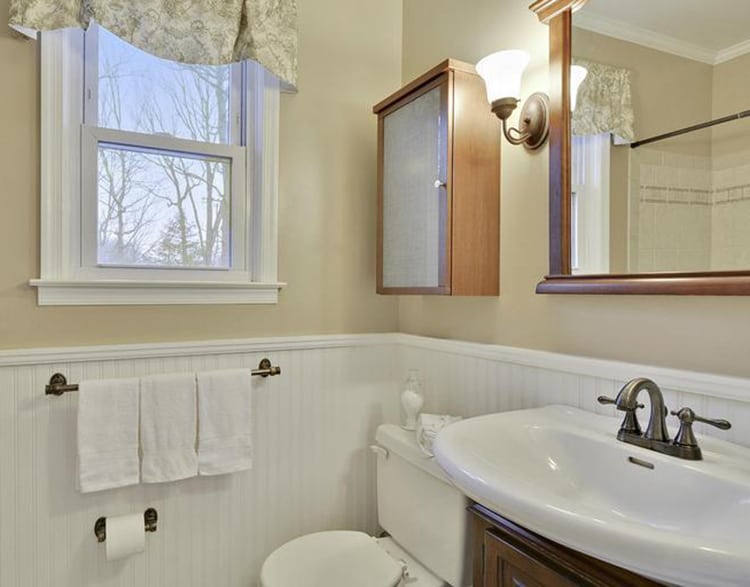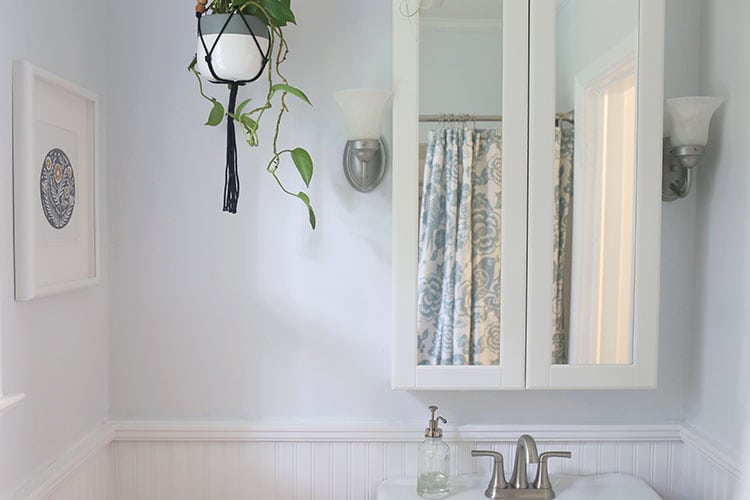 How to Pick the Right Color
I'll admit that our bathroom wasn't awful before, but it really wasn't my style. Everything felt dark and oppressive to me, and in a space this size, you can't afford to make it feel any smaller than it already is.
I knew I wanted a really light, airy, cool-toned color to make the space feel more open and soothing. I was going for zen, and I think it's safe to say I found it in this combination!
We picked the very light blue Dusting Powder BL-W05 for the walls on top and Ultra Pure White® PR-W15 for the beadboard beneath. I can't get enough of that cool, neutral white. It's what I used in my studio!
Not sure what color is calling your name? The Behr Color Studio has color tools, an inspiration library, and design advice to help you get started! If you're still not sure, pop into The Home Depot to pick up a sample before committing to a full can!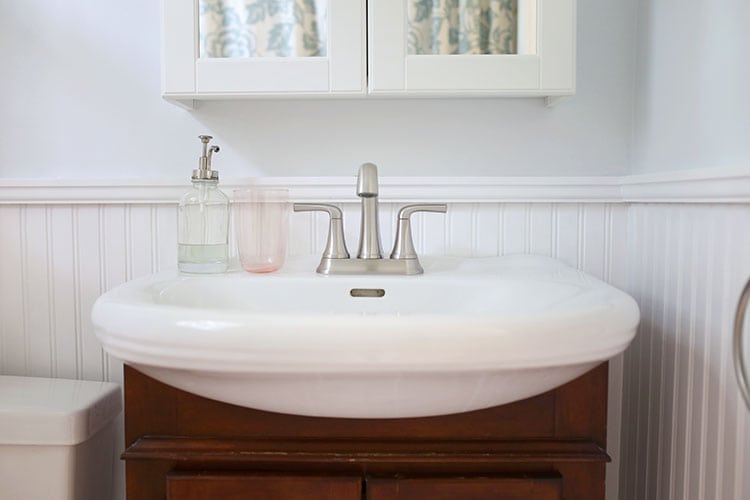 How to Choose the Right Sheen
We used BEHR PREMIUM PLUS® Interior for both colors on the walls because the durability is perfect for a bathroom. It stands up to humidity and scrubbing, and we got great coverage in two coats – even with the Ultra Pure White.
We opted for a satin for the Dusting Powder on the top half because it's easy to clean and resists mildew but isn't super shiny.
We used a semi-gloss for the Ultra Pure White on the beadboard and trim because it's recommended for cabinets and trim, which felt like similar surfaces to beadboard. It's really resistant to moisture and mildew, so, like the satin, it's perfect for the damp, humid air in a bathroom.
No matter what room or surface you're painting, Behr can help you choose the right interior paint sheen.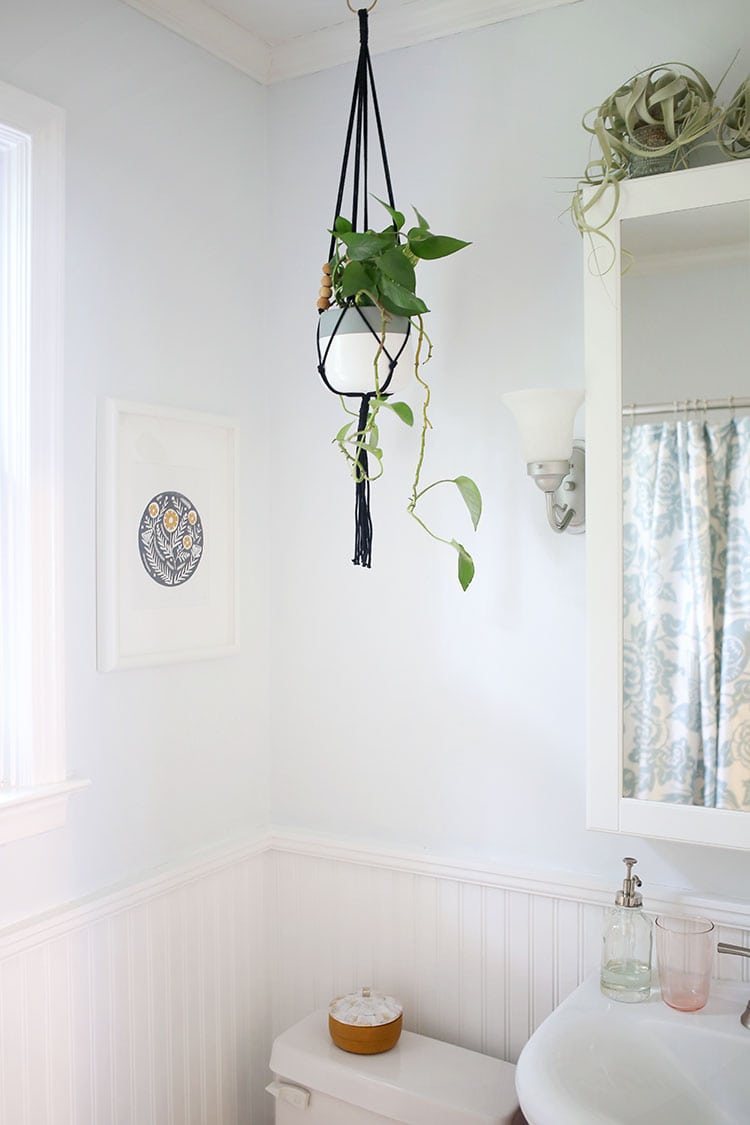 Why Repaint White With… More White?
Going from warm tan to cool Dusting Powder blue on the top half of the walls made a really obvious difference.
But are you wondering why we bothered painting the existing white beadboard bottom half of the wall with more white?
Honestly, even though it doesn't seem like the biggest impact, it was one of my favorite parts of making this room over. Our house is 60-something years-old, and no matter how much I scrubbed, the molding and baseboards never seemed clean enough. And everything just felt very old and yellowed to me.
Two coats of Ultra Pure White made me feel like I was in a whole new room. Everything feels so bright and clean, and now my biggest regret about doing it is that the tile floor looks dingy in comparison, so now I want to replace that, too! ?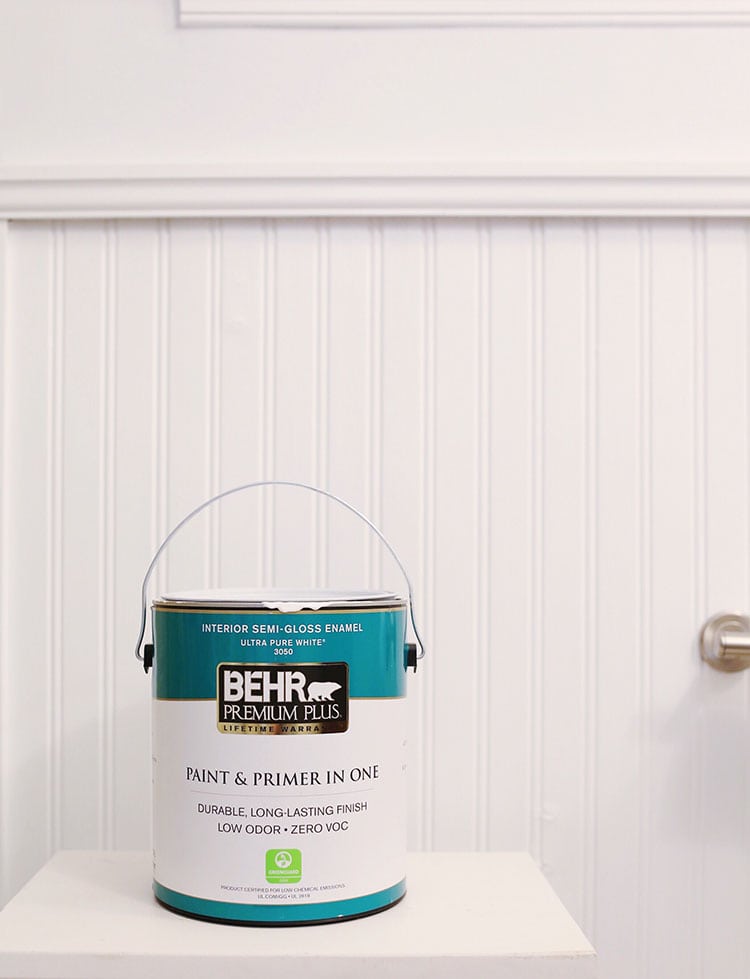 Our hallway is as tight as the bathroom and was also painted in a tan color. Without any windows, it felt a bit cave-like. So, while we were at it, we painted the hallway in the same color, Dusting Powder, which has brightened it up immensely. The light bounces around the airy blue tone so much better than it did with the tan. Even more than that, though, it makes the hallway and bathroom feel like one cohesive area instead of two distinct spaces. I feel like it makes them both seem a little bigger!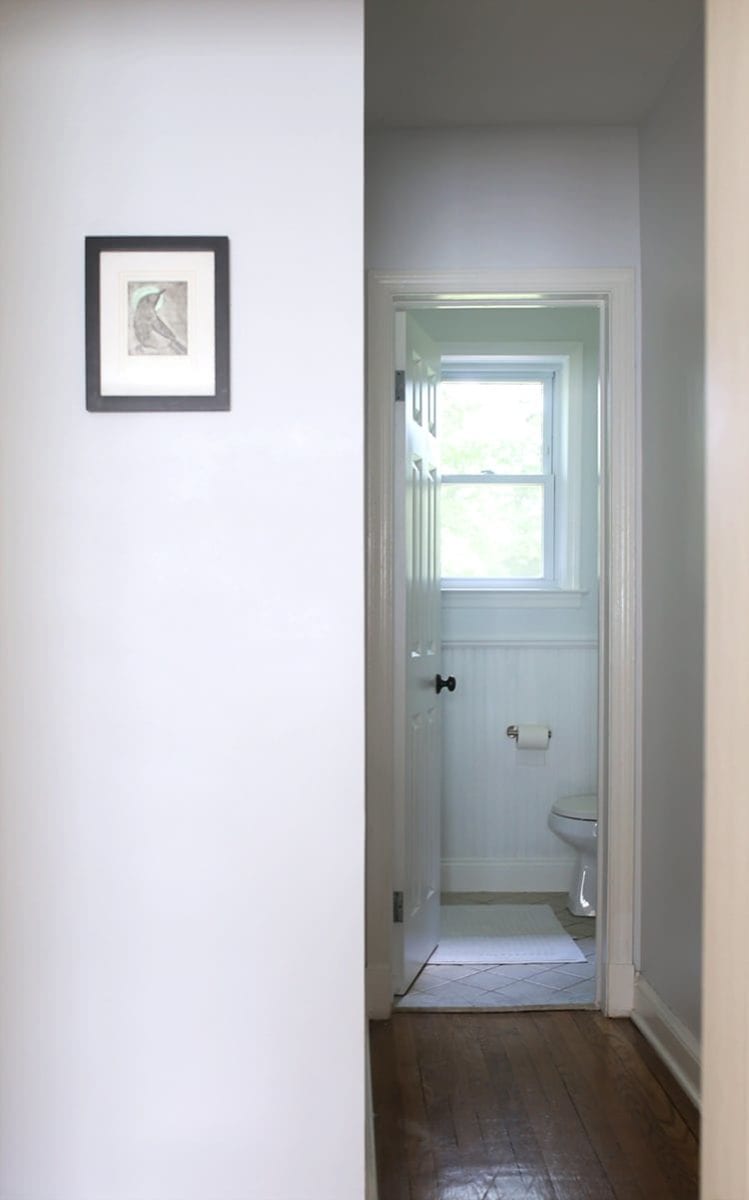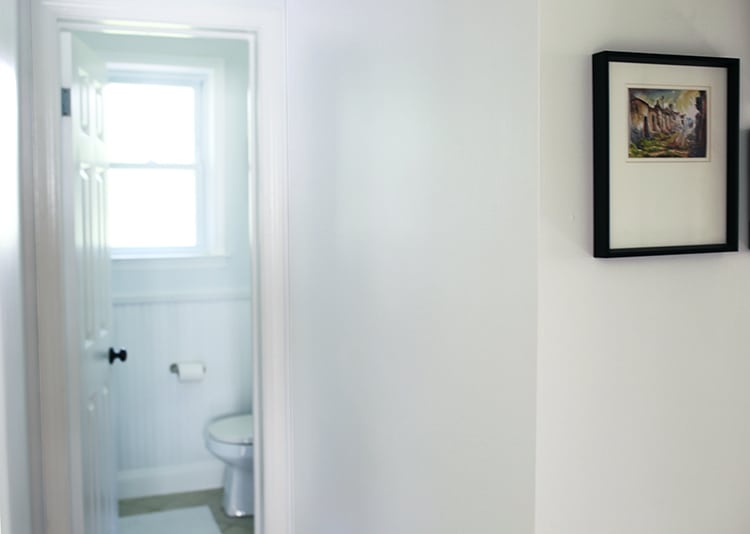 $100 Home Depot Gift Card Giveaway
How would you like to win a $100 Home Depot gift card to get started on your own paint makeover? Just pop over to this form, and let us know which Behr color inspires you most!
Official Rules: NO PURCHASE NECESSARY. A PURCHASE WILL NOT INCREASE YOUR CHANCES OF WINNING. OPEN TO LEGAL RESIDENTS OF THE 50 UNITED STATES. All entrants must be the age of majority in their respective state as of the date of entry and over 18 years of age. BEHR® Paint – DUO It Yourself: Shrimp Salad Circus ("the Sweepstakes") opens at 12:01 a.m. PST August 14, 2018 and closes at 11:59 p.m. PST on August 27, 2018. Void where prohibited by law. Participation constitutes entrant's full unconditional agreement and acceptance of the Official Rules, Terms of Service, Privacy Policy. Sweepstakes is sponsored by POPSUGAR Inc. (owner and operator of popsugar.com) having an address of 111 Sutter Street, 16th Floor, 4, San Francisco, CA 94104. One grand prize valued at $100.