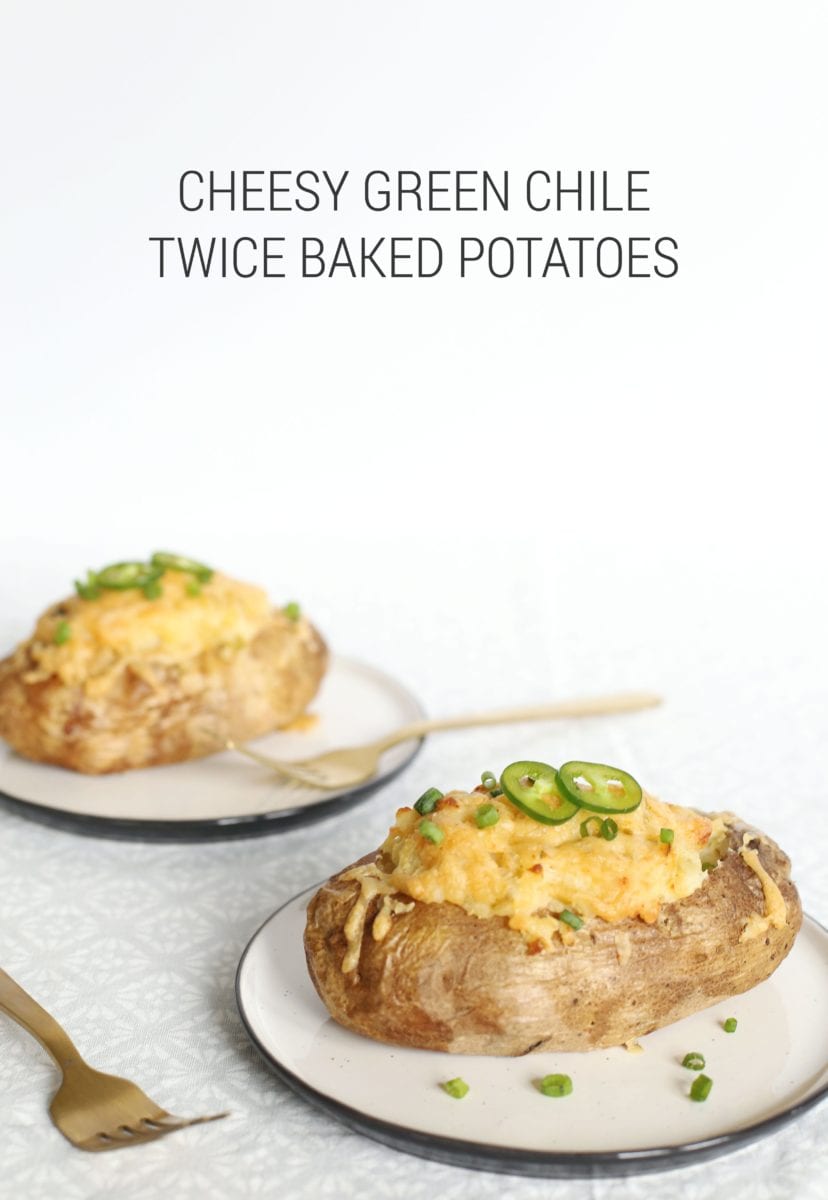 I recently had the privilege of taking a trip to Burlington, Vermont, in partnership with Cabot Cheese and Vermont Tourism.
I already shared what to do in Burlington, Vermont, and now I'm excited to share more about the family farm I visited with the Cabot team — and a really yummy recipe for cheesy green chile twice-baked potatoes!
This post is sponsored by Cabot Cheese and Vermont Tourism. All opinions are my own.
But before I dig into all that (farming pun alert!), I have to share about my visit to the Kayhart Brothers Dairy. Cabot is a cooperative, meaning that it's owned by 1,000 farm families. You guys know I have a passion for animals and for making sure they're treated right, so this one is close to my heart.
I got to introduce my baby girl to all the cows on our tour of the farm. As you can see in the picture below, they loved her, and she loved them right back — couldn't stop giggling!
Seeing life on this farm firsthand — and the beautiful drive on the way there and back — was such a wonderful, unique way to experience Vermont from a truly local perspective!

Steve and Tim, the brothers behind Kayhart Brothers Dairy, grew up with this farm. Their parents, Lee and Patricia, founded the farm in 1978 but were soon met by incredible tragedy when Lee lost both arms in a machinery accident.
But instead of hanging up their hats, the family kept the farm growing and thriving and eventually sold it to Steve and Tim. This might not sound like a big deal, but I learned that while dairy farms may be "equipment-rich," they don't typically have a lot of cash on hand.
So being able to pass this farm successfully to the next generation was a big, big deal.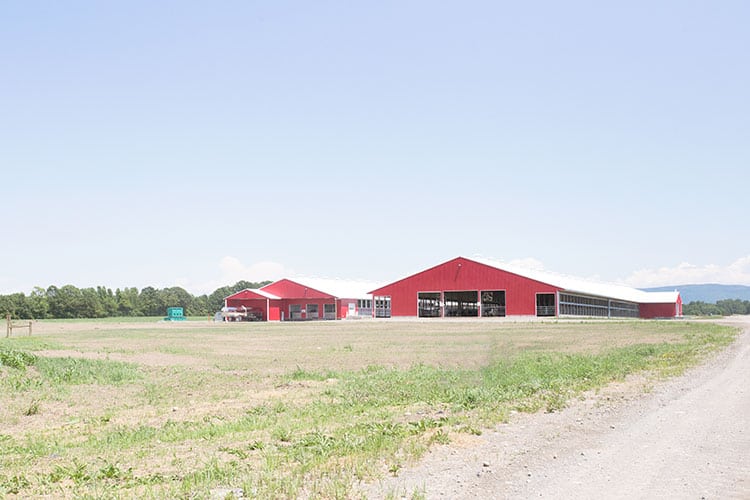 Steve and Tim have raised their families with this farm, and their commitment was the biggest thing that showed through for me. When you see something as a blogger/"influencer," you might be getting to see the "best of the best" moments. But with the Kayhart farm, I truly believe we were getting a snapshot of everyday life.
These beautiful cows were receiving the same treatment that they get every other day of the week. They happily lined up to get milked, and their output was counted by technology that feels shockingly modern compared to how I would have imagined a farm operates.

Each cow is milked three times per day, producing approximately 10 gallons. That's 10 gallons per day, per cow — think about that! Steve and Tim did say that it can vary a good bit from one cow to the next and that genetics and the quality of their forage play a big role in milk production.
One thing I found really interesting about the process is the fact that that when the milk is sold from the farms back to the Cooperative, it's measured in pounds, not gallons. It costs about 18 cents to produce a gallon of milk, and the selling price can really fluctuate, so these family farms are deeply impacted by things like weather, market rates, and the growing season.
I've always been interested in where our food comes from, but getting this deep look into the process has made me appreciate something as simple as cheese with a whole new perspective.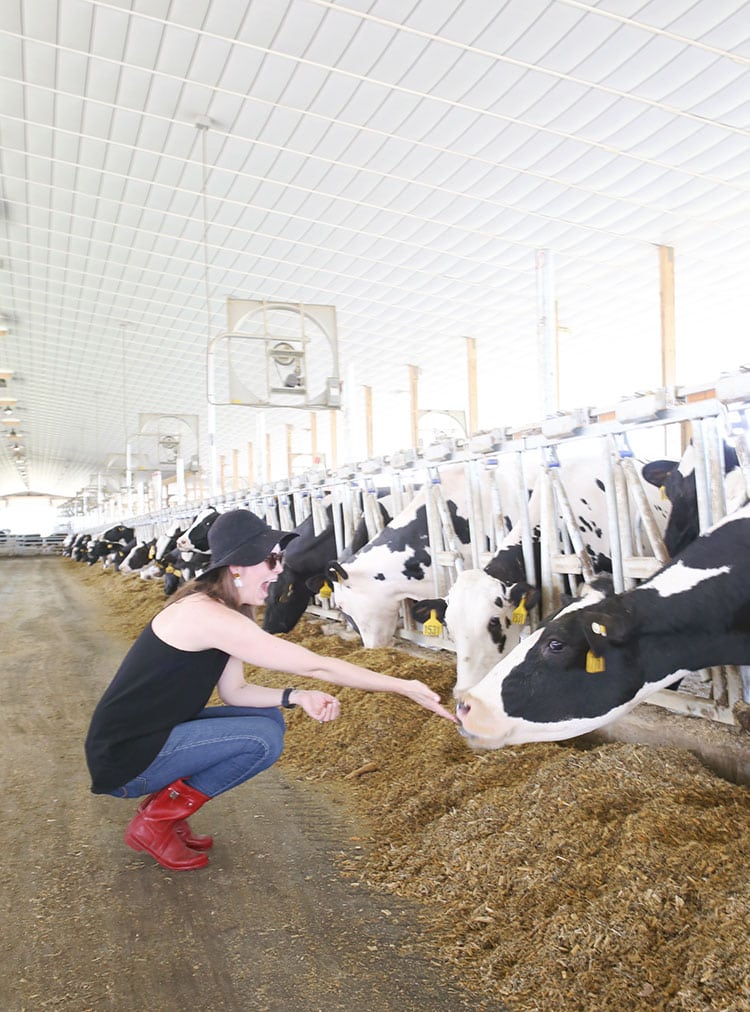 In case you were wondering how sweet the Cabot team is, Jen loaned me her adorable bright red wellies to keep me from becoming a muddy mess during the farm tour.
Also, this seems random, but it's something I couldn't help but ask as an animal nut. The Kayhart Brothers have a super well-regulated cooling system for the summer, but I was worried about the freezing winter temperatures.
Well, it turns out the cows love the cold, and it happens to be their favorite time of year.
Recipe: Cheesy Green Chile Twice-Baked Potatoes
Cabot Cheese just about has the market cornered on amazing cheddar cheeses (they sent us a box with FOURTEEN of them to try, and we've loved every. single. one.), but I wanted to showcase a product that jumped out to me as much for its texture as its flavor.
I knew I needed to come up with a recipe that would do this delicious, peppery cheese justice. Between that and my love of carbs, I landed on cheesy green chile twice-baked potatoes stuffed with Cabot pepper jack cheese.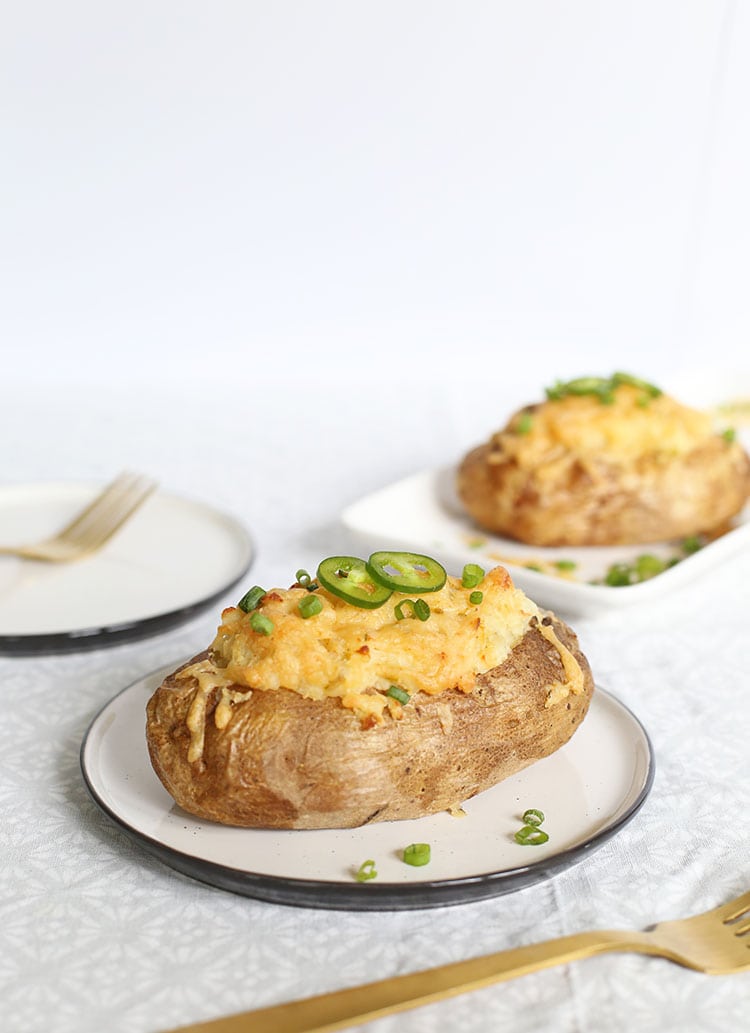 Every other pepper jack I've tried has had a little bit of flavor but not much else. The Cabot version is sharp, deliciously peppery, and has tons of texture. There are actually pieces of real pepper in the cheese, and I can't get enough.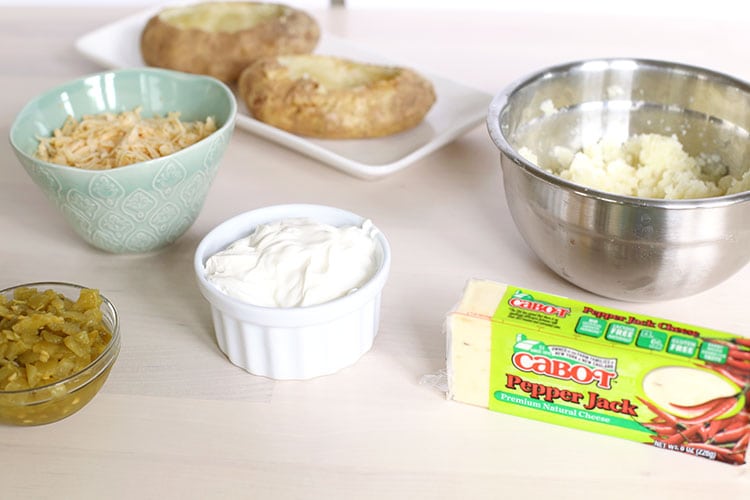 But, just in case regular pepper jack isn't quite enough, try something extra spicy…
Check out Cabot Hot Habañero for a too-hot-to-handle delicious twist. If you want to substitute this for the pepper jack in the recipe, just keep in mind that it's a lot spicier. So use a bit less!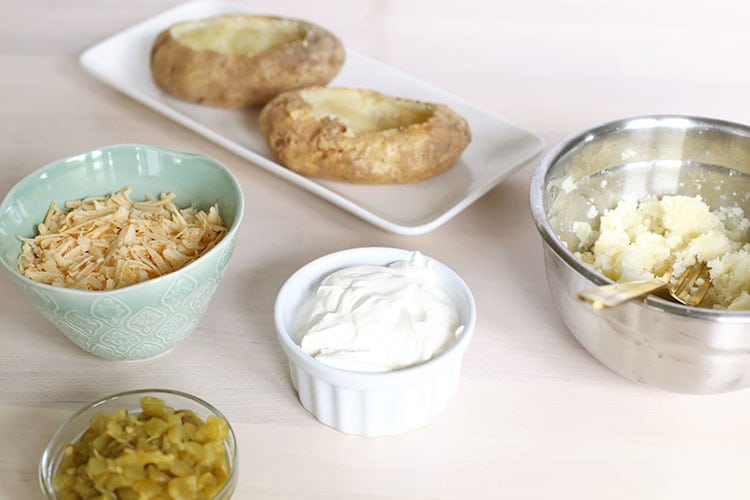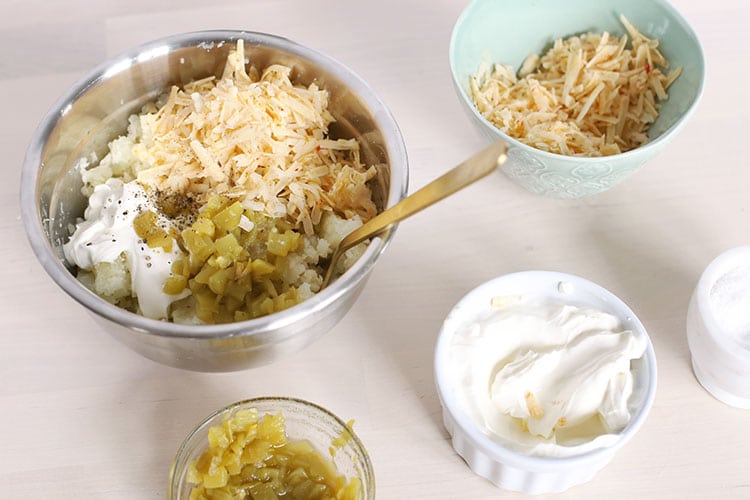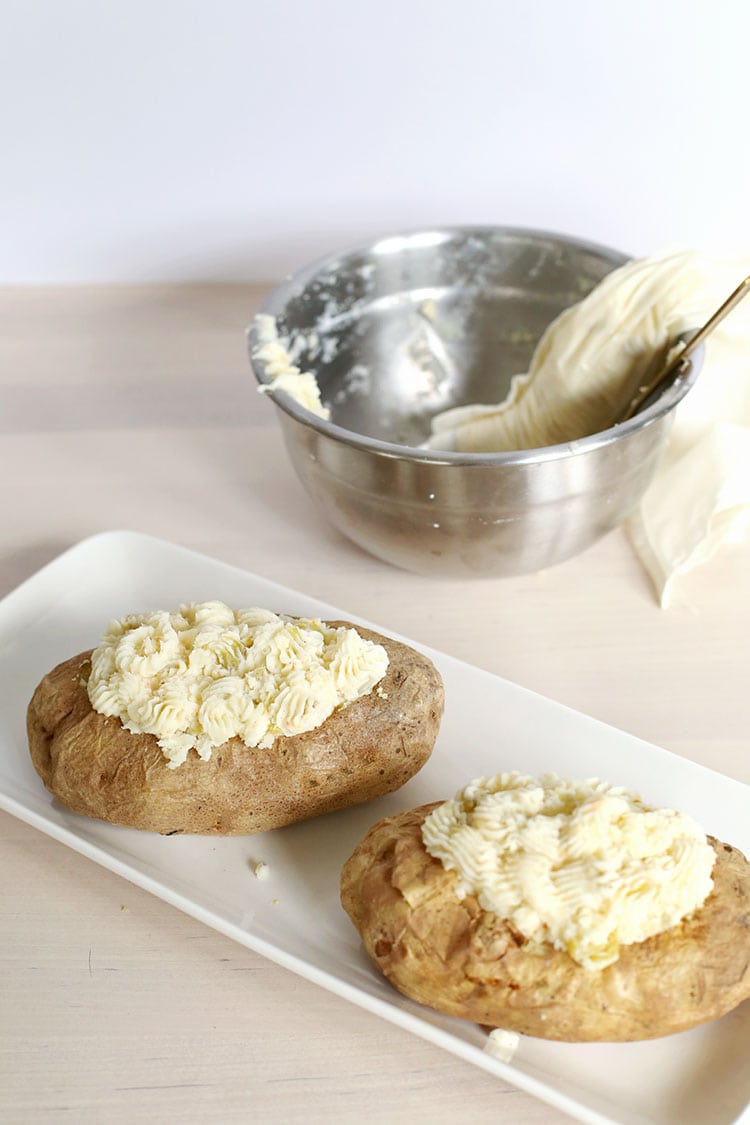 Cheesy Green Chile Twice-Baked Potatoes
Author:
Prep time:
Cook time:
Total time:
Ingredients
4 large baking potatoes
8-ounce block of pepper jack cheese, shredded
1/2 cup sour cream
2 7-ounce cans diced green chiles
Salt and pepper, to taste
Instructions
Preheat the oven to 425.
Wash and scrub the potatoes, and stab them a few times with a fork.
Bake until potatoes are tender all the way through — approximately an hour, depending on size.
As a main or large side*, cut out a top in each potato, and scoop the insides into a bowl with a spoon. Leave about 1/4 inch of potato inside the skin to hold it together. *To serve as a side dish, cut each potato in half lengthwise.
Add sour cream, chiles, and 3/4 of the cheese to the scooped potato in the bowl, and mash it together with a fork.
Add salt and pepper, to taste.
Spoon the mixture back inside each potato, mounding it on top.
Sprinkle the remaining cheese over the potatoes.
Bake for 15-20 minutes until cheese is melted and beginning to brown on top.
Sprinkle your cheesy green chile twice-baked potatoes with chopped chives, and top with thin jalapeño slices if desired.