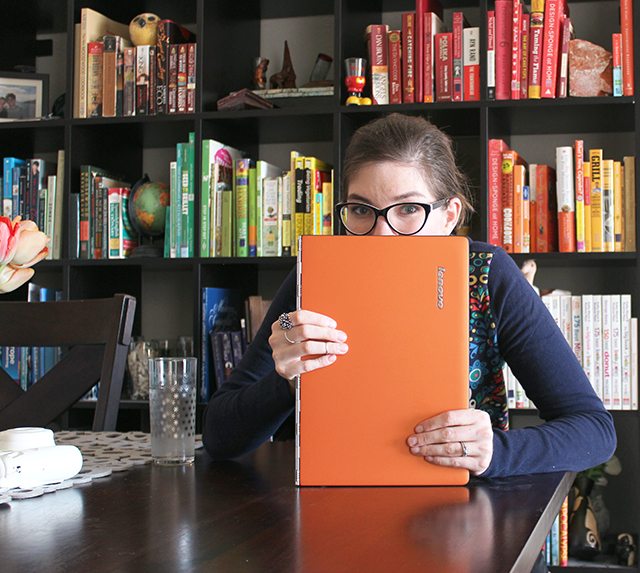 I'm excited to be part of a fun project that Lenovo is launching today. They wanted to know what kind of "tastemaker" I am, and I had a lot of trouble setttling on something. Between this blog, my shop, my day job, and the million other seemingly-random endeavors I get myself into on the weekends, it was hard to pin just one title on myself. Here's what I ended up with:
The Many-Faceted Maker (mɛ́ni fǽsətəd mékər), n. calligrapher, event-curator, maker, and ceaseless creative with a short attention span, a love of cats and crafts, and the blog to prove it
Then they sent their YOGA 3 Pro laptop to me and 49 other tastemakers to inspire all different sorts of creativity, and here's the end result. Oh, and did I mention that we're all giving one away? Visit the Trend Hub to check out what everyone did.
My Lettering Process
I do all my lettering by hand, but you'd be surprised by how much of the process involves technology. To give you an idea of what my process looks like from start to finish, I thought it'd be fun to walk you through a recent project. Oh, and I have a little video here that features a guest appearance by #MishtheGato!
Lauren and Rachel of Sweet Root Village and Alyssa of Alyssa Anne Photography approached me about doing some lettering for the first in their new series of THRIVE workshops for photographers.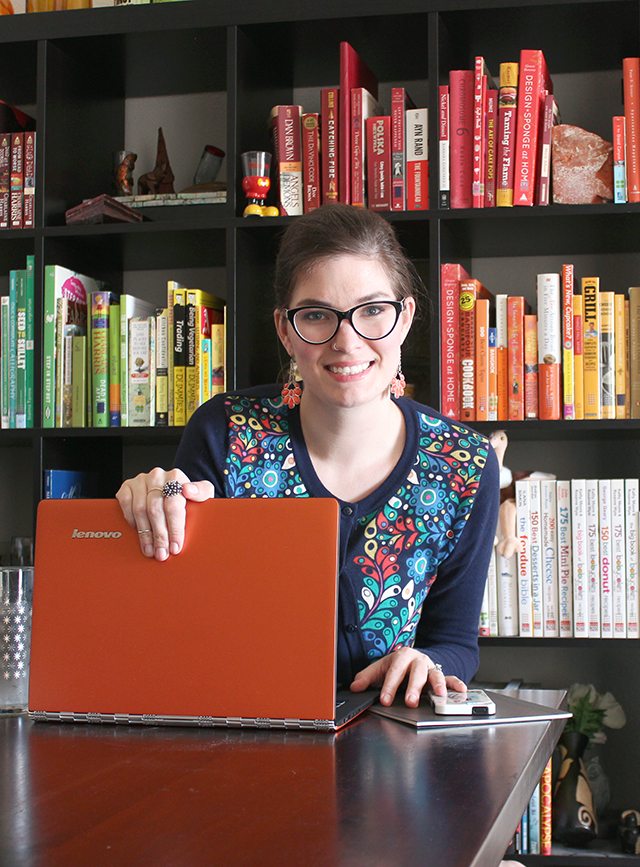 Research The first step in my creative process is always research, research, research. It involves a lot of emailing back-and-forth with the client to pin down their vision for the project. Once I know what they're looking for from a broad perspective, it's time to hit the internet. I scour the client's website and social media pages to get a feel for their overall "vibe" and an idea of how willing they might be to step outside the box.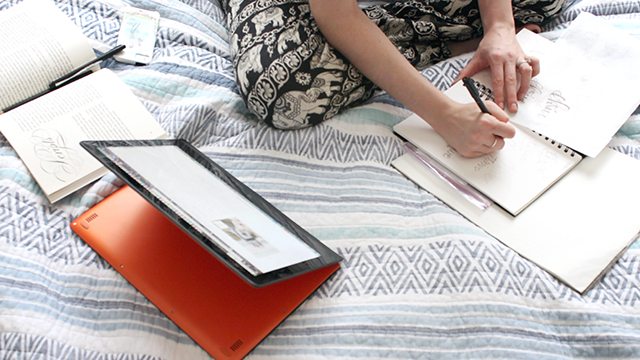 Sketch Once I have a doodle taking shape in my mind, it's time to start easing it onto paper. I'm usually (like in the picture above) surrounded by sketchbooks, pencils, lettering books, sheet after sheet of early sketches, and the client's logo and project.
Even if the final project is going to be large-scale, I always like to start with a small sketch because I feel like it gives me better control over the details. I start with a few really rough sketches that I'll run by the client to see if they're leaning in a certain direction stylistically.
From there, I usually do another 40-50 sketches, refining a little bit each time, until I have one I'm happy with. I use tracing paper or my light pad to trace over the previous draft, making a minor tweak or two with every new draft.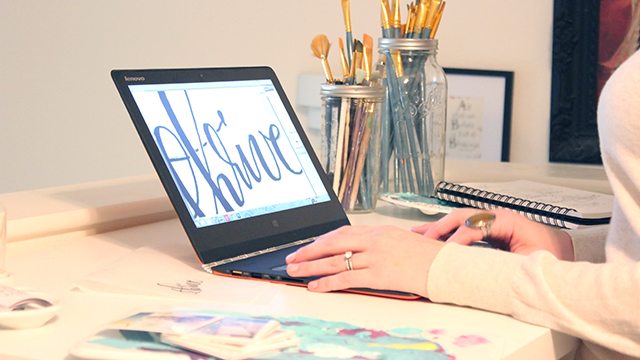 Scan & Digitize When I commit that final design to ink and paper and get a thumbs-up from the client, I scan it at high-resolution and get to work cleaning it up. As you can see, I like to blow it up really huge so that it's easier for me to obsess about every stray dot and speck of dust. 😉
In fact, that image up there is a scan of a drawing the size of the ones in the previous picture. Because I scan at 600DPI, I'm able to size the digital version even larger than the original.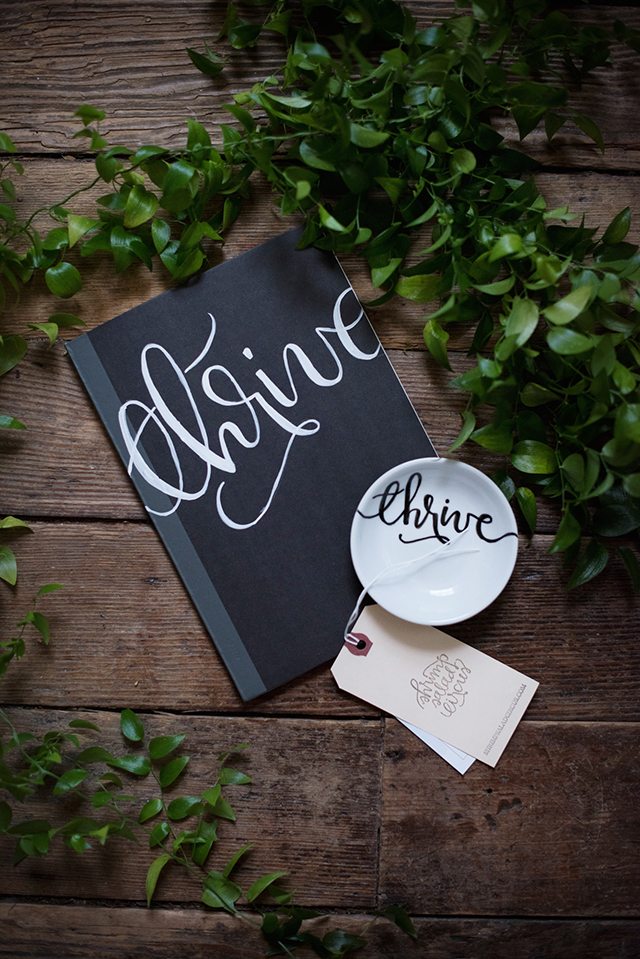 Translate No, I don't mean that I take a sudden right-turn toward Spanish. Whether a project is going to remain in the digital space or end up adorning various goods in real  life, it's important to translate it to the proper format, orientation, and context.
For this project in particular, I ended up translating the design to notebook covers and trinket trays. I then used it as a starting style when creating place cards and signage for the event. You can see a few more images of my work for THRIVE below. The workshop photos are courtesy of Sweet Root Village and Alyssa Anne Photography.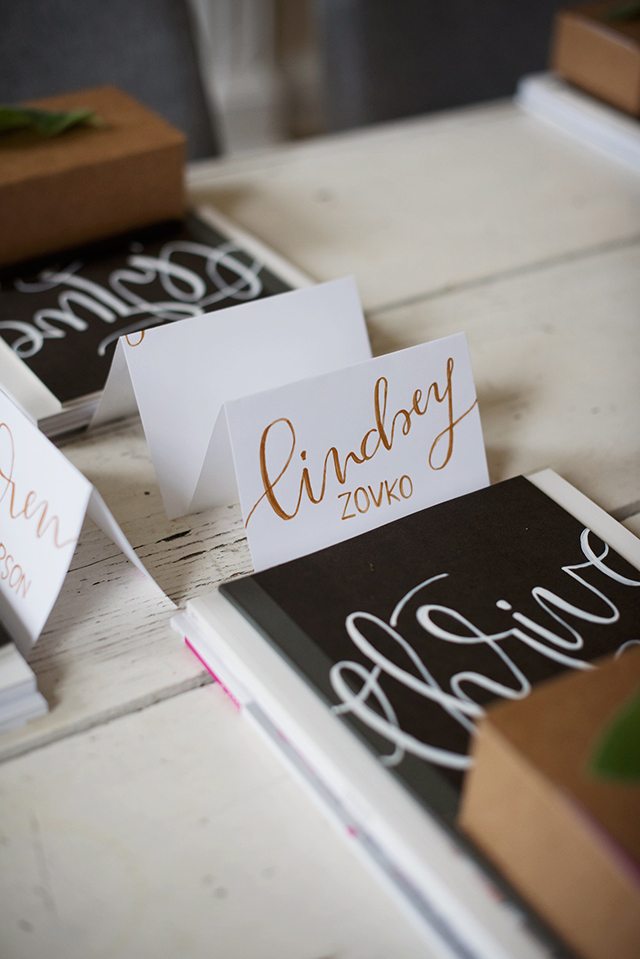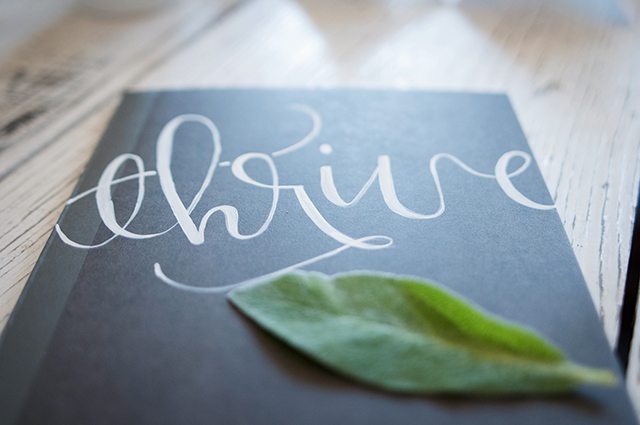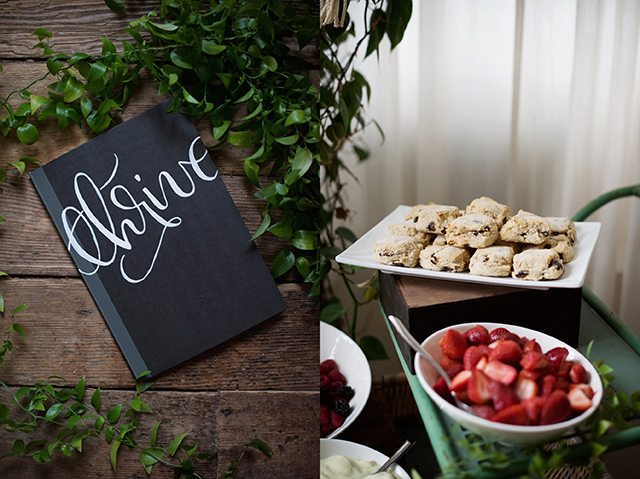 Lenovo YOGA 3 Pro Giveaway
Now here's the part you were waiting for, right? I'm excited to be giving away a Lenovo YOGA 3 Pro laptop to one of my readers! As you can see from my pictures and video, my YOGA is a seamless fit into every aspect of my busy life. And yes, that includes lying in bed with my sketchbook on my lap and Law & Order SVU playing next to me!
The YOGA, named for its flexibility (get it?!), can function as a standard laptop, but it also flips completely the other direction and folds flat, so you can use it as a tablet or anything in between. I like tent mode for the aforementioned Netflix-viewing. 😉 I admit that it felt really weird to flip it around when I first got it because I kept feeling like I was going to bend it too far and break it, but the hinge, inspired by watchband design, just keeps on flippin' around. Mine is Clementine orange, but this model also comes in brushed gold and light silver. Enter to win below, and check out the official rules here.
P.S. Here's Ashton Kutcher being kind of adorable with the YOGA. You're welcome. Enjoy.
I was selected for this opportunity as a member of Clever Girls and the content and opinions expressed here are all my own.