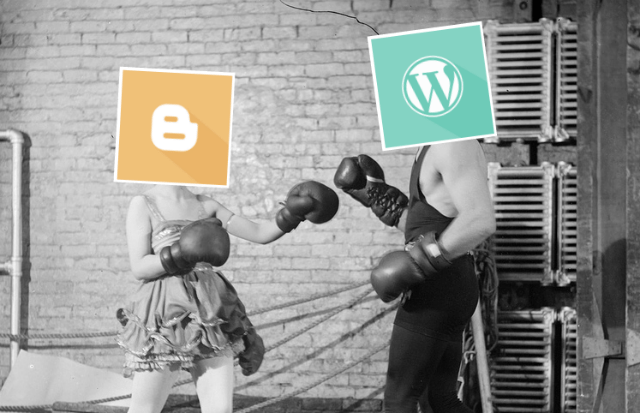 I'm thrilled to introduce you all to Kira, the WordPress-wrangling lady behind Her New Leaf, and my new go-to guest for the Blog Better series. We are often asked by beginning bloggers, "Should I use Blogger or WordPress?" Well, Kira's going to give you all the pros and cons of WordPress, and I talk about the pros and cons of Blogger right here.
While I started out writing Her New Leaf via the Blogger platform, I have since switched to WordPress and have been a loyal WordPress.com user for over a year. As with any service, there are pros and cons to whatever you choose, so hopefully with the input from Lindsay and myself, you'll be able to make a decision that is best for you! Please note that these points are made in reference to the WordPress.com free blogging platform. WordPress.org is for self-hosted blogs, and unfortunately I'm not familiar with that system.

WordPress Dashboard Interface (click to enlarge)
Smoother Interface
As with any new program or service, navigating the user interface will take some getting used to. But I have found the interface on WofjavardPress to be extremely intuitive and user-friendly. I also experience far fewer glitches withing the system since moving to WordPress, and my readers have reported far fewer glitches when reading or commenting. You know that terrible feeling when you spend all night writing a brilliant new post, only to have it vanish into that terrible internet black hole? I haven't had that happen once while using WordPress!

Built-In Themes
This is obviously personal preference, but I much prefer the built-in themes on WordPress to those available on Blogger. For the blogger who is just starting out, WordPress' straight-out-of-the-box themes are more professional looking and generally designed with more thought.
That said, the built-in themes are not as customizable as the themes on Blogger. Some allow the ability to add your own header or background image, some allow you to chose between a few theme colors, some allow you to change the position of your sidebar, but there isn't much more opportunity for customization beyond that. You can edit your theme using CSS (if you know how) by purchasing the Custom Design upgrade for $30/year. This limitation of the WordPress.com platform can be frustrating because as a blogger, you want your blog to stand apart from others.

Example of Threaded Comments on "How Should I Save My Images?"
All-Around Better Commenting
This is the most common reason for switching from Blogger to WordPress that I hear from other bloggers. WordPress allows for threaded comments, meaning bloggers and readers can reply directly to previous commenters. WordPress' platform also allows for people to subscribe to specific comment threads so you receive emails when someone responds. This is especially helpful when you leave a question for the blogger – you can actually find out when they answer you! WordPress' commenting also makes it super easy for all readers to comment without signing up for any services.
No JavaScript
WordPress does not allow the use of JavaScript at all. This won't have much of an effect on beginner bloggers, but for more seasoned bloggers who are looking to use fancy link-up widgets or raffle tools, they will not work on WordPress.

WordPress Built-in Statistics Dashboard (click to enlarge)
Incomplete Statistics
The built-in statistics on WordPress are not as thorough as those on Blogger. I can see most things like which pages refer users, search terms, my popular pages and links, but I would love to see where in the world my visitors are coming from, and at this time, that is not part of the data that WordPress relays to its users.
No Monetization
Per the terms of service on WordPress.com, users are not allowed to monetize their blogs in any way. This includes selling ad space, allowing sponsorships, and even posting affiliate links. Again, this is probably not a problem for bloggers who are just starting out, but if you wish to earn revenue from you WordPress blog, you need to move it to a self-hosted server.
For more blogging tips, you can check out my Primp My Blog series. If you have any questions about WordPress.com, please let me know in the comments, and I'll get right back to you. Good luck choosing the best blogging platform for your needs!
Kira and Her New Leaf elsewhere
blog . Facebook . Twitter . Pinterest
Don't forget to read the other half of the story – The Pros and Cons of Blogger!