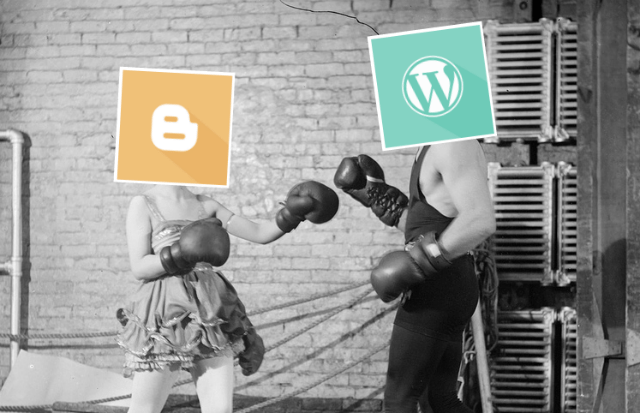 In my Blog Better introductory post, I asked you guys to share some of your biggest blogging questions and concerned so that I could help you become better bloggers. I received questions on the blog, Facebook, and my email, and several were along the lines of, "Should I use Blogger or WordPress?" Kira of Her New Leaf has all the pros and cons of WordPress here, and I've touched on the pros and cons of Blogger below.
I have been writing Shrimp Salad Circus since March 2009 (almost three years – wow!), and I've stuck with Blogger from day one. It sees like Blogger gets a lot of flack from bigger bloggers who've started out on or switched to WordPress, but I've never been unhappy over here on my dot-Blogspot. As with any service, there are pros and cons to whatever you choose, so hopefully with the input from Kira and me, you'll be able to make a decision that is best for you!

Blogger Dashboard Interface (click to enlarge)
Dashboard/Interface
The Blogger dashboard has gotten pretty user-friendly of late. You can change and update everything from one screen, and you can even see your basic traffic statistics without visiting Google Analytics. If you want to monetize but don't know where to start, you can walk through Google AdSense right from your dashboard. I'll talk more about templates, monetization, and commenting later in the post, but you can control all those aspects from the screen in the image above. Kira mentioned that WordPress is very bug-free, never giving her error messages. I have to say that I do get an occasional error message from Blogger, but I have probably only lost a post-in-progress to the internetwebs abyss maybe three times in three years. A point to note – Blogger's schnazzy dashboard does use JavaScript.
Built-In Mobile Version
Blogger recently(ish) debuted the mobile template add-on, and I'm positively smitten. From the templates screen on your dashboard, you can create a mobile version of your blog in three clicks. Seriously – three clicks, and it's totally free. This is becoming crucial, since so many people do everything on their smart phones these days.

Blogger Built-In Template Designer (click to enlarge)
Customizable Templates
In the last few years, Blogger has grown by leaps and bounds in terms of free, built-in template offerings. You can now choose from a selection of templates, and from there you can customize a variety of aspects The theme colors can be selected from automatic combinations, or you can build a set yourself. You can add a background image; change the widths of the post column and sidebars; and switch the layout around. You can even build a four-column template (one column over your existing two sidebar columns), which I kind of love! From what I hear, WordPress is a bit more professional and user-friendly on this front, but I personally have always found free templates from various websites and then tweaked the code here and there to change colors and widths – yes, even in my very early blogging days. You can do this for free on Blogger, whereas there's a charge for customization on WordPress. No worries – here's a post on free template resources and another on how to install them.

Interactive Commenting
Blogger now allows threaded commenting so that bloggers and readers can reply to each others' comments – a common complaint in the past about Blogger versus WordPress. Read this post on Blogger Buzz for more details (Thanks to reader Vicki for this info!). Just like with WordPress, you can subscribe to specific comment threads so that you receive emails when someone responds. This is especially helpful when you leave a question for the blogger – you can actually find out when they answer you without having to keep checking back! To again echo Kira's WordPress review, Blogger's commenting makes it super easy for all readers to comment without signing up for any services. You can add a CAPCHA (scrambled word to type in when commenting to prevent spam), or you can choose to leave it off – totally up to you, though I know that CAPCHAs definitely deter me from commenting on blogs…
JavaScript
Blogger allows for the use of JavaScript. Beginning bloggers might not use this feature much (or even know what it means), but for more seasoned bloggers who are looking to use fancy link-up widgets or raffle tools, this is a feature Blogger has that WordPress lacks.


Blogger Built-in Statistics Dashboard (click to enlarge)
Useful Built-In Statistics
You probably know that Google Analytics is the go-to resource to track your blog's traffic and user statistics. Since Blogger and Analytics are both Google products, they flow together really well. In fact, you can see a fair amount of analytic statistics right on your blog's dashboard without ever having to click over to Google Analytics. Some stats on your dashboard include pageviews, pageviews per post, and a handy little map showing where your readers are visiting the blog from.
Custom Domain
If you think awesomeblogs.blogspot.com is just horrid, then Blogger makes it super easy to switch over to awesomeblogs.com. You can set up a domain you already own at no additional cost, or you can purchase a domain through Blogger.
Monetization
Blogger has a built-in option to use AdSense, which basically handles everything for you, including targeting ads to your readers. You can also sell ads, sponsored posts, etc., as you please. WordPress users, on the other hand, are not allowed to monetize their blogs in any way. This includes selling ad space, allowing sponsorships, and even posting affiliate links.
Don't forget to read the other half of the story – The Pros and Cons of WordPress!