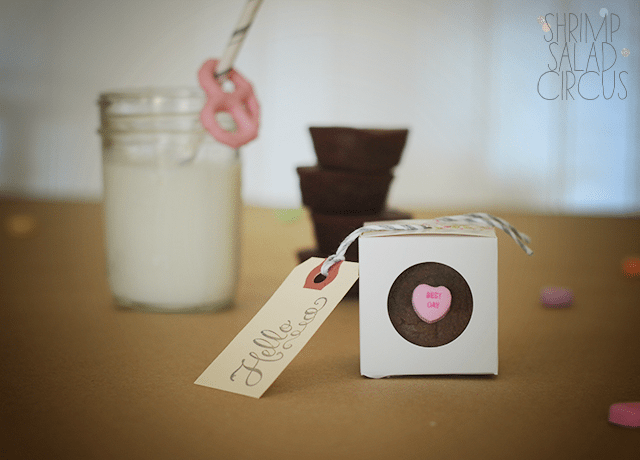 Good morning, and happy Monday! I'm dredging a tutorial up from the archives for this snowy morning because my weekend was just way too busy to dream up something new and exciting just yet!I love the idea of sweet, edible Valentine's Day gifts, but I don't even have kids yet, and I can already understand how it might be kind of a nightmare to have to come up with 30 adorable Valentine's Day treats that nobody else in the class has… That's why I like the idea of "halfway homemade." I'm working with Rich's on their Bakery Because campaign because I love the idea of taking some of the pressure off ourselves when it comes to gifting. You can gift freshly-baked (by someone else) treats packaged up as perfect little Valentines – or even as little "just because" treats! You can pick something up from your the bakery while grocery shopping, combine it with a few cute items you might already have, and voila!
In the interest of keepin' it real with you guys, this post was sponsored by Rich's for their Bakery Because campaign. I was paid for my participation, but all project ideas and content and are entirely unbiased and entirely my own.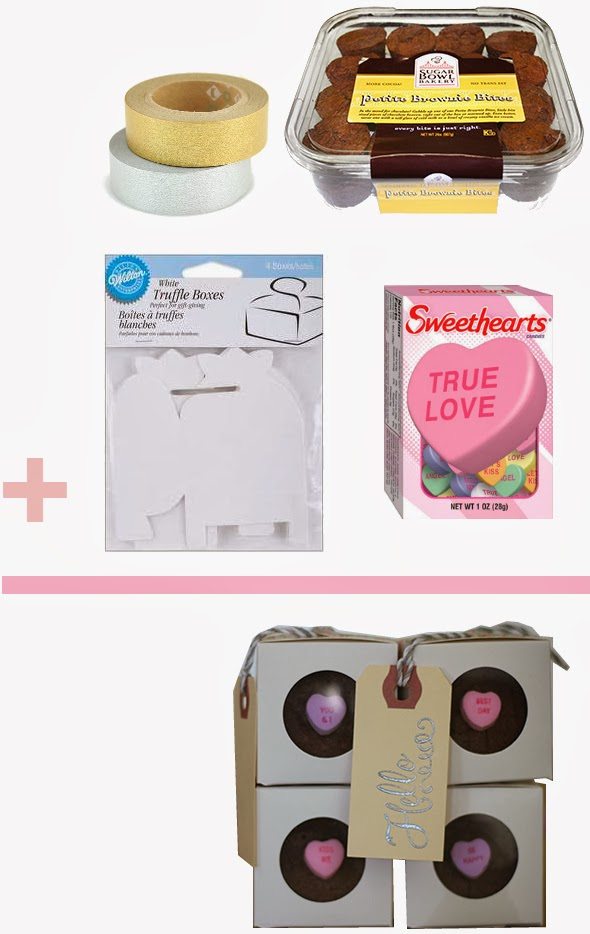 Andrei and I aren't too big on Valentine's Day celebration or gifting. We usually just do a card and something small and sentimental.  This is our first married V Day, so I wanted to do something cutesy but still not over the top. We love to surprise each other with little things here and there, so I wanted to do something I could hide all over the house and car… He's pretty much nuts about brownies, so I picked up a box of petite* brownie bites from the Kroger bakery. They're soft, chewy, and take about three bites apiece – perfect for a midafternoon snack.
*I'm pretty sure they just call them petite so that we don't feel as bad downing half a box…
Edible Valentine's Day Treats
1.   I used a tiny dab of peanut butter to affix a conversation heart to the front of one brownie bite to give it a cute little holiday touch.
2.   After folding out an individual cake pop (not truffle) box that I picked up at Michael's, I slid two brownie bites in the box back-to-back with the top of the brownie facing the window so that you can see the little heart.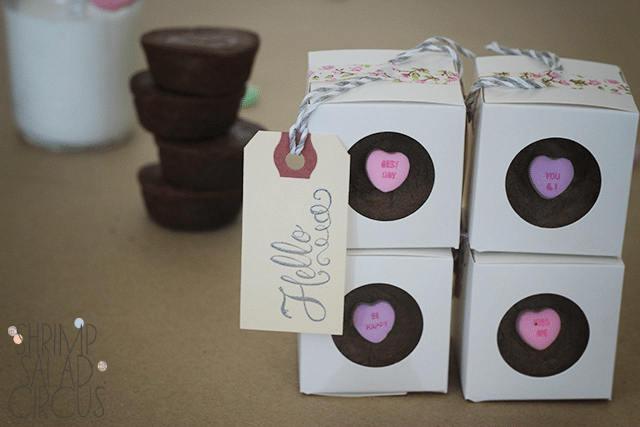 You guys know I love to go a little over the top with packaging, but I did keep these relatively simple since they were for Andrei and not my girlfriends or a classroom full of kiddos…
3.   I stamped and embossed manila shipping tags with a cute little sentiment and swapped out the string that comes with the tags for some pretty grey striped baker's twine.
4.   I affixed the tags to the boxes by tape the twine with some pretty floral washi tape. The washi tape served another purpose, too: since it's a cake pop box, there's a hole in the top for the stick, which we obviously don't need for this project. The tape covered the hole right up!