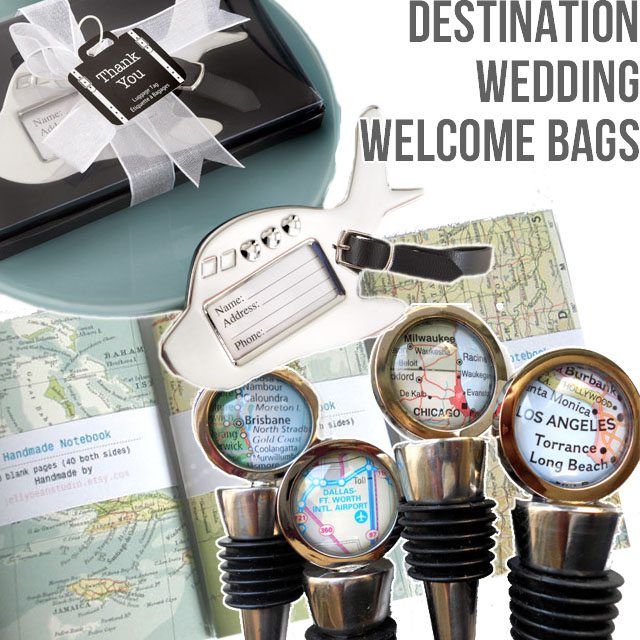 I don't know how I'll do when it comes time to start planning my own wedding, but I have to say that I'm positively stellar at planning fake ones.

I don't know about you guys, but I find that it's easier to tackle most things in bits and pieces, rather than as a whole, overwhelming event.

Today, let's focus on welcome bags. What do you think – are they a fun, thoughtful addition to welcome your wedding guests, or are they an unnecessary expense?

Personally, I've always been pleased to receive a welcome back when checking into the hotel for a packed wedding weekend. It's not that I expect something; I just like to see what the couple has put together to represent themselves, which got me thinking. What would I choose to represent Andrei and me? Because we both love to travel, I decided to dream up an imaginary globe-trotting theme.


The Practical

If you're spending money on something, you should factor in practicality – at least a tiny bit, right? You want to give people something they'll get some real use out of. My "practical" addition to our imaginary welcome bag is a map-print notebook, handmade by Jellybean Studio on Etsy. At $7.50 for a set of three ($2.50 apiece), they're pretty affordable.

The Useful

So let me start this one by acknowledging that you and I might have very different definitions of useful. I love a good glass of wine. Or a cheap glass of wine. Who can tell the difference, right? Give me a bottle of Two Buck Chuck any day. I'll put a fancy cork in it, stick out my pinky as I sip, and savor the oaky bouquet. Right. Seriously though, these map corks from Paper and Place would be treasured by your guests forever! I'll admit that at $35 each, they might make better wedding party gifts than welcome favors, but hey – it's my imaginary wedding, so I'm "buying" them, alright?!

The Whimsical

Let's throw practicality entirely out the window now, shall we? You already know that I love to travel, but what I love especially is fancy, quirky, whimsical travel accessories. I've yet to get myself a darling passport cover or silly little luggage tag, but doesn't a welcome bag seem like just the perfect opportunity to share the love with your nearest and dearest? These little airplane luggage tags strike me as perfect favors for a travel wedding, and if you're having a small wedding, they're really reasonable, too, at under $3 a pop.

So let's go back to my original question, shall we? How do you feel about welcome bags for a wedding?!

* Disclosure – This post was written on behalf of American Bridal. Though I was compensated for writing it, all opinions, content, and design are entirely my own.. See my disclosure statement for more information.