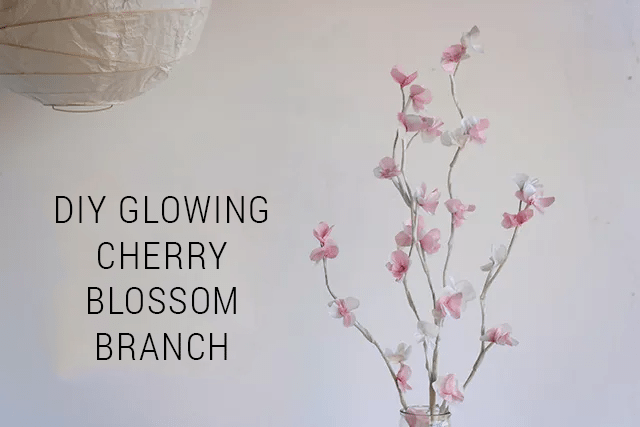 You guys know that I'm in full-on crazy mode with the wedding planning, so I was really excited when I got a big box of David Tutera Bridal

 goodies to get crafty with. I try to put an unexpected spin on projects whenever possible, so I didn't want to go with your standard silver and white and sparkly for this one, though the possibilities are definitely endless in that regard!My favorite item in the collection is the lighted branch – so pretty and versatile!
When I was working as an Americorps VISTA at a local literacy nonprofit, we had a once-beautiful, now-dead tree inside the children's reading area. It was way, way too heavy to lug back down to the first floor. Instead, I spent an afternoon creating tiny paper blossoms and taping them all over the branches to make a whimsical little reading nook.
I've had a bit of an obsession with paper flowers again  lately, so this blank twiggy canvas was pretty much begging to turn into an airy cherry blossom branch! Read on for the incredibly easy, incredibly affordable tutorial!Do you think this is something you'd actually try? I think it'd be great for way more than just weddings. Imagine this is a nightlight in a little girl's room!!!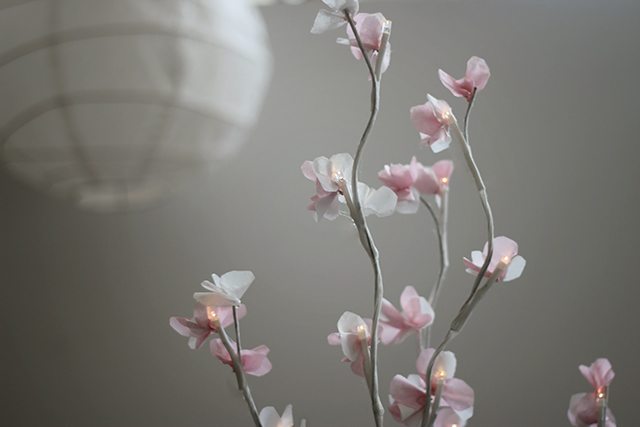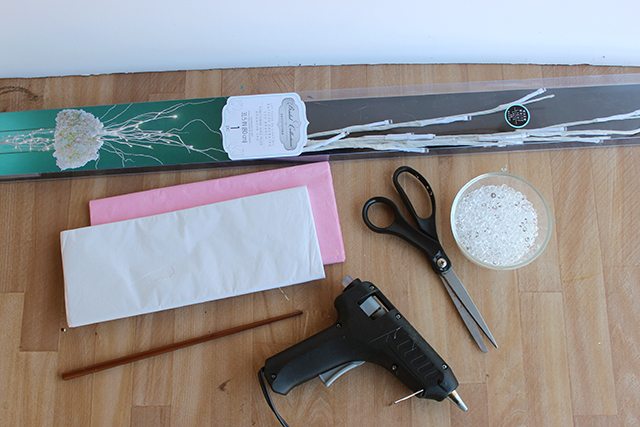 Supplies
David Tutera LED Light Branch
Tissue paper
Chopstick or small paintbrush
Scissors
Hot glue gun
Vase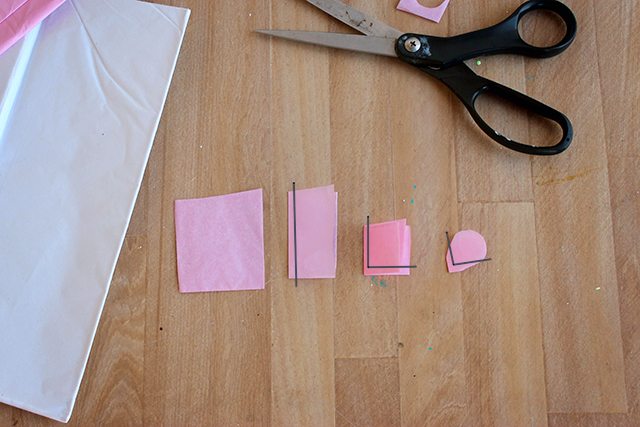 1.   Cut pink and white tissue paper stacks into squares of roughly two inches. With 6-8 squares stacked together, fold them in half and then again into quarters. In the image above, I've marked lines where the folded edges are in each step of the process.
Once it's folded into quarters, pinch the folded corner, and cut around the rest of the corners so that you have a teardrop shape. Unfold them, and you'll have four-petaled flowers that sort of resemble butterflies.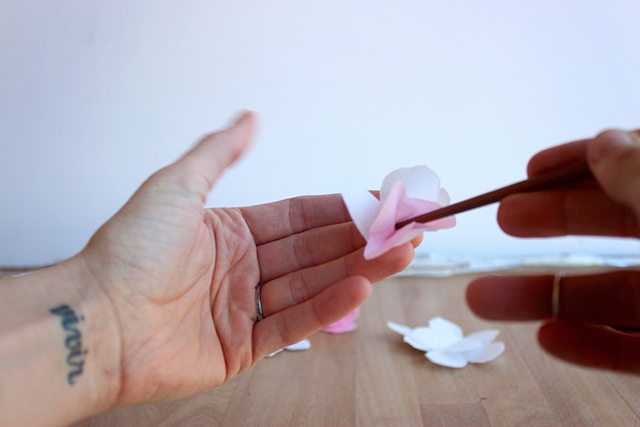 2.   Stack a pink and white flower together with the petals of each color in opposite positions. Poke the front middle with the end of a skinny paintbrush or chopstick while pinching the tissue in the back. The chopstick should help you gather the end together.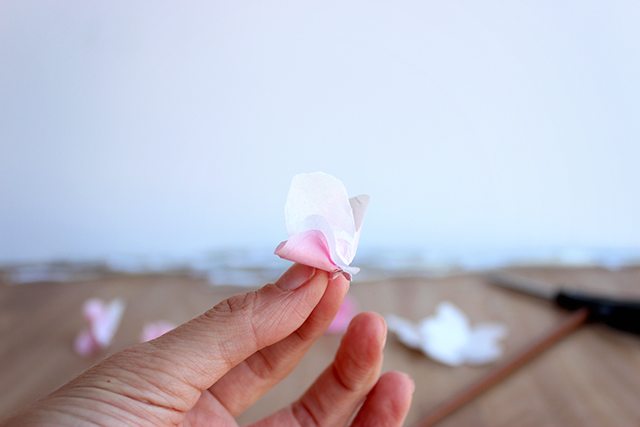 3.   Twist that end a little bit to hold the flower together, fluff the petals a little bit, and set it aside. Make a bunch more. You can do different combinations – all white, all pink, or even single-petaled blooms for contrast. It'll look more natural that way.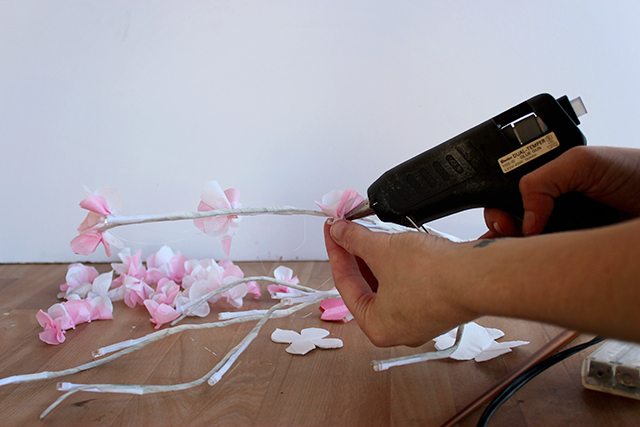 4.   Squeeze a dot of hot glue onto the twisted base of a bloom, and lightly stick it to the branch directly underneath a tiny bulb. Continue until you've put a bloom in front of each light, and then add one to the ends of the branches and wherever else you think needs a little somethin' somethin.'
If you want the branch to look great from any angle, you can add blooms to the other side of the lights, too.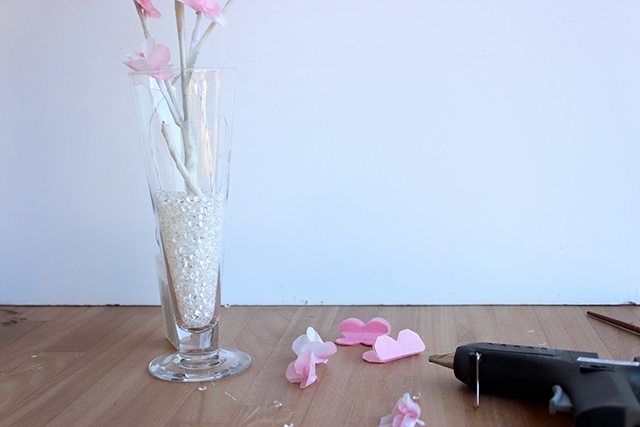 5.   Fill a vase with plastic diamonds. Bend the wire stem of the branch if you're using a short vase like I did. Stick the branch down into the diamonds to hold it in place. If you have a big enough vase, you can tuck the battery part into it. Mine was a little too small, so I just hid it behind the vase.
*This is the part where Fatty McGut decided he didn't like this particular vase. His solution was to knock it onto the concrete porch, leaving yours truly to sift through shards of glass and zillions of tiny fake blings.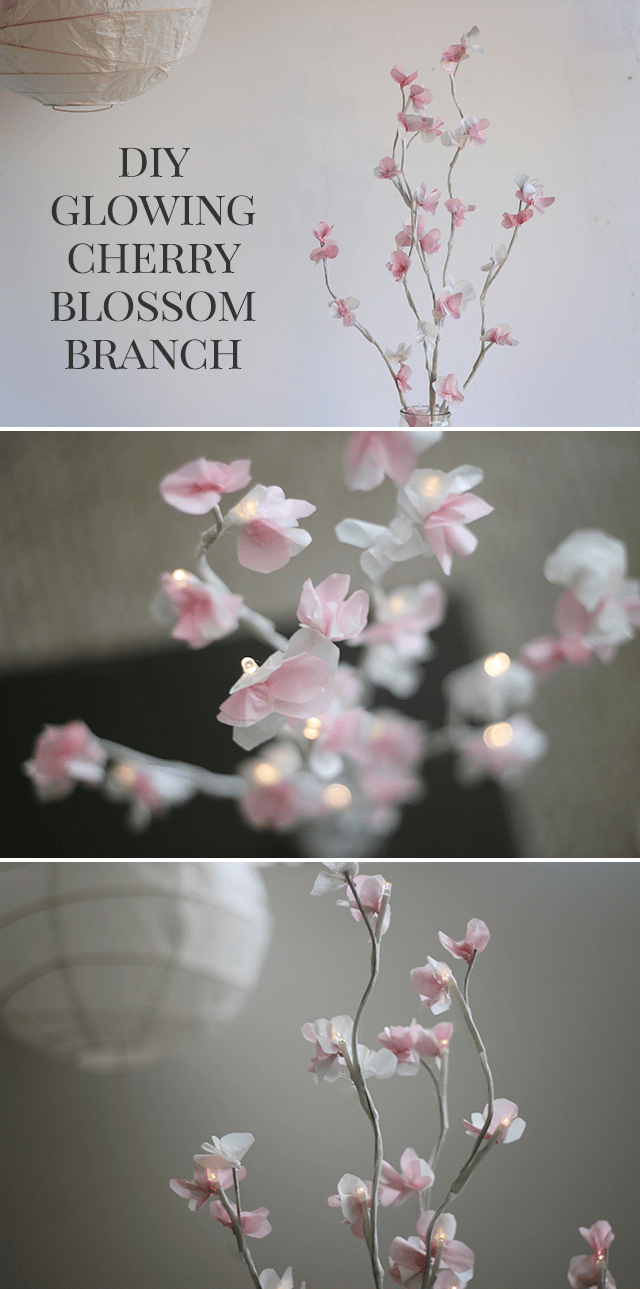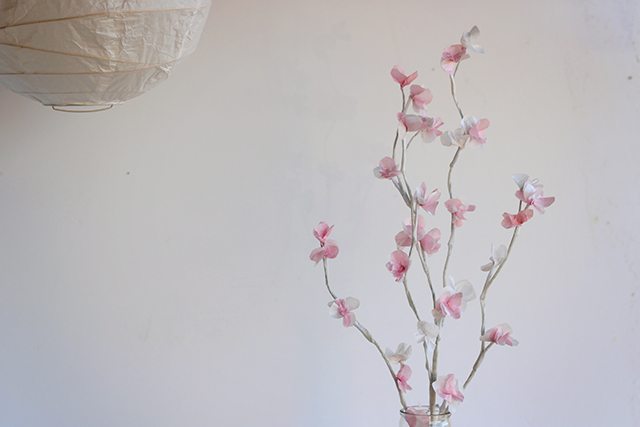 Disclosure – certain links within this blog may result in a commission for Shrimp Salad Circus. I wrote this post as part of a paid campaign with David Tutera and Blueprint Social. The opinions in this post are my own. See my disclosure statement for more information.