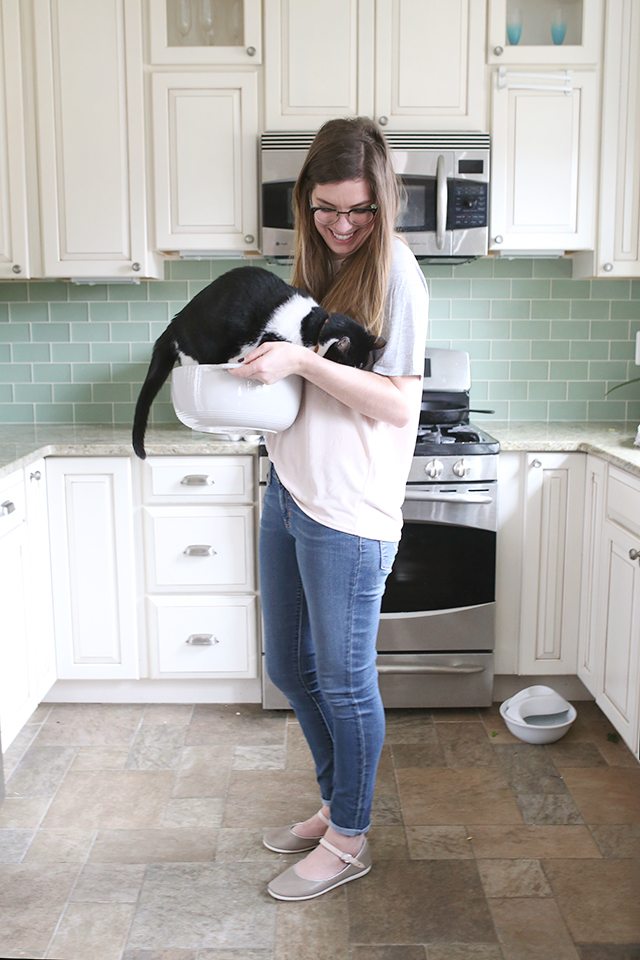 Is there something in particular that you just love to cook this time of year?
For me, it's really any sort of comfort food: mashed potatoes, cookies, mulled wine (yes, that's a food, people!), roasted squash, etc. Or Rosco, when he won't quit photobombing me while I'm trying to take pictures. He cooks up particularly well in a nice Dutch oven… 😉
I love having a kitchen that's well-stocked with high-quality essentials but not cluttered with a ton of unnecessary single-use gadgets. So I got together again with denim brand Signature by Levi Strauss & Co.™ for another giveaway. This time somebody will win my Cooking Enthusiast Wish List, valued at $800+!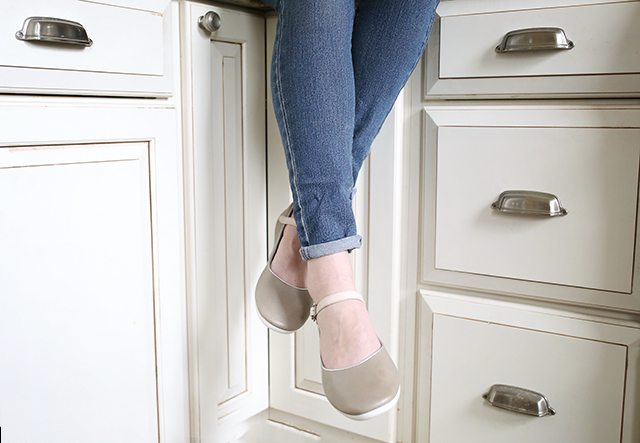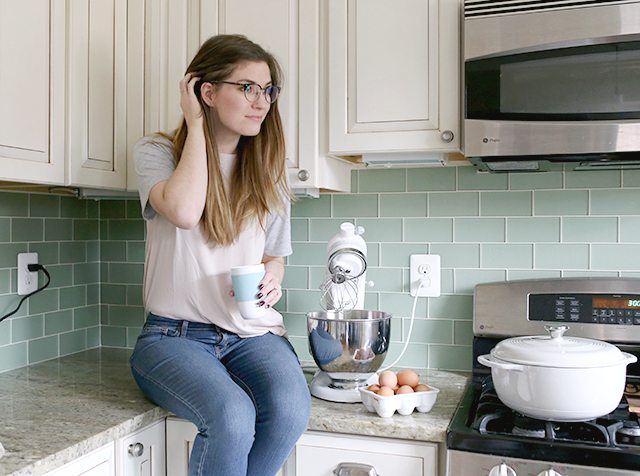 Keeping Things Cute in the Kitchen
Supportive flats and my Signature by Levi Strauss & Co.™ jeans with a soft, comfy tee make for a pretty good home chef's uniform, if I do say so myself. The Modern Skinny jeans that I'm wearing here are perfect because the Simply Stretch denim moves with me while I'm bending to pull things out of the oven or doing bizarre gymnastics to grab items off the top shelf.
Plus, since they don't gap out at the waist, I'm not worried about showing anything off to dinner guests when I bend to load the dishwasher after dinner! 😉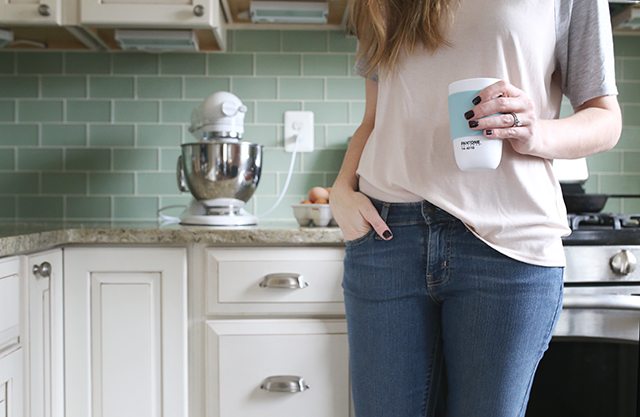 That's what makes these jeans so great – they're comfy enough to wear while cooking all day, but stylish enough to easily transition into a nicer outfit for entertaining guests.
While I don't match my outfit to my kitchen accessories (I swear!), it is fun to have a pretty apron and nice oven mitts, don't you think? Since it gets so hot in the kitchen, I tend to go for comfy clothes. I stick to affordable items that are high-enough in quality, and these jeans hit all those marks, which is why I'm such a fan.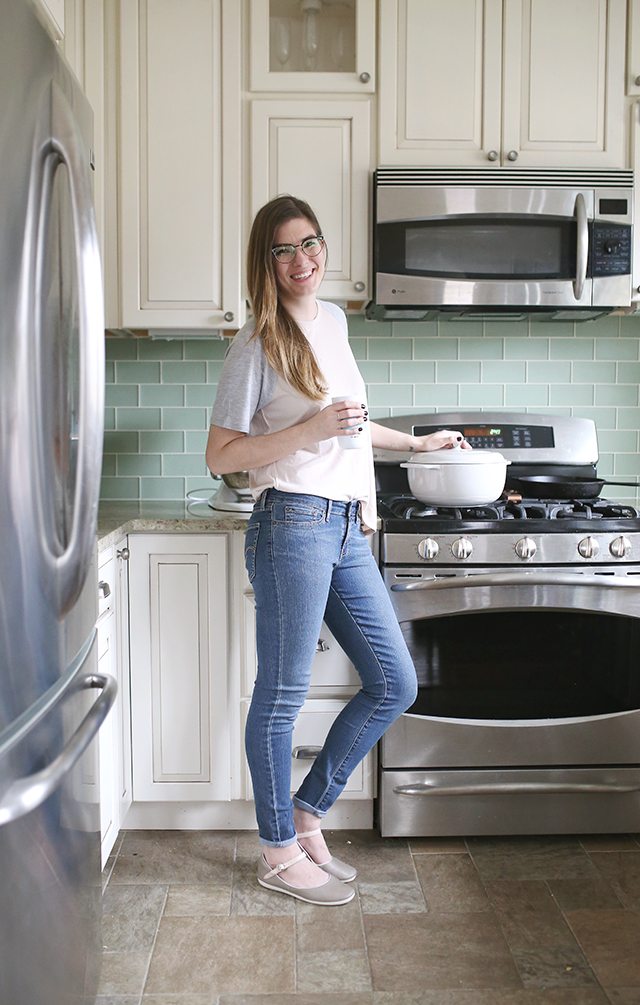 My Cooking Enthusiast Wish List – Win the Whole Thing!
My wish list includes all my favorite things for making magic in the kitchen along with a cute, comfy outfit to pair with my Signature jeans. Find out how you can win the entire list at the end of the post!
Signature by Levi Strauss & Co.™ – Modern Skinny Jeans – $18.00
Scandinavian Gatherings: From Afternoon Fika to Midsummer Feast: 70 Simple Recipes & Crafts for Everyday Celebrations – $19.42
OXO Good Grips – Stainless Steel Scraper and Chopper – $9.95
Pantone Universe – Classic Cup With Silicone Band – $9.07
Honla Kitchen – Honeycomb Silicone Oven Mitts – $16.97
Maison d'Hermine – Birdies on Wire Apron – $19.99
Calvin Klein – Suede Detailing Shirt – $15.87
RV – 4 Hammered Copper Moscow Mule Mug – $24.94
Wilton – Stainless Steel Cookie Scoop – $7.96
Anchor Hocking – 1.5-Gallon Montana Jar – $14.89
Sarah Hearts – Nonstick Sunflower Silicone Baking Mat – $15.99
KitchenAid – Artisan Series Stand Mixer – $279.99
OXO Good Grips – 9-inch Tongs With Silicone Heads – $16.79
Glasslock – 18-Piece Oven-Safe Storage Set – $38.83
Hamilton Beach – 10-cup Food Processor – $29.85
Wilton – 55-Piece Master Decorating Tips – $37.09
Culinary Couture – White Stainless Steel Bread Box – $29.90
Microplane – Premium Zester & Grater – $9.94
ThermoWorks – Super Fast Digital Thermometer – $77.79
KitchenAid – 3-Speed Immersion Blender – $59.99
Better Bento – Lunch Box – $18.95
Clarks Women's Feature Film Mary Jane Flat – $34.95
Lodge – Enameled 6-Quart Cast Iron Dutch Oven – $69.60
How to Win It All – Valued at $800+
Now through Monday head over to the Signature by Levi Strauss & Co.™ Facebook page to for a chance to win my Cooking Enthusiast Wish List.
One winner will get everything above, worth more than $800!