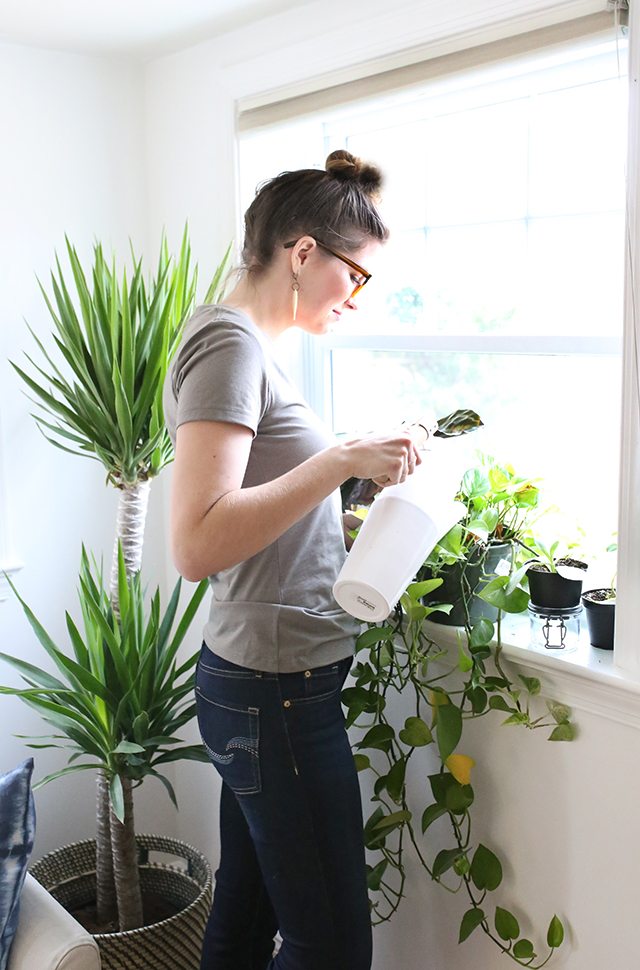 You guys all know that DIY is where my heart is.
It's what keeps me up at night (in a good way); ruins every manicure I've ever had (when is acrylic paint under your nails going to be in fashion, by the way?!); and keeps me creative and inspired almost every day.
That's why my last wish list giveaway with my partners at Signature by Levi Strauss & Co.™ is the one I'm absolutely the most excited about! If you've been coveting the supplies from all my tutorials, then you're in luck. I picked out some of my all-time DIY favorites — and some fun new goodies, too!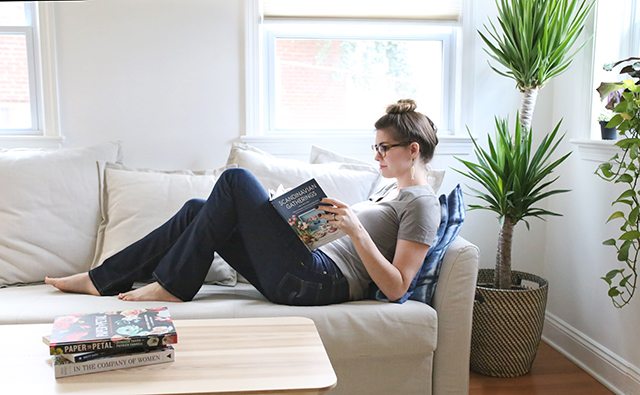 Keeping Things Cute in the Kitchen
I take a very hands-on approach to DIY and definitely don't stop at my calligraphy or painting projects. Lately I've been doing some light woodwork and building furniture, which has me oh-so-gracefully crawling all over the floor chasing rogue screws and bolts.
This is one area where I absolutely won't compromise. My quick, 30-minute projects have a habit of morphing into hours-long endeavors, and being uncomfortable while I'm trying to be creative makes me grouchy. So as soon as I get home from work and shift gears, I change into comfy outfits like a soft tee and my Signature by Levi Strauss & Co.™ jeans. And if I'm working inside, I'm almost always barefoot. Helps the creativity flow, I guess? 😉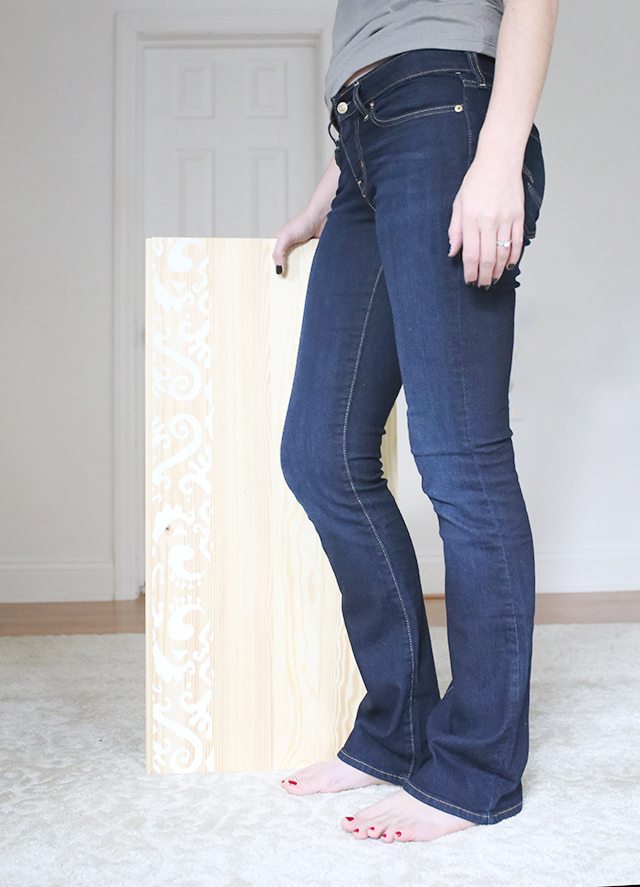 I'm a major multitasker, though, so I often need to wear something that can transition to whatever's next on the to-do list. Last weekend, for example, I was hunched over a tarp on my studio floor stenciling this cabinet door. Being a perfectionist and making sure everything was just so, I lost track of time and had to rush out the door to teach a Christmas ornament workshop. Fortunately, my Modern Bootcut jeans with Simply Stretch denim moved with me flawlessly from paint-covered to presentable. Plus, I think this dark Greystone color looks really polished with a pretty sweater!
My gel mani was a whole different story after the painting though…
The other thing I love to keep around for these transitional outfits is a nice work apron with several pockets. The apron keeps my clothes from getting covered in paint while still looking stylish. Then, when I'm teaching a workshop, I can stash different supplies everywhere — my phone fits in a jeans pocket and doesn't feel bulky or leave a weird gap because they're so stretchy, and then paintbrushes, scissors, and even Christmas ornaments for my students can go in the apron pockets!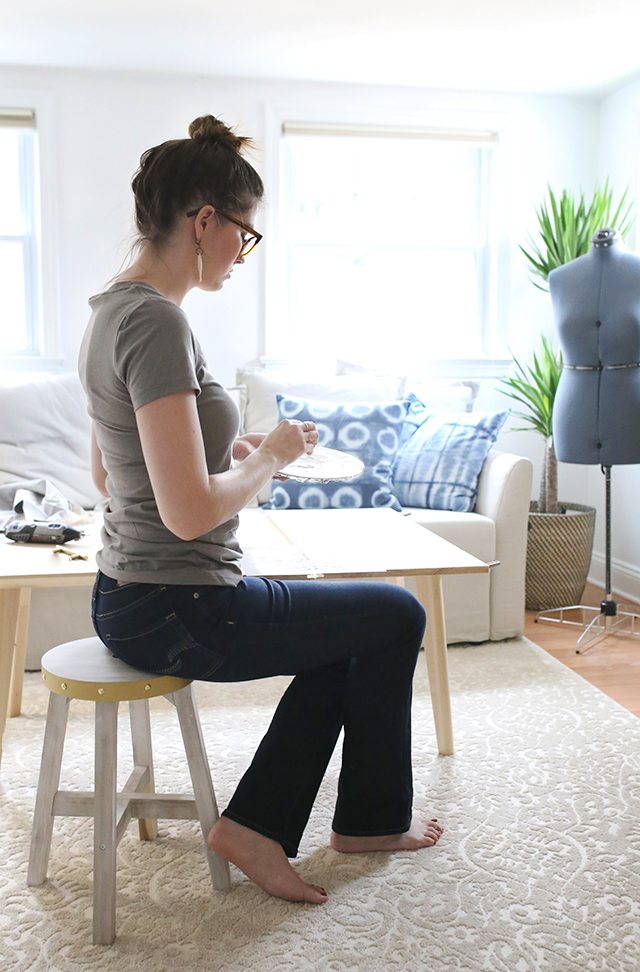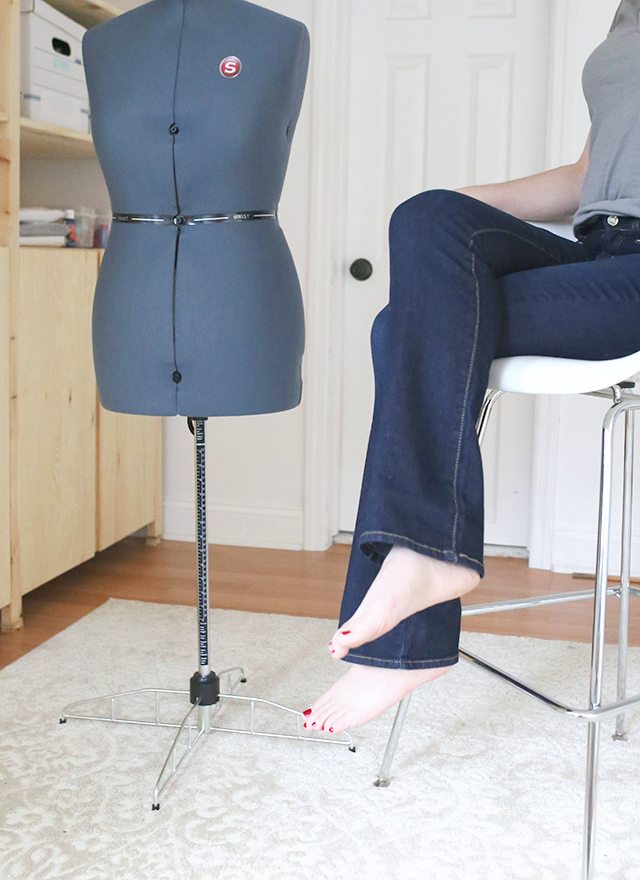 My DIY Queen Wish List – Win the Whole Thing!
My wish list includes some of my crafty must-haves and some fun new items I've had my eye on for ages. It's especially perfect for somebody looking to get into sewing or paper crafts! Find out how you can win the entire list at the end of the post!
Signature by Levi Strauss & Co.™ – Modern Bootcut Jeans – $19.94
Rebecca Thuss – Petal to Paper: 75 Whimsical Paper Flowers to Craft by Hand – $19.52
Dremel – Rotary Toolbox With 50 Accessories – $125.99
Lia Griffith – Crepe Paper Folds – $18.99
Dritz – Serrated Tracing Wheel – $4.19
Hedley and Bennet – Stingray Brushed Cotton Apron – $89.99
Saral – Graphite Transfer Paper – $10.89
Brother – 1034D Serger With Differential Feed – $209.00
Cavallini – 12 Assorted Curiosities Rubber Stamps – $12.25
Estone – Wooden Box of Alphabet and Number Stamps – $11.99
Singer – Adjustable Dressform – $118.99
ColorBox – Classic Pigment Queue Ink Pad Set in Woodgrain – $6.74
ColorBox – Classic Pigment Queue Ink Pad Set in Jelly Beans – $5.99
ColorBox – Classic Pigment Queue Ink Pad Set in Rainforest – $6.53
Clementine – V-Neck Tee 3-Pack – $26.00
Birch Street Clothing – Swedish Sewing Transfer Paper – $15.47
Martha Stewart Crafts – One-Inch Circle Punch – $7.98
LolliZ – Set of 70 Gel Pens – $11.99
Gingher – Dressmaker's Shears – $23.91
OLFA – Rotary Circle Cutter – $14.00
Krylon – Brass Metallic Spray Paint – $10.96
Cavallini – 100+ Assorted Vintage Style Stickers – $12.47
Cubecraft – Set of 11 Paintbrushes – $15.95
Jessica Simpson – Mandalaye Rubber Ballet Flat – $48.27
How to Win It All – Valued at $800+
Now through Friday head over to the Signature by Levi Strauss & Co.™ Facebook page to for a chance to win my DIY Queen Wish List.
One winner will get everything above, worth more than $800!