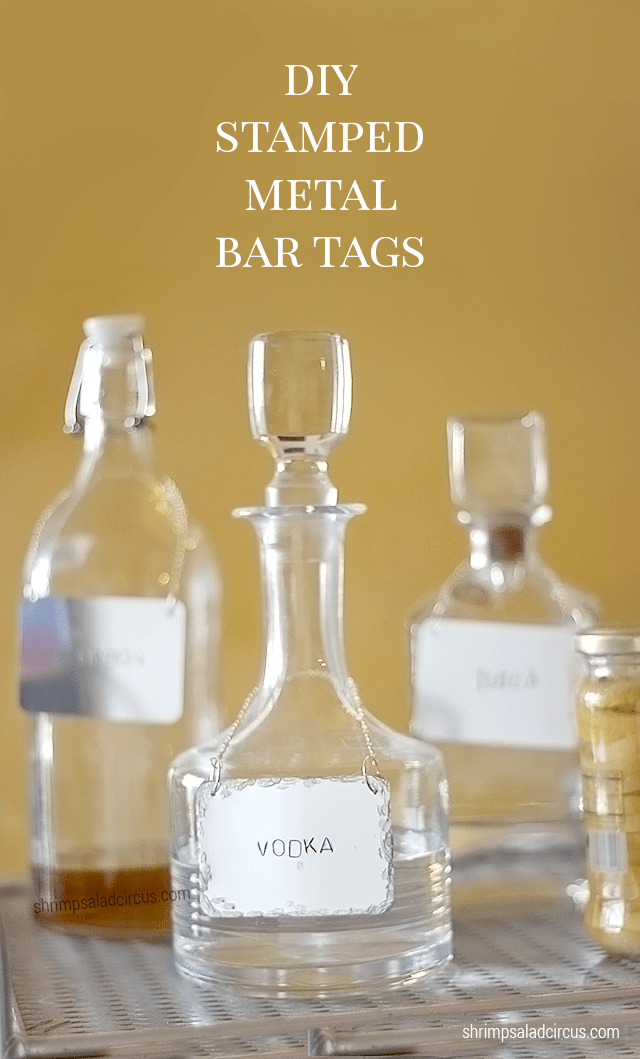 I got this vintage bar cart a couple years ago before our wedding, and I convinced Andrei that it just had to stay around after the big day. Naturally, I hoarded picked up a few vintage bottles and decanters to complete the look.
Since we aren't keeping the booze in the original bottles, I wanted some way to tell it all apart. I haven't done a metal stamping tutorial in awhile, and I can't think of a better reason to break those tools back out!
Read on to learn how to make these DIY stamped metal bar tags – the perfect bar cart addition or a great gift for the guys in your life!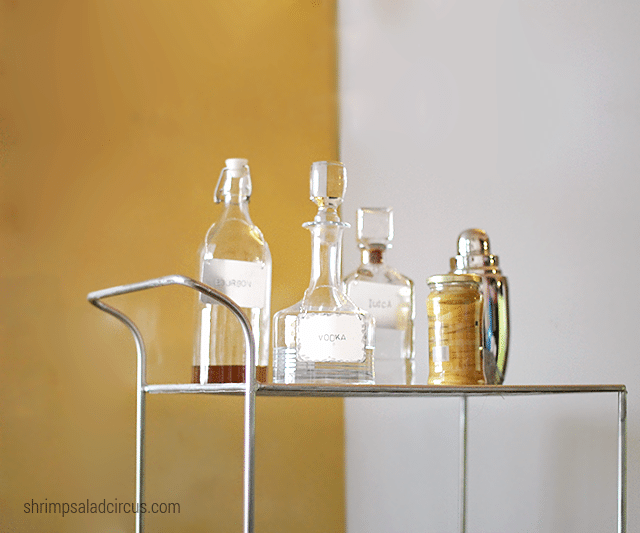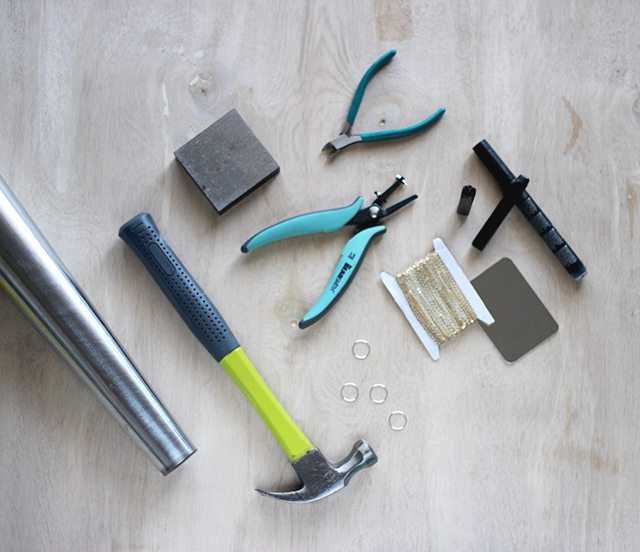 Supplies
Silver jump rings
Hammer
Black marker or paint
Paper towel
Optional: bracelet mandrel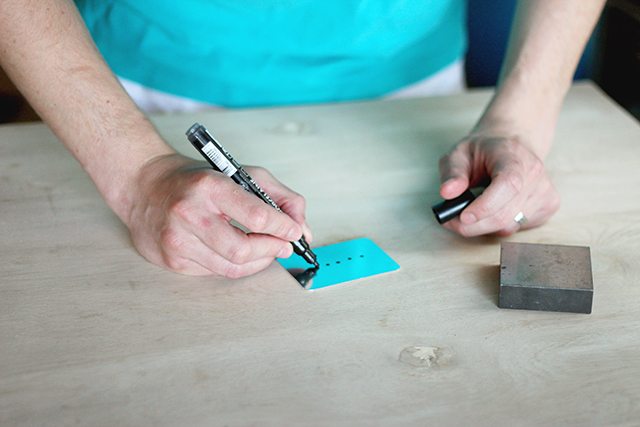 1.   First things first. If your aluminum card blanks have a plastic film on either or both sides, peel it off.
2.   Count how many letters your word has. For this one, we're going to stamp "vodka."
V-O-D-K-A – five letters.
Best spelling question ever, right? Now mark five evenly-spaced, centered dots to give yourself a guide for where to stamp.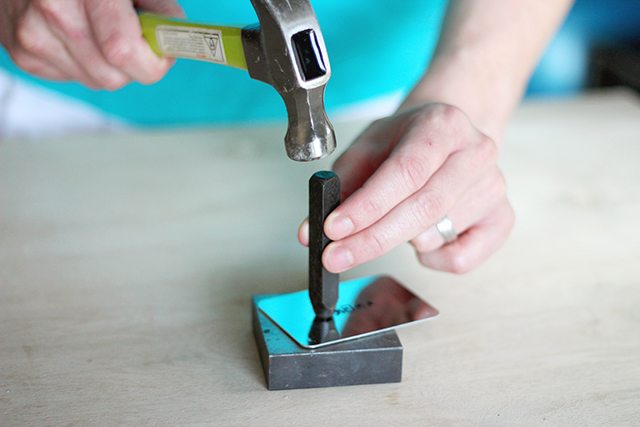 3.   Position the first letter over the first black dot, and firmly whack it 2-3 times with the hammer.
Continue across the dots until you've spelled the entire word.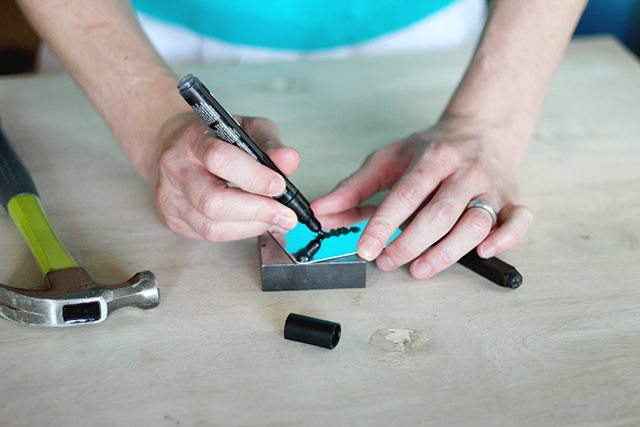 4.   Using a permanent market, paint pen, or black paint, fill in each letter completely, and let it dry.
This step is important so that you can see the letters later. Otherwise, they'll just blend in with the shiny metal background.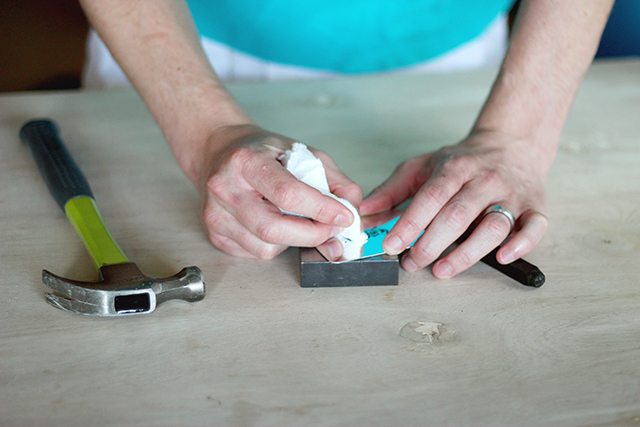 5.   Once the paint or marker has dried, use a paper towel to scrub off the surface of the card. Clear away everything on the surface, leaving only the paint (or marker) inside the letters.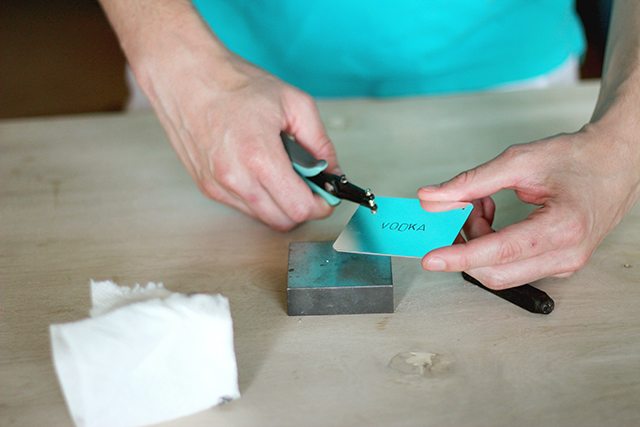 6.   Use the metal punch to make a hole in the top two corners.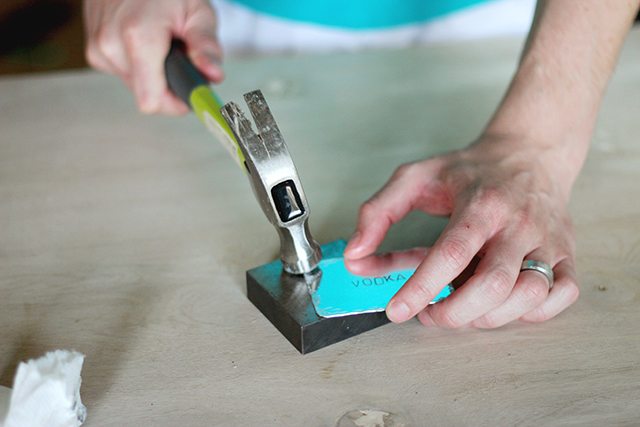 7.   This step is optional, but if you want to give the card a bit of a textured border, use the hammer to whack out indentations all the way around the edges.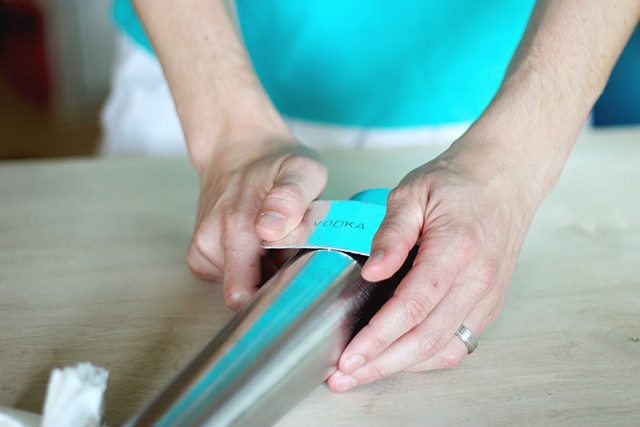 8.   You can skip this step if your liquor bottles are square or rectangular, but if you're using round bottles, you need to shape the tag to fit it a bit.
Aluminum is a very soft metal, so you can bend it by hand. Place the card  lengthwise over an oval bracelet mandrel or something else cylindrical in shape, like a rolling pin. With very light pressure, gently bend the edges down just a little bit.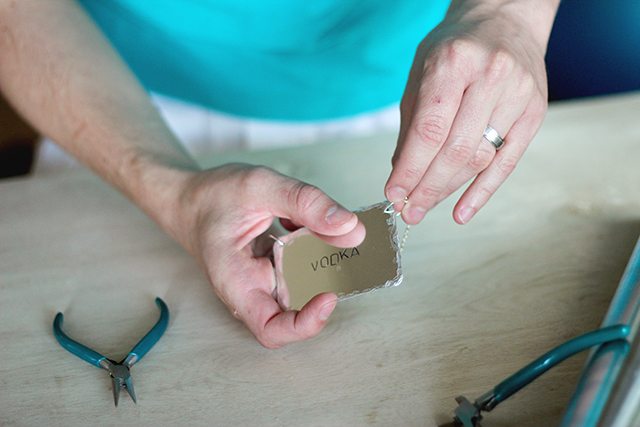 9.   Thread a jump ring through each of the two corner holes, and then thread those onto a short length of silver chain, about 5-7 inches, depending on the way you want it to hang on the bottle.
Start longer, since you can always shorten it if it's too long.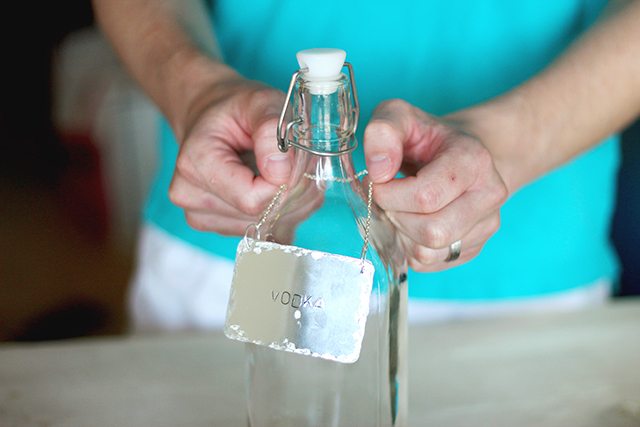 10.   Hang the tag on your bottle to check placement. If you like the way it hangs, you're done!
If it seems too low or is sliding down the bottle, trim the chain a bit until you're happy with the end result. Voila!