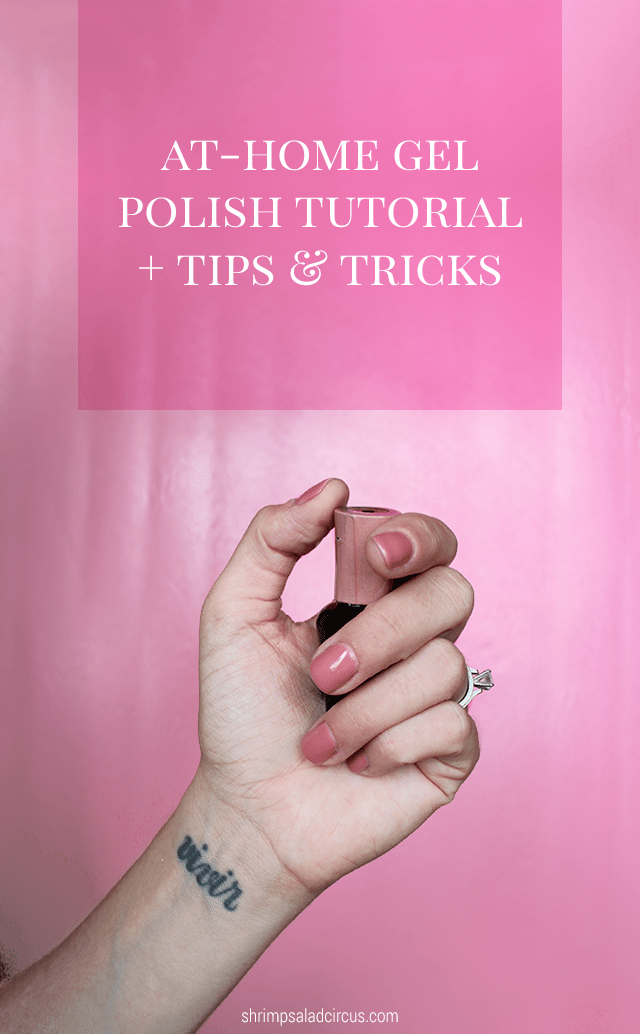 My mom gave me a home gel polish kit for Christmas a couple years ago, and I've been using it pretty regularly ever since. I like having the flexibility to choose my own colors, designs, etc., and even though gel polish costs a good bit more than regular, it's still a lot more affordable than twice-monthly gel manicures.
Over the course of all my home gel polishing – for myself and for friends, I've learned a few things that'll help you make your mani last longer and go on smoother.
Today I'm sharing Gel Polish 101, so it's just the basics, but I'll be back soon with fun gel mani variations. What would you like to see/know/do related to gel polish?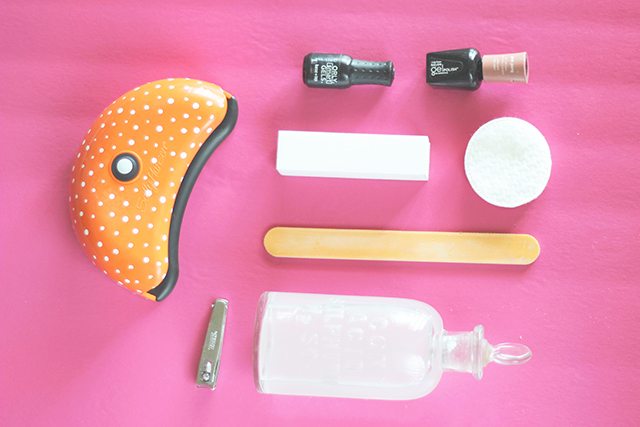 Supplies


Supply list contains affiliate links. It won't cost you anything extra, but I might get a small commission to help cover my blogging costs. Thanks for your support!
Gel polish starter kit – I use this one (on sale!).
OR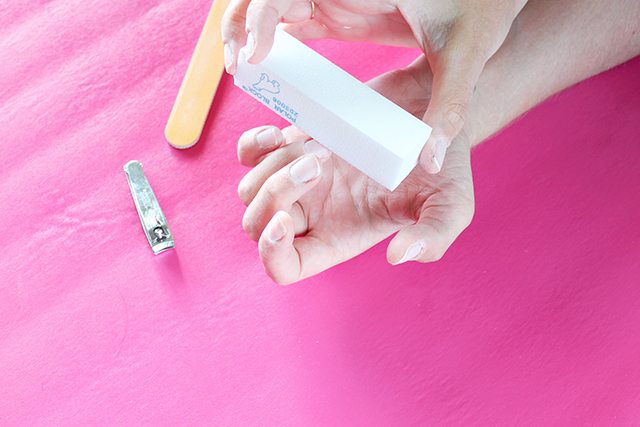 1.   Clip your nails down if needed. File them into the shape you want, and then really thoroughly scuff up the surface just a bit with a buffing block. Gel polish won't stay very well if your nails are super smooth.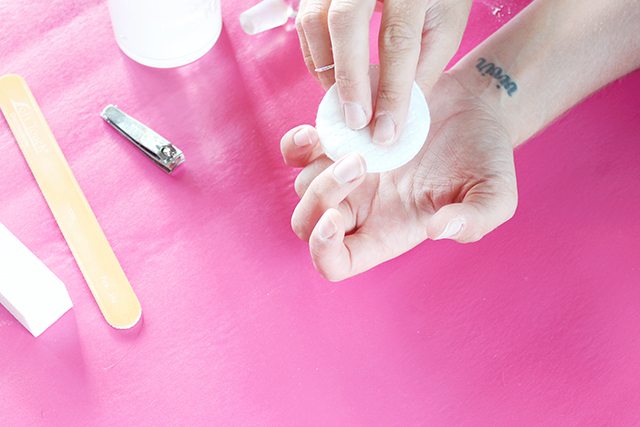 2.   Use regular 'ole drugstore rubbing alcohol to scrub off your nails and cuticles. This gets rid of the oils and filing dust and let's the polish really stick.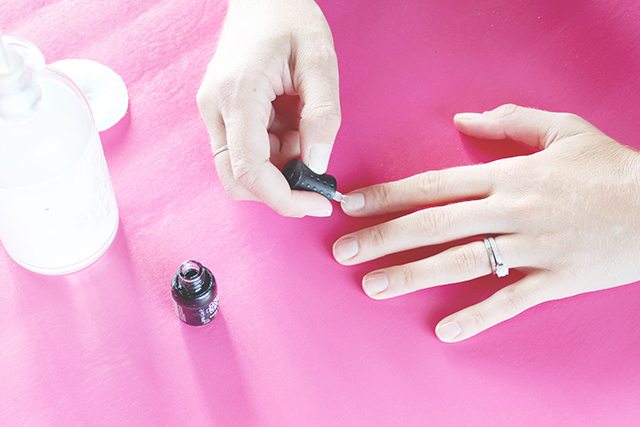 3.   The first thing to keep in mind before you start polishing is that it's easiest to do one hand at a time. So we're going to do the following steps for one hand and then we'll switch and do the other.
4.   Apply a thin, even coat of the base/top gel to one hand. Try to paint over the free edge of the nail just a bit, too.
Tip: Paint down to just above the cuticle. If you touch the cuticle with polish, it'll peel away much sooner.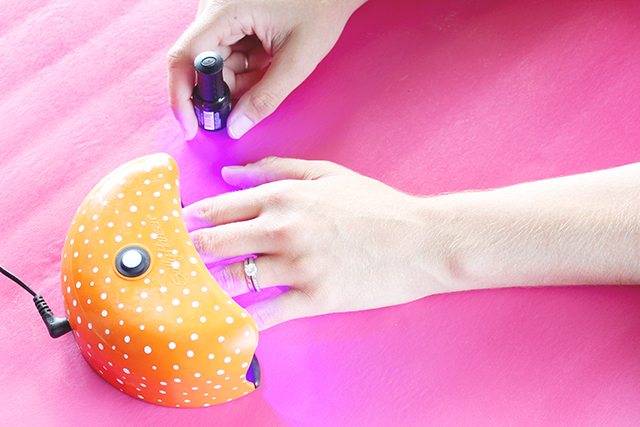 5.   Stick your nails under the LED light to cure. You'll probably have to do your thumb separately, depending on the light you have. You're ready for the next step when the light shuts off automatically.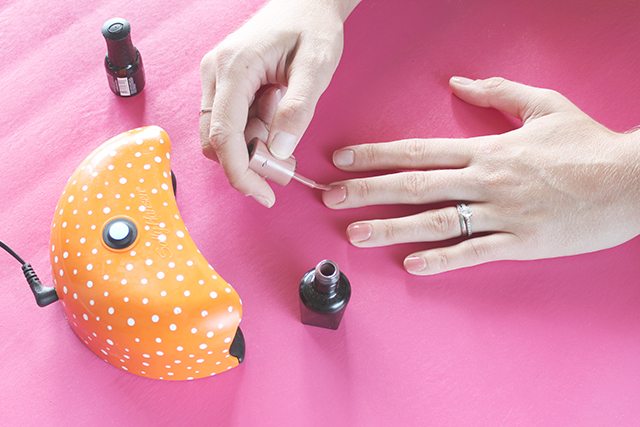 6.   Paint on a thin, even coat of gel color. Paint over the free edge of the nail a bit.
Tip: The wonderful thing about gel polish is that it doesn't ever dry without the light. If you mess up and paint your cuticle or the top or edge of your finger, just use a cuticle stick or one of your nails on the other hand to scrape it away. Always do this before curing under the light.
7.   Cure your first layer of color under the light.
8.   Add a second coat of color, and cure that under the light as well.
Tip: For the second coat of color, don't be afraid to mix it up a bit. You can add a coat of gel glitter or a sheer shimmer on top!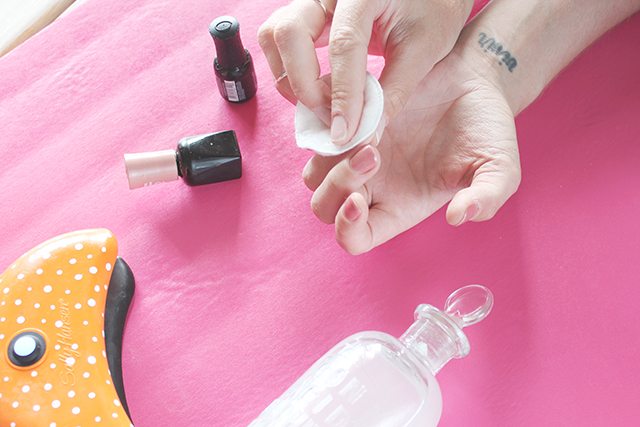 9.   Top off the color with another coat of the clear base/top gel, and cure it under the light.
Tip: Some brands make a separate base and top coat. I prefer to use a two-in-one because it's one less bottle to keep track of!
10.   Soak a cotton pad in rubbing alcohol, and really scrub each nail. This gets rid of the sticky residue that the gel polish leaves behind.
Tip: I know it seems crazy to attack freshly-painted nails with alcohol, but trust me. If you used the LED light, they're dry! A swipe with alcohol is necessary to give them that shiny, mirror-like finish!