Sara over at Alice & Lois made the absolute prettiest keychains earlier this month, and I loved them so much that I went out and bought rope the next day to make my own!
Now, that's usually where my crafty endeavors that aren't headed for blog posts usually end. I love a project; buy the supplies if I love love it; and then end up throwing the supplies into a storage box months later with no project to show for it. This one might be the start of a new era for me, though. I actually made this project! I'll try to keep sharing my adventures in making other people's projects every now and then — my little foray into Pinterest in real life, if you will! 🙂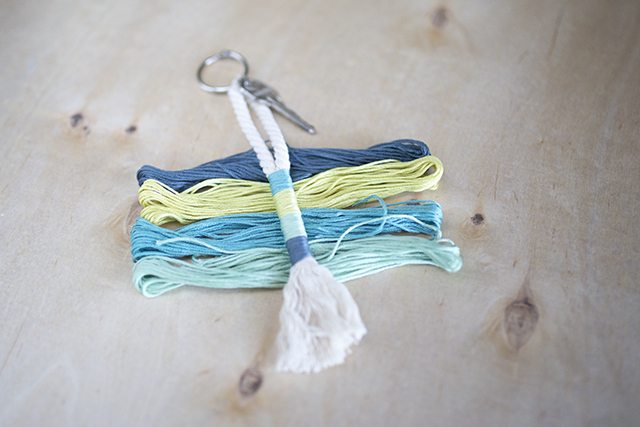 DIY Rope Tassel Keychain by Alice & Lois
Okay, so now it's your turn! Pin it, and then go read the full tutorial for the supply list and to make your own! After you pin it to save for later, scroll down and read the rest of my post here for a couple insider tips for making your own!
Tip 1. For a really nice, untangled fringe on the end of the keychain, run a fine tooth comb over it a few times!
Tip 2. If you don't have a good sized needle for the embroidery thread (forgot that on my shopping trip!), you can still tuck the tails under. Just tie a knot in the embroidery floss, and use the end of a smaller needle to poke the knot and floss end under the wrapped part!