This is a sponsored post written by me on behalf of IZZE for IZEA. All opinions are 100% mine. Scroll on to download your free citrus art to make your home even prettier than it already is!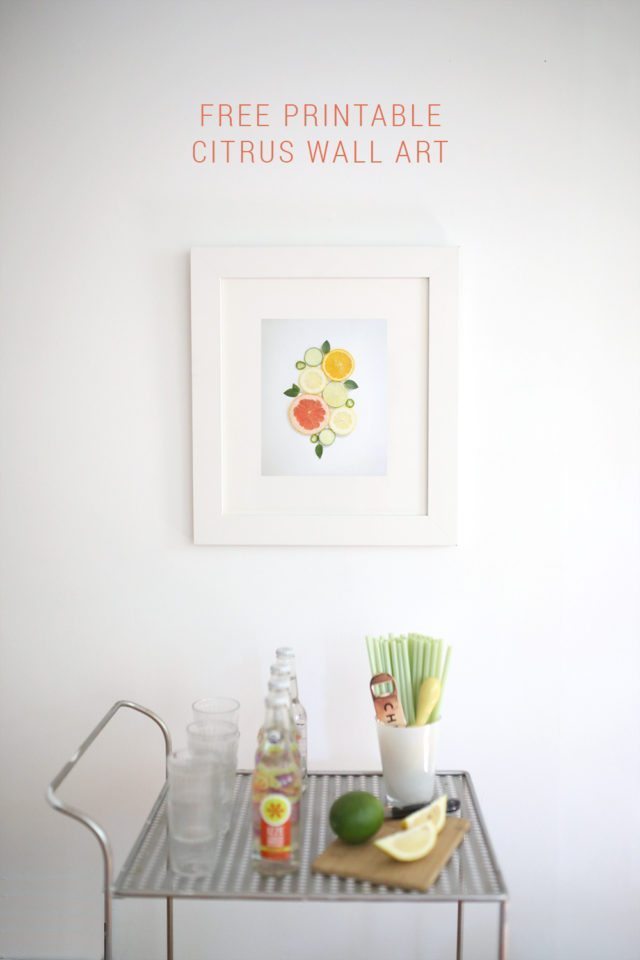 I know you're not supposed to play with your food once you've successfully exited childhood, but I'm calling "BORING!" on that rule. In fact, I had a ridiculously fun time making different patterns, designs, and shapes with some sliced up citrus last week, and I couldn't resist sharing some of it with you guys!
Free Printable Citrus Wall Art
This fun photograph includes some of my favorites: grapefruit, orange, lemon, lime, cucumber, jalapeño, and mint. It's fresh, summery, and if you stare at it for a few seconds too long, you can completely forget it's even fruit!
With the bright, natural colors and foodie theme, this piece of art would be the perfect complement to the decor in your kitchen, dining room, or a cute corner nook above a bar cart, like I did! Citrus, with all its little facets, is almost like nature's edible gemstones, so I'm convinced this print is the perfect way to make any room sparkle brightly!
Scroll down for the button to grab your free download. You can save the JPEG to your computer, and then have it printed at your favorite photo place! It's sized for printing as an 8″ x 10″ and would look phenomenal in a white frame with a white mat. Just look at these pictures for proof!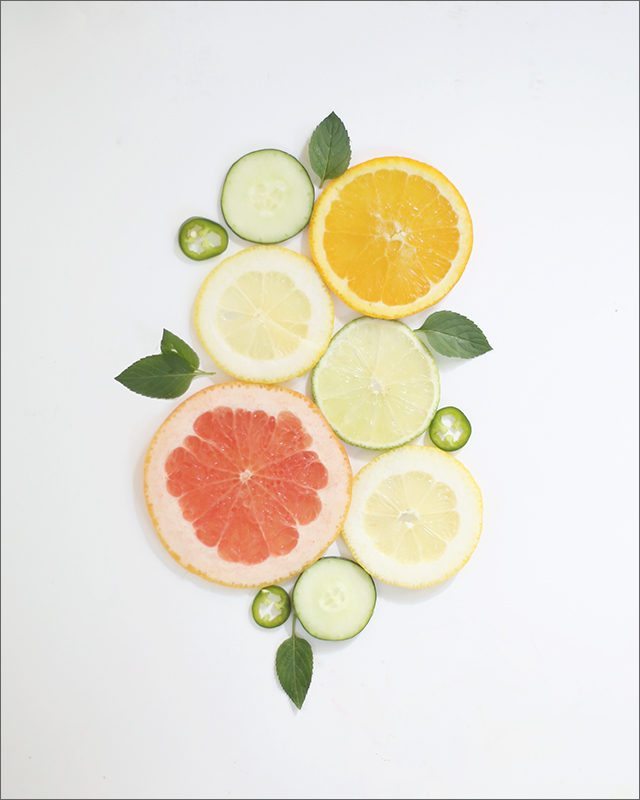 Stocking a Drink Station
Beverages
Now, we've finally gotten to the most important part of stocking a bar cart or cabinet — the drinks! Whether you drink alcohol or not, a bar cart is a great drink station for guests to gather round. If you're going for a booze-free version, your bar cart can be a drink station!
One surefire way to set your drink station/bar cart apart from the standard fare is to be mindful of what goes into it. Drinks are a sneaky way to accidentally pack in a lot of extra calories and unwanted ingredients. That's actually why I wanted to partner with IZZE for this project: their sparkling water is USDA Organic Certified and is made with organic cane sugar instead of anything artificial or syrupy. Bonus? It only has 10 calories per serving, so it's basically guilt-free.
Sparkling water – This is super refreshing with fruit ice cubes or garnished with slices of fresh fruit. Instead of sticking with plain old club soda, consider mixing things up with fruity waters, like IZZE Sparkling Water in Blackberry Pear, Mandarin Lime and Raspberry Watermelon
Soft drinks – Sodas come in a huge range of flavors, so don't be afraid to think outside the cola.
Juice – Individual bottles or cans are best in case your guests each want a different flavor. Fizzy juices are a fun twist on classic fruity beverages. 

IZZE has a sparkling juice (hellooo, 

sparkling citrus ginger!) which can be enjoyed as-is or paired with alcohol.
Flavored syrups – Keep simple syrup, grenadine, and flavored syrups on hand to add to your fizzy water or coffee. Be mindful of the ingredients if you're concerned with high-fructose corn syrups and artificial sweeteners. It's always best to read the labels!
Keep reading for my sources for the glassware and accents on my bar cart in this post!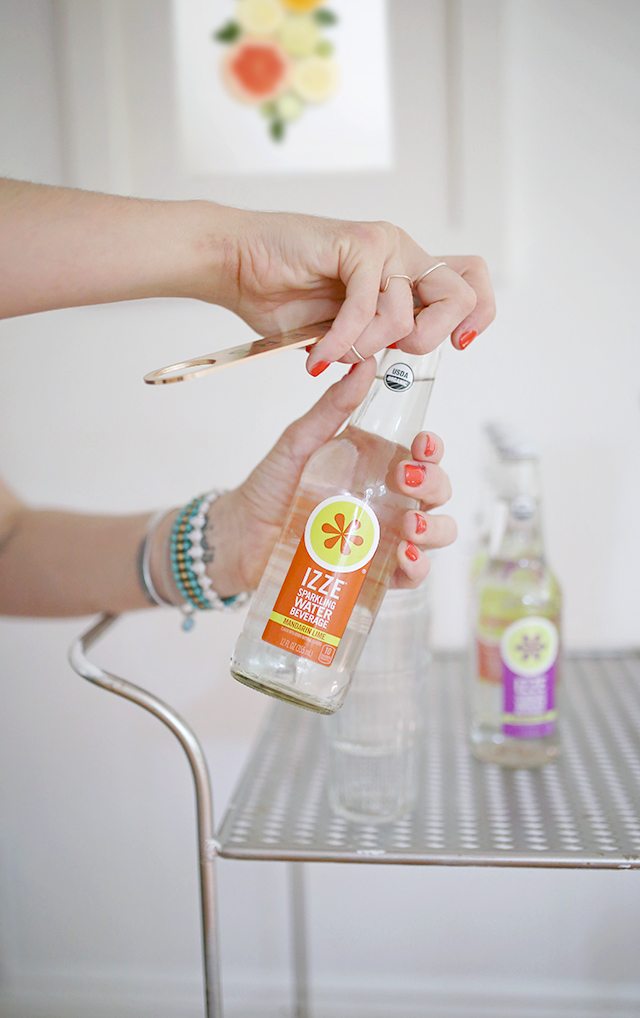 Glassware and Accent Elements
Now that your bar cart (or shelf or table!) has the perfect accent art, it's going to be one of the first things people notice when they walk into the room. If you want to turn it into a real conversation piece, don't forget to stock it with a few fun essentials. I chose elements that really complement my free printable citrus wall art, so I incorporated white, yellow, and glass.
Glassware – I used a set of small little drinking glasses from IKEA, but you can do some really fun mixing and matching with thrifted glassware!
Straws – There's something about a pretty straw that just elevates a drink to the next level, don't you think? Grab some in a color or pattern that complements your decor.
Bar tools – I added a cheery yellow citrus juicer (from World Market), but you could also do pretty metallic barware, like a zester, strainer, or stirrer. Consider using this as a fun pop of color, like copper or brass.
Bottle opener – Every bar should have a bottle opener and corkscrew. The one I used here (from Sisters of Los Angeles) is a real conversation piece with the giant "CHEERS" and the pretty gold color!
Textiles – A pretty tea towel or brightly-colored cocktail napkins could tie everything together and add another bit of interest.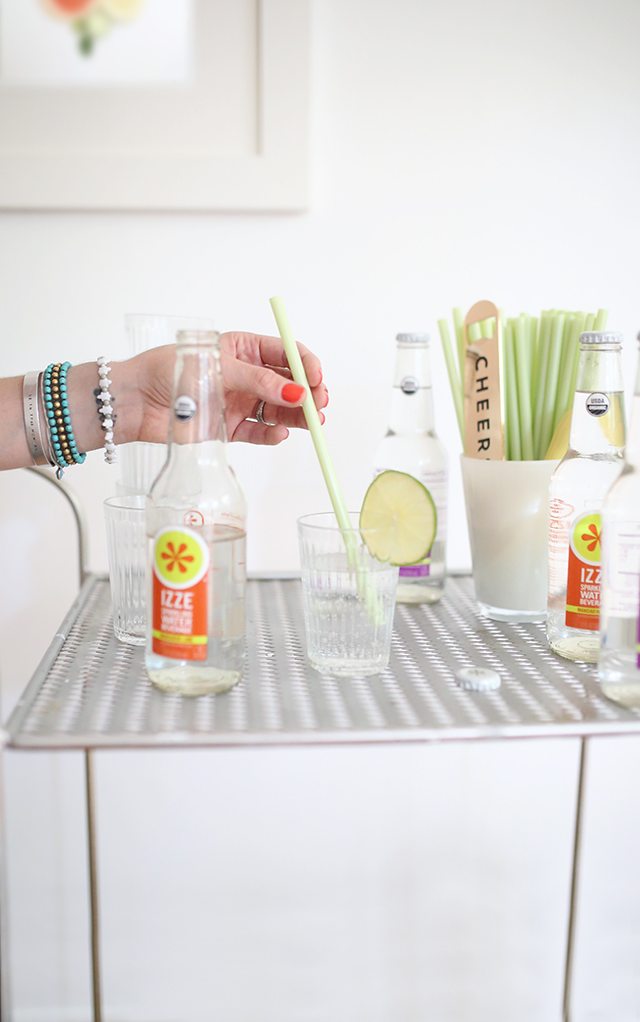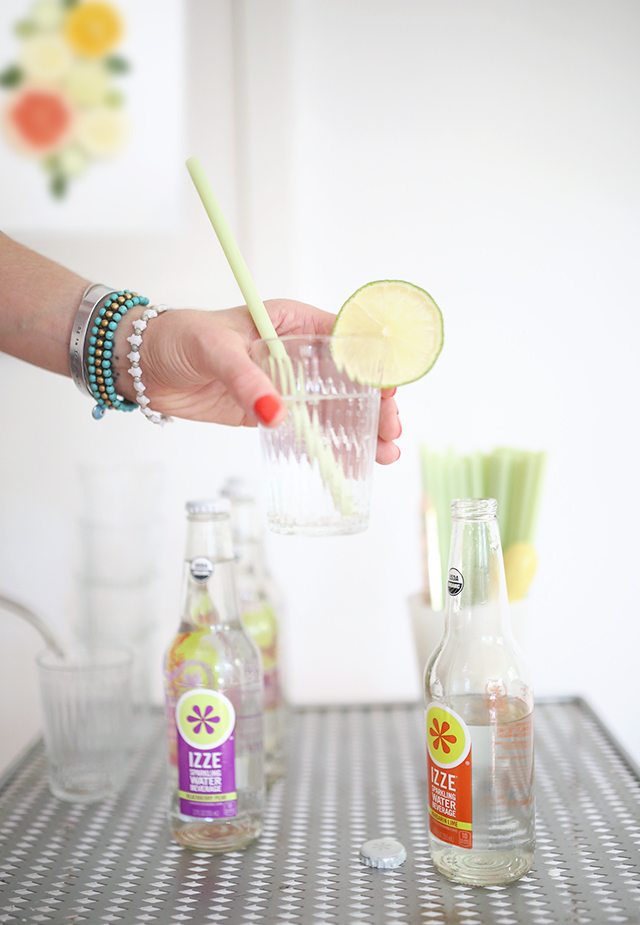 How do you #sparklebrightly when you're entertaining guests — or just enjoying your home?!