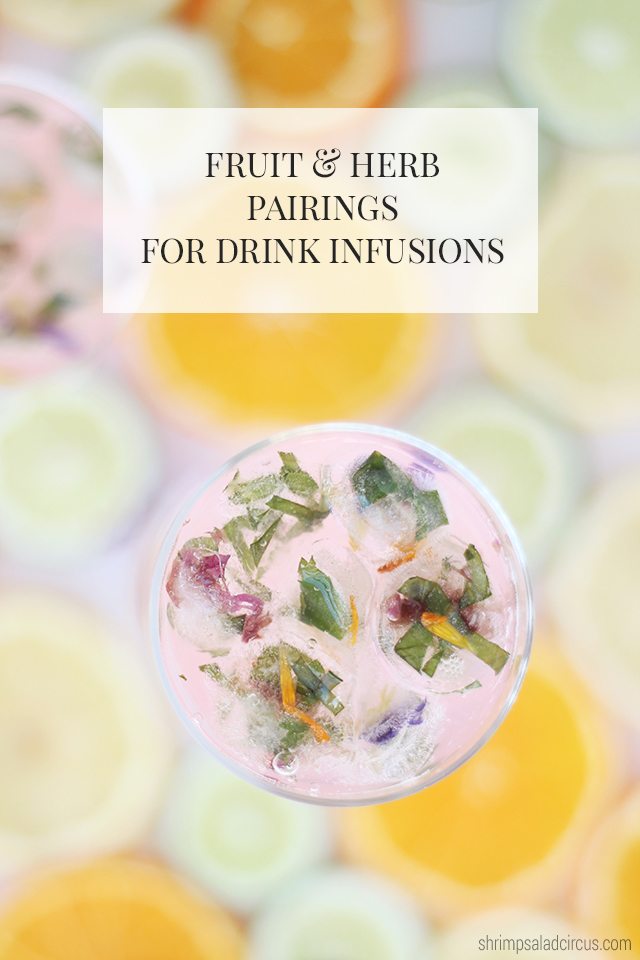 Despite the recent turn for the chilly here in DC, I've got summer and our upcoming tropical voyage on the mind. I'm dreaming of bringing my Crafternoons with my girls outdoors and spending evenings on the balcony catching a breeze and sipping something refreshing.
Since Palm Breeze is unabashedly targeting women, I have a fun invitation for all my DC ladies! Join us at Blo Blow Dry Bar in Dupont from 5-9 on May 11. Munch hors d'ouvres and sip Palm Breeze while getting a tropical beach-style blowout for free. RSVP here if you can make it, and come learn how to live like it's a vacay every day!
You can also enter to win a trip for you and a plus one to the Austin Palm Breeze + Blo Blow Dry Bar event here!
Flavored Ice Cubes and Infused Waters
Author:
Prep time:
Total time:
Ingredients
Water
Fresh basil leaves
Fresh citrus: orange, lemon, or lime
Edible flowers
Instructions
Strip petals from edible flowers and add to empty ice cube trays.
Chop basil leaves into strips and add to ice trays with flower petals.
Top with water, and freeze completely.
Add ice cubes to a citrus beverage or citrus-infused water.
Garnish with wheels of fresh citrus.
Pairing 1 – Infused Water
Before I get to the fun, boozy part of the post, I have to give H2O its due. Particularly because I'm not yet allowed to sip cocktails at work… 😉 Plus, sometimes all you want is an ice cold glass of water.
Start with a pretty, clear pitcher of water, and then customize:
Cucumber + Mint – Add about half a cucumber, very thinly-sliced. I like to leave the peel on to give some color contrast and keep the cucumber from falling apart. Be sure to wash the cuke thoroughly if you aren't peeling it. Serve with mint ice cubes.
Lavender + Blackberry – Drop a half cup of fresh blackberries into the water. Serve with ice cubes frozen with a mix of lavender flowers and lemon zest. Garnish with a sprig of lavender.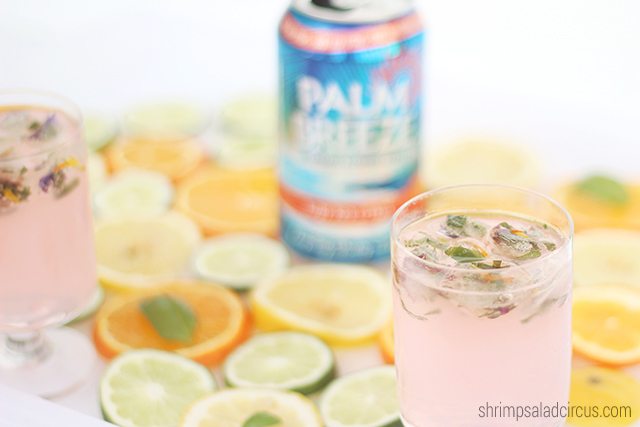 Pairing 2 – Palm Breeze
Palm Breeze is a flavored malt beverage, so it has a similar alcohol content to beer. Palm Breeze is for those who are: spontaneous, carefree, confident, social & stylish; who love to spend free time hanging with their girlfriends; love to travel, enjoy outdoor activities and soaking up the sun.
Basil + Citrus – Fill a tall glass to the top with basil ice cubes. Pour in a can of Palm Breeze Ruby Red Citrus. Sprinkle a little curl of lemon zest over the top, and garnish with thin citrus wheels.
Pineapple + Parsley – Fill a tall glass to the top with parsley ice cubes. You can be generous with the parsley when making these because it has a really mild, fresh flavor. Pour in a can of Palm Breeze Pineapple Mandarin Orange. Garnish with a sprig of parsley threaded through a super-thin orange slice.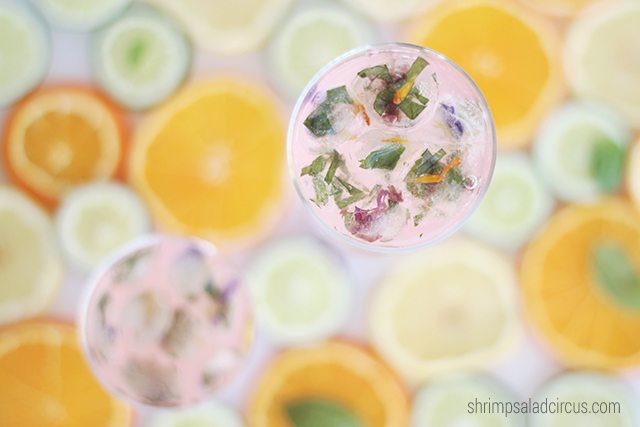 Pairing 3 – Iced Tea
I spent many years living in the South, but if you've never been to that particular segment of America, you might not realize that there's no such thing as "iced tea." It's not a thing because there is only Sweet Tea. Yes, that is intentionally capitalized. Because Sweet Tea is a way of life in the South, and it's equal parts charming and lethally-sweet.
For the purposes of these fresh, light fruit-herb pairings, let's start with a big pitcher of [un]Sweet Tea…
Peach + Thyme – Puree a large peach (or a couple small ones), and mix that into the tea. Serve with thyme ice cubes, and garnish with a thin peach wedge.
Mango + Cilantro – Stir a pureed ripe mango in the tea, and top with cilantro ice cubes. Sprinkle a few very thin slices of jalapeno on top, and garnish with a lime wheel. This combination tastes like summer in Costa Rica!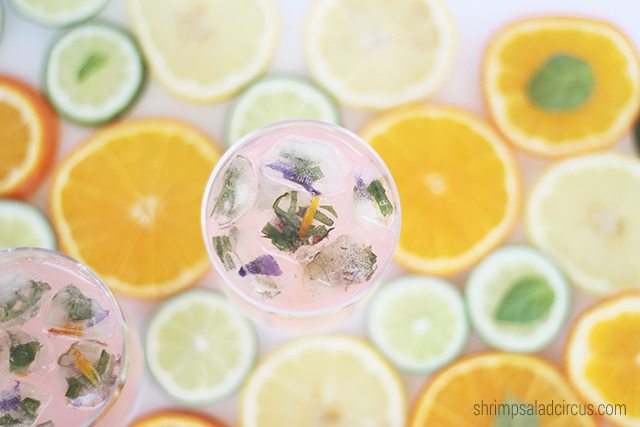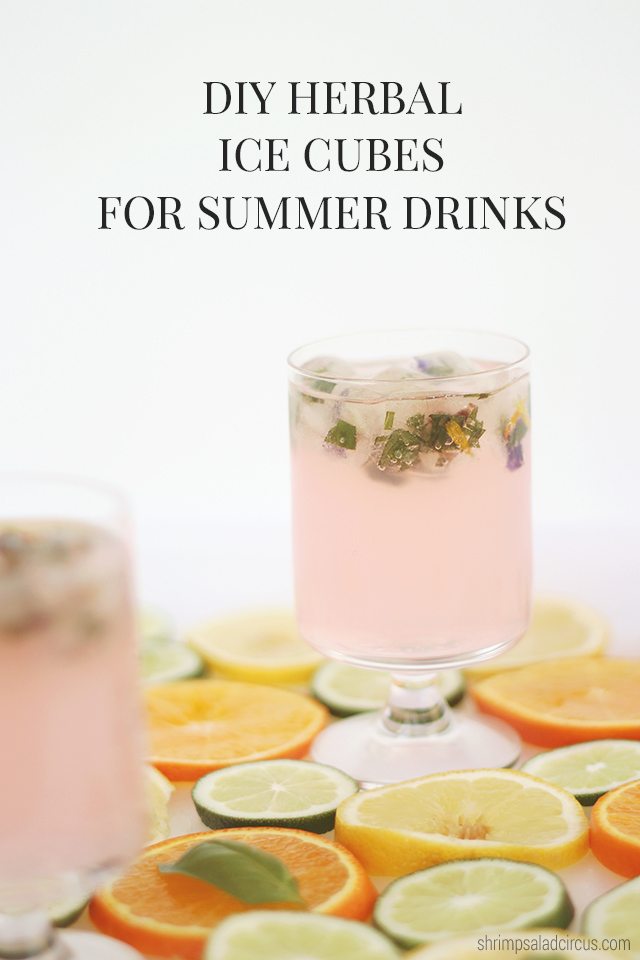 I was selected for this opportunity as a member of Clever Girls and the content and opinions expressed here are all my own.