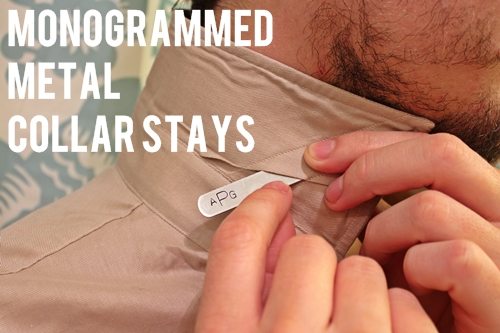 This is a great Father's Day gift idea. I realize, though, that I'm a bit late to the game for Father's Day, since you probably don't own all these goodies. Stock up to make this for your dad or guy's next birthday! Or practice now, and you'll be really stellar by next Father's Day!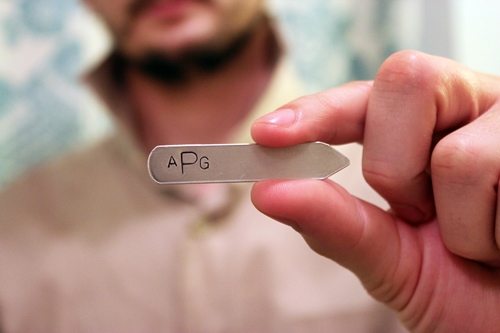 What the heck is a collar stay? These little guys, also known as bones, knuckles, collar sticks, and collar stiffeners, are the little things that keep the collars looking crisp at the corners on men's dress shirts. The shirts come with dinky plastic ones. You're going to blow his wardrobe out of the water by making a schnazzy metal set – custom-made just for him!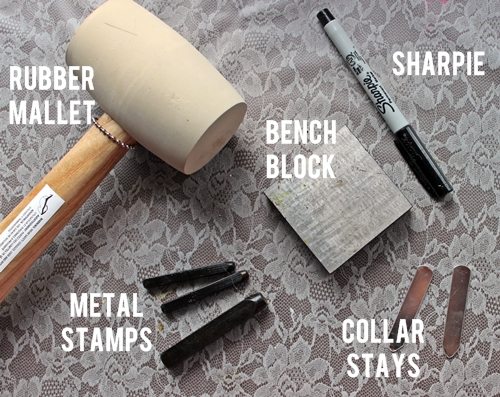 heavy rubber mallet

metal letter stamps in 1.5mm and 3mm (I got mine here.)
collar stay blanks (I got mine here.)

black permanent marker

cotton swabs

rubbing alcohol or nail polish remover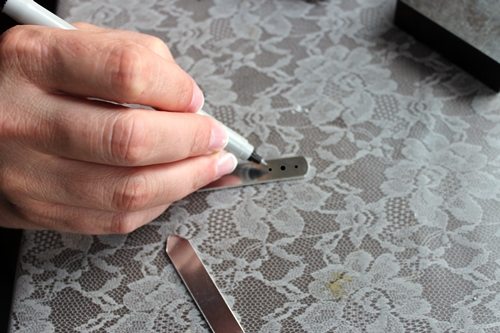 1. Using your permanent marker, mark three dots where your initials will be. Remember that the middle initial is larger than the other two, as the dots will serve as your placement guide.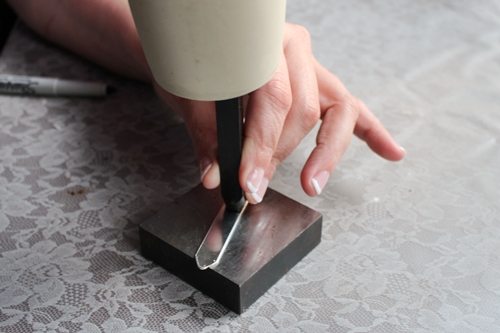 2. Place your first collar stay on the bench block on a hard surface, such as a countertop or heavy desk. Align your 3mm center initial stamp over the center dot that you marked in step one. Once you're sure that it's centered and facing the proper direction, give it three or four heavy blows with the rubber mallet. Try to hold the stamp steadily and evenly to ensure an even impression.
Now add the first and middle initials on either side of the last name initial using your 1.5mm stamps. Align them over the dots you drew in step one, being sure to leave enough space away from the large initial.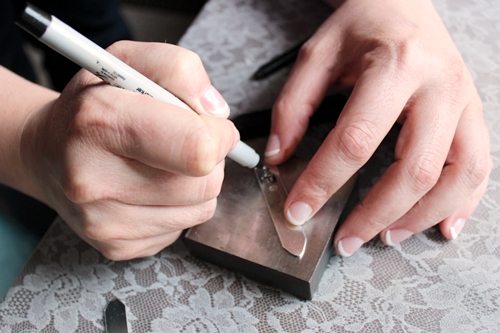 3. Color in the initial impressions with the permanent marker. Make sure to fully color each letter inside the stamped part. It's fine to go outside the lines; we'll take care of that in the next step.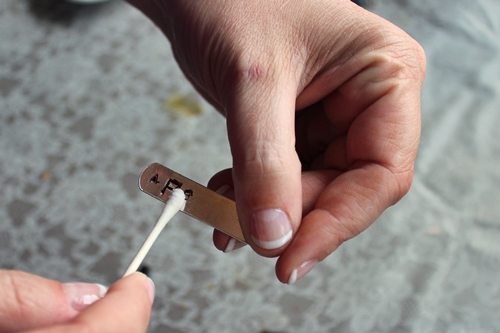 4. Dampen a cotton swab slightly with rubbing alcohol or nail polish remover. Rub it lightly over the surface of the collar stay. It will remove the permanent marker that got on the surface, leaving the black inside the stamped portion so that the initials stand out against the metal. If you use too much alcohol or press too hard, you'll take off the color inside the letters, too. If this happens, just color them again.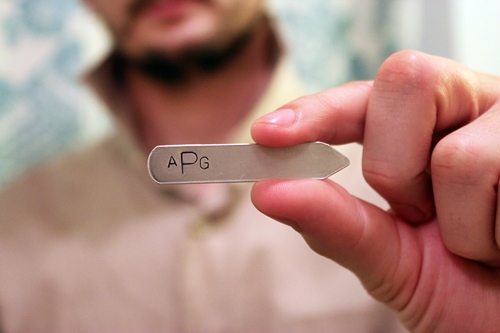 Now put them in a pretty little box, wrap it up, and hand it over! Every time he wears a dress shirt, he'll secretly know that he's way schnazzier than all the other guys – mission accomplished.