One of my resolutions this year is to find balance. At least a little bit, anyway. And this blog is a huge area where I've lacked that, working almost as much as my full-time day job to keep up with content, social media, photography, and all that jazz.
So late last year I decided to take a shot and see if anybody wanted to write for Shrimp Salad Circus. It was scary putting myself out there, and I held my breath the first day… And then you guys blew me away! I never expected to receive as many applications as I did, and reading every single one put a smile on my face. It was a really tough decision, but I'm so excited to introduce you to my first team of contributors!
Winter/Spring 2016 Contributors
Ana Fernandez – Carmela POP
Blog . Instagram . Facebook . Pinterest . Twitter
Ana is the baker photographer and full time eater behind the blog Carmela POP, a site dedicated to teach how to bake delicious, bakery style treats in no time. She is also a firm believer that sprinkles make everything better and that cupcakes totally count as breakfast.
Favorite post: Oreo Cupcakes with Oreo Buttercream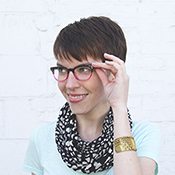 Marlene Sauer – Idle Hands Awake
Blog . Instagram . Facebook . Pinterest . Twitter
Paper-pusher by day and paper-and-everything-else-crafter by night, Marlene believes creativity is what life was made for. Her blog is a DIY blog for creatives in the making—because creativity is a skill that you can practice like any other. When not harassing the poor folks at her local craft store, you can find Marlene curled up with her three cats, a chai tea, and a library book. She also sometimes still has time for her husband, if he's holding up props during photoshoots.
Favorite post: How to Make a Totally Removable Honeycomb Wall Decal

Stephanie Studer – LifeCreated
Blog . Instagram . Facebook . Pinterest . Twitter
Stephanie is an Arizona resident who owns her own small business & blog all about providing custom styling and photography for businesses, photographers, event planners and other bloggers. Being a mom of 3 little girls surely keeps her busy at home, but she loves to share her passion for beautiful shots and fresh style with others. As a family, Stephanie loves to play outside and spend a lot of time crafting or making yummy food to eat.
Favorite post: Lifestyled Details: 2016 Photography Journey