In case you weren't aware, the 141st Kentucky Derby is coming up on May 2. The Derby is that shindig that shot gaudy hats and the mint julep straight to world-fame. Problem is, I hate bourbon, so I've never much enjoyed a mint julep. Sarah and I decided we hadn't baked together in far too long, so she suggested these mint julep cookies that she dreamed up last year, and I was sold right away.
How do you enjoy these cookies, exactly?
Tune in to the Derby.
Put on a massive hat with lots of flowers.
Eat some cookies.
Pick the horse with the cutest name. Or the grey horse. I'm going with Frosted this year, because cookies.
Eat some cookies.
During the 15 seconds that the horses "run for the roses," yell your horse's name like mad. Acceptable cheers include: "Knock 'em dead, Frosted!" and "Don't you dare let Carpe Diem pass you, damn it!"
If your horse wins, celebrate with some cookies. If it loses, drown your sorrows in some cookies.
Recipe below. Thanks so much to Sarah for baking with me again – always tons of fun! And by "baking with me," I obviously mean loaning me her cats and letting me eat the leftover raw cookie dough, of course.



Mint Julep Cookie Recipe
Author:
Shrimp Salad Circus
Ingredients
10 large fresh mint leaves
1¼ c (285g) confectioners' sugar
3 T bourbon
Instructions
Make the cookies as directed in the Martha Stewart Recipe (http://bit.ly/1IsHLuX). Allow them to cool on a wire rack for about half an hour.
While the cookies are baking, tear about ten large leaves off a bunch of mint. Roll them up together, and finely chop them with a sharp knife. Keep chopping until the pieces are about as small as you can get them.
Sift the confectioner's sugar into a small bowl. We muddled the mint with a bit of the sugar in a mortar and pestle to draw out the flavor, but if you don't have one, you can easily skip this step.
Add the chopped mint to the sugar, and stir it together with a spoon until well-mixed.
Drizzle the bourbon over the sugar mixture one tablespoon at a time, and whisk it in. You want the mixture to be pretty thick - somewhere between liquid and spreadable (photo 2 below). If it's too thick, add more bourbon a teaspoon at a time. If it's too thin, add more confectioners' sugar.
Once the cookies are completely cool, spoon some glaze onto the middle of each cookie. If it doesn't fill in by itself, gently spread it around a bit with the spoon. Spread it nearly to the edges of each cookie. The glaze will harden in about an hour at room-temperature.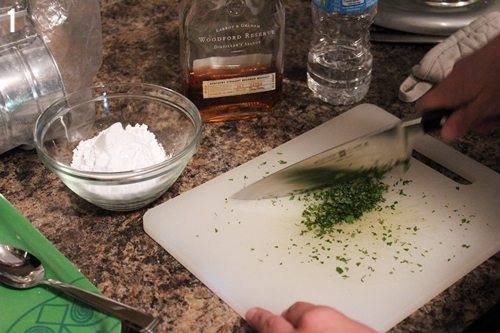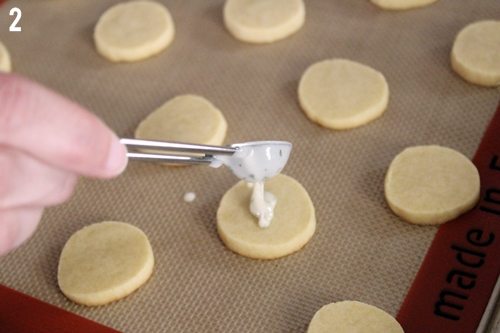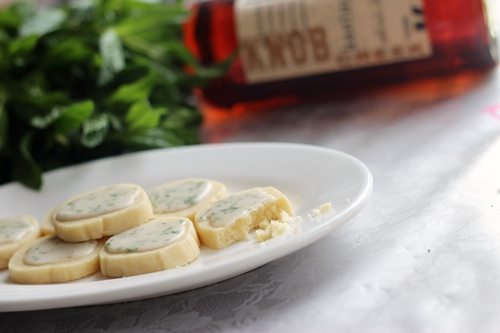 SUBSCRIBE NOW TO ACCESS MY FULL LIBRARY OF FREE DOWNLOADS!