Guess what, friends? I have the perfect project for you to get your money's worth out of those cheap Old Navy or Dollar Store flip flops (or the dollar store version, in my case), and they're probably even cheaper than normal, since summer is drawing to a close.
You can make super cute little flip flop coaster to outfit all your favorite margarita glasses – all for just a few bucks. These are foolproof, really. Just think about it – you're having a girls' day, serving up your killer secret margarita recipe. With these cute little accessories, the margarita glasses will be protected from bumps — and will protect your table from watermarks — no matter how many margaritas your lovely guests have enjoyed!Now read on to find out what exactly myDIY is and how you and your blog can get involved with the project!
For this project, I've joined up with Kira of Her New Leaf and Esther of Wholly Kao to co-host myDIY, an online crafting party that you're all invited to! Here's what Kira has to say by way of an introduction to myDIY:
One question I get asked all the time is, "How do you find inspiration?" And even though I know it's not what people want to hear, the 100% truthful answer is: everywhere! While I know that I am lucky to have been born into a family of creatives, I do think it is possible to learn creative skills. I have a friend who insists she has absolutely no right brain, and I really think it just isn't true! Crafty or artistic skills may not come naturally to everyone, but anyone can think creatively! So that is why I wanted to start myDIY!
myDIY is a collaborative online crafting party designed to inspire creative thought and interpretation. Each month, a material or topic will be posted along with several bloggers' interpretations of the idea. We offer our own projects to show how one idea can be interpreted in so many different ways! Here is where you come in. We invite you to gather inspiration from our projects and link-up your own interpretation.
myDIY is meant to be an exercise in creativity – rather than reading a tutorial online and executing it exactly as specified, we hope to truly encourage and develop creativity through this project! myDIY will take place over one month, allowing plenty of time for all of you lovely readers to post and link-up your own projects. At the end of the month, we plan to showcase our favorite projects.


Get the full tutorial, supply list, and instructions for joining the party!

Supplies
Flip flops – as many as the number of coasters you want and the cheaper, the better!

Strong, waterproof glue – like Gorilla Glue

Scissors

Permanent markers – helpful to have fine and broad tips

Something round to trace – a little larger than the bottom of a wine glass

Wide paintbrush

Waterproof sealant spray – I used this. 
Glitter spray – only necessary if you're of a sparkly disposition
Instructions

1.   First, pull the straps off the sandals, leaving just the base. Trace a circle with a permanent marker onto the widest part of each flip flop using your small[ish] round object. I recommend using the largest flip flops you can find so that you have plenty of room to trace your coasters. Using sharp scissors, cut the flip flop around your traced circles. If you got the really cheapy ones, they should cut really easily. 

2.   Doodle, sketch, draw, or trace a fun design onto your little circles using a wide-tip permanent markers. You can get really creative in this step with different colors of flip flops or markers. 

3.   This is where things can get a little bit confusing, so just try to refer back to the photo if you get mixed up. And keep a pair of flip flops that aren't torn to bits nearby for reference. First, snip off the part of the strap that pokes through the front of the shoe. You can see the cut off piece next to the handle of the scissors in the picture above. 
Using a straight pin, pin the middle of the 'v' of the strap onto the edge of one of your circles. Now flip the ends of the strap sides under, and pin them into a position that looks like a normal flip flop. This is the part where you might get confused if you don't have a pair of "real" flip flops nearby to use as a reference. 
After you've pinned everything in place, mark the ends of the straps where they meet the edges of the circle. Unpin everything, and snip off the ends where you marked them. They should cut easily. 

4.   I'm a firm believer in sparkle, so I sprayed some glitter onto the straps and the circles. This step is totally optional. Obviously, you're going to want to let it dry if you do this. 

5.   If you used glitter, then brush a coat of Mod Podge glossy onto the circles, including the edges, and the plastic straps. Let it dry. Once it's totally dry, spray a coat of clear waterproof sealant onto the pieces. This will keep it from being sticky and will protect everything from wet drinks. I used Thompson's Water Seal Spray. Again, let it all dry.  

6.   Now, once everything's nice and dry and unsticky (yes – unsticky), glue the straps onto the circles the same way you arranged them in step three. Pin them down so that they stay put while the glue dries. Leave them overnight. Or, if you're like me, blow dry them until they're no longer falling apart. 

7.   They're actually already ready to use, but if you want to give them a little something special, you can glue little rhinestones onto the 'toes,' like I did. 

Voila – now you have adorable flip flop coasters for less than five bucks.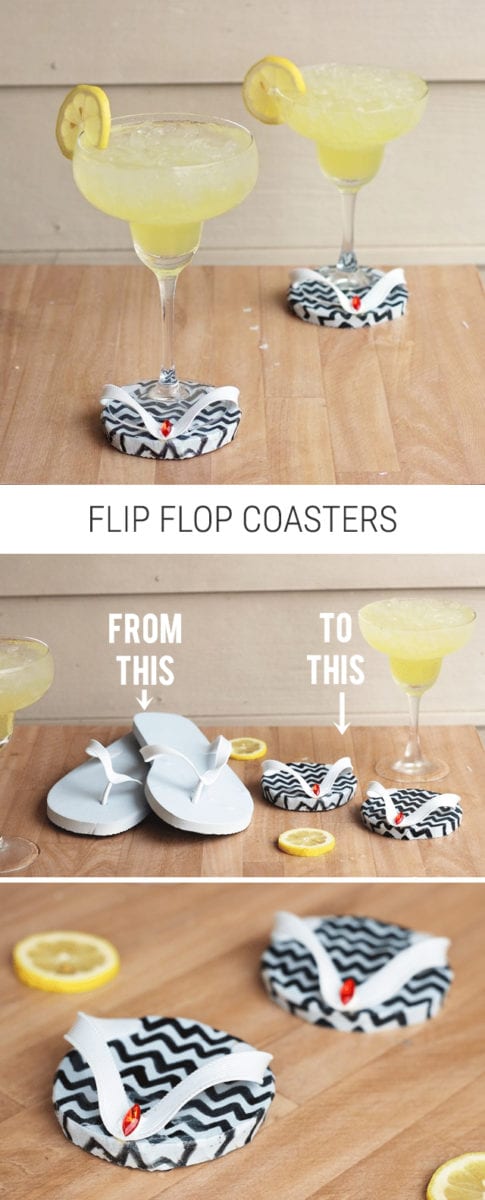 See all the hosts' projects here:
If you want to participate in myDIY, complete these steps:

1.   Create a DIY tutorial that uses or is inspired by flip flops, and post it on your own blog. If you don't have a blog, you can still participate by posting your project on one or more of our Facebook pages (Shrimp Salad Circus, Her New Leaf, Wholly Kao) and linking up from there.
2.   Include the myDIY button (code below), and tell your readers a little about myDIY.
3.   Add your link using the link-up tool below.
4.   Visit other participants' projects! Share the comment love, and find some great new blogs to follow.
Special thanks go out to The Ink Nest for sponsoring myDIY by donating their clip art for our graphics.

<center><a href="http://www.hernewleaf.com/2012/08/10/introducing-mydiy-an-online-crafting-party/" target="_blank"><img src="https://www.shrimpsaladcircus.com/wp-content/uploads/2012/08/myDIY_button_150x150-1.png" alt="myDIY" /></a></center>