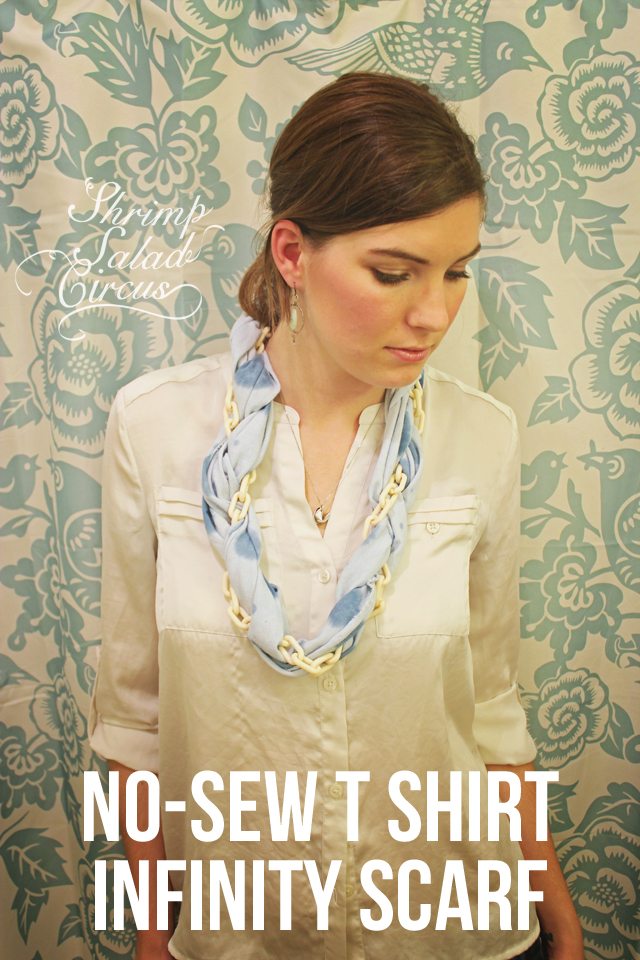 Project Reimagined is a diy challenge I created to inspire you to think outside the box and see things for more than what they are. For Project Reimagined, I've invited a handful of my favorite bloggers to take the exact same item and turn it into something new. This week's project starts with a plain white tee shirt, and it has been reimagined by Katie of Lemon Jitters, Stacie of Stars for Streetlights, and Lexy of The Proper Pinwheel.
My own project, an infinity scarf, was inspired by Valerie's
infinity scarf tutorial
last week. My variation is far less sophisticated, but it's a fun, quick, and easy project. You can turn a tired old white tee into a pretty, patterned infinity scarf without sewing a single stitch! Don't forget to check out all the other bloggers' tutorials for Project Reimagined this week!

This Week's Blogger Projects
Would you like to participate in Project Reimagined? Just create a blog or Facebook post with a picture of something you've created from a plain white tee shirt, and link it up in the comments on this post. I can't wait to see what creative projects you guys come up with!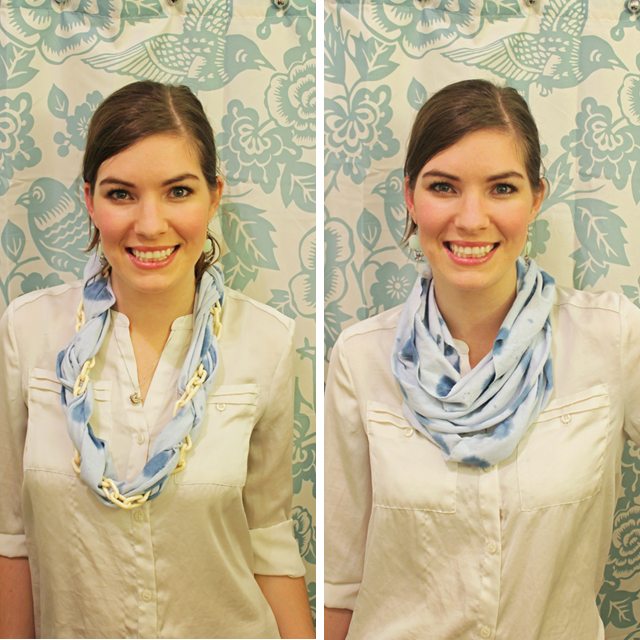 Read on for my full tutorial on how to create a no-sew infinity scarf from a tee shirt.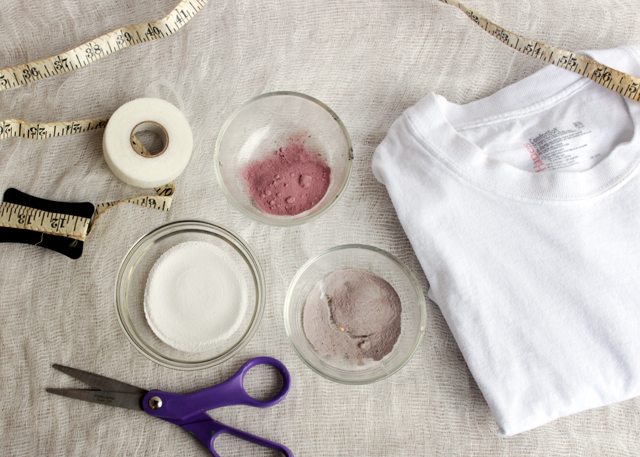 What You Need
White Tee
Dye
Scissors
Paintbrush and Foam Brush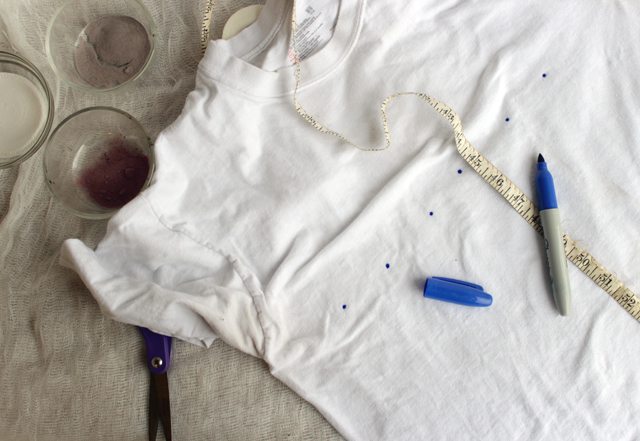 1.   This step is optional if you want a really clean, cut edge. Draw a few dots in a straight line from one armpit to the other.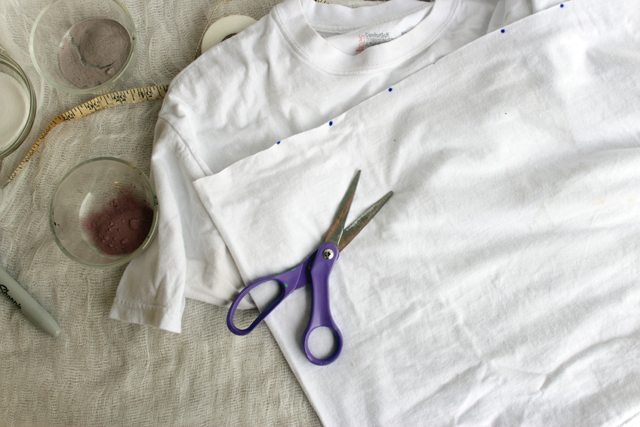 2.   Cut along the dots, through the entire shirt. If you want, you can actually just snip a hole at one armpit and tear straight across to the other. This will give you a little bit of a rolled edge, which is a nice finish. Cut or tear off the bottom hem as well.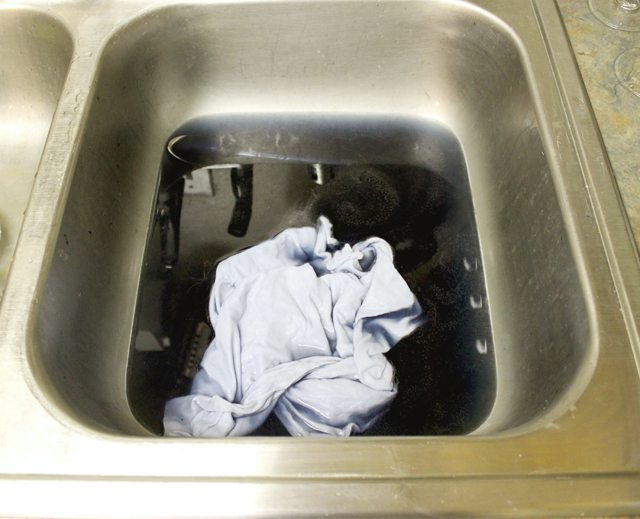 3.   Throw the whole thing into a really diluted dye bath according to the instructions with your dye. I used a blue-grey dye with a ton of water for a really light base color. Now wring it out really well.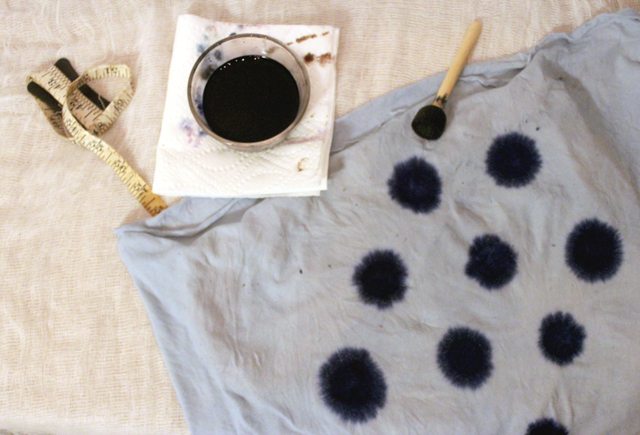 4.   Tuck a piece of tinfoil or wax paper in between the shirt's two layers to prevent bleed-through. Now, using a highly-concentrated dye solution, either in the same shade or a complementary color, paint on big polka dots. I used a round sponge brush, but you could just use a paintbrush. The color will spread a bit because the fabric is wet. It'll add to the handpainted look of the piece.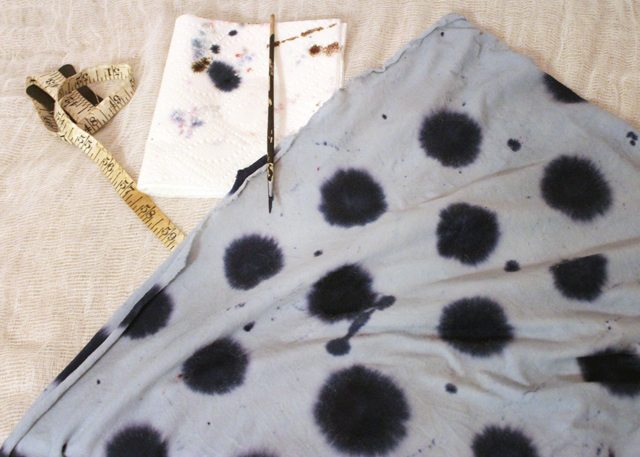 5.   Using a smaller paintbrush, make little tiny dots here and there. Do a random design for a nice, haphazard finish. You could even just drip or splatter the dye onto the fabric.
As soon as you're done, throw it into the washer by itself on cold, and then dry it in the dryer.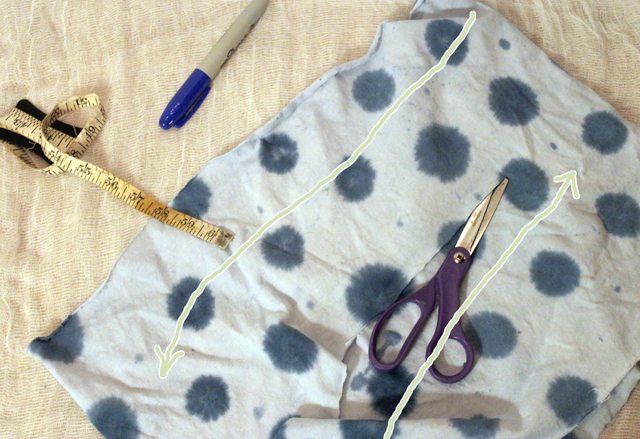 6.   Make a cut into on side of the fabric, curving in toward the middle. When you get to the middle, start cutting all the way around the loop, until you get to the spot where you cut. When you hit that point, curve the cut out toward the opposite edge. You should make one long cut that turns the loop into a long strip with two tapered ends. You can snip and tear if you want the rolled edges that I discussed in Step 2.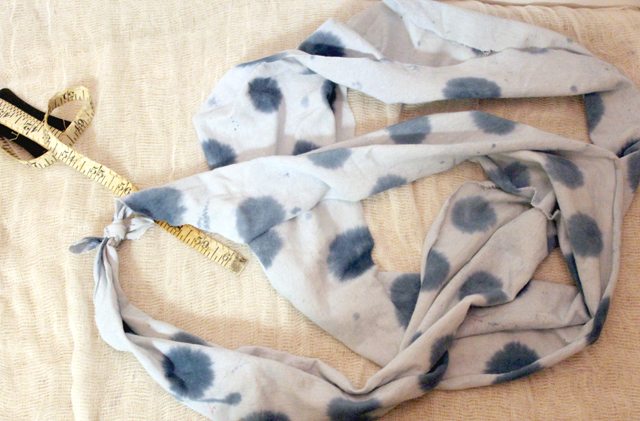 7.   Tie a double-knot in the pointed, tapered ends to make the fabric back into a long loop. Voila! You now have an infinity scarf that's long enough to loop around your neck up to three times!