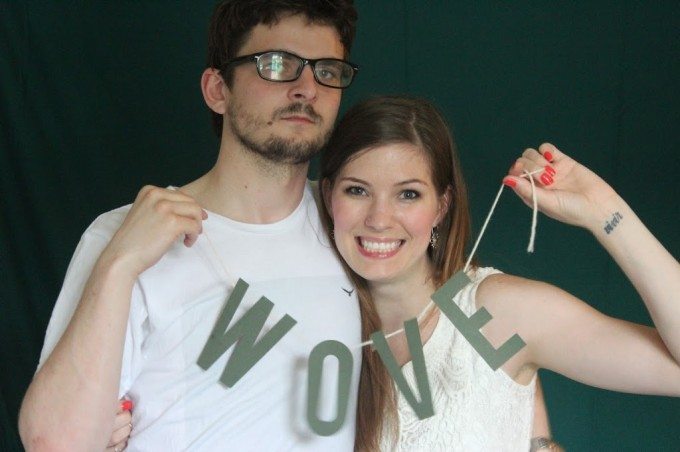 Today I have a fun and easy tutorial. That's right – How To-sday is on an actual Tuesday for once! On this particular Tuesday, we're going to learn how to make a custom wedding garland, though this would be perfect for any occasion, really! Silhouette is having a sale on their Designer Edition software now through July 10, so they gave it to me to try out. Though I received free software and supplies, all opinions are entirely my own, of course.
Andrei and I are putting together a DIY photo booth for our wedding next month (Ahhh – did I really just say next month?!), so we made a little homemade photo booth style picture to enclose with our invitations. I made a little banner to use in the photos, and I'm probably going to make lots more for the big day. P.S. I promise he really does like me. Apparently he just felt that this should be a very surrious photo…
Read on for the full tutorial!
2.   When you have all your letters typed and sized up as large as you want, use the ellipse tool to make a .25 inch hole. Hold down the shift key while making it to create a perfect circle. Next, go to the Object menu, and replicate a row of four as many times as you need. This keeps them in a straight line.
3.   Arrange your little circles at the tops of each letter. This will give you holes to thread your string through. I recommend using Silhouette chipboard for the letters so that they'll be really sturdy. You could use a fun printed cardstock instead, but I wouldn't go with anything lighter-weight than that. Go ahead and cut the letters out when you've adjusted your settings for your paper weight.
4.   Thread a piece of yarn or fishing line through the letters. When you have them all strung, space them out however you like, and use a tiny piece of tape on the back of each letter to keep them from sliding around on the string too much.
* Disclosure – certain links within this blog may result in a commission for Shrimp Salad Circus to help me cover all the time I spend putting it together. See my disclosure statement for more information.